San Diego County OKs expansion of backcountry marijuana shops
San Diego —
Five marijuana businesses in unincorporated county areas can expand operations following a split decision by the San Diego County Board of Supervisors Wednesday.
The 4-1 vote removes the sunset date from the permits of the five dispensaries and allows them to expand facility size and to offer a wider variety of products.
Supervisor Jim Desmond opposed updating the marijuana ordinance.
"I'm really not hearing the need for more dispensaries or for the expansion," said Desmond, one of two supervisors, along with Joel Anderson, whose districts include a majority of unincorporated land in San Diego.
"We're opening up a Pandora's box. There's also a concern regarding traffic (and) biological and cultural resources."
The board's action provides some certainty for the five cannabis business owners, whose permits had been slated to expire on April 14, 2022. Now there is no expiration date.
The vote allows them to expand their facilities up to 10,000 square feet without undergoing environmental review. They also will be able to provide marijuana for adult recreational use as well as medical purposes and can now sell edible and drinkable products as well as branded merchandise.
The decision also removes a water restriction that had limited marijuana growers to using only municipal drinking water for irrigation. Under the new rules they can use local groundwater as well.
Dispensary owners said the changes ensure long-term stability for their businesses and enable them to compete with illegal dispensaries that pop up throughout the backcountry.
"Illegal shops have an unfair advantage," said Tony Cioe, owner of Releaf Meds in Ramona. "They pay no taxes and have no regulatory expenses. Illegal shops, I believe, are the cause of many of the problems we see in the county. Our legal facilities offer a safe alternative."
Greg McCluskey, owner of Ramona Cannabis Company, echoed Cioe's complaints about illegal pot shops and said edible products are important for cancer patients and others who use them for pain relief.
"The average customer can't tell the difference between an illicit shop or a legally licensed shop, and we need to do more to get rid of the illicit shops," McCluskey said. "Many cancer patients also need these medicines, and they need it to be more convenient."
Critics argued that the county has not addressed health and safety issues arising from the expansion of the legal marijuana market.
Speakers said they're concerned about the physical and mental health risks of teen marijuana use and said the county hasn't spelled out the training and enforcement it would require to prevent minors from purchasing or obtaining pot products.
Many marijuana products contain high concentrations of tetrahydrocannabinol, or THC, the main psychoactive ingredient in cannabis. Allowing the sale of edible and drinkable products, often marketed as cookies, gummies or soda, will entice young users, critics said, noting that the county has banned similarly flavored tobacco products.
"There is clear research connecting high potency THC and addiction and mental health problems," said K.C. Strang, executive director of the San Marcos Prevention Coalition. "We are concerned about the contradiction that flavored tobacco is harmful — yet flavored marijuana is fine?"
Suzanne Hume, founder of CleanEarth4Kids, said she developed a chronic lung condition after accidental pesticide exposure and worries about similar hazards from marijuana growers.
"I am very concerned about the increased use of pesticides," she said. "I am very concerned about chemicals getting into our air and our water ... The parents that we have at CleanEarth4Kids are absolutely against this expansion."
Some also warned that allowing on-site consumption of marijuana products could worsen traffic hazards on rural roads and questioned whether law enforcement authorities have developed an effective means of identifying impaired drivers.
"Our roads are extremely dangerous, and drivers coming through these areas have difficulty navigating speed and terrain when they are not impaired," Julian resident Jean Duffy said. "Putting stoned drivers on the roads will only lead to more accidents and deaths."
The board also heard an update on its equity measures, which aim to open the cannabis industry to women and minorities.
Minorities, in particular, have been arrested, prosecuted and imprisoned for marijuana sales over the years, advocates say, but now that it's legal to sell cannabis products, many of the businesses are owned by non-minorities.
Attorney Andrea St. Julian said the county has fallen short of the goal of making entry into the legal cannabis business equitable by failing to put any specific social equity measures into its conditions for permits allowing the five existing dispensaries to expand.
"This ordinance as proposed gives the five county operators a boondoggle at the expense of social equity," St. Julian said.
McCluskey said he and the other original cannabis business owners are ready to help new entrepreneurs get started.
"We will continue to give of our time, talents and means to further the cause of those from underserved communities," he said.
Board of Supervisors Chair Nathan Fletcher said the county is working to develop equity guidelines and they would apply equally to all new and existing dispensaries once the county rolls out a larger plan for the marijuana industry.
Sours: https://www.sandiegouniontribune.com/ramona-sentinel/news/story/2021-10-06/san-diego-county-oks-expansion-of-back-country-marijuana-shops
Three people were caught on surveillance before stealing hundreds of thousands of dollars worth of merchandise from a marijuana dispensary in Ramona on Saturday.
The San Diego Sheriff's Department confirmed deputies were investigating a break-in at Releaf Meds, a legal dispensary on Pine Street in Ramona.
Clarice and Tony Cioe own and operate Releaf Meds together. In fact, they just celebrated the store's one year anniversary on Dec. 7.
"It's real personal to us. Our life savings has gone into this," Clarice Cioe said. "We really are a medical facility, we really are here to help people. Our patients are cancer patients, we've got people with Parkinson's, PTSD, you name it."
The suspects tore through doors with a pry bar and smashed windows after arriving at the store around 4:48 a.m. on Saturday, Clarice Cioe said. Surveillance cameras only caught their arrival in what appeared to be a dark-colored Kia sedan because the suspects cut power to the building.
But the Cioes did not discover the store had been burglarized until a security guard arrived and found the doors wide open.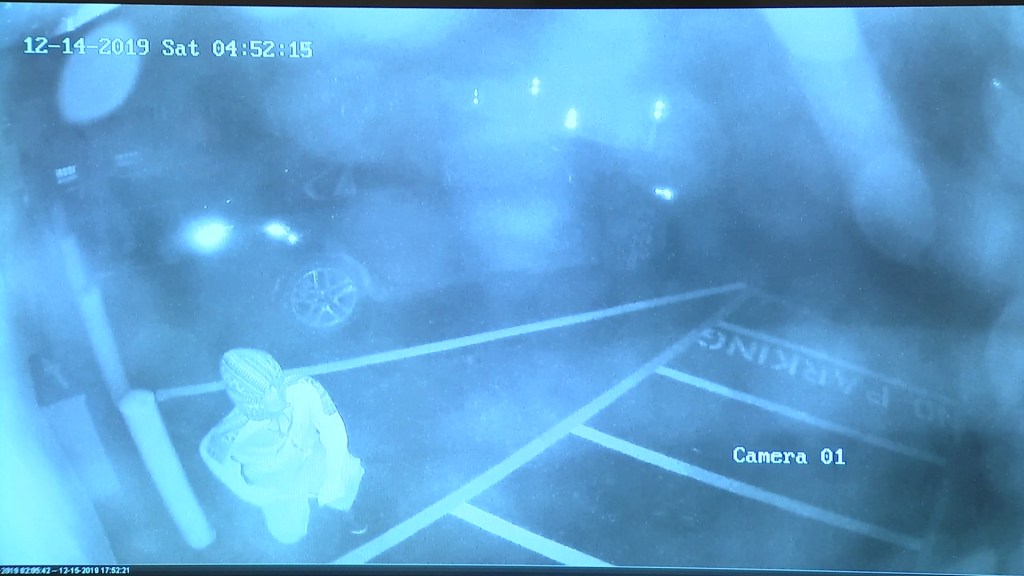 Once inside, the suspects were able to pry open the door to the main office where the safes are kept. They tried and failed to open the money safe, but rendered the safe unopenable in the process, Clarice Cioe said.
Out on the floor, the suspects took marijuana flower buds, oils, cartridges, vape batteries and more, she said.
"They took the good stuff, the more expensive stuff," she said. "They've probably been in here."
The Cioes said the suspects also stole a money counting machine, a register, iPads and tried to break into the ATM machine, though they were unable to get any cash from it.
The stolen products equaled about $300,000 in market value, not including equipment like the iPads, and they are struggling to find a way to restock, they said. They were also worried about how customers and patients would cope without treatment while the store is closed.
"This takes a big chunk out of our pocketbook for sure. It hurts," Clarice Cioe said.
The Cioes hope to reopen the store on Thursday and are offering a $5,000 reward for information leading to the group's arrest.
Sours: https://www.nbcsandiego.com/news/local/3-suspects-sought-in-300000-merchandise-burglary-of-marijuana-dispensary-in-ramona/2231050/
Ramona to review options as county moves to lift cannabis ban
With the San Diego County Board of Supervisors' recent 4-1 vote to craft a regulatory framework for the cannabis businesses, Ramona officials are beginning to look at ways to regulate the town's marijuana dispensaries.
On Jan. 27, supervisors directed staffed to develop zoning ordinances that allow for cannabis retail, cultivation, manufacturing, distribution and testing, lifting the existing ban against medical marijuana collectives and allowing for onsite consumption of cannabis products.
A social equity piece of the proposed ordinance will advance social equity, racial justice and economic opportunities for communities that historically have been disproportionately affected by the war on drugs.
Staff will report back in 90 days with an update on the proposed ordinance. The board will discuss the topic again in another 90 days to consider making decisions regarding implementation.
"I think it's vitally important in the unincorporated area that we have a safe, regulated and legal cannabis system," said board Chair Nathan Fletcher.
At its March 4 meeting, the Ramona Community Planning Group will begin to discuss how the county ordinance relates to Ramona.
Planning Group Chair Robin Joy Maxson said the group may revisit some topics discussed in the past, such as setting limits on the number of cannabis shops in Ramona; establishing buffer zones between the shops and areas where minors may be present such as schools, parks, churches and daycare centers; and preventing people from driving under the influence of a controlled substance as much as possible.
Maxson encourages members of the public to attend the Zoom meeting to express their concerns about marijuana dispensaries.
"It's a major issue for the safety of our community based on what the California Highway Patrol is finding with the number of impaired drivers not necessarily due to alcohol," said Maxson, who pointed out that some of the dispensary customers travel state Routes 67 and 78 to make their purchases.
"We're a large community geographically and we are a rural community, but we have a substantial number of residents and tourists. We do matter when it comes to our input on county decisions and we will clearly give the county direction as we feel it will best protect our community."
Currently, there is no pathway for adult-use cannabis access in the unincorporated area and without any process for obtaining a permit, illegal and unlicensed dispensaries have proliferated. According to the board's staff report, San Diego County Sheriff's Department has been engaged in a continuing cycle of shutting down various illegal storefronts, only for the same business to re-open the following week.
The former board of supervisors banned cannabis facilities within unincorporated areas of the county in 2017 and ordered the five existing medical cannabis facilities to close by 2022.
In August 2020, Fletcher had proposed allowing cannabis businesses to operate in the unincorporated area but his motion did not receive a second. With three new supervisors on board, Fletcher found support to move ahead.
"It's pretty clear that the safe and responsible sale of cannabis has been the will of voters for years and until now county policies have been a roadblock to enacting those wishes," District 3 Supervisor Terra Lawson-Remer said.
Lawson-Remer supported beginning a process to establish a program that allows legitimate businesses to operate in a well-regulated market, creating new jobs and a tax revenue stream for the county.
Supervisor Jim Desmond was the sole vote against moving forward due to concerns about youth access and that it would exacerbate the county's concern about homelessness and behavioral health issues.
"Now is not the time to make physically and mentally impairing drugs more accessible," Desmond said. "This is like pouring gasoline on the current crisis of behavioral health and homelessness."
Marijuana dispensaries, cultivating and manufacturing facilities have been legal in the City of San Diego since 2017.
Supporters viewed the board's action as a "sensible path forward," expanding the legal program to ensure safe access and helping to eradicate the black market.
"The four-year ban experiment has failed, the black market has proven to thrive," said Ren Bodin, who operates Jaxx Cannabis, a medical marijuana dispensary in Ramona. He noted that under a legal process, safeguards for permitted facilities include security officers, security cameras and strict identification and verification policies mandated by the state and the sheriff's department, ensuring that only eligible adults get access to legal and tested cannabis.
Hannah Gbeh, executive director of the San Diego County Farm Bureau, offered her support on behalf of farmers who want to grow cannabis in the county.
"Cannabis is the most highly-regulated agricultural commodity in the state of California," Gbeh said. "We strongly encourage the county to establish legal, local, regulatory framework so our local agricultural community can maintain economic viability by remaining competitive."
Those who were opposed cited concerns about youth access, public safety, property values, urban blight and fire threat. Some questioned why the supervisors would support something that could negatively affect public health and wellness during a global pandemic.
Staff has been asked to develop zoning ordinances for where cannabis businesses would be allowed, including analyzing setbacks of 600 to 1,000 feet from any "sensitive use" as defined by California Code of Regulations, which includes schools, daycare centers or youth centers.
In the city of San Diego, cannabis outlets and production facilities must be located 1,000 feet from parks, churches, childcare centers, playgrounds, libraries, minor-oriented facilities, residential care facilities and schools; and 100 feet from residential zones.
County Supervisor Joel Anderson is seeking input from the public and community planning groups in his District 2 area on what future cannabis ordinances should address. In a Feb. 5 letter, Anderson asked the Ramona Community Planning Group to provide feedback on the issue and to define their role in the process.
Anderson's recommendations included expanding buffer zones up to 1,000 feet from neighborhood parks, churches and daycare centers. His other goals are to oppose dispensary ownership by violent criminals or anyone with ties to organized crime, limit legal dispensaries within communities and geographical areas, and improve transparency and input from stakeholders and community members.
"Cannabis is being sold legally today throughout the county, but as elected leaders from our unincorporated communities, it is critical to have your voice heard within the next few weeks," he wrote.

Sours: https://www.sandiegouniontribune.com/ramona-sentinel/news/story/2021-02-10/san-diego-county-moves-toward-lifting-cannabis-ban
Weed Delivery Ramona Dispensary On Wheels - Ramona Dispensary On Wheels
.
Ramona dispensary
.
Ramona Shop Overview
.
You will also like:
.
1026
1027
1028
1029
1030