How Lilly King became queen of psyching out opponents: 'I like to win the race before it starts.'
With one finger wag at the 2016 Olympics, swimmer Lilly King became a viral sensation. And by the time the then-19-year-old swimmer left Rio de Janeiro with two gold medals in hand — one for the 100-meter breaststroke and another for the 400-meter medley relay — she was one of the sport's biggest stars.
At the time when King wagged her finger at rival Yulia Efimova — the Russian breaststroker who had previously been penalized for anti-doping violations — she didn't realize the moment was captured on camera.
But, as she told NBC Sports, it highlighted her "alter ego" in the ready room, which significantly differs from her personality away from the pool, and now, she embraces being the "bad guy in the pool" because she says it's empowering.
"I always like to say that I like to win the race before it starts," King said.
"I like to know that I'm in control of the heat. I like to know that people are scared to race me, and knowing that your competitors are feeling all those different emotions before potentially the biggest race of their life makes you feel pretty good about yourself. So definitely, at least for me, makes me feel very sure of what I'm doing. So I think it just gives me confidence and helps me race faster."
More:Your subscriptions help IndyStar cover Hoosier Olympians like few other local papers
'We've been to hell and back together.':Grieving Annie Lazor beats Lilly King at Olympic Trials
Now 24 years old and headed to her second Olympics, whatever King is doing for herself (and to her opponents) is working.
The Evansville native qualified for Tokyo in the 100- and 200-meter breaststrokes (she finished 12th in the latter in Rio). She is reigning world champ in the 100- and the 50-meter breaststrokes — the 50 isn't offered at the Olympics — and won the trials final in the 100 with a time of 1:04.79, nearly seven-tenths off her own 1:04.13 world record.
King also owns five of the seven fastest times in the world this year in the 100, so she's a strong favorite to successfully defend her Olympic title. No woman has ever won the 100 breaststroke at the Olympics twice. And no one has beaten King in the 100 breaststroke (long course) since Efimova did so in December 2015.
King also predicted the American women could win every individual Olympic gold medal.
"What I love about what Lilly said is that is who she is," said Greg Meehan, Team USA's women's swimming head coach.
"That is her personality. She is competitive. She is someone that we want on Team USA. She's great on relays. And regardless of the context of that, the reality is that competitive spirit is what Team USA is all about, and as we get into international competition, that competitive spirit is what drives us."
More:After swimming world's best time since 2017, Lilly King is glad Olympics were postponed
More:Lilly King continues dominance, headed back to Olympics with win at Trials
Before King competes, to be in control of her heat, she's focused on psyching out her opponents, especially if she's going against Russian rival Efimova. Whether she's making extra noise, staring down other swimmers, asking them odd questions or pacing back and forth, the goal is to distract her competitors.
"Typically, when I'm racing Yulia, it's a lot of just kind of staring at her and doing crazy things in the ready room," King said. "I think staring at people is probably one of my favorite things to do."
She said her staring freaks other swimmers out a bit and noted that "the showmanship of it all just kind of comes naturally" to her in the ready room or behind the blocks.
King also likes to be the last one to get up on the block before her races begin.
"That's one of my I feel like kind of like my trademark things at this point," she said. "I like I like to be in control of the heat, and I like everyone else to know they're waiting for me. So that's kind of one of my one of my go-tos."
However, King said her efforts to psych out her opponents don't impact her own performances. When she gets up on the block to start a race, she said she's "on autopilot" as her body takes over to churn out some of the fastest breaststroke times ever.
"If people are scared to race me, they're not going to swim as fast," King said. "I would definitely say [embracing a bad-guy mentality is] more male-dominated than female, but I've never really been one to follow the normal path."
View Comments
Sours: https://www.indystar.com/story/sports/college/indiana/2021/07/19/tokyo-olympics-how-lilly-king-became-queen-psyching-out-opponents/7836867002/
If you plan to compete in the 100 and 200 breaststroke, don't expect a one-size-fits-all approach to serve you well.
Lilly King, the defending Olympic champion in the 100 breaststroke and a medal favorite in the 200, knows that both races cannot be trained with the same mindset.
"In a typical international final, you will not see the same eight people in the 100 final as the 200 final," King says. "They are very different events. [I] work on a lot of speed and tempo for the 100 and … longer anaerobic-type workouts for the 200."
South Africa's Penny Heyns has been the only woman to win both breaststroke events at the Olympics, doing so in 1996. Three men accomplished this feat, with Italy's Domenico Fioravanti (2000) and Japan's Kosuke Kitajima (2004, 2008) collecting gold in both events at one games. American John Hencken also won the double, earning gold in the 200 breaststroke in 1972 and gold in the 100 breaststroke in 1976.
Separate Your Kick and Pull
King has been working to join this elite club since missing out on the 200 breaststroke final at the 2016 Olympics, and says the key to making sure she has an efficient stroke is devoting part of her daily workout to only the arm-pull before focusing on the kick.
"A lot of times at practice, we'll work on just kicking or just pulling, and then put it together for swimming," she says. "So, by the time you've worked on both kicking and pulling, the timing comes together, and you're swimming really well."
YouTube videos have shown King using paddles during breaststroke pull sets, which can help her find the water early in the stroke and develop an easier feel for the water.
Developing Leg Strength
A strong kick is vital for a great breaststroke. King says she devotes a lot of her dryland routine to improving her leg strength.
"Breaststroke is a very leg-heavy race, so doing squats and cleans [are good], anything to focus on having quick and strong legs," she says, adding that improper form could create major injury.
"I make sure my knees aren't wobbling in and out because breaststrokers usually have hyper-mobile knees," King says, "so make sure you are taking care of the little things too."
Sours: https://www.usms.org/fitness-and-training/articles-and-videos/articles/breaststroke-tips-from-olympian-lilly-king
Lilly King: What to know about the Indiana native, 2021 Olympic swimmer
The 2021 Olympic Games in Tokyo are still officially referred to as the 2020 Olympic Games although they were delayed a year by the worldwide COVID-19 pandemic. The Olympics are scheduled for July 23 to Aug. 8.  
Tokyo is 13 hours ahead of Eastern Daylight Time, so start times for key events may be at odd hours. NBC networks, streaming service Peacock and NBCOlympics.com will show events throughout the Games.
Indiana will send a strong contingent to Japan, with at least 30 athletes in 10 sports participating. 
More:How Lilly King became queen of psyching out opponents: 'I like to win the race before it starts.'
A challenge: Lilly King gets beat in a breaststroke semifinal 
Here's what you should know about Hoosier swimmer Lilly King. 
Why is Lilly King famous? 
Lilly King is a gold medal and world record breaststroke swimmer. 
How many gold medals does Lilly King have? 
King won two gold medals in the 2016 Olympics in Rio: 100-meter breaststroke and 4x100 medley relay. She also placed 12th in the 200 breaststroke. 
Where is Lilly King from? 
King is from Evansville, Indiana, and graduated from Reitz High School in 2015. She attended Indiana University from 2015-19.
What are Lilly King's other accomplishments? 
King has won 13 medals in international competition, 11 gold. ... She won the NCAA title in the 100-yard and 200-yard breaststroke four times (2016-19), setting American records along the way. ... She won two events at the 2015 IHSAA state meet (200 individual medley, 100 breaststroke).
Indiana Olympians:Here are all of the Indiana athletes competing in the Tokyo Olympics
When will Lilly King compete in Tokyo? 
100 breaststroke: Heats are on July 25, semifinals on July 26  and finals on July 27.
200 breaststroke: Heats are on July 28, semifinals on July 29 and finals July 30.
4x100 medley relay: Heats are on July 30 and finals on Aug. 1.
Lilly King calls out Russian drug cheat in 2016  
Russia's Yulia Efimova was King's biggest rival heading into the 2016 Rio Games, and King made sure everyone knew about Efimova's past performance-enhancing drug use. They traded finger wags on the swim deck during preliminaries before King won the gold medal over Efimova by more than one-half second. 
"It's incredible. You know, just winning a gold medal, but knowing I did it clean," King said afterward.
Lilly King on social media 
Twitter: @_king_lil
Instagram: @_king_lil
Sours: https://www.courierpress.com/story/sports/2021/07/21/what-know-us-olympic-swimmer-evansville-indiana-native-lily-king/7830904002/
Lily King swims season-best! - Women's 200m Breaststroke A Final
Lydia Jacoby of the U.S. upsets Lilly King in the 100-meter breaststroke.
"And so excited for Lydia," said King, who had not lost a race in the 100-meter breaststroke since 2015. "I love to see the future of American breaststroke coming up like this and to have somebody to go at it head-to-head when we're in the country."
Another relative upset played out in the men's 100-meter backstroke, an event that Americans had won at every Olympics since 1996. But Ryan Murphy, the defending Olympic champion, got off to a slow start and finished third behind a pair of Russians, Evgeny Rylov and Kliment Kolesnikov.
Murphy said he was not disappointed.
"That was my best swim of the year, so it's nice to be able to do that in the pressure-packed final," he said, adding: "Shoot for the stars, land on the moon. That's kind of what it is. Winning an Olympic gold means you're the best in the world. Being third in the world is no slouch."
King had made waves at the 2016 Olympics in Rio de Janeiro for engaging in a personal rivalry with Yuliya Efimova of Russia, a six-time world champion. Ahead of Rio, Efimova had served a 16-month suspension for doping, then was allowed to compete despite failing another drug test.
King was highly critical of that decision. After outswimming Efimova in the Olympic final, King splashed water in Efimova's lane. (King later said it was unintentional.)
Yet in the run-up to the Tokyo Games, King continued to be outspoken about cheating, expressing concern about spotty drug-testing protocols during the pandemic.
On Tuesday, there was no apparent controversy — only good vibes. King was finishing up her interviews in the media area when Jacoby arrived.
"Off to you, kiddo," King told her. "No international incidents today."
Sours: https://www.nytimes.com/2021/07/27/sports/olympics/lydia-jacoby-lilly-king-swimming.html
Swimmer lily king
New Tokyo Olympics challenge to Lilly King emerges as South African breaks her record
Don't deliver the gold medal to Lilly King in the 100-meter breaststroke just yet.
On Sunday night, King easily advanced to semifinals in Tokyo  . . . but she lost her Olympic record.
In the fifth of six heats, South Africa's Tatjana Schoenmaker lowered the record to 1:04.82, breaking the record of 1:04.93 set by King in winning gold at Rio de Janeiro in 2016.
Schoenmaker was silver medalist in the 200-meter breaststroke at the 2019 World Championships but was not considered a contender in the 100.
In Monday morning's semifinals (Sunday night EDT), she will be in a lane next to King, who has not lost any long course race in the 100 breaststroke since December 2015. The final is Tuesday morning (Monday night EDT).
Your subscriptions help us...:cover Hoosier Olympians like few other local papers
More:After swimming world's best time since 2017, Lilly King is glad Olympics were postponed
Schoenmaker and Alaska's Lydia Jacoby (1:05.52) were both faster than King, an Indiana University graduate from Evansville. King won the sixth heat in 1:05.55.
King's Rio rival, Yulia Efimova of Russia, qualified eighth in 1:06.21.
No woman has ever repeated as champion in the 100 breaststroke. Asked about coming in as the favorite, King replied:
"I kind of felt like that last time, even though a lot of other people didn't feel like that, so I am just kind of riding the wave I've been riding for the last five years."
She said it was "a little strange" not to have fans in the stands but said she can hear U.S. teammates cheer.
"I don't really feel I have anything to compare it to because it's only my second Olympics and it's five years later and I am in such a different spot," she said. "I just feel a lot more experienced."
More:Grieving Annie Lazor beats Lilly King at Olympic Trials: 'We've been to hell and back together.'
Two other Hoosiers, Blake Pieroni and Zach Apple, go for gold Monday morning.
They swam on the U.S. team advancing to the final in the 400 freestyle relay. Brooks Curry (48.84), Pieroni (47.71), Bowen Becker (47.59) and Apple (47.19) combined for a time of 3:11.33.
Caeleb Dressel will be inserted into the foursome for the final. Pieroni won a gold medal in this relay by swimming in prelims in 2016.
Italy had the top time of 3:10.29, followed by the United States. Australia, thanks to Kyle Chalmers' 46.63 anchor, was third at 3:11.89.
Serbia, with a 48.53 anchor by Purdue's Nikola Acin, came close to making the final by finishing 10th in 3:13.71.
Contact IndyStar reporter David Woods at [email protected] Follow him on Twitter: @DavidWoods007.
View Comments
Sours: https://www.indystar.com/story/sports/college/indiana/2021/07/25/lilly-king-indiana-swimmer-loses-her-olympic-record-south-african/8086086002/
Lilly King and the Indiana Swim Team - Off the Blocks Ep1
Follow Lilly as she heads to Eindhoven, The Netherlands for the ISL Playoffs this November!
Lilly and the Cali Condors recently wrapped up their ISL regular season in Naples, Italy. Lil dominated the breaststroke events, winning all of her 100 and 200 breaststroke races.
The Condors will return to action in November in Eindhoven, The Netherlands for the ISL playoffs.
Locally, Lil will help to open the new Deaconess Aquatic Center on October 1st. Looking forward to seeing the finished product, which has been years in the making. More info to come as we approach …
847
28 Comments
David Godinez

You are so awesome I am such a big fan of yours. Continued success. You have inspired so many young swimmers our here in California. Cheers.
Silver in the 200, bronze for Annie!
Thanks to Coach Ray Looze for his guidance!
Lilly competed in the prelims of the 400 medley relay this morning. USA finished 2nd in those prelims to advance to the finals tomorrow night.…
3.8K
185 Comments
Bob Miller

Congratulations again!! You both are winners to me for even making the Olympics. Have a great day.
Sours: https://www.facebook.com/LillyKingSwims
Similar news:
Lilly King
Lily King is a competitive USA swimmer who specializes in breaststroke. King was undefeated in the 100 Breast (meters & yards) in every format from 2016 to 2021. She is a 2x Olympian and an Olympic and world champion.
The self proclaimed Mcdonalds enthusiast comes from a sporting family. Her father, Mark was a track and cross country runner at Indiana State and her mother Ginny swam for Eastern Kentucky University and Illinois State University.
At 17-years-old, King finished sixth at the 2014 US Nationals and earned her first call up for the national team. She continued to climb the breaststroke ranks and burst on to the collegiate scene as a freshman at Indiana University.
High School
King has been on the USA swimming radar since a freshman at FJ Reitz High School and a member of Newburgh Sea Creatures. She won her first junior national title in the 100-yard breaststroke age 16 at the US Winter Junior Nationals. Her time of 59.67 was a new National Age Group record.
2014 Junior Pan Pacific Championships
After finishing 6th at the US nationals, King put on the Team USA uniform for the first time in her career at the Junior Pan Pacs. Her first international medal came in her signature event, 100-meter breaststroke. She took gold in a new meet record of 1:07.98. King and her USA teammates picked up another gold in the 4×100-meter medley relay in another meet record.
2015 World University Games
King took silver at US nationals, placing her on the National Team for a second consecutive year. Prior to her first semester on Indiana University campus, King competed at the World University Games. In South Korea, she picked up silver in the 100-meter breaststroke and bronze in the 4×100 medley relay. King also raced in 50-meter breaststroke, finishing 8th in the final.
College (Indiana)
Staying close to home, King began her collegiate career in her home state of Indiana as a Hoosier.
2015-2016
King stunned the collegiate swimming world at her first NCAA appearance. In the 100-yard breaststroke, she dived under the 57 second mark for the first time in history. Having already broken the NCAA, American and US Open records with a 57.15 in the prelims, she came back even faster in the finals to take the title in 56.85.
Her 200-yard breaststroke was nothing short of amazing either, as she sent records flying again. King managed to sweep all the 200 yard breaststroke records by almost half a second. She took gold almost three seconds ahead of her Hoosier teammate in 2nd.
2016-2017 
King won the 100 breaststroke setting a Meet Record in the finals with a time of 56.71. She finished almost 1.5 seconds ahead of the second place competitor, Lindsey Horejsi. She helped Indian swim to a fifth place finish in the 4×100 Medley Relay, splitting a 56.17 on the breaststroke. In the 4×50 Medley Relay, King clocked a 25.62 on the breaststroke leg to help Indian to a fourth place finish. In the 200 Breast, King once again stood on top if the medal stand, setting NCAA, Meet, American, US Open and Pool Records with a time of 2:03.18.
2017-2018
In Columbus, King claimed the title in both breaststroke events and finished 14th in the 200 IM. She went best times in all three events and broke the American Records in the 100 and 200 breaststroke. In the 100 breaststroke, she went a 56.25 and won the event by more than a second and a half. On Saturday, she became the first woman to break 2:03 in the 200 breaststroke as she finished with a time of 2:02.60. She was also key player in both of the medley relays. Indiana placed second in the 400 medley relay and third in the 200 medley relay respectively.
2018-2019
After dropping the fastest 100 yard breaststroke on a relay split in history at her last B1G Championships, Indiana senior Lilly King fulfilled the prophecy with a new NCAA, U.S. Open, and American Record in Friday's event final. Her time of 55.88 was the new fastest-ever in the event, breaking her own record of 56.25 set at the 2018 NCAAs.
Removing reaction times, King's individual swim was even better than her relay split by an off-the-blocks margin of .28 seconds.
Comparative Splits, fastest 100 breaststrokes in history.
King – 2019 Big Tens – 26.11/29.77 = 55.88
King – 2018 NCAAs – 26.32/29.93 = 56.25
King improved both her front-half and her back-half in the new record-setting swim by similar margins. She managed to drop time from Big Tens to NCAAs in this event in 2 of the previous 3 seasons.
King made a clean sweep of 8-for-8 in the breaststroke titles with her last 2 swims at the 2019 NCAA Championships, 4-peating in both the 100 (55.73) and the 200 (2:02.90) breaststroke, clocking the fastest time in history in the 100. She also helped IU's medley relays to 2nd (400 medley) and 4th (200) place finishes.
International Competition
2016 US Olympic Trials
King continued her explosive rise to the top by winning the 100M Breaststroke and becoming another first time Olympian. Her time of 1:05.20 puts her among the top in the World  this year and surely makes her a true contender for gold.
King added the 200m Breaststroke to her Olympic swims by winning the event with a time of 2:24.08, just .31 seconds ahead of second place finisher, Molly Hannis, another first time Olympian.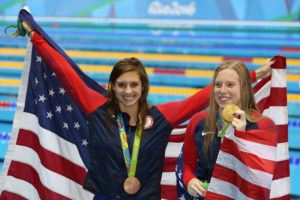 Olympic Medals – Katie Meili, Lilly King – 2016 Olympic Games in Rio -courtesy of simone castrovillari
2016 Rio Olympics
The 19 year old made a bold statement in the semifinals of the 100M Breaststroke to take top seed for the finals just two hundredths of a second over Russian Yulia Efimova.
Gold Medal swim in the women's 100M Breaststroke by Lilly King, breaking the Olympic Record with a time of 1:04.93. She finished 63 one hundredths of a second ahead of second place finisher Yulia Efimova of Russia and 76one hundredths ahead of fellow American and bronze medal winner, Katie Meili.
2017 US World Team Trials
King won the 20om breast (2:21.83) just beating second place finisher Bethany Galat. King also won the 50m Breast setting a new US Open Record and LC National Meet Record with a time of 29.66. King then made it a breaststroke sweep, winning the 100m finals with a time of 1:04.95 setting a new meet record in the process. King will represent the US in all three events at the World Championships in Budapest later this summer.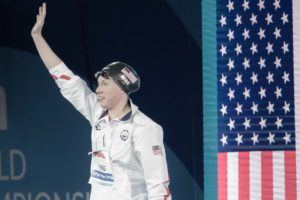 Lilly King 2017 World Championships Budapest, Hungary (photo: Mike Lewis)
2017 World Championships
Day three of competition brought the highly anticipated showdown between King and Yuliya Efimova in the women's 100 breaststroke, and it did not disappoint the crowd. King was out like a light, splitting 29.80 at the 50, and she surged through the 2nd 50 with the fastest back half of the field, splitting a 34.33 to clip the World Record with a 1:04.13. The former record stood at a 1:04.35 done by Ruta Meilutyte in 2009.
King's 100 Breast World Record Splits:
1st 50 Split- 29.80
2nd 50 Split- 34.33
Final Time- 1:04.13
Day four King picked up another relay gold medal and World Record when she combined with Caeleb Dressel, Matt Grevers and Simone Manuel in the 4×100 mixed medley relay.  She split 1:04.15. Remarkably, King held her ground despite being the only female breaststroke leg in the field.
Day seven in the semi-final of the 50m breaststroke King broke the American record by .06, swimming a 29.60.
Day eight in the final of the 50m breaststroke King shaves more time, setting a new World Record, 29.40, and topping . Yulia Efimova for the gold. Efimova took the silver in 29.57. Katie Meili won bronze in 29.99.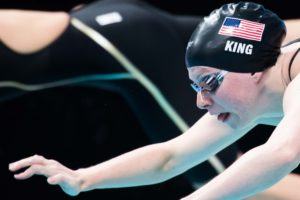 Lilly King 2017 World Championships Budapest, Hungary (photo: Mike Lewis)
Day eight in the final of the 4×100 medley relay, Team USA's Lilly King, Kathleen Baker, Kelsi Worrell, and Simone Manuel teamed up to set a World Record. Baker got the ball rolling on the backstroke split with a personal best 58.54 on the backstroke leg, marking the 5th fastest 100 back ever done by an American. King (1:04.48) kept it close as she battled once again down the stretch with Russia's Yuliya Efimova(1:04.03), but the Russians took the lead through the halfway mark. On the fly leg, Worrell pulled the USA into the lead with her 56.30, making way for 100 free champ Manuel (52.23) to finish things off as they finished in 3:51.55. That took a half second off the former World Record, which stood as a 3:52.05 done by the USA in 2012.
TEAM USA 4×100 MEDLEY RELAY WORLD RECORD SPLITS
2018 U.S. National Championships
King won the 50 breaststroke (29.82) and 100 breaststroke (1:05.36) titles at the Phillips 66 National Championships, while placing 5th in the 200 breast. Notably, King admitted that she had been putting in hard training before this meet, and was planning on saving her full rest for the Pan Pac championships.
2018 Pan Pacific Championships
On Day 1 of pan pacs, Lilly King came out strong, securing a victory in the 100 breast with a time of 1:05.44. On day 4, King earned a pair of silvers, first touching 2nd in the 200 breast in a time of 2:22.12. She finished off her pan pacs performance with a silver in the women's 4×100 medley relay, swimming breaststroke for USA in a time of 1:04.86.
ISL – Cali Condors
On June 11, 2019, Lilly King was announced as a member of the Cali Condors ISL team, headed by GM Jason Lezak. As a member of the Cali Condors in season 1 of the ISL, King went undefeated in all breaststroke events (50, 100, 200) as well as a part of the 400 medley relay.
2019 World Championships
King successfully defended her world title in the 100 breast, touching 1st in a time of 1:04.93, over half a second ahead of 2nd place Yulia Efimova. Lilly was out first at the 50, and off the turn Yulia was gaining a lot of ground on King, but over the final 15 meters King pulled away for the victory.
The next night, King swam on the 4×100 mixed medley relay, splitting 1:04.94 to help Team USA get 2nd behind Australia by .02.
After being DQ'ed in the prelims of the 200 breast, King was back in the 50 breast on the last day of competition, successfully defending her world title in a time of 29.84. King finished her schedule in the 4×100 medley relay, splitting 1:04.81 to help USA to break their own world record and earn gold.
2020 ISL Budapest Bubble
No woman in the International Swimming League (ISL) was more dominant than Lilly King. Though 2 of King's 3-event win streaks were snapped during the 2020 ISL season, she was still the most successful individual performer in the first two years of the league with a total of 31 individual victories and only 3 individual losses.
| | | |
| --- | --- | --- |
| EVENT | WINS | LOSSES |
| 50 Breast | 8 | 2 |
| 100 Breast | 10 | 0 |
| 200 Breast | 9 | 1 |
| 50 Skins* | 4 | 0 |
*This counts for the final heat of the skins races only and not the 1st and 2nd qualification rounds in which the top-4 and top-2 swimmers advance.
King was undefeated in all three breaststroke races during the 2019 ISL season and remained undefeated in 2020 in the 100 breast. Non-freestyle skins were introduced to the ISL lineup in 2020 and depending on the winner of the 400 medley relay they are not always breaststroke. However, every time King had the opportunity to compete in the 50 breaststroke skins competition she won the all-important 3rd and final heat.
King finished the ISL season ranked 2nd among all swimmers in the MVP standings and left Budapest with $254,000 of prize money, 2nd only to Caeleb Dressel. King was named the MVP of Match 1, the 2nd MVP of 8, the 3rd MVP of Match Semifinal #2, and the 2nd MVP again of the Grand Final.
Further illustrating her sheer domination in breaststroke, King finished the season with a total of 102.5 jackpot points, the 3rd-highest in the league behind Dressel and LA's Ryan Murphy.
2020 Swammy Awards
For her accomplishments in the ISL, Lilly King earned the 2020 Swammy Award for US Female of the Year.
2021 US Olympic Trials
On night 3 in Omaha, after posting the #1 time in the world in semi-finals, Lilly King roared to victory in the 100 breast, touching first at 1:04.79 to qualify for her 2nd Olympic team. On day 6 of the meet, King finished 2nd in the 200 breast to her teammate Annie Lazor, giving her a 2nd event in Tokyo.
2020 Olympic Games
King started her Games off strong, moving through the prelims and semis of the 100 breast. In the final, King touched 3rd overall, earning bronze behind her teammate Lydia Jacoby, who touched first for gold.
King was back in the 200 breast, moving through the prelims and semis easily to make the final. King was out like a shot in the final, swimming ahead of the world record line and South Africa's Tatjana Schoenmaker until the last 50, ultimately touching 2nd in a huge personal best of 2:19.92. to earn silver.
King finished her Games in the prelims of the 400 medley relay, splitting 1:05.51 to help USA advance to the final, where they would go on to win silver.
Sours: https://swimswam.com/bio/lilly-king/
1061
1062
1063
1064
1065