The Mennonite Game is easy to play, but difficult to master. For years Mennonites have been playing the game, but after all this time, no winner has been determined for the simple reason that there was no clear set of rules. Using the following points system, Mennonites can tally up their scores throughout their lifetimes and have their final total printed on their tombstones for future Mennonites to see. This game is appropriate for all ages, and although younger people will have more time to tally points, older Mennonites certainly have the advantage when it comes to knowledge about aunts and uncles and cousins-once-removed.
Any time you are asked, "Who is your father? or "Who is your mother?" – 5 points
Any time you ask someone else these same questions – 5 points
If you are asked these questions and actually have an answer – 10 points
If you can ask and answer in Plautdietsch – 20 points
If the asker ruffles up your hair or pinches your cheek while asking – 10 points
If you ask someone who they are related to and it turns out they aren't Mennonite – minus 5 points
Any time you are asked by a stranger what church you go to – 10 points
If you name some local Mennonite church in reply – 20 points
If you're lying when you say it – minus 5 points
If you don't attend church except for Christmas and Easter – 5 points
If you used to attend but don't anymore – 2 points
If you've been completely turned off by church because of how you were treated in the past and spend an hour or two ranting to the asker about this – minus 50 points
Owning a family history book – 5 points per book
Politely smiling and thanking your Uncle Gerhard for the spiral-bound self-published history book – 15 points
Actually reading the bloody thing – 50 points
Tracing at least one line of ancestors back to Russia, Germany or Prussia – 5 points
Tracing at least one line of ancestors back to The Netherlands, Belgium, or Switzerland – 10 points
Discovering a non-Mennonite in your family tree – minus 10 points
Discovering a famous Mennonite in your family tree (like crazy man Claas Epp or Nebraska senator Peter Jansen) – 20 points
Finding a relation to Menno Simons – 100 points
Visiting an important Mennonite historic site – 20 points
Defacing it – minus 50 points
If you can name all your cousins including the really young ones – 10 points
If you can name at least one second cousin – 10 points
Marrying a first cousin – 50 points
Marrying a second cousin – 40 points
Marrying a third cousin – 30 points
Marrying a fourth cousin or higher – 20 points
Marrying a first cousin-once removed – 40 points
Marrying a second cousin-once removed – 30 points
Marrying a third cousin-once removed – 20 points
Marrying anyone else in the Loewen Book – 10 points
Divorcing any of the aforementioned people – minus 10 points
Having relatives on both sides of the Red River – 5 points
Each time you cross the river to visit them – 2 points per trip
Having relatives who still live in the old country – 20 points
If your middle name is your mother's maiden name – 20 points
If you know what 'Grandma's Window' is without having to Google it – 20 points
If you actually have a subscription to it – 40 points
Routinely referring to your relatives as "frintschoft" – 20 points
If you understand that the Mennonites are a religious denomination, and not actually an ethnicity – 1000 points
(photo credit: John M/CC)
Related Articles
Sours: https://dailybonnet.com/win-mennonite-guide/
The Mennonite Game and Whiteness
In the small conservative Mennonite denomination I grew up in, we played a game. It was called the "Mennonite Game," a version of the Kevin Bacon "six degrees of separation" party game. The goal was to see how quickly two Mennonites, meeting each other for the first time, could establish common family connections and church links.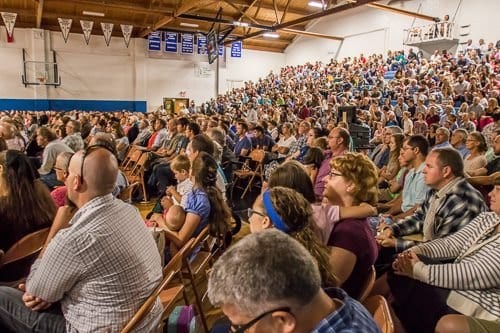 Once a year 2,000 people would flood a small Midwestern town (it rotated between Arthur, Illinois; Goshen, Indiana; Sugarcreek, Ohio; Kalona, Iowa; Rosedale, Ohio; Hartville, Ohio; and Greenwood, Delaware) for a weekend gathering. Between sermons, basketball, and white bread rolls under a big green tent, we would test the boundaries of our tight network. I was the son, grandson, and great-grandson, and great-great grandson of a dozen prominent ministers and bishops, and so I had lots of material to work with.
The Game would begin like this: What is your mother's maiden name? [Miller] What was your great-great grandmother's maiden name? [Yoder] Where do you live? [central Ohio] Did your parents meet at Rosedale Bible Institute? [Yes] Do you have an Aunt Sarah who was a missionary to Costa Rica? [No] Did your Great-Grandpa Ivan J. Miller marry us in 1948? [I have no idea.]
I pretended that the Game was annoying, but I secretly liked it (though not as much as this lady). As a consummate insider, as a privileged son with the right last name and bloodlines in a patriarchal religious group, I felt grounded in history and enjoyed the warm bonds of close community.
As I grew older, I began to sense the limits of the Game. I abruptly stopped playing if one of the few Hispanic Mennonites in our group walked by. I knew they couldn't play the Game as fully I could, and I didn't want them to feel excluded. To be sure, connections came through institutional, not just ethnic, forms, but these connections were difficult for new arrivals to cultivate in a group where ethnicity and churchly institutions overlapped so thickly.
Indeed, my close community was largely a closed community. Our relative isolation from society and our tendency to marry other Swiss-German Mennonites meant that last names like Johnson, Gutierrez, or Nguyen did not appear often in our group. More than once I heard (and sometimes thought myself), "That's not a Mennonite name." It seemed difficult to integrate first- and second-generation Mennonites into our tight community.
A recent study has born that out. Statistically speaking, I was very unlikely to marry someone who was nonwhite. Not long ago, several scholars used Census Bureau data to analyze the surnames of 270 million Americans to determine those most likely to be held by certain races or ethnicities. Check out their findings:
White
Yoder 98.1
Krueger 97.1
Muller 97.0
Koch 96.9
Schwartz 96.8
Schmitt 96.8
Novak 96.8
Schneider 96.7
Schroeder 96.7
Haas 96.7
A person with the surname of Yoder, one held by many of my ancestors, has a 98.1 percent chance of being white. A person with the last name of Muller, which is a variant of my mother's maiden name, has a 97.0 percent chance of being white. A person with the last name of Schwartz, a variant of my own surname, has a 96.8 percent chance of being white. Put it all together, and I may have been the least likely white person to marry someone of a different race. As it turned out, I married a Russian-German Mennonite, but even the Russian part was really German. Her ancestors were actually German farmers invited by Catherine the Great to modernize Russian agriculture and farm the rich steppes of Ukraine.
To be sure, other religious groups cultivate close ethnic communities. As the following charts show, the percentages of certain Asian and Hispanic surnames rival those of "whites."
Hispanic
Barajas 96.0
Orozco 95.1
Zavala 95.1
Velazquez 94.9
Ibarra 94.7
Juarez 94.7
Black
Washington 89.9
Jefferson 75.2
Booker 65.6
Banks 54.2
Jackson 53.0
Mosley 52.8
Dorsey 51.8
Gaines 50.3
Rivers 50.2
Joseph 48.8
Asian
Zhang 98.2
Huang 96.5
Choi 96.5
Li 96.4
Huynh 96.2
Yu 96.2
Nguyen 95.9
Pham 95.9
Wu 95.9
Tran 95.6
So "white" German Mennonites aren't the only ones with tight ethnic connections, but they do suffer from a particularly sordid history. In Chosen Nation: Mennonites and Germany in a Global Era, Ben Goossen shows how Mennonites in World War II willingly submitted to Nazi "racial biologists," who wanted their extensive genealogical records and lauded them as "ideal specimens of humanity." On the Eastern Front, Mennonites who had remained in genetically pure communities were delighted when Nazis liberated them from Bolshevik rule. They happily underwent racial testing in order to return to the West and resettle farms taken from Poles and Jews. SS documents cited Mennonites as "the outstanding example" of avoiding integration with their impure surroundings. Goossen found one ancestor list with an image of a swastika rising from the sea, illuminating a brighter dawn. It turned out, writes Goossen, that these Russian Mennonites, who continued to speak German and marry only other German Mennonites, were "more Aryan than the average German." Some of these Mennonites left Germany after the war and carried this very strong German identity to Canada, the United States, and Mexico.
Though streaks of ethnonationalism remain in some sectors of American Mennonitism, times are changing. People of color now comprise the majority of the nearly 1.2 million members of the global Mennonite family. According to The Mennonite, the largest and fastest-growing Mennonite church in the U.S. is an African-American congregation in Hampton, Virginia, Calvary Community Church. Nearly 20 percent of Mennonites in the United States are Hispanic, African-American, Native American, or Asian. The growth of Anabaptism across the globe has implications for Mennonites and Anabaptists whose fading numbers in North America are bolstered by the rise of the Congolese and Ethiopian churches.
All this is beginning to militate against the kind of ethnic exclusivity that the Mennonite Game sometimes engenders. Which is a good thing for a couple of reasons. Biologically, more genetic diversity may prevent the proliferation of bipolar disorder within populations that share a lot of common ancestors. Anabaptist victims of persecution and resettlement have been especially vulnerable to population bottlenecks that perpetuate a particular genetic code. Theologically, the broadening of Anabaptist ethnicity honors its Reformational past, when faith in Jesus Christ, not loyalty to an ethnicity or a state, qualified a person to be a disciple in good standing with the church.
So does the Mennonite Game, which recently became the subject of an academic article, a hit four-part harmony Youtube song, and an actual card game, inevitably turn belonging into exclusion? Does it implicate Mennonite systems of white privilege? Does celebrating ethnic relationships, as Goossen suggests, "mean having something in common with Nazi race scientists"? Like German-Russian Mennonites who took land from murdered Jews, German Mennonites in the Americas "settled" the land of many indigenous peoples. In northern Indiana and southern Michigan, Mennonites displaced the Potawatamie. In Iowa, Mennonites displaced the Sauk and Mesquakie. In Kansas Mennonites displaced the Kanza. In Mississippi, efforts at "evangelization by colonization" in the 1950s displaced jobs and land held by African Americans.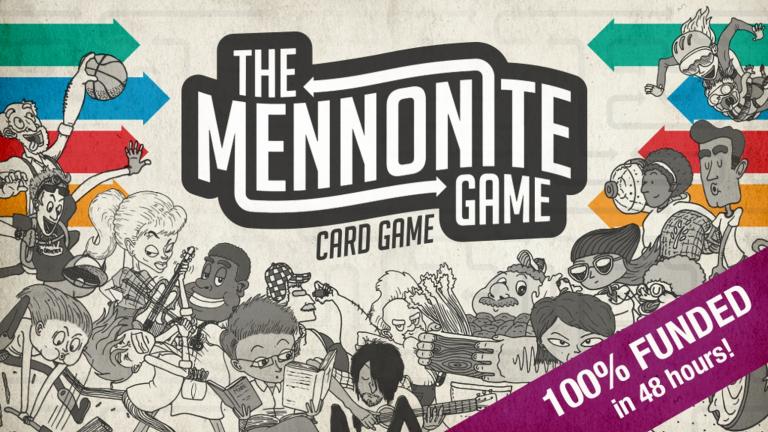 I don't exactly know how to reckon with these historical examples of exclusion. Part of me thinks that we could play a version of the Mennonite Game that emphasizes institutional connections and theological resonances over family relations. Indeed, I've been grafted into and extended my own networks at Asbury University where I teach and where I regularly meet people affiliated with United Methodism, Free Methodism, and the Salvation Army who seem more Anabaptist than my hundreds of second cousins who go by Yoder, Weaver, Beachy, and Hochstetler. That said, history and family matter. In the end, can institutional ties bind as tightly as those from childhood? Can water be thicker than blood? Is it helpful to be cosmopolitan if you're not rooted in anything?
What does seem clear is that the Mennonite Game reveals an inherent tension between belonging and exclusion. It's a tension that should be considered deeply as we seek to stave off isolation in this age of loneliness.
Sours: https://www.patheos.com/blogs/anxiousbench/2020/01/the-mennonite-game-and-whiteness/
By Abby King
While plenty of Mennonites have played the "Mennonite game" – the Anabaptist version of six degrees of separation – only a select few have played Mark Eash Hershberger's version. But that's about to change.
Hershberger, a 2010 Goshen College graduate, created "The Mennonite Game" card game where players strategically "discover that they are connected in various ways" through drawing cards and using their various ties and experiences, such as realizing that someone is your "brother's roommate's sister's ex-boyfriend's high school teacher," according to a Hershberger's description of the game. While Hershberger originally began creating the card game three years ago, he only recently shared the side project with the broader community after he finalized the design and logistics of the game and felt as if it were ready to be shared.
With the creation of a Kickstarter campaign and a quick post on Facebook, Hershberger's card game was soon being shared among dozens of interested patrons. His initial goal was to raise $3,750 – just enough to fund the production of the cards. However, within 48 hours of sharing the campaign, Hershberger's goal was met and funds kept rolling in. So much so that "stretch goals" such as thicker cards, more character and event cards, and shipping to Canada became a possibility.
"It was huge to get that support from everyone," Hershberger said. "That really spread the word fast… A lot of people I don't know have shared [the Facebook] post. It's been really helpful."
The Kickstarter campaign will end on Friday, Nov. 3.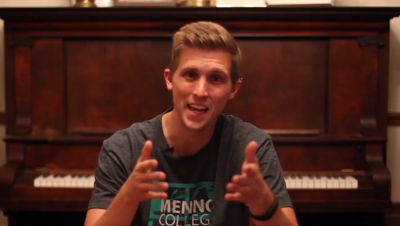 Hershberger began creating "The Mennonite Game" card game after he decided to push himself to create a product that implemented his love for design and illustration, which he said grew a lot during his time at Goshen College while he took a handful of figure classes.
"I wasn't sure if I was going to sell it," Hershberger said. "I just wanted to have it to just challenge myself. I like having side projects."
When it came time to figure out what his side project would be, Hershberger said he stuck with what he knows best: Mennonites and card games.
"I thought it would be interesting to have a card game where your objective is to put characters together in a way that is basic, but also challenging and strategic," he said.
It's clear that the three years Hershberger spent perfecting "The Mennonite Game" card game was worth it. He began designing the game writing on index cards to work out the mechanics after the game. From there, Hershberger began illustrating the cards. Each card in the deck has meticulously detailed illustrations and designs of of characters and events, many of which have Mennonite characteristics. In fact, there's even a card with an illustrated Menno Simons on it. After the illustrations were completed, Hershberger play-tested the card game with his friends and family.
For those wondering whether you have to be a Mennonite to play the card game, Hershberger said that while the title may seem like only Anabaptists can play, the game is for everyone – no matter their faith identity.
"There are some event cards that are specific to Mennonites, like Menno Simons and Mennonite Conference. But there are a lot of aspects that people who are not Mennonite can relate to and appreciate," Hershberger said.
The goal of the game is to create the most connections, and to do that, players must collect 10 character cards. Character cards are gained through collecting connection cards. With the right amount of connection cards, players can draw a character card, such as "girlfriend" or "dentist." Event cards are used to affect the play of the game, causing players to draw more cards, skip a turn and more. The game combines simple connections with strategy to create a fun card game for everyone.
The fall after Hershberger graduated from Goshen College with a degree in art and a concentration in graphic design, he married Lauren Eash, also a 2010 graduate. He, a Harrisonburg, Virginia, native, and she, a Goshen local, moved to Oregon to work as service leaders for Mennonite Mission Network's Service Adventure program. Within a year, they became pregnant with their first child, and relocated back to Goshen after two years in Oregon. Hershberger is currently the media arts designer at River Oaks Community Church. His family also grew, and he is now the proud father of three little boys: Jonah (4), Charlie (2) and Leo (one month).
For those interested in purchasing "The Mennonite Game" card game, Hershberger suggested purchasing the game through the Kickstarter campaign, located online at https://www.kickstarter.com/projects/1477128197/the-mennonite-game-card-game. Hershberger is unsure as to whether the game will be available for purchase elsewhere after Nov. 3, when the campaign ends. However, Hershberger is inquiring about getting the card game in bookstores at the various Mennonite-affiliated institutions, as well as bookstores in heavily populated Mennonite areas across the United States.
Sours: https://www.goshen.edu/news/2017/10/30/mark-eash-hershberger-10-creates-connections-new-mennonite-game-card-game/
Wo Deutsche wie im 17. Jahrhundert leben
If you are interested in joining The Mennonite Game Blog Directory, fill out this application.
500 Words by Katrina
As a Mennonite author and writer living in the slums of Elkhart, my writing seeks to exalt God's hand in the broken and mundane, inspiring hope and compassion.
#christianliving #depression #missions #nursing #spirituality
About My Father's Business – Luke 16:10
This blog is an outlet for my feelings, thoughts, ponderings…as I learn the truth that the daily, the normal, the mundane, the usual, is in fact, what constitutes being "about my Father's business"! Join me?
#christianliving#dailylife
Abundant Redemption
God has done so much for me and I cannot keep quiet about it. Writing is a way for me to not only document my personal journey of healing and hope from pain and despair, but to bless others who are walking the same path.
#church #healing #sexualabuse
Ain't Complicated
Mark's Views, Perhaps – a look at life from behind my eyeballs
#christianliving#culture #news #photography #theology
A Pearl in Every Cowslip
A Pearl in Every Cowslip's Ear is a blog all about teaching. I post stories about my teaching and resources such as bulletin boards and school devotional notes.
#devotional #missions#teaching
Arabah Rejoice
Hearing God's voice, cultivating a deep relationship with Christ, and bringing His presence to people around me are my passions. I also homeschool our four energetic children, glimpse God's love through my deafness and, as the only Mennonites in town, regularly fellowship with Christians from other denominations.
#christianliving#dailylife#family#homemaking#reviews
Asher Witmer
People have said that I put into words what they feel. People often have unspoken questions they wrestle with. Scary questions. A vibrant life of love for God and others begins by having risky conversations putting words to these questions. That's what we do at this blog.
#christianliving #healing #missions#theology
Beautifully Broken
I'm a southern Mennonite raised farm girl, who married a Pentecostal Pastor and moved to the city. This online journal documents the truths God whispers to my heart amid transition as well as my love for Jesus, husband, people and beautiful things!
#dailylife #devotional #homemaking
Bethany Marie
lifestyle blog featuring travel, recipes, and lifestyle tips and thoughts on everyday life
#christianliving#dailylife #photography #recipes#travel
Biblical Brethren Fellowship
Focus on Bible and Church from an Anabaptist perspective and concern for people to live in joyful, healthy discipleship to Jesus Christ.
#anabaptism #christianliving#church
Bluegrass Green and Amish
A collection of Amish YouTube videos from Arthur, Illinois and Pinecraft, Florida, featuring horse farming and gospel chorus singing.
#culture#photography
Born to Know Him
We are all born to know Him. Sometimes life gets in the way of seeing the big picture… but all it takes is a moment of choosing to die … again, pressing on toward knowing our King.
#christianliving#family#missions#photography#recipes
Brightness || Reflecting His Light
What can you expect here? I blog about life as I see it right now  – the challenges, the laughter, the lessons, the adventures, the photos. Join me on the journey, share your experiences with me, and maybe we'll find in each other a kindred spirit.
#christianliving#dailylife#poetry#teaching#travel
Christopher Witmer
Thoughts about life, the pursuit of a wild, adventurous God, journeying through depression, what it means to follow Jesus, wrestling through Anabaptist heritage and convictions, church, all that good stuff. Not many answers, just thoughts, ramblings, and my own story.
#christianliving#dailylife #spirituality #theology#travel
Come into the Fields– Song of Solomon 7:11
Come Into the Fields is an invitation to come apart, be still, and to ask questions that will take us into a deeper knowledge of God and the work of the Holy Spirit in our lives. Will you come into the fields?
#christianliving #devotional #poetry#theology
Coming Up Roses
I'm Anna Joy Graber, and I write about the things that make life wothwhile: Jesus, mountains, books, my family, and my students.
#christianliving#dailylife#teaching#travel
Confessions of a Woman Learning to Live
I write about life so it doesn't sink me: hard questions, good books, what I think of Jesus, and who put all these socks in the laundry. I learn from my mistakes when I confess them.
#dailylife #humor #theology
Days of Debi
a glimpse into my life as a missionary in the beautiful city of León, Nicaragua
#culture#dailylife#missions#travel 
Delaware Granny
I blog about my life as a Delaware Wife, Mama, and Grammy. Sunshine and saltwater, laughter and tears– each day I look for reasons for grateful praise.
#christianliving#church#dailylife#family #humor
Dewdrops of Joy – finding joy in life's everyday things
I am a Christian, a missionary, a wife, a writer, and a mom of two young children. My blog, Dewdrops of Joy, mirrors all of that in posts of fun children's activities, occasional written sketches of living in Africa, and things pertaining to God and, well, life. Come visit me!
#dailylife#parenting#missions
Diplomatic Driver – The Musings of a Mennonite
As a logical person and a self-prescribed "rebellious introvert", I started writing to organize my thoughts. Eventually, I decided to share my writing, hoping to spark others' thoughts and discussions. I hope my musings/ramblings amuse, entertain, or inspire you.
#life #thoughts
Dwight Gingrich Online– exegesis, ecclesiology, and exploration
This website exists to build up the Church of Jesus Christ by helping her listen carefully to the Scriptures. You will also find some pages with personal content—anything that is important to me that I wish to share publicly. Happy exploring!
#church#dailylife#poetry#theology
Faithful in the Journey– Psalm 33:4
#adoption #dailylife#parenting 
Here Be Veiled Dragons
Infrequent, largely lighthearted posts. Vague thoughts of heavier material in the future – and that may never happen.
#christianliving #culture #holiness #singleness #lizards
Hopeful Things – blogging with the intent to inspire
Hello, I am Hope, the one behind hopefulthings. I enjoy creating recipes, entertaining guests, gardening, graphic design and photography. And last, but not least, I am a follower of Christ. Without Him I am nothing. I strive to use the gifts God has given me to glorify Him.
#homemaking #recipes
Inconstant Comments
my travelogue –geographical and otherwise
#culture #humor #poetry#travel
Indy Watchman
defending the faith of the primitive Church and tackling controversial subjects in the modern Church
#apostasy #Christian #gospel #nonresistance #photography
In Search of a Brook
I'm a Kansas farm girl doing life in a southeast Asian city, who gets confused about her identity at times. Here you'll find random bits of poetry and glimpses of ordinary life lived in another culture.
#christianliving#culture#dailylife#missions#poetry
In the Habitation of Dragons
Where sexual abuse, cancer, and redemption collide. Here, I blog about a God who redeems incredible evil and suffering and never lets us go even when we let go of Him.
#cancer #church #healing #sexualabuse #singleness
In the Shire and Beyond
musings and adventures of a Mennonite girl from Indiana doing life in Brooklyn, NYC
#christianliving#culture#dailylife #devotional #spirituality
Irregular Ideation
life and theology from the perspective of Mennonite thinker
#church#culture#missions#singleness#theology 
JennStory – Because we're all stories, in the end.
I hope at the end of my life I'll be allowed to read my story, to look back and understand my part in the Author's storyline. Until then, I do what I can: I watch for little stories in my days; I record; I look for meaning, and I love.
#christianliving#dailylife#homemaking#poetry#teaching
Journey into His Light
I'm a daughter of God living in Nova Scotia's Annapolis Valley. Join me in exploring and seeking the light in common things, God's word, and creation—through prose, poetry, and photography.
#christianliving#dailylife #devotional #photography#poetry
Kingdom Christianity– following Christ on the upward way
This blog exists for the advancement of the Kingdom of God by seeking to point people to Christ.
#christianliving #devotional #theology #quotes
Life in the Shoe
I'm a pastor's wife, mother of 6 grownups, and author from the grass fields of Harrisburg, Oregon. I write about the quirky little events of our lives, the big projects, the passing of time, the constant changes.
#dailylife#family
Life of a Plain Lady
My blog gives tidbits of my life in general, around the home and farm. I also share some of the going-ons of our Brethren community.
#church#culture#dailylife#family#missions
Living Intentionally
I am an Anabaptist, first year nursing student from Indiana. I blog about nursing school, studying, college, and daily life. I love Jesus, late-night campfire conversation, last-minute adventures, and Couchsurfing (the travel platform)!
#college #dailylife #nursing #singleness#travel 
Lynn Michael Martin
Through poetry and stories, I explore the personality behind the universe. Theological and philosophical issues come up from time to time as well.
#christianliving#fiction#poetry#theology
Megan Fox Unlocked
I share weekly video blogs (vlogs) about what life as a young Mennonite mom looks like. I hope to break down misconceptions, offer inspiration, and share the love and hope of Jesus through every post.
#christianliving#dailylife#family#homemaking
Mennonite Jewish Shalom
I'm an Anabaptist music teacher from Indiana doing life in Jewish Brooklyn, NYC. Visit my blog to learn and discuss all things Jewish and Mennonite!
#culture #spirituality #teaching
Mennonite Minute
conservative Anabaptist perspectives
#church#christianliving#culture#reviews#theology
Misadventures of an Alaskan Housewife
I am married to a dear, bearded man, raising four children in Alaska. I write about motherhood, daily life and adventures fishing, hiking, and homesteading on the last frontier.
#dailylife#family #humor #parenting #homesteading
Mom on a Mission
As a missionary wife and mom of four littles, I write about mission and family life, food, and books.
#homemaking#missions#parenting #recipes #travel
My Windowsill
This blog is about my faith, my family, and my world. Come pull up a chair and stay a while.
#christianliving #devotional #family#homemaking
Nonviolent Christians
Jesus and his teachings are the final authority on the best way to live. If Christians follow the teachings of Jesus, they will not engage in violence against their enemies. I write this blog because I would like to better understand both sides of the issue of Christian violence.
#christianliving #justwar #nonviolence #pacifism
Of Living in the Now
#christianliving#culture#dailylife#poetry#singleness 
O's Essays
assorted essays on topics of general interest with a view of inspiring reflection and conversation
#christianliving#culture #devotional #reviews#theology
Paradise Mountain Musings
Hi! I find inspiration in my work on our family farm as well as my travels as a van driver for local horse and buggy Mennonites:) God continues to shower unending love on my life. Please stop by and be encouraged to see His work in your life too! Blessings, Kendra
#christianliving#culture#dailylife#family#travel
Penny Letters
A penny's worth of thoughts penned in Pennsylvania— read Penny Letters, a motley collection of candid stories with original photos.
#dailylife#photography#reviews#singleness#travel
Pilgrim Nicci— journeying on
My blog is a testimony of the pilgrim's journey.
#church#christianliving#dailylife#singleness#teaching 
plaingirlspeak
I love the Lord because other people spent time describing Him to me. I feel indebted to them – and Him – so I blog, hoping that my honest confessions from my own journey with God will encourage women to seek and know Him.
#christianliving#dailylife#singleness #spirituality #theology
Properties of Light– movement. color. sound. story
Hi! On this blog, I write about my love affair, my sprawling close family, the unusual and intriguing people God brings into my life, and funny stuff. Once in a while I write about being Mennonite. So nice to have you here! Step right on in.
#christianliving#dailylife#family #teaching
Psalm thirty-four eight
a collection of snapshots from the life of an itinerant, most-of-the-time-Central American missionary girl
#culture#dailylife#missions
Pursuing our Purpose
Our vision is to encourage young women in their spiritual journey. We have inspirational posts as well as DIYs and recipes.
#christianliving#dailylife #devotional #recipes#reviews
Quiltin Gal – Barbara H. Cline
I am a wife, mother of 5, and a quilter. I blog on highlights of the month in 2 categories: life in general and life as a quilter.
#dailylife#family#homemaking #teaching #quilting
Radi-Call– calling young Anabaptists back to The Root
Radi-Call is a group of conservative Anabaptist youth from different states and church backgrounds who share a common love for Jesus Christ.
#church #evangelism #missions#theology#reviews
Rhapsody in D – composing a life symphony for the Father
"Rhapsody-music-freeform musical composition: a composition that is often irregular in form, emotional in effect, and improvisational in nature." That fits me.
#dailylife#fiction #elderly
Shall Run and Not Be Weary
I blog about adoption, living with orthopedic special needs, and normal family stuff.
#adoption #dailylife#family#parenting
Shasta's Fog
Hi, I'm Esther and this blog contains my moderately curious, generally critical, yet fiercely hopeful thoughts about education, Mennonite culture, and traveling.
#culture #humor #poetry#singleness#theology
That Blinding Light
a blog explicating poetry and featuring my own photography
#photography#poetry
The Arctic Anabaptist
The Arctic Anabaptist Blog contains various teachings and musings of the author regarding the Christian life, as well as, a few photographs and stories of living in the Last Frontier.
#church#christianliving #holiness #teaching#theology
The Curator
The Curator is a poetry publication platform sharing quality work by contemporary poets.
#poetry#culture#fiction#photography
The Days of My Life– Kendra Landis
This blog began when I was a single missionary trying to keep in touch with people back home. As I transitioned to being a married homemaker, and then to being a mother, the content and major themes have changed, but in general, it is as the title says–The Days of My Life, and the joys, struggles, humour, and tears that those days bring.
#dailylife#family#homemaking#reviews
The Realization of Good
Realizing one version of "the good life," one day at a time. I believe, like James wrote, that "every Good & Perfect thing is from the Father above". So I'm filling my little corner of the internet with record of the good things He's showing + giving me.
#christianliving#dailylife#family#homemaking#reviews
They Were Strangers
During the Protestant Reformation, the Anabaptists were considered radicals for taking Scripture –specifically Jesus' teachings– literally. While most of the Protestant church fought over their theological differences and even took up arms, the Anabaptists stood in persistent, confrontational peace. My blog's intent is to do the same.
#church#christianliving#culture #depression #theology
Think Truth
We are a group of young people with an intention of encouraging our people to think more and better about their beliefs.
#church#christianliving#culture #holiness #theology
This Extraordinary Life
a blog about the ordinary and extraordinary things of life. . . making every moment beautiful
#christianliving#dailylife
Thrifty Frugal Mom– where food, family & finances meet
I love sharing simple, from-scratch recipes, inspiration for successful homemaking and lots of great money saving ideas. Come join me!
#family#homemaking #recipes
'Tis a Gift to Receive
Thoughts about living well and walking toward wholeness on this side of Eden. A globe-trotter's guide to simplicity, beauty, and serendipity in normal life.
#christianliving#reviews#singleness #spirituality #travel
Travelight94
I seek to speak words of truth and grace into the lives of my readers, mostly through essays, poetry, and telling the stories of ordinary life.
#christianliving#culture #faith #poetry#teaching
Ultimate Metaphor – when earth mimics heaven
As a middle school English teacher who often notices metaphors, I love seeing how God uses mundane life to show who He is and who He is not. Richard Foster says "The material world is created, in part, so as to make visible…the realm of the invisible."
 #depression #reviews#singleness#teaching#theology
Urbanite Musings
I live in the city, I'm an Anabaptist educator, and I love Jesus. I like to share about the things I observe both about my culture, and my students.
#christianliving#culture #humor #missions#teaching
WrittenDownBig– a canvas for wonderings, thinkings and discoveries
I write about literature, subjects I care about, and the stuff of daily life.
#christianliving#dailylife#reviews#singleness
Sours: https://themennonitegame.com/directory/
Game the mennonite
Skip to content
The Mennonite Game Blog Directory
Sours: https://themennonitegame.com/
Wo Deutsche wie im 17. Jahrhundert leben
.
You will also be interested:
.
1158
1159
1160
1161
1162