Antique Chinese vases are present on the art market and attract the interest of Asian art collectors. This craze is to be put in parallel with the development of fortunes in Asia. Collectors of Chinese objects can pay large sums of money to acquire certain exceptional Chinese vases. New records are regularly broken at auctions. Many antique objects were imported into Europe during colonisation. It is therefore useful to know how to recognise an antique vase from a modern one when putting it up for sale.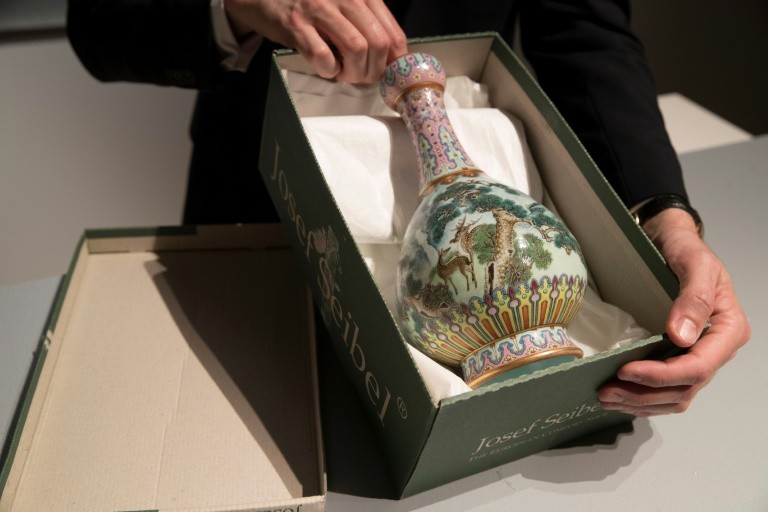 The different characteristics of a Chinese vase
It is difficult to give a precise idea of what a Chinese vase is. However, certain characteristics stand out in order to differentiate them from other productions. The use of vases in China dates back to ancient times and their functions are diverse. The vase can be used as a container or it can be purely decorative and be made of terracotta, stoneware or bronze. It should be noted that the composition of a vase is an indicator that can give indications as to its authenticity and dating.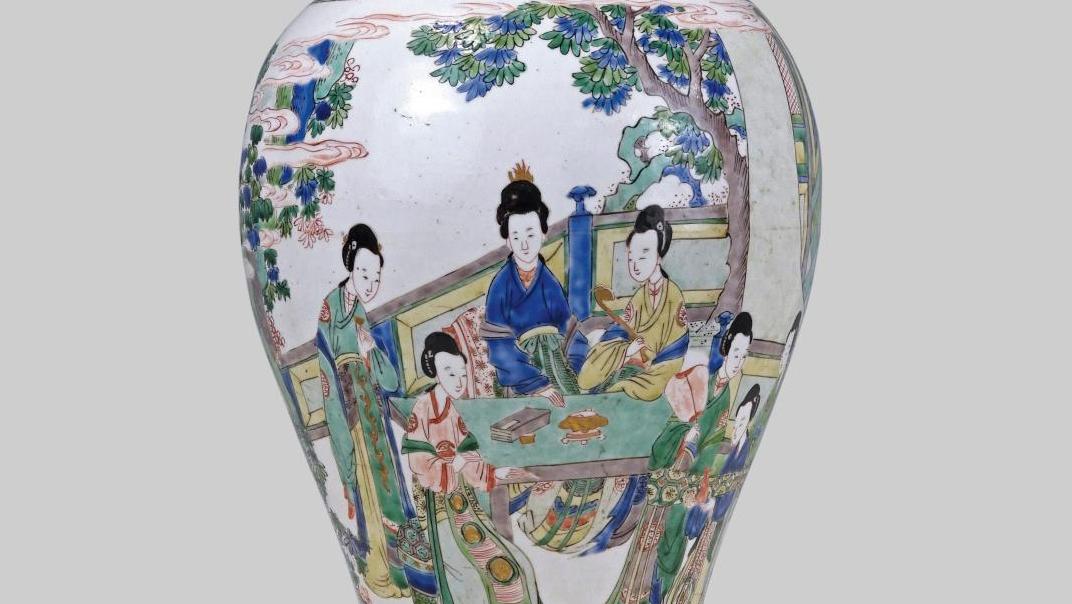 Chinese porcelain vases are especially appreciated for their delicacy (particularly those based on kaolin, the traditional manufacture of which ended at the beginning of the 20th century with mechanisation).
In order to properly identify a Chinese vase, one must understand the production process. Pernettes are, for example, supports that allow Chinese vases to avoid touching each other and not sticking to the kiln during firing. Some of them are more or less visible and important over the different centuries. This firing mark offers many clues so as to date the period of manufacture of a vase.
In addition, ancient Chinese vases are frequently signed on the back. The signatures vary according to the period and place of manufacture. Nevertheless, it is not uncommon for some pieces not to be signed (sometimes a sign that the piece is very old). It is advisable to be vigilant and to have the signatures checked by an expert, as they are very regularly forged.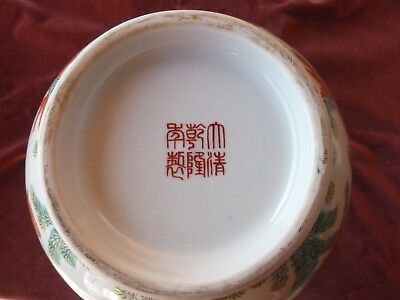 How to recognize a valuable antique Chinese vase?
Valuable Chinese vases can be distinguished by the quality and finesse of their decoration. The work done on them is much more precise than on an ordinary object. The subject matter is also important (the taste for certain themes can be influenced by cultural events highlighting a specific period).
The vases from imperial production are very precious and special care must be taken when they are manufatured. For example, these vases have very little iron.
It is not always easy to know whether a Chinese vase is valuable or not. There may be many confusing shapes and patterns. It is therefore advisable to call in professionals to make an estimate in view of the criteria to be considered. All the more so as a large number of forgeries are currently circulating on the market.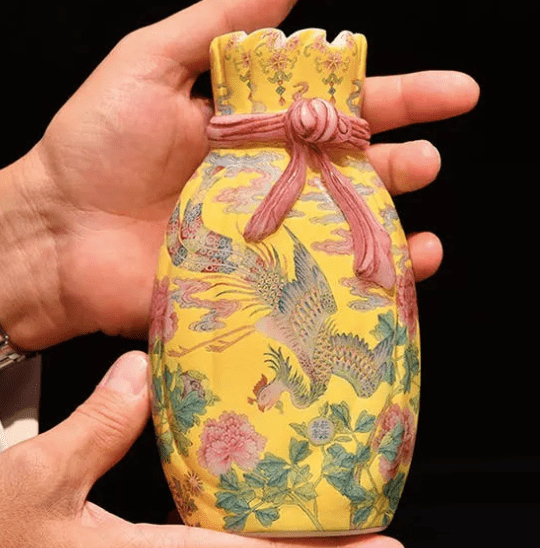 How to get an estimate for an antique Chinese vase?
It is possible to make the estimation yourself if you have the very precise knowledge required and specialized books. However, there are several ways to have your ancient Chinese vases evaluated. We suggest you fill in our online form and send us photographs. For certain pieces, we need to see them with our own eyes – our experts in Asian art travel all over the world for this purpose. Our international network enables us to find the most suitable solution to sell your objects in the best possible way.
You may also like
How to Tell the Difference Between Bronze & Regulus
How to recognize real jade
How to Identify Japanese Prints?
Ancient Indian painting & Contemporary Indian painting
Sours: https://mr-expert.com/en/identify-antique-chinese-vases/
Applied Filters1,115 results
19th Century Chinese Famille Rose Crackleware Vase / Lamp
Located in Brighton, Sussex
A very impressive and decorative 19th Century Chinese Famille Rose crackelware vase / lamp. Having classical motif bronzed decoration, leaf and berry handles. Hand painted scenes dep...
Category
Late 19th Century Chinese Export Antique Chinese Vases
Chinese Qing Dynasty Two-Tier Handled Porcelain Vase
Chinese Qing Dynasty Qianlong Period (18th Century) two-tiered ceramic vase in light blue, accented with a tonal floral pattern and two shouldered handles on its top section (mark on...
Category
18th Century Chinese Export Antique Chinese Vases
A Chinese bronze pewter vase in archaic style. Probably 19th century, lovely patina.
Category
Early 19th Century Antique Chinese Vases
Pair of Large Beaker Vases, China, 19th Century
A pair of large beaker vases, China, 19th Century The tall cylindrical bodies rising from tapered feet to trumpet mouths, with rounded central sections, each between two thin moul...
Category
19th Century Antique Chinese Vases
Evora Medium Vase in Gold Glass by CuratedKravet
An iridescent glass vase with a 1970s inspired shape. Due to the handmade nature of this vase, variation in colors are to be expected.                               
Category
21st Century and Contemporary Modern Chinese Vases
Maren Vase in Blue Porcelain by CuratedKravet
A round porcelain vase with a long slender neck, featuring a blue reactive glaze finish.  
Category
21st Century and Contemporary Modern Chinese Vases
Large Pair of 18th Century Chinese Export Mandarin Vases
Located in Brighton, Sussex
A wonderful quality pair of 18th century Chinese Export Mandarin porcelain vases, each with a flattened form, orange ground, with classical gilded motif decoration, ring-drop handles...
Category
18th Century Chinese Export Antique Chinese Vases
White Textured Single Spout Ceramic Danish Design Vase, China, Contemporary
Contemporary Danish design textured white ceramic vase with single round spout on a base of two round spheres. Very sculptural in design. Two available and sold individually.    
Category
21st Century and Contemporary Chinese Vases
Heather Taupe with Black Circles Vase, China, Contemporary
Contemporary Chinese heather taupe vase with hand painted black circle design. Sits nicely with a collection of circle design hand painted vases. S5667, S5669
Category
21st Century and Contemporary Chinese Vases
Pair of Late 18th Century Chinese Export Mandarin Turquoise Vases
A fine pair of Chinese export quatrefoil vases decorated in the Mandarin palette upon an attractive turquoise "chicken skin" textured ground, late-18th century, Qianlong period. The ...
Category
Late 18th Century Chinese Export Antique Chinese Vases
Chinese Famille Rose Rouleau Vase
Located in Ottawa, Ontario
Chinese Famille Rose Rouleau Vase Republic Period (1912-1949) Finely enameled with two ladies in conversation at the table in a garden setting. Four lines of calligraphy, w...
Category
Early 20th Century Chinese Export Chinese Vases
Brown Four Handled Vase, China, 15th Century
15th century Chinese Song Dynasty brown vase Four handles Natural aged patina. Very good condition for age.    
Category
15th Century and Earlier Antique Chinese Vases
Sours: https://www.1stdibs.com/furniture/decorative-objects/vases-vessels/vases/origin/chinese/
The History of Blue and White Vases
In order to understand why they are so highly revered by antique Chinese porcelain vase collectors all over the world, it's important to understand the history of the famed blue and white vase.
Underglaze blue and white pottery was first introduced not by the Chinese, but by the ancient Mesopotamians in the fertile valleys between the Tigris and Euphrates rivers (modern-day Iraq, Kuwait, Turkey and Syria). They used cobalt oxide pigment – one of very few that can withstand the highest firing temperatures – to imitate lapis lazuli and later during the Islamic Abbasid Caliphate (from around 750 AD), blue and white pottery became very popular all over the Middle East.
The cobalt used to make blue and white Chinese urns is a natural mineral refined by washing or purifying at around 700°C. Once clean, it is ground and mixed with water. It was mined in the modern-day Iranian region of Kashan, in Oman and in Hejaz in Saudi Arabia and reached the Chinese potters in an already prepared state. The Chinese called it 'huiqing' which translates to 'Muslim blue'.
The Development of Blue and White Vases
Just as the style was gaining recognition in the Islamic world, it was also starting to be recognised in China. The very first blue and white pottery was made during the early Tang dynasty (618 – 907 AD) in the central Chinese region of Henan but were earthenware rather than porcelain. According to experts there are only three complete Tang blue and white pieces in the world and they were recovered in 1998 from the wreck of an Arabian dhow that sunk around 830 AD.
When the cobalt first started to arrive in China via the Silk Road, the potters of the Mongolian Yuan dynasty experimented with it but had to be very sure of their brushwork. The porous surface of the vessel didn't allow for corrections. As it was painted on it was a greyish-black but as it was glazed and fired, the heat turned it a brilliant blue.
As the Yuan were ushered out and the Ming dynasty commenced in 1368, Zhu Yuanzhang – known as the Hongwu Emperor – who reigned for 30 years, decided that the incumbent busy and detailed Islamic style of blue and white pottery was to be replaced with a more dominant Chinese style.
These early antique Chinese porcelain vases have since become some of the most sought after – and expensive – works of art in the western world for a very good reason. Hongwu's restrictive trade policies meant that there was very little imported cobalt available. What did get through was diluted and mixed with local materials which resulted in the underglaze blue having a dull, greyish tone. While not the most mature of the classic blue and white china vases, there are desired by collectors for their scarcity.
The Evolution of Blue and White Pottery
14th Century Chinese Blue and White Vases
By the fourteenth century the southern Chinese town of Jingdezhen, known as 'porcelain town', had become the nation's largest centre for porcelain production. More blue and white Chinese urns and blue and white vases were made here than in any of the other major ceramics centres including Dehua in Fujian province and Foshan in central Guangdong province.
Here, potters used kaolin clay and developed and refined the glazing and firing technology. They also created new decorative techniques including combining dark and light blues for incredible contrasts on a clean white background.
The new style of blue and white pottery quickly replaced the centuries-long tradition of unpainted Qingbai, a rather insipid bluish-white southern Chinese porcelain and it appealed to China's Mongol rulers.
15th Century Chinese Blue and White Pottery
The fifteenth century was the defining age of what has become the antique Chinese porcelain vase.
Ironically, because it appealed to the foreign Mongols, blue and white pottery was temporarily shunned by the early Ming emperors. However, when the Xuande Emperor came to power in 1399, the artistic styles were more to the liking of the Chinese nobility. At the start of the fifteenth century mass production on an industrial scale of some of the finest blue and white vases ever produced was happening at Jingdezhen.
To many collectors, this was a time when the antique blue and white vase reached perfection. China developed a market economy where private businesses flourished and what has been hailed as one of the greatest achievements of Chinese civilisation, a power-sharing government between the royal Imperial court and the civil service encouraged trade relations between East and West. In addition, as Europe transitioned into the Renaissance it ushered in a fervent period of creativity, political and social upheaval and a new-found appreciation of Eastern art, including the magnificent blue and white vases from China.
By now more superior in quality and increasingly subtle by design, they made their way into the royal and aristocratic houses of Europe's wealthy elite and have remained there ever since.
16th Century Blue and White China Vases
Under the Zhengde Emperor who reigned from 1491 – 1521 (and who died falling drunk into the Yellow River aged only 29), Chinese blue and white pottery made a short return to the late Yuan – early Ming Islamic style. It often bore Persian or Arabic writing due to the influence of the Muslim eunuchs he kept at court.
Towards the end of the century as the economy matured, there emerged a vast export market for blue and white vases and they were being sold around the world on a quite remarkable scale. In terms of style, the late sixteenth century blue and white pottery was adorned with more floral motifs, including stylised flowers commonly found in Tibetan art.
17th Century Antique Chinese Porcelain Vases
Because so much was being sold abroad, the Chinese developed blue and white vases and other porcelain exclusively for the export market. As the country moved from the Ming to the Qing dynasty in 1611, a transitional style emerged that took scenes from classic literature, wide landscapes and groups of figures.
It is said by some that the production of blue and white vases reached its zenith during the Ming dynasty. However, due to internecine fighting in the third quarter of the 17th century, the government of the new Qing dynasty closed the ports. Trade stopped immediately and the Europeans looked to Japan for their blue and white pottery.
18th – 20th Century Blue and White Vases
The European export market for what has become antique Chinese porcelain vases was reinstated and remained strong, and the kilns in Jingdezhen were still producing exceptionally high quality blue and white pottery for the Imperial court and the elite domestic market.
Some of the finest examples ever produced – which therefore have become among the most desirable of all antique Chinese blue and white vases – are from the later reign of Qing dynasty emperor Kangxi from around 1700 to the early 1720s. They are characterised by beautifully sophisticated designs and demonstrate an unrivalled technical expertise. The potters produced an underglaze in stunning sapphire blue which was applied in up to six different tones. This gave a vibrant, dimensionally-nuanced effect when applied to a bright white vessel and is known to be much cleaner, more pure and brighter than the blue and white vases from the Ming dynasty.
Blue and White Vases Today
Chinese blue and white pottery has been called the first truly global commodity and has inspired some of the world's greatest and most famous producers of porcelain. It has been copied and re-created by porcelain makers from around the world and is one of the most enduring products in the history of Chinese art.
While it remains in daily use by many hundreds of millions of Chinese, antique blue and white pottery and especially blue and white vases are some of the world's most collectible works of art.
Sours: https://www.marchantasianart.com/guide/a-quick-guide-to-chinese-antique-blue-and-white-vases/
Price Check - Asian Antiques and Vintage Chinese and Japanese Cloisonne Enamel Vases on eBay
Antique French porcelain gilded bronze ram's head vases urns
Finer Choice
$495
Antique Victorian Hand Painted Jardiniere - Poppies Porcelain Vase - Ex-Large Vase with Gold Gilt Trim - Jardinieres, Cache Pots, Vases, Urns
Wild Goose Chase Antiques & Collectibles
$325
Pair Fine Gold Vases Pearl China Co USA
Antiques Jewelry & Sacred Treasures
$285
Japanese Meiji Period - Pair Satsuma Vases - Pair of Cobalt Blue Vases - Pottery Vases Geisha
Angel Station Design
$217Reduced Price 21% Off
Pair Satsuma Vases - Japanese Vintage Vases - Hand Painted Mini Vases - Fine Bone Porcelain Miniature Vase
Angel Station Design
$54Reduced Price 8% Off
Trio of Wedgwood Green Jasperware Vases & Urns
The Garrulous Goat
~ $149 OFFER
Old Vase with Lid - Italy Porcelain Bowl - Candy Bowl with Lid - Old Sugar Bowl - Vases and Urns
Angel Station Design
$64
Austrian Hand Painted Porcelain Mantle Urns - c. 1880-1890
Pazzaz
$595Sale Price 25% Off
Pair of antique Japanese silver vases
Mozeris Fine Antiques
$2,250 OFFER
Sevres Pair Porcelain Urns
Solvang Antiques
$1,300 OFFER
Miniature Portrait Covered Urn Vase
Vine of Time LLC
$95 OFFER
Meissen Porcelain Double Gourd Floral Vase
Mason Antiques
$375 OFFER
Pair Vintage Dresden German Saxon Porcelain Lidded Urns Vases Neoclassical 10"
Royal Pelican Antiques
$275
Limoges or Continental Pr Porcelain Vases 13 1/2" tall
The Steffen Collection
$195Sale Price 20% Off
Pair Antique 19th century Leeds Pottery Creamware Reticulated Vases or Urns and Covers
Classic Tradition
$4,250
Locke & Co. Twisted Vases Circa 1900
N. Levy Collectibles
$295
Pair of Antique Voigt Brothers Sitzendorf Porcelain Potpourri Urns
Avant Antique
$2,680
Pair of Mid-Century French Hand Painted Faience "Saint Clement" Urns with Lids
Country French Interiors
$1,600 OFFER
Fine Pair of Medium Chinese Porcelain & Gold Leaf 20th C Vases Vintage
Top Banana Antiques Mall
$1,250
Royal Copley Colonial Man & Woman Wall Pockets Head Vases 1940's
Historique
$55
Limoges Minature Floral Vases 2 !/4" high
The Steffen Collection
$32
Antique Early 19th century Paris Porcelain Neoclassical Urns or Vases with Swan Handles Signed Halley
Classic Tradition
$6,500
Staffordshire Pottery Cow Milkmaid Spill Vase 19th C. LARGE
Westwillow Antiques
$175
Belleek Porcelain Set of Three Vases Tree Shaped
Avant Antique
$190
Pair of Middle Eastern Persian Enameled Copper Vases
Fritz Antiques
$375 OFFER
Pair of Wedgwood Blue Jasperware Vases with Neoclassical Women and Children
Applegate Antiques
$35
Pair Of Belleek Porcelain Tree Trunk Vases
Stephen A. Kramer Ltd.
$42Sale Price 30% Off
19th Century Delft Dutch Faience Polychrome Vases, a Pair
Jensen House Antiques
$895 OFFER
Pair of White Matte Fossil Rock Vases by Kaiser of Germany
Eddy*s
$795 OFFER
Pair of Chinese China Vases Antique c1840
Top Banana Antiques Mall
$585
Get alerts when there are new arrivals for
Vases, Urns Porcelain & Pottery | Ruby Lane
Follow this Search
Sours: https://www.rubylane.com/porcelain-pottery?cat=Porcelain%20%26%20Pottery%3ABy%20Function%3AVases%2C%20Urns
China vases vintage
Antique Chinese Vases
Using Sellingantiques.co.uk
If you are interested to buy an antique that you have seen on Sellingantiques, please contact the antique dealer directly using the contact details shown with the item.

All communications occur between the buyer and the antique dealer, Sellingantiques Ltd is not involved or responsible for terms of sale.

Exchange rates are updated daily via xe.com.

When an antique dealer uploads an item for display on Sellingantiques they are requested to make a formal declaration as to the date of its manufacture. This date is shown on each antique detail page. The use of the word Circa or C. is to indicate that the date is "close to" date shown. Eg. Circa 1920 means close to the year 1920.
---
Cookies
The Sellingantiques.co.uk site uses cookies. Cookies enable the Sellingantiques.co.uk web visitors to store their favourite antiques without the need to create an account, help track how many people visit the site and also provide information about what pages are the most / least popular which help improve the overall website experience.
---
Copyright
© 2021 Sellingantiques Ltd - Design, images and content are copyright Sellingantiques Ltd. All antique photos are protected by copyright of individual dealers.

Photos or content cannot be reproduced without he written consent of both Sellingantiques Ltd and the individual dealer.
Sours: https://www.sellingantiques.co.uk/antique-vases/antique-chinese-vases/
Clive Attrell Valuation Lesson 4 - Chinese Vase
.
Now discussing:
.
1224
1225
1226
1227
1228