Introduction: Home Built CNC Machine Part 1 - Supported Linear Rails
This instructable is part of an on-going project to build a home CNC machine.  In this part of the project, I will show you how to build a supported linear rail which can be adapted for the desired length (X-Axis) of your own CNC project.  

Most people are put off from building a useful sized CNC machine because of the cost of parts.  Others use angle iron and skate board bearings for their linear rails.  The instructable may look compllicated but it really is not.  With a little care, it is possible to make an accurate CNC machine and will enable you to build a decent sized machine.
Step 1:
When I first designed my machine, I started to look at much cheaper alternatives to aluminium box sections, proprietary lead screws and proprietary linear rails.  I finally decided to build my machine to this design which includes some junk yard parts and home made linear rails which can be made to any practical length required.  The parts shown in yellow are steel parts which are fabricated by a local laser or plasma cutting shop and will form part of a later instructable.

The two end sections of the base were cut from industrial shelving brackets obtained from my local junk yard to which I have welded cleats for connection of the linear rails.  The two (red) intermediate rails are steel channel with steel cleats welded on the end.  The overall size of my machine bed is 800mm x 1800mm but of course you may build your machine to whatever (practical) size that you wish.
Step 2:
The linear rails - Construction.

The following tools and parts will be required for this part of the project:

• 2 x 16mm, bright steel rod cut to required length or other smooth finished 16mm steel bar that can be bored and  threaded with a hand tap.
• 12.5mm x 8mm electrical stand-off spacers. (sufficient to provide support at 150mm intervals along whole length of rail.
• 2 x 25mm x 5mm, bright steel bar to same length as steel rod.  
• 2 x Aluminium 'I' section support rails.  I used dividing strips from demountable office partitions that I got from my local junk yard.  If this is not available,  there are many different lengths of cheap, 'I' sectioned spirit levels up to 1800mm (or more) length and with milled edges available on eBay.
• A bench or pillar drill.
• 4.2mm, 5mm and 10mm (for countersinking) drill bits
• 5mm tap.
• A quantity of M5 x 10mm, countersunk, socket (allen) ended bolts to suit length of rails.
• A quantity of M5 x 25mm, countersunk, socket (allen) ended bolts to suit length of rails.
• A made-up drilling jig.
• A set of hex (Allen) keys - preferably ball-ended.
• If you have access to a small lathe, you will find it useful for turning small pins for your drilling jig.
Step 3:
The first thing that you MUST do is to take the 16mm rod to a local engineering shop and have a 1mm deep flat ground on one side for the whole length of each rod.   I have ruined several pieces of rod trying to drill accurately but it is impossible to centre the drill bit on a curved surface.  Even an end mill bit is not sufficiently stiff to keep the holes centred.
Step 4:
Although it may be possible to do the next operation without a jig, making one is well worth the time and effort to ensure accurate drilling.

This is the jig I made up from a 5mm piece of steel with two strips made up 3 pieces each of 5mm steel bolted together to make the strips 15mm high.  On the drill table beside the jig is a positioning tool made up with two 5mm rods on the outside with an old 4.2mm drill in the centre.  The jig is positioned on the drill table first by using a 10mm drill into the centre hole.  The four holes to the left of the jig strips are drilled so that the positioning jig can be set at an initial 75mm in from the end of the rod and then at 150mm for each successive hole.

To use the jig, the 16mm rod is inserted between the strips with the 'flat' facing upwards and butted against the positioning jig which is at the 75mm position initially.  The 25mm bar is centred on the top of the strips and held in the centre by using additional strips either side of the bar and secured by cramps.  I used small brass dowels (turned on my lathe) instead which were fitted into additional holes in the jig strips.

Both the bar and the rod are then drilled using the 4.2mm drill.  The depth stop on the bench drill must be set so that the last 3mm of the rod are not drilled.  The positioning jig is then reset to provide 150mm spacing for the holes down the remainder of the rod.  I seriously recommend that the jig is cleared of metal swarf each time the work pieces are moved up the jig to prevent scratching of the 16mm rod.  You will find it necessary to use supports for the ends of the rod and bar if they are longer than about 750mm as it will be difficult to keep the work pieces flat in the jig otherwise.

Once all of the 4.2mm holes are drilled down the length of the rail, remove the 16mm rod then redrill each of the holes in the bar using the 5mm drill then countersink each hole using the 10mm drill.

I recommend that when drilling the 4.2mm holes, that the first hole in the rod is tapped and the first hole in the bar drilled out to 5mm and countersunk, then the rod and bar temporarily fixed together using one of the M5 x 10 bolts before drilling the remainder of the 4.2mm holes.  This is to ensure that the holes remain properly aligned throughout the length.  After drilling is completed, tap each hole in the bar using a first, second and plug tap for each one.  
If you have access to a foundry, you may be able to have the rods induction hardened for additional life.  

If you can get the jig parts laser or plasma cut, I can supply a .dxf file to submit to the cutting shop.  The dxf file is slightly different to the one that I have used as I have included a large cut out at the drilling point in order that swarf does not jam down the side of the rod and can be cleared easily using an old paint brush during the drilling phase.
Step 5:
The next operation is to drill the fixing holes from the flat bar into the 'I' section.

First clamp the flat bar onto the 'I' section making sure that they are properly aligned throughout it's length and with the previously drilled countersunk holes facing towards the 'I' section.

Using the 4.2mm drill, drill through both the flat bar and the flange on the 'I' section 6mm from the edge of the bar and on alternate sides between the previously drilled holes.  Then separately drill out the holes on the flat bar to 5mm and countersink with the 10mm drill. 

Once again, I would recommend that the first hole in the 'I' section is tapped and the first hole on the bar is enlarged and countersunk then the two pieces fixed together before drilling the remainder of the holes.  You will need to check the alignment regularly as there is often a curvature in the flat bar or I section.  As long as they are perfectly in line with each other, they can be made straight by using shims on the cross-members

It is not necessary to be particularly accurate with the spacing between these holes along the length of the bar but they must be on an inscribed line at 6mm from the edge else you will find it extremely difficult to insert and tighten the M5 x 10mm bolts under the rail if they are much further than 6mm from the edge.  You will also find out why I recommend a ball-ended hex wrench for this job.



Step 6:
The next operation is assembly of the rails.  First assemble the 16mm rail to the flat bar using M5 x 25 bolts with the electrical stand-off spacers between them.  The spacers have an internal diameter of 4.3mm  when you buy them and will need to be reamed out to 5mm using a suitable holder in your bench drill.  I found it particularly easy as I was able to use my lathe to centre drill the spacers with a 5mm drill.
Step 7:
The final operation is to fix the rod and bar assembly onto the 'I' section (Fig 7) using the M5 x 10mm bolts.  There is very little clearance to insert the bolts under the 16mm bar and you will almost certainly require to use a ball-ended hex (allen) key to tighten the bolts.

I hope you found this instructable useful.  If you did, please vote for me as I have entered the ShopBot Challenge.

The next part of this instructable will be to assemble and fit the gantry and 'Y' Axis to the linear rails.  I will be including DXF and DWG files in order to get the parts laser or plasma cut.
Be the First to Share
Did you make this project? Share it with us!
Recommendations
Space Contest

Retro Tech Challenge

Micro:bit Contest
Sours: https://www.instructables.com/Home-built-CNC-Machine-Part-1-Supported-Linear-R/
Some of the very largest – and coolest – CNC machines use supported linear rail for their movement axes. For any home tinkerer trying to reproduce these supported rails, the problem of cost comes up very quick; these rails can run over $100 for just a few feet. [Michael] came up with a great way to build his own supported rail so he can build his very large CNC router.
There aren't many tools needed to build [Michael]'s rail. He put a 90° notch in a 2×4 to support his 25mm rail, and clamped it down with a piece of plywood. After drilling a 5/16″ hole every 12 cm, he tapped these holes out to receive 3/8″ threaded rod. Yes, we also hate the mix of metric and imperial units in that description, but the results speak for themselves.
The now-supported rail was mounted to a piece of MDF with a few bolts and washers. MDF isn't the most dimensionally stable material, so [Michael] will be covering the whole thing in a coat of epoxy very soon. Now, he's one step closer to his gigantic CNC gantry router.
You can check out [Michael]'s demo video after the break.
Sours: https://hackaday.com/2012/04/23/cheap-and-easy-linear-supported-rail/
There is something satisfying and empowering about working with your hands. DIY projects give you that sense of accomplishment, as you mold, shape and build. You are the architect of your visions. For many of us, CNC routers and router bits give us that extra help that we need to bring these visions into reality.
In keeping with the DIY themes, you may want to embark on a project of building your own CNC router. As we know, a CNC router is not stationary. It needs to be able to travel if it is going to execute the commands with precision and accuracy. For this movement, you need liner guide rails. This article aims to provide you with a list of the best linear guide rails for your machine.
10 Best Linear Rails for CNC
1. Erayco 3 Piece DIN Rail : Best Liner Rails Overall
Check Price
As a notable name in the CNC router accessory business, Erayco has delivered multiple products of exceptional quality. These DIN rails is no exception. Here, the company delivers another product that simply does just that – provide excellent quality. These rails flawlessly provide the parallel, frictionless and stiff support for the loads afforded by your machine. These are made with high quality aluminium material.
This Erayco 3 piece DIN rail set is perfect for supporting many electrical appliances and outlets. They lend themselves well to panel boxes, surge protectors,circuit breakers, terminals, relays and many other such appliances. Users and our fellow woodworking friends were satisfied with the size and specs as these translated well to their needs. Erayco 3 piece is one of the best linear rails for cnc and won't disappoint you.
---
2. RATTMOTOR TRH20 Square Linear Block Rail L600mm : Best Premium Pick
Check Price
This kit comes with four TRH20B Carriage Slider Blocks. These are detachable of course and lend themselves well to many individual customizable options. The set is 600mm and is therefore able to support large loads such as 3D printers and CNC machines.
The 2 Set TRH20 Square Linear Block Rail L600mm is advertised as being able to support the builds of many economical CNC routers. The rails are constructed with high density bearing steel, which for the most part provide a smooth and sturdy movement experience with virtually no friction. However a little grease wouldn't hurt. The manufacturer is open to customization options as it relates to ball screw length and encourages communication in that regard.
---
Other Great Picks
3. Firgelli Automations 50 inch Extension Guide Rails
Check Price
The Firgelli Automations 50 inch extension guide rails is one of the biggest offerings on our list. As a result of its build, this pair can support up to four hundred pounds of machinery. This of course speaks to a sturdy build quality (it is made from cold rolled sheet steel) in addition to the sizes of the parallel pieces. Naturally, such a size lends itself to the construction of the large CNC routers.
Here, Firgelli gives us high quality ball bearing slides that are smooth, sturdy and quiet. These characteristics lend themselves well to the construction of your machine. While the construction of your CNC router will set you back a decent amount, it is nice to know that this is a staple of quality. These rails are worth every penny. Most users claim that the slides held up well when used for their intended purposes.
---
4. Joomen SBR25 Support Rails
Check Price
Joomen LLC provides us with this sturdy and durable offering. The Joomen SBR25 is built for ease of use as it comes with pre-drilled holes on the rail mounts. The rails are 600 mm in length, allowing them to comfortably support your CNC. Slide rails are fully supported, giving a low friction and by extension quiet experience as your CNC moves along its length and performs its duties.
Here, Joomen gives you the full package as it relates to CNC rail support. The linear rails are very sturdy, gracefully serving their purpose. The straight, parallel build provides high accuracy with the movement and load support. Woodworkers who bought these linear rails were unanimously satisfied with the offerings, praising the fact that these linears rails are of high quality and lend themselves well to their intended purpose.
---
5. Reliabot 350 mm MGN12 Linear Guide Rails
Check Price
The Reliabot 350 mm MGN12 Linear Guide Rails is specifically designed to support not only CNC machines, but also 3D printers. In fact, the entire package includes the MGN12C Carriage Block, further lending itself to that purpose. The friction is cut down significantly here, with a seamless and quiet experience as the machine or 3D printer moves along the rail with the aid of the mounted carriage block.
While there are more options out there with more length to facilitate travel distance, this small offering is quite durable and capable. It serves its purpose well when used with the compatible CNC sizes. If you are building your router rig you have to compensate for and take advantage of the carriage block which provides extra mount and leverage.
Reliabot 350 mm MGN12 Linear Guide Rails received an average review score of 4.2 out of 5. Reviewers praised the motion and smoothness of the build, but were quick to point out that these were optimized after adding grease.
---
6. Anycubic MR12 MGN12 Miniature Linear Guide Rails
Check Price
Anycubic offers this small set with an MGN12 H carriage block for extra support and leverage. The rail itself is made with quality steel, making it durable enough to support the weight of its CNC host. The carriage block also provides extra support for 3D printers and the CNC parts. While not the sturdiest (these are not immune to vibration) the Anycubic MR12 MGN12 Miniature guide rails will serve its intended purpose. Just do not expect it to exceed your expectations.
The Anycubic MR12 MGN12 is by no means the best in quality, but you get what you pay for. It is one of the least expensive offerings out there in the size range. However these rails are far from incompetent. With a little grease, your CNC will be sliding friction free. From experience, I contend that the product does what it is advertised to do but caution against expecting anything beyond that.
---
7. Reliabot 400 mm MGN15 Linear Rail Guide
Check Price
This offering from Reliabot is tailored towards the support of large loads. The carriage block allows it to support the movement of 3D printers as well as CNC routers. Ease of use was very much considered here, as the rubber stoppers on the rail ends serve to make it easy to gauge and control the movements of the CNC along its body.
The Reliabot 400 mm MGN15 Linear Rail Guide will support large loads and is therefore recommended for some of the heavier machines. You will for the most part experience a smooth, low friction movement along the linear bearings. The carriage block is removable, adding more customization options. The manufacturer advises caution when removing the block however as the balls may fall out during the process.
---
8. BIQU MGN12 Linear Guide Rail
Check Price
This product comes with an MGN12H Carriage Block and is advertised to be able to support 3D printers and CNC routers. It provides decent linear motion, however this can be a little noisy in the process. We would recommend applying some form of grease to eliminate friction and by extension reduce the noise. Aside from this, you will get a smooth and sturdy experience with this set.
The noise and friction makes this product somewhat inferior to others in its category, but that does not mean that it does not carry out its function. You will get support from this offering, with its sturdy steel build holding up the required load as advertised. It may be cheap and I will agree that it is not incompetent, however they were not impressed with the noise component.
---
9. Hezukyp SBR16 Support Rail
Check Price
The Hezukyp SBR16 Support Rail is a 300mm ball screw motion rail kit. It provides a smooth and linear motion experience with an impressive build quality that provides a virtually noise free, low friction experience as it supports the intended load for your CNC router build.
The carriage blocks that are included with these linear guide rails will provide support for 3D printers and CNC machines. Everything functions as it is supposed to, with the anti backlash technology in the form of the ball screws contributing to a sturdy, vibration free linear bearings motion experience.
---
10. Joomen SBR16 Support Rail
Check Price
The Joomen SBR16 Support Rail provides an excellent experience with very little friction. It supports machines, with the four bearing blocks adding to the customization options. You will also be able to support 3D printers with this sturdy set.
With this offering, you are getting a sturdy metal build with a lot of length. This will give your mounted CNC router more room to travel with its 1000mm length. Speaking of travel, you will have a virtually noise free experience as friction is highly reduced even without the application of grease. However for optimal performance, you might need to apply some grease after all.
---
Final Verdict
Choosing the best Linear rails for CNC can be one of your best investments since it will ensure stability and precision in your finished product. Once you have planned and budgeted, you should secure the parts needed for your build and some of the most key components will be your support rails. You want unrestricted movement as your router executes its tasks.
Categories CNC Router PartsSours: https://theedgecutter.com/best-linear-rails-for-cnc/
DIY Linear Rail Router Sled
Round Guide Rails VS Square Guide Rails for CNC Routers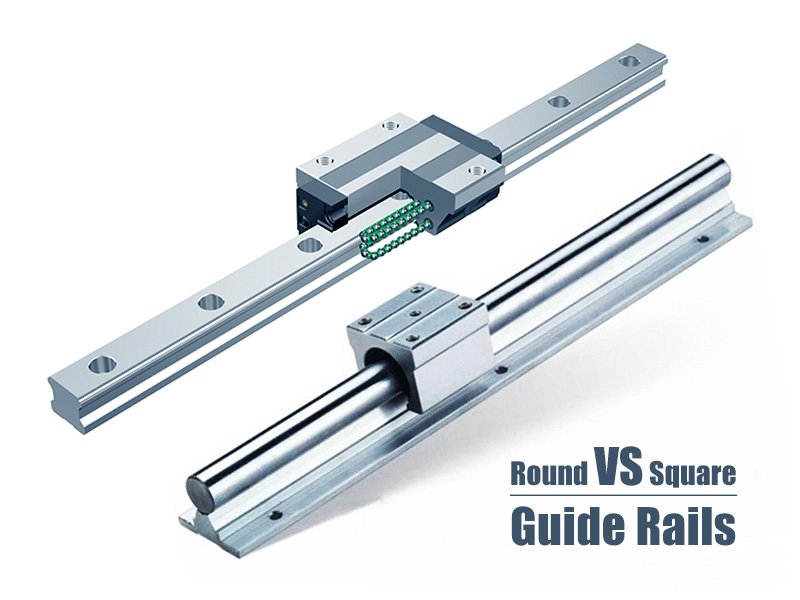 Linear guide rails come in two types, round guide rails and square guide rails. Round guide rails originated first but do not provide the precision offered by square guide rail components. However, the round guide rail is the preferred guide rail for vertical movements with heavy loads. The application will dictate which type of linear guide rails should be used. The criteria for choosing one over the other is no different than choosing any other CNC router component, spec out the design, define system objectives, and work from past successes and mistakes. But anyone short on experience can make simple mistakes. The best place to start is learning the fundamental qualities of each type and adopting those most relevant to the application.
Round guide rail technology has been honed to near perfection over the past 60 years and square guide rails have been around a respectable 35. Most of the inherent design problems have long been ironed out and materials have improved dramatically. Most problems arise from misuse and misapplication. And the main reasons for misapplication often come from a personal bias or prejudice, a miscalculation, or an esthetic judgment. That is, a relatively small linear profile rail might fit the load, speed, and every other requirement-just fine. But when mounted to the CNC router, a discerning eye might conclude it looks feeble and definitely undersized.
One type of linear ball-bushing guide is not necessarily easier to use than another. The choice depends entirely on the specific application. In general, a particular square-rail component might cost more than the round, but other requirements including system cost should be addressed. At a minimum, these items include the expenses for preparing the CNC router bed or other mounting surface to accommodate the rail system, the positioning accuracy needed, and the space available for the linear-rail subsystem.
But before committing pencil to paper or mouse to pad, decide upon either a square or round rail. When the application looks like it could go either way, run preliminary calculations on the most critical qualities and needs to make certain nothing is overlooked.
Round Guide Rails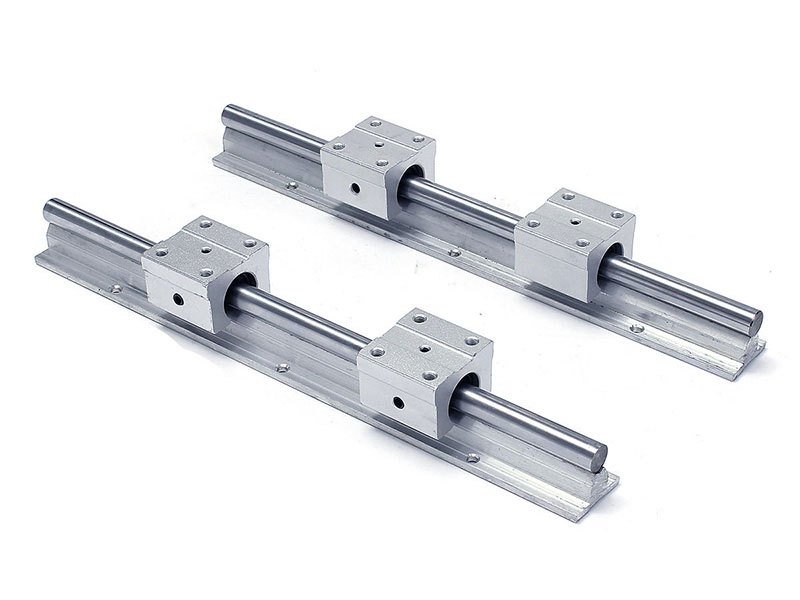 Before the advent of Square guide rails, Round guide rails were expected to satisfy every linear motion-control situation. And for many years, they did so admirably. But as CNC router tool users demanded closer tolerances for certain jobs, CNC router makers favored the classical method of milling and scraping ways. Round guide rails were used for peripheral equipment when they couldn't meet tolerance requirements.
This didn't make Round guide rails less valuable or obsolete. Their benefits continue to outweigh their drawbacks. Round guide rails are generally less expensive than Square guide rails, but that should not be the primary criterion for any application. A square rail can actually fail where a round rail can work smoothly and flawlessly. For example, Round guide rails are more forgiving of misalignment, poor parallelism, and moment loads in most machines and allow more variation in rail height than square-rail systems. Still, they can hold a travel straightness of 0.01-in. for 10 ft. Also, the small rolling element tends to make the round-rail motion smoother.
To attain this accuracy, they need supports only at the ends, although many are supported at several points or along their full length. This lets the rails cross over gaps without a problem, and safely go from one support to another. When the round-rail system requires only a shaft-rail assembly (a shaft, a rail, or a shaft and two end-supported blocks with four pillow blocks) the preparation cost is less than the square rail. Generally, round-rail installation is relatively easy and inexpensive. And service and replacement favors the round rail.
Square Guide Rails (Profile Guide Rails)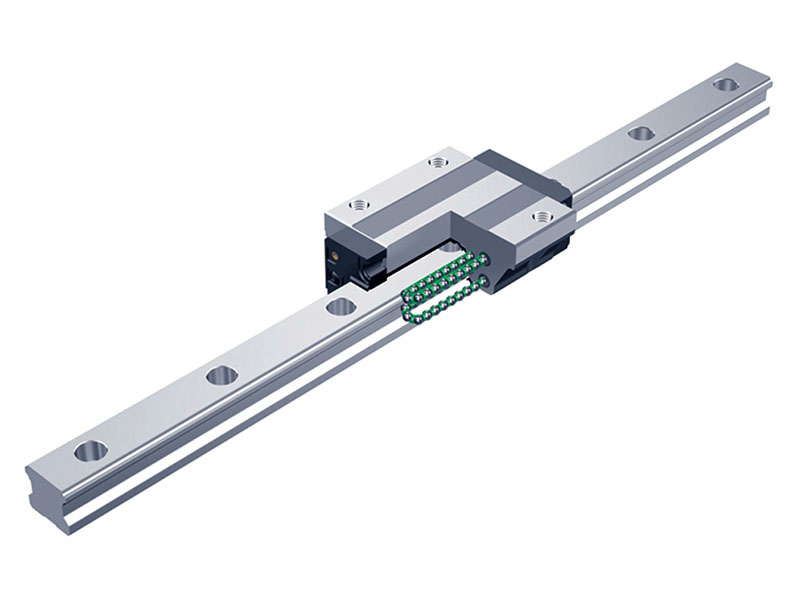 Square guide rails were initially designed for the CNC router tool industry. They replaced integrated carriages and ways, which are integral areas of the CNC router bed. Notwithstanding, some traditional carriages and ways still provide high accuracy in certain situations.
Square guide rails are stiffer and more rigid, but need straight, continuous support with tight requirements for flatness and parallelism; they can't span the gaps that a round rail can. But because CNC router manufacturers are accustomed to precision bed preparation, this isn't a problem.
The main advantage of Square guide rails is their high positioning accuracy, especially useful in milling and grinding. They hold from 0.0002 to 0.001 in. over a length of 10 ft, compared to 0.01 in. for Round guide rails. They also handle this precision for a moment load; a single carriage and single rail is better suited for this than a round rail. And because the square rail handles higher loads at high accuracy, most users tolerate somewhat less smoothness than the Round guide rails offer.
Although a single profile rail unit can handle a moment load, it's not always recommended. Two or more units should be used to balance the load or distribute the weight. However, one square rail can fit where two Round guide rails would be required. Profile rails are also easier to use because they need one or two parts for a complete system, the rail and the carriage, whereas the round rail comprises a few more parts.
Square guide rails have higher load-life capacity, defined as the amount of load the unit survives traveling a specified distance. For example, a 20,000-N capacity is based on a 100-km rating. And wear is minimal because the rail doesn't slide but has rolling contact. Square-rail life primarily depends on the type of environment in which it resides, proper lubrication, and maintenance. With all else being equal, Round guide rails are a little more tolerant because they are not as tight a package and not as sensitive to slight variations. A square rail is more sensitive to debris and impact, although it does have a higher capacity and resistance to impacts which don't affect the rolling element.
Considering the wear aspect, the round rail also has natural debris-shedding capabilities. Square-rail tracks are hidden from direct access but do not necessarily shed debris. With a fluid driving force applied to the rail, a round rail performs better than a square rail, because the square rail could pull up on some of the race areas, whereas the round rail has fewer tendencies for pull-up.
Select a type of rail to use before starting the CNC router component layout. The mounting fixtures are radically different between round and Square guide rails, and the area in which to work varies as does the load rating for the physical size. If it doesn't work out later, changing from one brand of square rail to another is easier than changing from a square to round rail. All manufacturers follow standards that allow some degree of interchangeability within a type.
Efficiency can be approached from two angles. One deals with the drag coefficient of friction; less friction means lower input energy. Round-rail drag is a little lower and its action smoother than a profile rail. But those who use Square guide rails regularly provide enough power to drive the rails sufficiently well. Some also consider efficiency from the standpoint of overall envelope or size. The smaller profile rail offers a smaller package for higher loads.
Shock loading, as with an instantaneous impact load, affects all bearings. Square guide rails can handle a heavier load than a small unit, so shock is more of an impact force. But in all cases, the rail is scaled to the capacity of the normal load, not a shock load. There is no significant difference except that in heavy machinery a shock is more detrimental just because of the pure mass.
Square guide rails come with some critical environmental deratings, typically found in the manufacturer's handbook or design guide. Unfortunately, designersdon't consider derating factors frequently enough in the beginning design stages for either round or Square guide rails. For example, the standard duty-cycle rating in the U.S. is 2 million in. or 50 km and 100 km or 4 million in. for the European market. Often, the standards recommend that a rail system not be used beyond either 25 or 50% of the rated capacity.
It's in the catalog
Most catalogs for linear roller and ball guides contain application and engineering information for sizing and installation. These parameters are required for determining the dynamic load and moment ratings and the static load and moment capacities, which include pitch, roll, and yaw. Catalogs also include graphs and equations for determining bearing travel life from the dynamic load rating and applied dynamic load input parameters. Each linear roller or ball bearing guide has unique specifications for velocity, acceleration, tolerances, preload, and temperature range.
The most critical parameter for profile guides is running parallelism, which is in the several-micrometer range. Unless followed closely, the bearings bind or wear prematurely. To prevent such problems, installation guides painstakingly cover the subject of mounting-surface preparation, mounting tolerances, and rail parallelism. Installation data also encompasses rail vertical offset, vertical and lateral carriage offset, mounting-hole tolerances, bolt torque, and butt joints.
Round linear ball bushing bearings require the same considerations as profile rails, plus a few. Polar graphs illustrate the dynamic load capacity, and graphs show the load life. The low friction coefficient of 0.001 and self-aligning specifications given to Round guide rails eliminate the need for the derating factors commonly assigned to profile rails.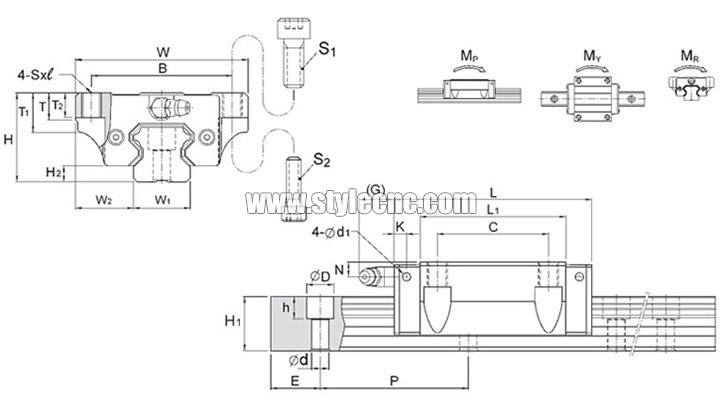 Applications
While square linear guide rails once cost many times more than round technology due to the extensive grinding requirements inherent in the design, new manufacturing techniques and economies of scale have encouraged engineers to entertain the use of square guide rails in a broader application space. Square linear guide rails can now be found in many of the same applications that were once only supported by round guide rail.
Most applications can use either round or Square guide rails. But some rails are replaced with the other type because the former doesn't work. Such was the case in a hospital-patient bed where the designer started with a square rail for axial movement. But the assembly would bind; it couldn't move freely unless the mounting bolts were loosened to allow some twisting motion. The bed frame simply was not rigid enough. The square rail had to be replaced with the self-aligning round rail.
Another application suffering from a similar problem was a square rail mounted to a sheet-metal base in a vending machine. The rail didn't work because the sheet-metal mounting was not rigid enough. Sometimes, designers repeat mistakes when they look at the same problem in a different light. An engineer familiar with Round guide rails may tend to stick with them, regardless of the application needs for higher accuracy. But most applications don't need the square-rail accuracy. They should look at the entire system cost, not just the component cost. And that means incorporating the requirements for all the peripherals and extended issues.
The load/life graph of the round rail indicates the limiting load for a given ball-bushing bearing. Enter the chart with the maximum load of the most heavily loaded bearing and the required travel life and find where the two lines intersect. The area through or above and to the right of the intersection indicates the most suitable bearings.
The orientation of the bearing or direction of applied load determines the dynamic load capacity of a ball-bushing bearing. The correction factor is found from the direction of the applied load relative to the orientation of the bearing ball tracks shown in the polar graph. To determine the load capacity, multiply the correction factor K by the dynamic load capacity of the specific unit.
Square guide rails can outperform round guide rails in specific circumstances that demand higher rigidity and more compactness in terms of load capacity relative to size. In general, profile guide rails offer higher load capacity, accuracy and stiffness, and a longer life expectancy.
Square guide rails are required to have extremely parallel surfaces to prevent binding and excessive wear. They tend to take on the shape of the mounting surface, making strict adherence to the parallelism specifications necessary.
Sours: https://www.stylecnc.com/user-manual/round-square-guide-rails-cnc-routers.html
Diy cnc rail
Sounds cool… would be nice to suddenly more than double your workshop space! I think we had similar ideas for how to integrate a LR2 into a shop. There are probably a few issues with the LR2 and my implementation of it that would you'd want to consider before going for it.
I think the main issue with trying to use the table for multiple purposes is the belts: They are always there and slightly in the way. They're also very fragile compared to large sheet goods and stock that would be going on and off the table. That's one reason I wanted to lower them… get them even slightly out of the way. But if you're sliding off a full 3/4" sheet of something from the table yourself, you'd probably still break something.
The belts would also make removing the LR tedious in that you'd have to undo them to get the long-axis steppers free from the rails.
So step 1 would be to undo both long belts from one end of their mounts, unthread both long-axis steppers from each belt. Even free from that, my LR would not come off easily since the bottom hardware on each Y Plate extends underneath the rails, preventing lifting straight up for removal. You could roll it off either end of the rails instead, but your Y-Plate assemblies will fall off at that point unless previously secured somehow.
The rails are currently attached with 5 bolts each fed into t-nuts mounted from the inside of the torsion box table. You could undo these bolts and remove the rails, but alignment of them to the table is important, so factor in time and have a jig ready to align them relative to the table top again when putting it back together.
All that said, I think you could get a lot of use out of the table just by parking the LR2 at one end instead of removing it and using the rest of the table like I do. Build it at the same height as your tablesaw and cut miter slots in it and it's and effective outfeed table (if your saw fits between the rails extending from the end). Leaving the LR2 on has other upsides: I already had 1 stepper wire connection at a connecting pin go bad just in jostling wires while setting up, so I'd be very wary of trying to repeatedly take the whole assembly off and on repeatedly.
Also, while I'm not trying to deter you from my modification, I don't think there's anything in the original design that would prevent you from doing the same thing if you used unistrut fastened to the side for the wheels as several have done here. The unistruts are effectively removable rails themselves. The main reason for my rails was just stronger tracking on the long axis: It's very hard to shift my assemblies off of their trackline because the pulleys self-center on the conduit.
For the rails: I ripped 8' long sections of plywood and glued them together staggered against a flat reference so that I could make a section longer than 9' out of 8' sections and build up the thickness in the process. Set the table saw for a 45' cut to the center of these (edge center) and ripped, flipped around, and ripped the top side of each glued strip to create a v-groove for the tube to sit centered in. I had the conduit just sitting in the groove for a long time to try things out, but kept bumping it out, so I epoxied it into place. You could also drill holes in the top (large enough for a screwdriver and screw head ) and bottom (smaller, but big enough for your screw) at intervals along the tube and fasten it with screws. The pulleys ride on their edges, so chances are they would go around the top hole if it was centered and small enough.
Spacers are easy: glue how ever many layers of ply to get the space you want and cut it equally into 10 or so pieces that should all be the same thickness. Glue them to the rails at your fastening points and drill recessed holes for bolts through all from the outside.
1 Like
Sours: https://forum.v1engineering.com/t/lowrider2-build-in-ny-with-diy-linear-rails/22614
Big DIY CNC router - part 4 - Electric cabinet and installing rails. Ep19 Project SeaCamel
I have built and am currently using an MDF machine built, more or less, to the JGRO design. Plenty of info if you do a Google search. Pro - materials to build are cheap. I went up a size on steel guide tubes, but it still uses skate bearings and threaded rod so didn't cost an arm and a leg. I did spring for bigger motors than recommended and reasonable drive electronics so that I could reuse these later. Fairly simple to build with ordinary tools, although I also used my lathe, milling machine, and 3D printer to produce parts (home-made motor couplings, anti-backlash delrin nuts, etc). Cons - it warps like nobody's business, and it's really, really difficult to keep the bearings in adjustment. Use of M10 threaded rod as a leadscrew may be cheap but the critical speed is low, so my maximum rapid speed is only 900mm/min.

I've done some useful work with it; I was using it today to make drilling jigs for some MDF furniture I'm building (the cutting area is too small to directly CNC cut the cabinet panels) and it's fine for that kind of thing. I've learnt an enormous amount from it (including a long list of what not to do!) at not a very great cost and had a CNC router available for use while planning the Mk2, which is now being built. I wouldn't stop someone building a wooden machine, and I'm sure that you could build something stronger than mine, but just keep in mind that it is going to have limitations and go into it with your eyes open.
Sours: http://www.mycncuk.com/
Now discussing:
DIY CNC – Linear guides and ball screws from TBI Motion
When it comes to said amounts, I am very critical of the universally popular shopping in the Far East with a credit card payment. With smaller machines and investments, one can justify the risk – which is completely value-free compared to the small machines – but with four-figure amounts, I lack the necessary trust. In addition there are three-digit shipping costs from the Far East for my required sizes. I would also rather invest this money in the EU for hardware and enjoy short DPD-delivery times as well as a fixed telephone contact person in Europe. Of course, I am aware that TBI does not manufacture in Europe.
So I was looking for a distributor for TBI Motion linear motion products in Europe and found what I was looking for at TULI in Slovenia. I did not even specifically look at Eastern Europe, but to this day I have not received any evidence of a German TBI Motion dealer. Mr. Pleško from TULI is a competent contact person who always answered our questions quickly in advance, he provided 3D files for the construction and ultimately granted me an enormous discount when ordering all the linear motion products "in one go". I can recommend the shop without hesitation, the "Aftersales Service" with tips and short-term feedback works extremely well, too.
In the meantime, I have decided to bid farewell to the idea of driving my long X-side with a double ball screws, but ultimately let my gut feeling prevail and the order was subsequently supplemented. Right from the start, the two ball screws 20x10 were synchronized with a toothed belt. That is a good € 400 extra, but I could save it elsewhere e.g. on tools and the power supply.
Here is an overview of the rolled TBI Motion ball screw in the C5-class*, ball nuts with flange and their floating and fixed bearing supports:
2010 to X (2)
2010 to Y (1)
1605 to Z (1)
*C5-class = max 1.8/100 mm pitch error on 300 mm for about an extra € 10 net price per meter, instead of C7-class = max. 5/100 mm pitch error on 300 mm.
Since nobody was able to tell me exactly how to plan the lengths of the ball screw, I took the cutting tolerance (max. 0.5-1 mm) into account and possible expansions due to temperature changes and planned a distance of 2 mm from the finishing process to the floating bearing.
All TBI Motion linear carriages are slightly preloaded flange carriages in standard height TRH ___ FL H Z1:
2 x 2 x 25 to X
2 x 30 in front to Y
2 x 20 on top to Y
4 x 25 to Z
Z1 = slightly preloaded
The relevant linear guides come from the accuracy class H = High.
In my case, it was a two-week delivery time after a SEPA payment in advance. The goods arrived in perfect condition in three shipments via DPD after two (!) delivery days. All sensitive parts such as ball screw ends and guide cuts were extremely well secured. The ball screws were padded and secured in cut square foam blocks with notches, a very good idea.
My absolute - and complimentary - recommendation for TULI and Mr. Pleško. When ordering there, please refer to me. In the end, I will be happy to provide my shopping cart and all the lengths in the overall overview.
To sum up I can confirm that linear motion products accounts for around 50% of the material costs in mechanical construction. Since these parts play a key role in the accuracy of the machine, I only used high-quality branded products.
You can find out more information on my blog: http://selfmade-cnc.de/2017/07/27/lineartechnik-von-tbi-motion-eingetroffen/
Sours: https://www.tuli-shop.com/blog/diy-cnc-linear-guide-ball-screw-tbi-motion.html
1282
1283
1284
1285
1286