Cuticle care: Top-rated cuticle oils, pushers and cutters in 2021
Though all of our skin is sensitive and requires TLC, our hands are especially susceptible to damage since hand sanitizers, soaps and other chemicals constantly strip them dry — this is especially so during a pandemic. The wear and tear of everyday life often does a number on our cuticles, leaving us with peeling dead skin around the nails that can act as a gateway to bacteria if handled improperly. Though professional nail technicians handle these pesky hangnails during manicure sessions, only caring for your cuticles sporadically can lead to even more issues in the long run. If you're new to the nail care process, we spoke to experts about the cuticle care regimen, plus rounded up top-rated picks based on their advice.
Learn more about How to handle your cuticles at home | How to shop for cuticle oil
Related
What are cuticles, anyway?
What most people think of as their cuticle isn't actually their cuticle. According to Akiko Sugiyama, owner of AKIKO Nails in New York City, the cuticle is actually "the dead, colorless tissue attached to the natural nail plate." What you might think of as the cuticle is really the eponychium — "the living skin at the base of the natural nail plate that conceals the matrix area" — and it's there "to protect the area between the nail and epidermis from exposure to bacteria."
When grooming your nails, you want to cut your cuticles, not the eponychium. "When cutting the cuticle, it will not bleed since it is dead tissue that lies there as an extra barrier to protect any bacteria from entering the eponychium," explained Viviana Torres, a nail technician based in Georgia. "Cutting the eponychium will bleed and cause damage to the skin and open up a wound for bacterial infections to enter the body."
Related
Nail care: Cuticle oils, cuticle cutters and more
Based on guidance from Torres and Sugiyama, we rounded up top-rated products for every part of the cuticle care process, ranging from cuticle oils to cuticle pushers.
Top-rated cuticle oils
Olive and June Cuticle Serum
Olive and June's cuticle serum contains several of the expert-recommended oils, including avocado oil and jojoba oil. It comes in an easy-to-use twist pen with a foam tip for mess-free and manageable application. According to the brand, the serum doesn't leave behind ample residue and absorbs into the skin easily. It has a 4.4-star average rating from more than 450 reviews on Olive and June.
CND SolarOil Nail & Cuticle Care
Formulated for both the hands and feet, CND's SolarOil is infused with jojoba oil, almond oil and vitamin E to deeply penetrate the skin and soften the cuticles. According to the brand, this cuticle oil is ideal for those with particularly dry skin and visible signs of aging. On Amazon, it has a 4.8-star average rating from more than 1,000 reviews.
OPI ProSpa Nail & Cuticle Oil
OPI's ProSpa Cuticle Oil contains expert-approved avocado oil plus several seed oils — including grape seed oil, sunflower seed oil and sesame seed oil — to promote the nourishment of the cuticles and the strengthening of the nails. The ProSpa Cuticle Oil also comes in a portable to-go tube and boasts a 4.6-star average rating from more than 50 reviews at Ulta.
Holler And Glow Coco Cutie Enriched Cuticle Oil
Holler And Glow's Cuticle Oil is formulated with both almond oil and coconut oil to moisturize and soften the skin around the nails. The brand claims that all of its products are 100 percent vegan and cruelty-free, meaning they are devoid of animal products and are not tested on animals. The oil, which gives off a light coconut scent, has a 4.8-star average rating from 19 reviews at Target.
Top-rated cuticle cutters
YINYIN Cuticle Trimmer with Cuticle Pusher
YINYIN's double-spring stainless steel cuticle trimmer is designed to stay sharp, according to the brand. The jaw of the clippers are just 0.38 inches wide, so they can tackle even the smallest hangnails. This set from YINYIN also comes with a cuticle pusher and it has a 4.7-star average rating from more than 6,500 reviews on Amazon.
Tweezerman Stainless Steel Cuticle Nipper
These cuticle nippers from Tweezerman require minimal pressure to operate thanks to the double-spring design. The brand claims that the half-an-inch-wide jaw promotes painless cuticle removal, while the stainless steel design can withstand normal rusting and wear and tear. On Amazon, the nippers have a 4.6-star average rating from more than 1,400 shoppers.
Top-rated cuticle pushers
Trim Wood Nail Care Cuticle Sticks
These wooden cuticle sticks can be used for more than just pushing back your cuticles — with the pointed end of the stick, you can also clean debris from under your nails and take off hard-to-remove nail polish. The sticks, which come in a pack of 12, have a 4.5-star average rating from 20 Target shoppers.
Flowery Pushit Pro Pusher/Cleaner
A highly rated option at Ulta with a 4.8-star average rating from 52 reviews, this durable metal cuticle tool from Flowery also has a nail cleaner in addition to a pusher. Reviewers note that both sides are surprisingly sharp, so you only need to apply a little bit of pressure when using it to successfully push your cuticles back.
Beauty Secrets Plastic Cuticle Pusher
If you'd prefer a blunter tool, this plastic cuticle pusher from Beauty Secrets uses a thick red tip to both push back cuticles and clean grime from under nails. According to the brand, it's both easy to use and grip, and it has a 4.1-star average rating from more than 70 reviews at Sally Beauty.
Related
How to safely handle your cuticles at home
Tending to your cuticles regularly can help prevent hangnails and peeling skin. According to Sugiyama, the best way to handle your cuticles is by pushing them back gently with a cuticle pusher. "This can stop and prevent cuticles from growing on top of your nail bed," she explained, adding that if you don't push them, "it can be painful and will peel off." The best time to push your cuticles, she noted, is right after a shower since the skin is soft and easier to manipulate. Otherwise, you should first soak your nails in warm water to soften the skin.
When it comes to cuticle pushers, Torres said that metal, plastic and wooden orange ones are all equally effective. "You can easily find [one] at your local store such as Walmart, Target or a Sally's Beauty Store," she noted.
If you end up with a hangnail or peeling skin, you can use a cuticle clipper to carefully cut off the excess dead skin, Torres said. If you accidentally nick yourself during the removal process, she said you should immediately stop the bleeding with a cotton ball and then clean the area with soap and water plus isopropyl alcohol once the bleeding has slowed. "You can immediately cover [it] with a Band-Aid but it's always best to leave it exposed so that it can heal quicker," she added. Sugiyama also suggested covering the wound with Vaseline to create a barrier as it heals.
How to shop for cuticle oil
Many nail technicians apply cuticle oil to their clients' nail beds after the hands have been washed. According to Torres, this is "an essential part of maintaining healthy nails" as it "keeps them moisturized" and "avoids excess dead skin." These oils also "aid in nail growth, circulation and help avoid hangnails and dry, peeling skin."
You can (and should) make this part of your everyday routine — hand sanitizers and soaps "contain harsh chemicals that lead to excessively dry hands and nails," and cuticle oils can "keep the skin nourished with vitamins," she said. Torres recommends applying cuticle oil as often as three times a day, but if you only do it once, it should be at night. "Applying the oil [before bed] allows the product to penetrate in the skin for a longer period of time as you sleep," she explained.
There are many different cuticle oils out there, and like the name suggests, the main ingredient is typically a type of oil. The experts we spoke to said that you should look for cuticle oils with a nut oil, seed oil or fruit oil base for the best results, as these tend to be the most hydrating. Specifically, they recommended looking for cuticle oils that contain:
Almond oil: Sugiyama noted that almond oil is one of the "best oils for nails." It's rich in vitamin E, which is "particularly soothing" and hydrating, as experts previously told us in our guide to chafing prevention.
Olive oil: All of the experts we spoke to recommended olive oil-based cuticle oils. Olive oil is another good source of vitamin E, and it's easily absorbed into the skin.
Coconut oil: According to Torres, coconut oil is a popular ingredient in cuticle oil thanks to its moisturizing properties.
Tea tree oil: Tea tree oil is another common and effective cuticle oil ingredient. Studies have shown that the essential oil can prevent and treat nail fungus, so this is a great ingredient to look out for if you're prone to fungal infections.
Jojoba oil: This seed-based oil is packed with vitamins B and E, which helps strengthen and lengthen the nails and improve hydration in the skin.
Avocado oil: Avocado oil is easily absorbed by the skin and allows other nourishing ingredients to penetrate deeper into the cuticles.
Related
Catch up on the latest from NBC News Shopping guides and recommendations and download the NBC News app for full coverage of the coronavirus outbreak.
Morgan Greenwald
Morgan Greenwald is the SEO editor of Select on NBC News.
Sours: https://www.nbcnews.com/select/shopping/cuticle-care-oils-cutters-pushers-ncna1279777
Each product we feature has been independently selected and reviewed by our editorial team. If you make a purchase using the links included, we may earn commission.
No matter whether your nails are always perfectly polished, you prefer to go natural, or you fall somewhere in between, cuticle oil is an invaluable asset to any and every manicure routine. The name is somewhat misleading because, while it does work wonders when it comes to hydrating the cuticle (the skin around the nail bed), it's also great for nails themselves.
Cuticle oils can penetrate the nails deeply and instantly, keeping them hydrated, supple, and healthy, explains celebrity nail artist Elle. "Nails are like a sponge — when they're dehydrated they're hard and can crack and turn brittle," she notes. And, to the point of protecting the skin, cuticle oils are wonderful for keeping the cuticle and other skin around your nails from drying out and causing hangnails, points out manicurist Anastasia Totty, a LeChat Nails educator. (Related: The Very Best Hand Creams, According to Dermatologists)
Here's the great news: Using one is ridiculously simple. "A little goes a long way, so all you have to do is apply a drop or two on top of or around your nail and gently massage it in," says Totty. Plus, cuticle oils are formulated to absorb quickly, so you don't have to worry about any leftover greasy residue. While you can absolutely apply a cuticle oil over polish or even acrylics, make sure to massage a little bit underneath the nail, too, she adds. (Sometimes the polish can impede penetration.)
Elle suggests applying a cuticle oil at least a few times per day but notes that following contact with water — think hand washing, showering, dish washing — is the most important time. When it comes to choosing a good formula, she recommends looking for culticle oils that contain vitamin E or jojoba oil, two top-notch hydrators for both the skin and nail. (Related: How to Prevent Dull, Dry Skin In Winter)
Ready to ace your nail-care game? Shop the 10 best cuticle oils below, as recommended by experts and customer reviews.
Sally Hansen Nail Treatment Vitamin E Nail and Cuticle Oil
best cuticle oil sally hansen
A highly-rated "nail oil" on Amazon, this drugstore find touts vitamin E, one of Elle's favorite moisturizing ingredients. With nearly 5,000 reviews, it's managed to maintain an impressive 4.7 rating from shoppers, lauding it for being "miraculous," moisturizing cuticles around acrylics, and even stimulating nail growth. Elle also likes that this one is a dropper, great for dispensing a good amount of product at once, she says.
CND Solar Oil Nail and Cuticle Care
best cuticle oils cnd
Another top pick on Amazon for "cuticle oil," this is also a veritable cult-classic in the nail industry, as well as one of Totty's picks — a real triple threat. Satisfied reviewers love it too (it has accumulated nearly 10,000 five-star ratings, in fact), raving about its ability to transform breaking, peeling nails. One user recommends applying the oil not only around the cuticle area but also under the nail a few times a day to really see a big difference in nail health. The subtle almond scent is an added bonus, and it also comes in various sizes.
OPI Pro Spa Collection Nail and Cuticle Oil
best cuticle oils OPI
This salon staple touts a blend of five different oils — grapeseed, sesame, kukui, sunflower & cupuaçu — for a maximum hit of hydration and nourishment. Nearly 7,000 Amazon shoppers have awarded it five stars, and users like how quickly it absorbs, without leaving behind any greasy residue, and how well it softens dry and cracked cuticles.
Dior Huile Abricot Daily Nutritive Serum
best cuticle oils dior
Credit: SAKS FIFTH AVENUE
Given that you should be applying a cuticle oil daily, it's a good idea to keep one on-hand in your purse or car. Elle is a fan of this one from Dior and says the brush applicator makes it easy to swipe across cuticles and nails, even while traveling. Thanks to a blend of active oils, including argan oil, vitamin E, and apricot oil — which is rich in vitamins and minerals — this product intensely nourishes, moisturizes, and strengthens cuticles and nails, says Elle. (Related: How to Strengthen Your Nails)
Ecco Pure Cuticle Oil Pen
best cuticle oils ecco
A pen-like applicator with a brush-on tip makes delivery a breeze, and is great for minimizing unwanted drips. This particular option is an Amazon fan favorite, and reviewers call out how well it softens cuticles (credit the vitamin E in the formula) and how easy it is to use. (Related: This Cuticle Oil Pen Can Help You Maintain Salon-Worthy Nails Without Leaving the House)
KB Shimmer Tri-Level Cuticle Oil
best cuticle oils kb shimmer
Designed with three levels of moisture, this is like a hydrating cocktail for your nails and cuticles, since it boasts oils and humectants including glycerin. "This one is a rollerball, also great for travel, and has grapeseed oil for intense moisturization," says Elle. Also nice: The wallet-friendly price tag and a variety of fragrance options, including raspberry vanilla, orchid, and a beach-inspired scent.
French Girl Nail and Cuticle Oil
best cuticle oil french girl
For those looking for a totally natural option, this pick is the choice. It contains (among other ingredients) tamanu oil — loaded with fatty acids and anti-bacterial properties — and hemp seed oil, rich in skin-loving omega 6 fatty acids. Users report that they love how the oil smells, as well as how it makes their cuticles look and feel. (Related: The Best Clean and Natural Nail Polish Brands to Try Right Now)
Maxus Nails Jojobalieve It Butter
best cuticle oils maxus
Okay, it may technically not be a cuticle oil, but Elle says it's one of her favorites to use in the same way. "The jojoba butter and vitamin E keep nails, cuticles, and the surrounding skin very well-moisturized, and it gives natural nails strength and flexibility," she says, adding that the smell is, "divine." Not to mention, Amazon reviewers note they love it for repairing nails and cuticles that have taken a beating during quarantine due to excessive hand washing or sanitizing. (Related: How to Use a Cuticle Pusher for Flawless At-Home Manicures)
LeChat CBD Infused Cuticle Oil
best cuticle oil lechat
Both experts recommend this formula from LeChat. Elle praises the thicker consistency of the oil, which she says gives it a more luxurious feel, as well as the namesake ingredient. She says it's especially great to use during the winter months; the CBD helps calm inflammation, a nice benefit when skin gets red, cracked, and irritated. Totty notes that it also contains tea tree oil, which has natural anti-fungal properties. (Related: The Best CBD Oil Beauty Products)
L'Occitane Shea Nail and Cuticle Oil
best cuticle oils loccitaine
The star of the show here is a 30 percent concentration of shea oil that conditions cuticles and has the added benefit of imparting a beautiful and healthy-looking sheen to nails. Amazon shoppers love that it moisturizes dry cuticles, the built-in brush makes it easy to apply, and point out that it's helped their nails grow longer and stronger. (Related: This Clear Nail Polish Gives You a Salon-Worthy French Manicure In Seconds)
Sours: https://www.shape.com/lifestyle/beauty-style/best-cuticle-oils
Cheap Trick: Sally Hansen Cuticle Oil Saves Your Suffering Fingers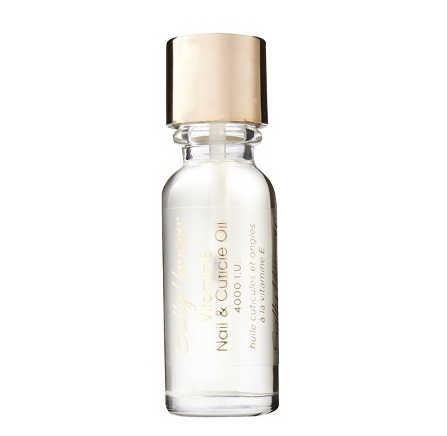 There's nothing we love more than beauty on a budget, especially when the product is actually worth way more than the price tag. "Cheap Trick" is our way of sharing our favorite wallet-friendly finds with the beauty world, so you can look great and have money to spend on more important things (like brunch with the girls).
Ever since the nail art craze on Instagram and Pinterest, we're all prone to post pictures of our fresh manicures in the hopes that we'll earn likes and comments aplenty. Even if you've got the hottest color polish with the most interesting new technique in nails, nothing ruins your social media snapshot like dry, jagged cuticles. Up close pictures of your digits means it's hard to hide a bad cuticle situation, which means you need a solution like a good oil treatment.
In an effort to clean up the nail bed situation and attain more likes, we searched around for a cheap solution and found Sally Hansen Nail Treatment Vitamin E Nail & Cuticle Oil. Besides moisturizing nails and cuticles, this oil strengthens your nails and doesn't break the bank. Costing less than $6, it starts working to repair your nails and make your at-home manicure look like you spent an hour in the salon. After continually using this oil, your manicure will last longer and your close-up shots will look professional.
Where to buy: Sally Hansen Nail Treatment Vitamin E Nail & Cuticle Oil, $5.99, Target
Sours: https://stylecaster.com/beauty/cheap-trick-sally-hansen-cuticle-oil-saves-suffering-fingers/
My Nail Care Routine!
Not gonna lie, I am soooo bad about doing/taking care of my nails. I rarely get manis at the salon and pretty much never attempt a DIY manicure at home. That being said, there is one easy nail thing I do all the time though, and that's slather my nails in cuticle oil. Like, even if your nails are a total mess, quickly massaging them with a few drops of cuticle oil can make SUCH a difference in their shine and health. Basically, cuticle oil will make your dry, haggard skin virtually disappear on contact, and because most formulas contain nourishing ingredients, like plant extracts and argan oil, they can also help strengthen your nails. Try one of these 13 best cuticle oils below to see for yourself.
Advertisement - Continue Reading Below
1
Best Cuticle Oil for Hangnails
JINsoon Extract Cuticle Oil
$35 AT REVOLVE.COM
Hangnails are pretty much inevitable during the dry, winter months...unless you're using this cuticle oil. The nourishing formula is loaded with honeysuckle and primrose to repair brittle nails and heal cracked and damaged skin.
2
Best Vegan and Cruelty-Free Cuticle Oil
Pacifica Nourish Nail + Cuticle Oil
$10 AT ULTA.COM
Are you all about that vegan and cruelty-free beauty product life? Cool, so am I, which is why I love this animal-friendly cuticle oil from Pacifica. It's loaded with coconut oil, making it super nourishing for dry, rough cuticles.
3
Best Antibacterial Cuticle Oil
Sundays Cuticle Serum 01
$20 AT DEARSUNDAYS.COM
If you're worried about your cuticle oil harboring germs, this antibacterial option is for you. It has a sanitary glass dropper that prevents the spread of bacteria and the formula is infused with myrrh oil, which moisturizes but also helps cure wounds and kill surface bacteria too.
4
Best Cuticle Oil for Nail Growth
Pear Nova Green Tea Cuticle Oil
$13 AT PEARNOVA.COM
This two-in-one treatment oil helps nourish cuticles and promote nail growth thanks to antioxidant-rich green tea extract. Just massage it on and around your nails twice a day (it's concentrated so you don't need a lot) for healthier, stronger nails and softer cuticles.
5
Best All-Natural Cuticle Oil
Tenoverten The Rose Oil
$26 AT VERISHOP.COM
This all-natural cuticle oil from non-toxic nail brand Tenoverten is full of hydrating plant extracts, like jojoba, rose, and argan oils, instead of potentially sketchy chemicals, to give you soft, moisturized cuticles.
6
Best Easy-To-Use Cuticle Oil
Sally Hansen Cuticle Rehab Oil
$7 AT ULTA.COM
This is hands-down the easiest cuticle oil I've used. It comes in a neat squeezy tube with a pen tip that won't spill, leak, or make a mess when it's bouncing around in your bag. And it's so simple to use—just dab a little on your cuticles and quickly massage it in.
7
Best Pro Cuticle Oil
CND Solar Oil Nail And Cuticle Care
$8 AT AMAZON.COM
There's a reason this cuticle oil is used by professional manicurists in, like, every nail salon. It quickly transforms dry cuticles into the soft, smooth cuticles with a blend of sweet almond oil and vitamin E.
8
Best ~Fancy~ Cuticle Oil
Dior Huile Abricot Daily Nutritive Serum
$28 AT NEIMANMARCUS.COM
I mean, how freaking fancy are you gonna feel when you whip out this chic Dior cuticle oil at your desk, on the train, at brunch, or any other time/place that you notice your cuticles need some urgent TLC? Umm, VERY fancy.
9
Best Fast-Absorbing Cuticle Oil
Deborah Lippmann Cuticle Oil Nail Cuticle Treatment
$20 AT SEPHORA.COM
I love this coconut oil-infused cuticle oil from celeb manicurist Deborah Lippmann because it soaks into your cuticles so damn fast. Add a drop to each nail, quickly massage it in for a second or two, and you're done. There's zero residue or greasiness.
10
Best Scented Cuticle Oil
Flowery Lavender Scented Cuticle Oil
$8 AT ULTA.COM
I'm a sucker for anything that smells good, so naturally I love this lavender-scented cuticle oil from Flowery. Every time I dab a little on my sad, dry cuticles, I get instant spa-like vibes. Also, how cute is the bottle?!
11
Best Cuticle Oil Pen
Dr. Hauschka Neem Nail and Cuticle Pen
$19 AT DERMSTORE.COM
This cuticle oil pen has a firm, angled tip that's great for shaping and pushing back your cuticles when you're doing your nails at home. The best part, though? It's infused with neem leaf extract and apricot oil to nourish your cuticles at the same time.
12
Best Roll-On Cuticle Oil
French Girl Nail and Cuticle Oil
$22 AT VERISHOP.COM
Roll this ultra-moisturizing cuticle oil around your nails for instant softness. It's packed with organic plant extracts (like hemp and sunflower seed oils) that are rich in skin-nourishing fatty acids.
13
Best Classic Cuticle Oil
Essie Apricot Nail and Cuticle Oil
$9 AT ESSIE
This apricot-scented cuticle oil from Essie is a total classic (it's been one of my go-tos for years). I leave it on my nightstand and paint it on my nails and cuticles before bed to prevent hangnails and tears.
Lauren BalsamoDeputy Beauty DirectorLauren Balsamo is the deputy beauty director at Cosmopolitan covering all things skin, hair, makeup, and nails for both the magazine and website.
This content is created and maintained by a third party, and imported onto this page to help users provide their email addresses. You may be able to find more information about this and similar content at piano.io
Sours: https://www.cosmopolitan.com/style-beauty/beauty/g29369465/best-cuticle-oil/
Cuticle oil beauty sally
This drugstore cuticle oil has replenished my dry, cracked nails for good
There's arguably nothing worse than dry, cracked, flaking cuticles and nail beds. They're itchy, painful, and can bleed if not properly taken care of. With the need for extra rigorous and extra frequent hand-washing lately, I found my rough cuticles becoming especially irritated—they were begging for some much-needed TLC. And let me tell you: Sally Hansen's Color Therapy Nail & Cuticle Oil came to my rescue. Not only is it an affordable addition to my at-home nail collection, but it really works. After just one week of using it regularly, my nails were healthier and my cuticles were visibly less red and much more moisturized.
Cuticle oil is often an overlooked nail product, but it is really beneficial. (There's a reason nail salon technicians applying a drop or two and massage it into your cuticles before they begin painting your nails.) Similar to the oils you apply to your face for moisturization and nourishment, cuticle oil keeps your nails and cuticles protected against drying out and splitting.
Sally Hansen's Nail & Cuticle Oil is particularly effective because of its blend of sunflower, safflower, and argan oils that softens the skin around the cuticles. This makes the skin less prone to shredding and breaking, and nails become less brittle because of the added moisture.
sally-hansen-cuticle-oil.png
Shop It! $7.49, Target.com
One of my favorite things about this product is that it has a non-greasy formula that absorbs quickly into the skin and doesn't leave a sticky residue behind. The wide brush applicator makes it super easy to apply. I can simply swipe on a bit, massage it into my cuticles, and get back to typing or texting without worrying that my keyboard or screen will become an oily mess.
I rub a little bit in daily and do so usually before going to bed or after showering, when my hands aren't totally feeling like sandpaper. Because my nails and cuticles were so dry initially, I noticed them looking smoother and more restored almost instantly. With continued use, it has helped heal my frayed cuticles immensely, and I've noticed that my nails don't break as much as they used to. Of course, it also adds a beautiful shine, too, whether my nails are polished or not.
The Color Therapy Nail & Cuticle Oil also has a pleasant scent that's not overpowering, and with professional nail salons closed right now because of the coronavirus (COVID-19) pandemic, it's about as close as I can get to feeling like I've pampered myself. For hydrated, healthy nails, I'd recommend you grab yourself a bottle (or two) of this efficient drugstore beauty buy. Thank me later.
Sours: https://hellogiggles.com/beauty/sally-hansen-nail-cuticle-oil-review/
5 PRODUCTS THAT SAVED MY NAILS!!
We may not be outside much these days, and many of us didn't even see a real winter, but it doesn't mean that our hands aren't feeling the effects of dry air and non-stop handwashing. Stripping soaps, hand sanitizer, and plastic gloves all take their toll, ravaging cuticles and leaving them split and peeling. Not cute — and definitely not comfortable, either.
But we found the antidote — 21 of them, in fact. We've rounded up the most effective cuticle conditioners to get your fingertips back into double-tapping (maybe even Instagram manicure modeling?) shape. You may not be able to get to the salon just yet, but with everything from Best of Beauty Award-winning creams and cuticle serums from Olive & June and Philosophy, to options at every budget — including Dior, Clinique, and Sally Hansen — these solutions will help you get your cuticles back in working order. They may even compel you to try some DIY nail art. Either way, hangnails will be a thing of the past.
All products featured on Allure are independently selected by our editors. However, when you buy something through our retail links, we may earn an affiliate commission.
Sours: https://www.allure.com/gallery/best-cuticle-treatment-products
You will also like:
These Cuticle Oils Can Nourish Even the Most Ravaged Nails
There's a good reason why this humble oil has legions of devoted fans. Simple and straightforward, it boasts a blend of cottonseed and soybean oils meant to soften cuticles and deeply hydrate the skin around your nails. The scent is also addicting, though the results it delivers are incentive enough to make you want to apply it daily.
The 13 Best Polishes for Standout Nails
You've likely seen this bottle in a salon at some point; it's one of the formulas the pros often rely on. "When it comes to shopping for cuticle oil, look for products with jojoba oil and vitamin E," recommends Lim. "They are both antioxidants and a great moisturizer for nails and surrounding skin." This option has both; jojoba oil is known for mimicking the oils naturally found in your skin and absorbing super quickly, while vitamin E adds an extra dose of nourishment. We have multiple bottles stashed all over the place for easy access, though one bottle does last quite a long time.
We're into all kinds of rollerballs, this cuticle oil one included. It makes application super easy, and the formula is also impressive. Argan, tamanu, and hemp oils do the heavy-lifting hydrating duties, while pomegranate oil packs a dose of antioxidants. And the benefits don't stop there; this also boasts rosemary, which is both antibacterial and claimed to help stimulate nail growth. (So nail biters, take note.)
There's nothing this multi-purpose oil can't do. You can work it into banged up cuticles, for sure, but you can also use it for stretch marks, scars, burns, as a bath oil, you name it. (So if you're trying to minimize the number of products in your bathroom, this is the oil for you.) Dermatologist-tested and hypoallergenic, it also absorbs super quickly.
Think of this as a souped-up version of a basic cuticle oil. It has plenty of hydrating oils (avocado, apricot, jojoba, to name a few), but also has cactus flower extract, a reparative ingredient that's great for damaged skin. Bonus points for the soft foam tip that makes for easy, mess-free application.
There are few drugstore brands that have better cornered the nail market than Sally Hansen, and this cuticle oil is no exception. Specially made for those ultra-dry, ultra-beat-up cuticles (you know what we're talking about) the brush-on formula works wonders almost instantly.
Since it's so intensely hydrating, it's also a great option to use on toes, where cuticles tend to be thicker—and get less love.
Just like an emergency tampon or extra lip balm, it's always a good idea to keep a cuticle oil in your purse. Trust us on this one. Specifically, this guy, which comes in a purse-perfect, portable size with a spill-proof tip. Avocado, grapeseed, and sunflower oils promise to deeply hydrate, making nails and cuticles instantly look better.
No More Flimsy Nails: These Are the 14 Best Nail Strengtheners
This Amazon favorite repeatedly pulls in rave reviews for both its delicious scent and how well it works, on both nails and cuticles. Mango oil is the star of the show, paired with sunflower oil as well as soothing aloe, a nice addition if your cuticles are at the point where they're almost bleeding. The dropper bottle also makes it easy to dose out exactly the right amount for each nail.
It doesn't get chicer than using a freaking Dior cuticle oil, we'll just leave it at that. The specially chosen blend of oils—argan, camellia, apricot—promise to not only hydrate, but also protect and strengthen nails. All you have to do is dot it on daily.
We know, we know, this technically isn't an oil, but we wanted to find an option that worked for those who just don't like oils. Nice and rich and not at all greasy (you're welcome, non-oil fans), this still has the same type of hydrating benefits you'd get from oil, thanks to cocoa seed butter and sunflower oil. The light lemon scent is just an added bonus. 
FAQ
You can use cuticle oil every day or as often as you feel you need to. The benefits include increased hydration for nails and the surrounding skin, so there's really no downside to frequent application. For best results, massage it into your skin for at least a minute.

Cuticle oils tend to be more concentrated than your typical daily lotion, making them key for moisturizing small areas like your nails and cuticles. While you could use lotion in a pinch, you'll generally want to use cuticle oil because it tends to be richer, more hydrating, and better suited for softening cuticles.

You can apply it before bed and leave on overnight to really let it soak in to your nails and surrounding skin. As a general rule, leave it on for at least an hour or two before washing your hands to allow the formula time to settle in.
Why Trust Byrdie?
Byrdie contributor Melanie Rud has more than a decade of experience in the beauty industry, writing for some of the biggest magazines and websites out there. While she has yet to master the art of the DIY mani, she is a pro at cleaning up her cuticles, a skill acquired during spring 2020.

11 Hair, Skin, and Nail Vitamins Worth Adding to Your Wellness Routine
Sours: https://www.byrdie.com/best-cuticle-oils-4843277
1338
1339
1340
1341
1342