Handbrake for Windows: How to Use Handbrake and Handbrake Alternative in Windows
Handbrake is a multiplatform and open source video transcoder (video converter), available for Mac OS X, Linux and Windows, and totally free. With Handbrake, you can transcode any DVD, video to MP4 or MKV file format with MPEG-4, H.264, or Theora encoded.
Below is the Handbrake tutorial to use Handbrake for Windows: Windows 10, 8, 7 are supported.
You may additionally install the Microsoft .NET Framework 3.5 SP1. And do note that this must be installed even if .NET version 4 is installed because version 4 is not backward compatible.
Steps on How to Convert Videos to Other Format with Handbrake for Windows
Handbrake Tutorial Step 1: Select a Video Source.
First things first, download and install Handbrake for Windows. When launching the Handbrake, click the Source button at the top, you'll get three options:
File: Use this option to convert a video file, for example, from WMV to MKV.
Folder: Use this option to select a DVD / Blu-ray Video_ts folder on your hard disk.
Select a source and once imported, you got a list of Titles on the source, and then select the one you wish to encode. The main movie usually has the longest duration.
Handbrake Tutorial Step 2: Make Output Settings.
The first thing is to select the output destination. Simply click the "Browse" button and choose a folder on your hard disk.
Secondly, choose a preset from the preset list on the right. Even you want to customize the parameters, you are recommended to choose the closest preset and start changing from there. As regarding the presets, "Normal" and "High Profile" are good for watching on your computer or TV. "Universal" may be better for your portable devices.
Handbrake Tutorial Step 3: Start converting.
It's time to click the Start Encode button to start converting video to MP4 or MkV. If you have many videos to convert, simply click the Add to Queue button to queue these and start tasks from the "Show Queue" dialog.
Handbrake for Windows Tips:
1. Handbrake cannot at present convert all videos purchased from iTunes or found on DVD or Blu-Ray discs. If you fail to convert them, Wondershare UniConverter (originally Wondershare Video Converter Ultimate) could get both of these tasks easily done.
2. The encoding time will be a few minutes to many hours depending on the length of the video, the hardware in your PC, and the settings in your Handbrake.
3. Handbrake only supports MKV and MP4, so if you want to convert videos to other formats, you can use Wondershare UniConverter.
Steps on How to Convert Videos to Other Format with Handbrake for Windows Alternative
With Wondershare UniConverter, you can convert videos to more than 1000 formats in batch with less quality loss. And with the GPU Acceleration and Optimization for Multi-core Processor, the conversion speed is much faster than Handbrake. Get to know the detailed steps below.
Step 1 Add files to this Handbrake for Windows alternative.
Download, install, and launch Wondershare UniConverter on your computer. Click the
or
to add videos from DVD or your local computer, you're allowed to add multiple files here.
Free DownloadFree Download
Step 2 Select the output format.
Click the drop-down icon beside Output Format: and select a video format and the resolution from the Video or Devices category or you can select an audio format from the Audio category.
Step 3 Convert video to other formats.
You can choose the target destination folder at the bottom-middle of the interface or just use the default path, then click the Start All button to start the conversion.

Tips
If you want to know how to convert DVD to Other Format with Handbrake for Windows Alternative, just move to How to convert DVD to AVI with Handbrake Alternative >> to learn more.
Wondershare UniConverter - Your Complete Video Toolbox for Windows / Mac (Windows 10 Included)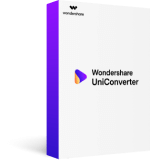 Convert videos to MP4, MOV, AVI, WMV, FLV, MKV, and other 1000 formats.
Convert multiple files to other formats in batch without any quality loss.
Convert videos to optimized preset for almost all of the devices, like iPhone, iPad, Huawei phone, etc.
90X faster conversion speed than common converters with unique APEXTRANS technology.
Powerful editing tools help customize your videos, like trimming, cropping, adding watermarks, subtitles, etc.
Burn and customize videos to your DVD or Blu-ray disc with free DVD menu templates.
Download or record videos from YouTube and other 10,000+ video sharing sites.
Transfer videos from computer to iPhone, iPad, and other devices directly and vice versa.
Versatile toolbox: Add video metadata, GIF maker, video compressor, and screen recorder.
Supported OS: Windows 10/8/7/XP/Vista, Mac OS 10.15 (Catalina), 10.14, 10.13, 10.12, 10.11, 10.10, 10.9, 10.8, 10.7, 10.6
Free DownloadFree Download
Security Verified.
5,481,347
people have downloaded it.
Sours: https://videoconverter.wondershare.com/video-converter/handbrake-for-windows.html
Free alternative apps
Help & Info about HandBrake for windows
What is HandBrake?

The programme is a type of open source transcoder that has been designed especially for digital video files. The programme can be used to easily rip a film from a DVD to the data storage device specified by the user.

What Are the Key Features of HandBrake?

One of the most popular features is hardware acceleration, while transcoding makes it possible for users to customise the output by manipulating the file size or bit rate. Batch encoding is supported through the programmes graphical interface to utilise various types of third party scripts.

What Audio and Video Support Does HandBrake Offer?

The programme is compatible with a range of video formats such as Intel Quick Sync Video, Theora, MPEG-2 and libetheora. In terms of audio formats, the programme supports Advanced Video Coding, AC-3, FLAC, Vorbis, Opeus and a number of other applications.

How Do I Change My HandBrake Settings?

Registered users of the programme will find all of their settings in the extensive board database. The settings can be changed through the Control Panel by following a link that is found when users click on their username located at the top of the board pages.

What Are HandBrake Friends and Foes Lists?

Friends and foes lists can be used to organise the other board members of the board. Members that have been added to the friends list of a user can be contacted by private message, while the status and contact details of people in the foes list will be hidden.

How Do I Change My HandBrake Rank?

Users will find their rank below their username and it indicates the number of posts that they have made. Rank is also used to identify moderators and administrators and users who wish to increase their rank can do so by adding more posts to a particular board.

How Do I Display an Avatar on HandBrake?

Users can add an avatar to their profile any time they choose through Gallery, Gravatar, Upload or Remote. The board administrator is responsible for enabling avatars and determining which avatars they want to make available as well as the way they can be selected.

How Do I Create a New HandBrake Topic?

In order to post a new topic in a forum, users simply need to click on New Topic. Type the title of the new topic and then create a post in the usual way. depending on the specifications of the administrator, it may be necessary to register before creating a new post.

What Are HandBrake Usergroups?

Usergroups are all the different groups that have been established and can be viewed with the Usergroups link that is located in the User Control Panel. Users who want to join a group simply need to click on it, although not all groups may be open to new members.

What Are HandBrake Administrators?

Members of a board who have been assigned the highest level are known as administrators. The administrators can control all of the features of the board from assigning avatars to approving new members.
Explore Apps
Articles about HandBrake
Sours: https://handbrake.en.softonic.com/download
As featured in:
HandBrake is a free and open source tool for converting video from nearly any format to a selection of modern, widely supported codecs. HandBrake is a cross-platform application, available for Windows, Mac and Linux.
One of HandBrake's strengths is its ability to open a wide variety of video formats. HandBrake uses FFmpeg under the hood and generally can open whatever FFmpeg will, in addition to disc-based formats like DVD and Blu-ray. HandBrake does not defeat or circumvent copy protection of any kind. It does not work with video files employing Digital Rights Management (DRM).
HandBrake's software video encoders, video filters, audio encoders, and other processes benefit from fast CPU and memory. HandBrake's hardware video encoders also benefit from modern GPU hardware.
Built-in Device Presets
Get started with HandBrake in seconds by choosing a profile optimised for your device, or choose a universal profile for standard or high quality conversions. Simple, easy, fast. For those that want more choice, tweak many basic and advanced options to improve your encodes.
Supported Input Sources
Handbrake can process most common multimedia files and any DVD or Blu Ray sources that do not contain any kind of copy protection.
Outputs
File Containers: .MP4(.M4V) and .MKV
Video Encoders: H.265 (x265 and QuickSync), H.264(x264 and QuickSync), H.265 MPEG-4 and MPEG-2, VP8, VP9 and Theora
Audio Encoders: AAC / HE-AAC, MP3, Flac, AC3, or Vorbis
Audio Pass-thru: AC-3, E-AC3, DTS, DTS-HD, TrueHD, AAC and MP3 tracks
Even more features
Title / chapter and range selection
Batch Scan and Queueing of encodes
Chapter Markers
Subtitles (VobSub, Closed Captions CEA-608, SSA, SRT)
Constant Quality or Average Bitrate Video Encoding
Support for VFR and CFR
Video Filters: Deinterlacing, Decomb, Denoise, Detelecine, Deblock, Grayscale, Cropping and scaling
Live Static and Video Preview
What's New:
Further refining the HandBrake engine to support native 10 and 12-bit encodes, including HDR10 metadata passthru.
Improvements to hardware encoding functionality for Intel QuickSync, AMD VCN and Qualcomm ARM devices. (Thanks to these companies all for supporting the development in HandBrake!)
Adds support for Apple Silicon based macs.
Adds support for Qualcomm ARM64 devices running Windows (HandBrakeCLI only for now. Windows UI is coming later!)
Improvements to subtitle handling.
UI/UX improvements for all 3 platforms.
As usual, hundreds of other changes and tweaks to the app. See the full release notes below for details!
Read more
Software similar to Handbrake 10
Popular apps in Converters
Sours: https://www.techspot.com/downloads/4785-handbrake.html
Cara membuat DIY USB HANDBRAKE SIMULATOR PC menggunakan KEYBOARD BEKAS for PXN V9
HandBrake

The open source video transcoder
Current Version: 1.4.2
macOS
For 10.12 and later
Download (Universal)
Windows
For 10 and later
Download (x64 64 bit)
Download (x64 64 bit Portable Zip)
For ARM Devices
Download (ARM 64)
Download (ARM 64 Portable Zip)
Linux
Flatpak
Install via flathub.org
or
Download (64bit)
QuickSync Plugin Download (64bit)
Download Mirrors
Please take note that HandBrake.fr is the only official place where HandBrake can be downloaded from.
There are many unofficial mirrors of HandBrake and while most of them offer legit versions of HandBrake, there are a few that don't.

You can verify the integrity and authenticity of your download with the details below.
GPG - Verify the authenticity of your download
Please see the Open PGP page which is also mirrored on our GitHub Wiki for details on our GPG public key and the signature files for this release.

You can use these to verify that the downloaded file was actually created by us.
Verify the integrity your Download with Checksums
You can verify the integrity of your download by comparing the SHA1 or SHA256 hash of your downloaded file with the hashes provided on the following page.
Please see the Checksums page.
Sours: https://handbrake.fr/downloads.php
Pc handbrake for
HandBrake
HandBrake is a video converter program intended to both rip and convert video files to work on a number of supported devices.
The features of this converter are easy enough to understand. An advanced computer user will most likely be able to use HandBrake for its full purpose, but a user who knows the basics should be able to figure out how to work through the main steps. You simply have to have a file or DVD to work with, and HandBrake will help with some of the less obvious steps by indicating the missing information that needs to be inserted. It took a couple tries to correctly convert a 15-minute video file the first time. It seemed to shut down without finishing, but eventually it worked. That took about 40 minutes to finish converting and encoding. Time results will obviously vary depending on the file size. DVD ripping seems to work fine and the time varies here as well, depending on the DVD length. The Help button will take you to the publisher's Web site, where some of the information is easy to understand but the more-detailed parts are intended for a more advanced user. It is certainly not the easiest, most efficient converter program we have seen out there.
It didn't take long to download, and the installation process was very simple. There weren't any extra downloads or offers hidden within the installation process, and you'll find that setting this is easy.
Sours: https://download.cnet.com/HandBrake/3000-2194_4-10808250.html
How to Download and Install Handbrake in Windows 10
Handbrake for Windows is a free and open-source program that allows you to convert video files to a wide range of formats using several post-production tools and presets. With Handbrake, you can encode video files and convert them to work on your smartphone, home media player, or upload to a video hosting site like Vimeo and YouTube.
The program works with the vast majority of commonly-used files and formats, along with more obscure formats like the ones used by professional video cameras. Handbrake can do this by integrating a wide range of libraries like Libav, x264, and x265 behind the scenes so you can easily create a new MP4 or MKV file. Its closest competitor in terms of functionality is Media Encoder HQ.
Handbrake main features and uses
For a free program, Handbrake offers many valuable features for video post-production. Amateur users won't need or know how to use many of the tools, and there are little to no tutorials available apart from the documentation, which is quite technical. However, anyone with minimal experience with video conversion or editing software will have no program exploring all of Handbrake's options.
Here's a breakdown of what Handbrake can do:
Convert videos to MP4 or MKV to watch on most devices
Resize the video resolution or crop the video size
Increase the sharpness of low-quality videos by converting to a higher resolution or restoring old videos
Remove combing artifacts that are caused by telecine and interlacing
Transcode and customize the videooutput by changing the bit rate and maximum file size
Work with batches of videos to save time
Pass-through audio without conversion for specific audio types
Adjust the volume levels and dynamic range for specific audio types
Keep subtitles that already exist, and add or remove subtitles stored as text
Compress video files, so they take up less space
What Handbrake cannot do
It's important to note the limitations of Handbrake as well, as there are specific tasks it can't perform due to recent updates or misinformation. Handbrake can no longer rip videos by circumventing or defeating copy protection. This means you can't copy video forms that have Digital Rights Management (DRM). In the past, you may have been able to use Handbrake to copy content from places like Netflix and iTunes, but currently, it no longer works.
Handbrake also can't combine multiple video clips into one, create DVDs, Blue-ray, AVCHD, or make cocktails (yet).
Getting started with Handbrake
To start using Handbrake, first, download the setup file to your computer and open the .exe program to start the installation wizard. You'll need at least 40 MB of space on your hard drive, and possibly more, depending on the type and volume of videos you want to work with.
Once installed, open Handbrake and select your video source. You can drag a file into the window or choose one manually using the file explorer. If the video file has more than one clip, you can use the Title control to select the video clip you want to use.
Handbrake comes with a long list of presets to ensure your video works well on specific platforms. For example, if you want to upload a video to Vimeo or YouTube, there are a number of presets available with different resolutions. If you prefer to take matters into your own hands, you can set your own encoding preferences using the tools available, each located under its own tab. There are options for dimensions, filters, video settings, audio settings, subtitles, and chapters.
Hovering with your mouse over a feature causes a helpful tooltip to appear with a short explanation of what the feature is and how to use it.
When finished, choose a destination to save the new video and then start encoding. Handbrake shows you a progress bar during the process, including a time estimation of how long is left.
Our take
Handbrake is a powerful, free video conversion tool. You can use it to convert video files to a large number of formats using the customization tools or simply select from one of the presets. If you have a large number of files, you can use batch processing.
Should you download it?
Suppose you're looking for a free video conversion tool? In that case, yes. If you're looking for a DVD-ripper, then no.
Sours: https://downloads.digitaltrends.com/handbrake/windows
You will also like:
HandBrake
HandBrake is one of the best tools out there in terms of modifying videos that are locally stored on your hard drive. There's a nearly endless array of adjustments for you to tweak, from format to coding or audio tracks. If you need to convert any video you have stored into a specific format that's compatible with your PC, smartphone, iOS device, console or TV -- this is the right choice. Plus you can opt to extract and convert physical formats like DVDs or Blu-Ray discs.

With loads of pre-set formats available for almost any standard: Android, Apple, Playstation, Vimeo, YouTube, Windows, and Matroska, among others, this app is capable of reworking videos at up to 4K resolution and almost any aspect ratio you need. The only drawback is that outside of presets, you have to adjust everything manually in order to set up dimensions, codecs, apply cuts, modify subtitling, bitrate, etc.

Once you've made these changes you'll get a full preview of your video, and can watch as the final version of your file is fully rendered and saved at within the route you preselected. Handbrake is no doubt one of the best free tools in this field. Its main appeal is that it offers you a minimalist interface with a whole arsenal of possibilities without overcomplicating things like other editing suites do.
Reviewed by Álvaro ToledoSours: https://handbrake.en.uptodown.com/windows
1426
1427
1428
1429
1430