DanTDM Birthday Party
Throw the best DanTDM Birthday Party ever with these easy decor ideas, FREE printables, menu ideas, and more!
My boys are Minecraft obsessed. More than that, they completely adore DanTDM playing Minecraft. If you don't know who Dan is, he's a British YouTuber that runs the channel The Diamond Minecart (TDM).
Dan's online avatar has two companions, Grim the skeleton dog and Dr. Trayaurus. He has all kinds of short videos of custom mods and Minecraft maps and other video games he plays online and my boys adore him. So when my oldest wanted a DanTDM birthday party, it was game on.
We started with costumes for the kids. My youngest loves pretending he's Dr. Trayaurus (Tray) and the oldest DanTDM. So we got a lab coat for Tray and paired it with some brown pants. For Dan, the goggles were a must! I lucked out and found a black blazer at Goodwill, and bought a pair of blue pants. Then I sewed some yellow felt patches on top of the pant knees for the kneepads and voila!
Minecraft Party Decorations
We got some killer decor ideas from my friend Jamie's Minecraft party. She has a bunch more decor, game, and activity ideas too. You should totally check them out!
I had extra black balloons after the spiders were hung up. The boys ran off with them and came back a few minutes later with spawn eggs. They had ripped up pieces of construction paper and taped them all over the balloons. It was perfect!
For the diamond ore tablecloth, I layered a grey plastic tablecloth over a light blue tablecloth and then cut out rectangles and squares and T shapes from the gray tablecloth.
My husband got out some core buff and paneled over parts of our house. The kitchen cabinets were turned into red stone blocks with shiny red core buff, and the entertainment stand got cobblestone makeover.
I let the boys color a picture of DanTDM and Dr. Trayaurus to hang up too.
We greeted everyone with a picture of Tray & Grim and sent them inside to build Minecraft mobs with this set. They were totally awesome and somewhat bigger than I expected them to be. My boys have been playing with them ever since the party.
Minecraft Party Food Ideas
For the party food, I went through the Minecraft food list and looked at some of the most common elements (like grass and lava) that could translate into food. Here's what we used for everything:
cake – birthday cake (even though it wasn't a Minecraft style cake, it's cake.)
carrot – baby carrots
chicken – chicken nuggets
cookie – chocolate chip cookies
diamond punch – we had to have a blue drink to go with the theme (printable recipe below)
fish – Swedish fish or goldfish crackers
grass – chocolate cake squares topped with green frosting
lava #1 – salsa (and chips)
lava #2 – Colby jack cheese squares (because the colors are swirly, like the lava)
pork chops – Lil' Smokies wrapped in crescent rolls
spawn eggs – deviled eggs that are crackle dyed (I used this tutorial)
sticks – pretzel sticks/rods
water – water bottles with DanTDM labels (we used the "water sign" for the drink cooler)
There are a bunch of other food ideas in the food tent label printable set you can use as it fits your party.
apples
bread (rolls for sandwiches)
coal (black Rice Krispie treats)
gold ingot (gold bar wrapped chocolates)
melon (watermelon slices)
milk
mushroom (marshmallows dipped in red candy melts & topped with white chocolate chips)
potato (fries or potato chips)
pumpkin pie
slimeball (green gumballs)
steak (burgers or meatballs).
Diamond Punch
Julie Kotzbach
Diamond Punch is an easy to make, crowd pleasing punch that's perfect for your DanTDM party!
Instructions
Pour the Gatorade powder into a gallon-sized beverage dispenser.

Add the water and stir until the powder is dissolved.

Pour in 1/2 gallon lemon-lime soda. Stir to combine.

Chill until ready to serve.
Notes
If you can't find the Gatorade powder, you can substitute 1/2 gallon of ready to drink Glacier Freeze Gatorade.
Nutrition
Monounsaturated Fat: 0gPotassium: 0mgVitamin A: 0IUVitamin C: 0mgCalcium: 0mgIron: 0mg
And you can't have a DanTDM party without face cake. I made a square 2-layer chocolate cake filled and iced with cream cheese frosting.
I dyed white fondant with a touch of yellow and pink food coloring to create the skin tone color.
I used 3 colors of blue to get the goggles color right (the lightest color is teal, the medium color is teal + electric blue, and the darkest is teal + electric blue + navy blue).
Then I used brown to make the hair (in hindsight I could have used the electric blue for Dan's hair too) and black to make the goggle pieces.
Just be careful to make the black part of the eyes a 1/4 of the actual white eye area. Dan looks a little cross-eyed on my cake.
Minecraft Party Supplies
Click the download links below to get the PDF file for each printable
DOWNLOAD
DOWNLOAD
Store your water in the fridge to cool it. Placing the labels in ice will cause the ink to run as the ice melts.
DOWNLOAD
DOWNLOAD
Set includes 20 BINGO cards and caller's card
DOWNLOAD
DOWNLOAD
More Minecraft Party Ideas
DIY Minecraft Birthday PartyPart 1 & Part 2 from Southern Revivals
Epic Minecraft Birthday Party from Meet Penny
DanTDM Pinata from Etsy
Related topics:
Birthday Partybirthdayfree printablesminecraftSours: https://breadboozebacon.com/dantdm-birthday-party/
Potion of Healing | Minecraft
Grab your blaze rod and gather your wart, because it's time for a pink potion guaranteed to keep the zombies at bay.
You'll need
2 oz pink gin or pink vodka
.25 oz (10ml) honey liqueur
.50 oz (15ml) watermelon simple syrup
.50 oz (15ml) lemon juice
Add all ingredients to a shaker filled with ice. Shake thoroughly to chill. Strain into your preferred vessel. Garnish with a lemon peel. Serve!
"Oof."

– Steve
Want to feel absolutely ancient? It's been nearly 10 years since the first playable beta of Minecraft was released. In that time, there have been what seems like uncountable updates – honestly, I've lost track of all the gamechangers in recent years.
One update I do remember with fondness, however, was the original release of the alchemy system. You can probably tell I like potion-making in all its many forms considering this weird hobby I have, and Minecraft was giving me an opportunity to indulge. I hadn't played for ages, and then suddenly I was diving back into the Nether to harvest Nether Wart and cracking entire mountains to get at gold and iron enough for the multitude of new ingredients for the mystical Minecraft potions.
There are a fair few to choose from, but I decided that it'd be best to remake a classic of the RPG genre: the Minecraftian version of the Potion of Healing.
---
Looking for a different kind of healing? Check out the Potion of Healing from Dungeons & Dragons.
---
To bring it to life, I've taken the in-game recipe and translated it to real-life equivalents. That's where the watermelon and honey liqueur comes in, to represent the Glistering Melon. The watermelon simple syrup is obvious, but we've also used a honey liqueur that has actual gold flakes in it. If you don't feel like being quite so extra, you can just use honey simple syrup instead.
This drink is also a great opportunity to talk about the recent resurgence of pink liquors. I've noticed a lot of people think that all the pink gins and vodkas we're seeing nowadays are the same. Not true. The two I've used, 1919 Pink Gin and Blush Pink Vodka (both NZ-based distillers), create completely different drinks. The 1919 is very characterful with a huge depth of complexity, while the Blush is far cleaner, summer-y and bright, and the way they are made is very different too: the 1919 with raspberries and strawberries, and the Blush with rhubarb.
Don't let the colour fool you: pink liquors are not all the same and they make distinct cocktails as a result. Try out a few; testing the difference is a great excuse to create a flight of cocktails. Hope you enjoy!
If you want to keep seeing video-game-inspired cocktails and get a hold of some exclusive recipes, head on over to Experience Bar's Patreon page and consider slinging me a credit or two. You help keep this blog going!

Sours: https://experience-bar.com/potion-of-healing-minecraft/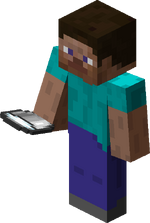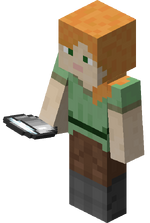 Drinks are a narrow class of consumable items that can be ingested by the player in an extremely similar manner to food. However, drinks are not encountered quite as commonly as food is, and they are not nearly as integral to survival gameplay. Drinks can generally be distinguished from food from the sounds they make upon consumption, the lack of particles emitted by them, and the fact that they leave behind an empty container after consumption. They also do not require the hunger bar to be depleted, and do not affect hunger or saturation values upon use (with the exception of honey bottles).
Drinks are drunk by holding use item while having the drink item selected in the hotbar or in the off hand.
Drinks[]
↑Food Points + Saturation, indicating roughly how long the food lasts. See hunger for details. Any excess beyond the player's food or saturation caps are wasted.
History[]
Main articles: Milk § History, Potion § History and Honey Bottle § History
Sours: https://minecraft.fandom.com/wiki/Drinks
Minecraft 1.16 - 'A furious cocktail' Achievement
Minecraft-themed alcohol shots created by Cornwall bar
An array of Minecraft-themed alcohol shots have been created by Cornish gaming cafe Loading.
The themed beverages come arranged into an 81 shot set, filled with 162 measures of alcohol. The shots contain Kahlua, Baileys, Midori, Blue Curacao, rum, pineapple juice and Sambuca.
The creation is a "fan piece", built in conjunction with developer Mojang and Xbox 360 publisher Microsoft, MCV reports. Minecraft creator Notch said he "loves" the drinks.
Individual drinks are sadly not on sale to the public, but cough up the required £162 for 81 double shooters and Loading's owner promises to whip up an identical set. Just don't drive home afterwards.
Minecraft: Xbox 360 Edition launches today on Xbox Live Arcade for 1600 Microsoft Points (£13.60). Eurogamer's review is now live.
Sours: https://www.eurogamer.net/
Cocktails minecraft
.
A Furious Cocktail Minecraft 1.17Advancement / Achievement Potion List Tutorial.
.
Similar news:
.
221
222
223
224
225