For too long, I held onto old clothing I would probably never wear again because I couldn't stomach the idea of throwing certain items out or giving them away for free. That is, until I discovered Poshmark, the consignment app that lets you buy and sell women's and men's clothing, accessories, makeup, and more.
Three years ago in June 2017, I started selling old belongings I no longer wore on Poshmark. As of June 2020, I have posted 277 listings and have sold 198 of them—which has provided me with a total of $2,436.89 in earnings so far.
Over the years, I have learned many things about the fashion reselling app, including what to sell, how much to sell it for, and how to sell it. Although posting items and keeping sellers interested can be a bit time consuming, the money made is worth it. If your closet is full of things you barely wear anymore, I urge you to post things on the platform and see what happens. Below are my tips and tricks to successfully selling items on Poshmark.
What is Poshmark?
Poshmark is a platform where people can buy and sell fashion online. As a seller, you can create a virtual closet, list items for whatever price you see fit, and lower prices when necessary. Buyers can purchase items for the prices listed or try to negotiate a lower price.
In addition to being a place for commerce, it's also a social media network and community. You can follow other accounts on the website/app (especially sellers who have a similar style as you or are the same clothing size), attend "Posh Parties," and connect with others.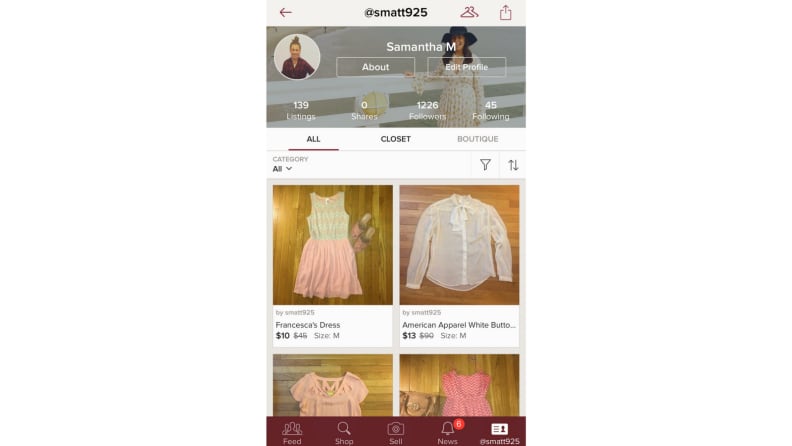 How does Poshmark work?
After you create an account, you can post items to your virtual closet. To do so, you'll need a few pictures of the item, along with the following:
Product name
Description
Category
Size
Original Price
Listing Price
You can also fill in other optional information:
Quantity (only if you are selling multiple items of something)
Brand
Color
New With Tags (this is a yes or no)
Before posting, I always research on both Poshmark and the Internet to see if I can find anyone else who is selling or has sold the item. This gives me some knowledge on how much I can realistically sell something for on the app. I also search for original listings of items to find MSRPs (Manufacturer Suggested Retail Price), official product descriptions, and professional photos to use for my listings. Although I always include photos of the actual item I'm selling from every angle (with notes in the description about any wear and tear), I do try to use professional photos as the item's cover photo if possible. Also, even though they are optional, I do recommend adding brand and color to each listing. And of course, if something still has the tags on it, be sure to say yes to "new with tags."
When you first price something on Poshmark, aim high. You can always lower the price of an item on the app, but you won't be able to go back up. Lowering prices helps to sell items because it will send a notification to everyone who has liked the item—and they will be offered discounted shipping as well. People can also offer you a price they'd like to pay for the item, and you can either accept or negotiate a higher price.
The other thing to remember is that people on Poshmark have to pay shipping as well. Think about how much you would pay for the item in a consignment shop and go from there. I priced things WAY too high when I first joined. Now, I am better about pricing, but I don't sell anything for under $6 (or more, depending on the item and its background). Knowing Poshmark takes 20% of listings over $15, and a flat $2.95 from sales under $15 (they pay for shipping!), I look at how much money I would make from the sale. If I'm okay with that, I set the price.
TLDR: Price things at least 10% higher than the lowest price you would accept or you won't have room to lower or negotiate prices.
What's the deal with Poshmark shipping?
After you sell something, you'll need to send it to the buyer. Poshmark pays for shipping, so all you have to do is print the pre-paid shipping label they email you after the sale is made and stick it on the box (or envelope, if it fits) that holds the items. Then you can drop it off at the post office or have it picked up for free from your home.
After the buyer receives their item, the money made will be redeemable, and you can deposit it directly into your bank account.
What brands and items actually sell on Poshmark?
At first, I thought I could only sell designer items and clothing from pricier retailers on Poshmark, but I was wrong. While it was easier to sell designer stuff, I ended up selling a decent amount of items from retailers like Target and LOFT. When you have trendy clothes to sell, it doesn't matter where they're from.
Because of this, I now put anything up for sale that's in good condition, no matter how old or new it is. Seasonality and trends don't matter as much if you have a quality item to sell. If there is damage, but the item is still wearable, I mention that in the product description and post a picture. This way, buyers won't feel like they're being taken advantage of and you can keep a good conscience (and seller rating!).
Does photography matter on Poshmark?
What I've learned is that pictures on the app don't have to be high quality or full of props to sell clothing. You just need well-lit pictures that show what the item really looks like.
When I first started to post listings, I took pictures of items on hangers against a white wall in my apartment. You couldn't see the exact colors and details of the items, though—and because of the poor lighting, the clothing didn't look very nice. Because of this, I didn't see many sales.
Later, I changed up my photos and laid the items out on my clean hardwood floors. I took pictures of the front and the back of items, as well as close-ups of the item's material, tag, and any damage I wanted to showcase. Here's the difference:
This was a game-changer. Poshmark users have the ability to 'like' and engage with listings, and I saw more engagement and sales with my new pictures.
For bags, I took a few different angles—of the outside and inside—and for jewelry, I just got one shot. If I had any images of me wearing the item, I added that to the item's photos as well.
Sharing your closet with friends and family isn't going to get you tons of sales. To sell items on Poshmark, you need to constantly re-share listings with your followers—and then post your items to "parties," which are virtual events that Poshmark hosts for users to share listings. In fact, I ONLY regularly sell stuff when I post to at least one party a week.
There are four parties each day. During these parties, users can share items that fall into a certain category. A party can be for designers (example: Tory Burch, J. Crew, Madewell), items (example: jeans, booties, etc.), or occasions (example: Date Night). Parties help get engagement on your listings and followers on your account. The more engagement on your account, the more desirable your closet will be!
After I grew a following, I got more engagement and sales after re-sharing items to my followers. This is a great way to keep your closet organized, too—re-sharing is how you can raise certain items to the top of your feed so that users see them first.
How to be a Poshmark customer service pro
After people buy from you, they can rate you between one and five stars. My first customer rated me two stars. I had packaged the item with gold-colored paper and a handwritten note, but still, this did not help. According to the user, I wasn't transparent enough about a small rip in the Madewell shoes she purchased.
From then on, I made sure to ALWAYS photograph and write about damage in all listings, and I've received mostly five-star ratings since. I also learned that packaging doesn't matter. I stopped writing notes and using pretty paper, and I still had great ratings and repeat buyers. I mostly try to be as quick as possible with shipping items to keep my rating up, but sometimes it's hard to get to the post office after you make a sale (especially during the Coronavirus pandemic).
Is Poshmark worth it?
Selling on Poshmark is hard work, but the money sure is worth it. I still have so much left to sell—and so many new (I mean, old) clothes to add to my closet. I'm coming for you again, Poshmark. I hope you're ready.
Note on COVID-19: Poshmark is monitoring the rapidly-changing situation and has an FAQ on their website for buyers and sellers wondering how the pandemic is impacting the platform. It is currently safe to ship and receive packages, according to the Centers for Disease Control & Prevention, meaning you can still buy and sell on Poshmark.
Sours: https://www.reviewed.com/laundry/features/i-made-over-700-selling-my-clothes-on-poshmark-heres-how-i-did-it
Tips for Selling Clothing and Accessories on Poshmark
If you're looking to make some extra cash, try looking in your closet first.
Some experts suggest that we only wear 20% of what's in our closets on a regular basis. So it might make a lot of sense to monetize what's in your wardrobe before buying new. But how? With the emergence of online marketplaces meant for the resale of clothing, shoes, and accessories, it's easier than ever to make some extra cash on clothing or other items you don't wear anymore.
Learn the best tips for selling on Poshmark, from clothing and shoes to accessories, plus what photos work best, ways to share your listings via social media, and even how to join the app's virtual shopping events. 
The Basics 
Poshmark declares itself as the largest social online commerce site where users can buy and sell fashion items such as clothing, shoes, and accessories. The site boasts more than 25 million items uploaded via cell phone and 5,000 different brands for sale on the site and app. Poshmark offers both new and used items for women, men, and children. 
Here's How It Works
Simply download the Poshmark app—it's free and available for iPhone and Android.
Next, snap a few photos of your item on your phone right in the app. You can even enhance the photos by adding a filter.
Then, fill in the item description with as many details as you can. Lastly, add the price, click done and your item is officially listed.
Once you sell an item, Poshmark sends you a pre-addressed, pre-paid shipping label via email. All you have to do it package your items and drop it off at the nearest U.S. Postal Service (USPS) mailbox or arrange for home pickup.
Sellers can participate in Posh Parties, which are virtual shopping parties during which sellers can shop for a specific item or brand.
Buyers on Poshmark are protected with the app's eponymous Posh Protect, the app's guarantee that items listed for sale arrive as described. Poshmark doesn't release funds to sellers until the buyer receives the item and confirms it's as described via the app, which means there's no undisclosed damage and the item is authentic.
All orders over $500 are first shipped to Poshmark headquarters to undergo the official Posh Authenticate verification process before being sent to the buyer.
If there is damage or an item isn't as it was described, buyers can return the item for a full refund within three days of receiving it. If a buyer doesn't receive an item within seven days, they can cancel the order and the seller's item will go back to being listed for sale.
Poshmark charges a fee for selling via the app. For sales under $15, it's a flat rate of $2.95. For sales of $15 or more, it's 20% of the item's selling price.
Poshmark pays sellers within three days of a buyer confirming that they've received an order. The funds are deposited into your Poshmark account and can be used to buy something on the site or within the app, or can be withdrawn and deposited into the bank account of your choice. You can also request a paper check.
Selling Tips 
There are several things you can do to help your items sell more quickly. First, be sure your photos are clear and taken in a good light. The more professional your photos look, the more likely your item is to sell. You may also consider styling or modeling the item for the cover shot of your listing, which is the first photo potential buyers will see. Remember great photos equal a great listing.
Second, write an accurate and detailed description of every item. List the color, material, brand, size, and any other relevant information in the listing.
Include styling tips for the item so buyers can visualize how it might work in their wardrobe.
Lastly, be sure to disclose any damage, wear, or defects on your items. Sellers on Poshmark are protected by Posh Protect and can send an item back within three days for a full refund if it isn't as described in the listing.
There are also several marketing opportunities sellers can take advantage of to sell more successfully via Poshmark. You can now share your listing via your social media channels directly in the app. It's integrated with Facebook, Instagram, Pinterest, and even Tumblr. This could help get more eyes on your listings and hopefully, increase your chances for a successful sale.
Poshmark also lets you offer certain buyers a discount. If a buyer has added one of your items to their Bundle on their profile, you can select the item and click "offer" to privately offer them a better price on the item. The discounted price will only be good for 24 hours, so if the buyer doesn't accept it in that time frame, the deal is off. But if they do accept it, the sale happens automatically and you'll receive an email with the shipping label.
Pros and Cons of Selling on Poshmark
Selling on Poshmark can definitely be lucrative for sellers—if you do it right. Plus, it gives you the option to monetize your closet and make some extra cash by selling clothing, shoes, and accessories you no longer use or wear. That money can be used to build your emergency savings, pay down debt, and more.
The app's seamless shipping process combined with its easy listing process also makes it a snap to use for both buyers and sellers.
But there are a few cons associated with selling on the app. First, sellers are able to haggle prices with buyers, which can take time or result in a less-than-ideal price.
You can refuse offers or mark an item at a firm price to avoid haggling with buyers.
Another con is the fees charged by the app. For sales of $15 or more, Poshmark collects a 20% commission, which might be seen as a bit steep by resale standards.
The Bottom Line
Selling old or unused clothing and accessories on virtual marketplace Poshmark can help you make some extra money—but you have to do it right. Be sure to prioritize photos and descriptions of your listing, and don't forget to take advantage of marketing opportunities, like Posh Parties or promoting your listings on your other social media channels. 
Sours: https://www.liveabout.com/selling-on-poshmark-4773880
For serious resellers on Poshmark, scoping out items in thrift stores or other online platforms is a key part of your success formula. One question we get asked a lot by the poshers on our platform is:
What are the top brands I should be buying in order to get more sales on Poshmark? What sells best on Poshmark in 2021?
This is a tough question, for a lot of reasons. But we did our research so that we could help all of our Poshmark sellers like you to maximize their store's success.
How to Use This Guide
First of all, let's start out with this — there is no one-size-fits-all easy answer. As we've talked about before, one of the biggest things you can do to succeed on Poshmark is share to your followers. That means what matters most for you is not what is selling on all of Poshmark on average, but what is trending for your own group of followers.
For example, the heavy majority of Poshmark users are women looking for women's clothing. However, some of our Poshmark resellers still sell men's clothes. This is because (surprise!) most of their Poshmark followers are men. That doesn't mean everyone will succeed selling men's clothing, nor is it our recommendation for new stores to start by selling men's clothing. Above all, know your own audience.
It is also worth noting that your own Poshmark following changes over time. In fact, by selling different items or by advertising more on platforms like Instagram, you'll find that your following can gradually evolve into a new audience with new favorite brands.
Because of these facts, we feel the best way to give advice on picking brands to stock your closet with is to break down what we see work on Poshmark by various audiences. This way you can use this information to decide what to purchase based on what your following looks like now, and what you are trying to grow your following into over time.
Share up to 28,000 times a week, without doing anything
Join hundreds of sellers who trust SuperPosher to grow their business. Every day SuperPosher can do up to 4,000 shares, follow hundreds of users, return shares & follows, and even send offers to likers. You just have to turn it on from your phone.
No credit card required
Top brands to Sell on Poshmark by Generation
One of the best ways to break down buying habits is by generation. According to Poshmark's own annual report, this was one of the most important ways they analyze their users.
Best-selling Poshmark Brands for Baby Boomers
The top brands bought on Poshmark by Baby Boomers (born between 1946 and 1964, currently ages 56 to 74) are Coach, Michael Kors, and Eileen Fisher.
In general, we see that Baby Boomers are drawn to second hand items of higher-end, well-known brands.
This is better understood in the context of a Baby Boomer's overall personal closet: typically about 31% of their closet is made up of fashion from "value chain" retailers, and only 2% would be considered "luxury." This is the lowest percent of first hand luxury goods of all generation groups, hence explaining why their second hand purchasing trends towards luxury. Baby Boomers are using this opportunity to access luxury goods at a price they otherwise would not pay.
Best-selling Poshmark Brands for Gen X
The top brands that Gen X-ers (born between 1965 to 1980, currently ages 40 to 55) are buying on Poshmark are Tory Burch, Kate Spade, and Patagonia.
More so than any other age group, Gen X's average wardrobe leans towards "mid-priced" goods. Like Boomers, their first hand luxury spend is low, so when it comes to second hand purchasing on Poshmark, they often buy luxury or slightly pricier brands you'd see at a department store.
Best-selling Poshmark Brands for Millennials
Amongst Millennials (born between 1981 to 1996, currently ages 24 to 39,) the top brands on Poshmark are Nike, Madewell, and Anthropologie.
Millennial resale purchases from Poshmark are mostly brands you would find at a typical American mall, consistent with their overall average closet composition of about 15% department stores and 13% fast fashion.
Best-selling Poshmark Brands for Gen Z
Gen Z-ers (born 1997 or after, and currently younger than 24) buy second hand items from across the spectrum, with their top Poshmark brands being Gucci, Adidas, and Brandy Melville.
In general, trends show that Gen Z has more goods in their home wardrobe categorized as second hand, fast fashion, Direct to Consumer (DTC), and luxury than any of the other generations. Their Poshmark purchases reflect this, with a mix of goods across price levels.
As of 2019, roughly 1 in 5 of Poshmark's users are Gen Z, and about 25% of new people joining Poshmark were also from Gen Z. This means that this audience is large and growing, so the demand for their favorite brands will also be growing over the next year.
Separately from picking which brands to bulk up on, it is worth noting that 57% of Gen Z discover new brands via influencers on social platforms, like Instagram. We've seen that trend too, and as mentioned above, we have a lovely guide on how to grow your Poshmark audience via Instagram.
Top Trending Brands that Sell Faster on Poshmark (and why)
While we mostly recommend focusing on building a following (45% of Poshmark sellers have repeat customers) and publicizing your items via sharing (especially using SuperPosher,) many users also see a boost in sales by selling to more "casual" Poshmark users.
A casual user might be someone who doesn't actively browse often on the platform, but nonetheless will be searching for a good deal on Google (or another search engine.) These people see a search result for the item they are looking for on a Poshmark store, often at a lower price because it is being sold second hand, and they click through to buy it.
By analyzing Google keywords, we've found the top 10 brands people are searching for on Poshmark via Google search. Here they are, ranked by popularity.
Top 10 Overall Best Selling Brands On Poshmark 2021:
Louis Vuitton
Gucci
Nike
Coach
Michael Kors
Chanel
Christian Louboutin
Lululemon
Balenciaga
Dooney and Bourke
Top Categories of Items to Sell on Poshmark
After analyzing categories of items sold on Poshmark as opposed to brands, we noted three main types of items — shoes, purses, and wallets.
To us, this makes a lot of sense. While there are some men on the app, women primarily make up Poshmark's user base, so it only makes sense that the top items are items that ladies love.
Another thing to note is that these items either have fairly standard sizes or no sizes at all. Some people are hesitant to buy jeans in case the taper or the fit just doesn't hug your body right. In contrast, items like purses have more consistency, and less worry about if they are right just for you or your figure.
The Top 200+ Trending Brands on Poshmark
Across the entire Poshmark network, what brands do we see come up time and time again? Well, that's a long list. There's more than 200 brands we see actively listed and sold in 2021. Here's the full list, for you to compare your own closet against!
Note — brands not featured on this list are still on Poshmark, and still might sell well! These are just the brands we see sold most frequently (listed in alphabetical order, not by ranking.)
Share up to 28,000 times a week, without doing anything
Join hundreds of sellers who trust SuperPosher to grow their business. Every day SuperPosher can do up to 4,000 shares, follow hundreds of users, return shares & follows, and even send offers to likers. You just have to turn it on from your phone.
No credit card required
7 For All Mankind
& Other Stories
A.P.C.
acacia swimwear
Adidas
Adidas by Stella McCartney
Adrianna Papell
AG Adriano Goldschmeid
Agent Provocateur
Air Jordan (mostly men's)
ALC
Alexander McQueen
Alexander Wang
Alice & Olivia
Alice McCall
All Saints
ALO yoga
Anna Sui
Anthropologie
Arc'teryx
Athleta
Badgley Mischka
Balenciaga
Bailey 44
Balmain
Beach Riot
Betsey Johnson
Beyond Yoga
BHLDN
Birkenstock
Boden
Bombas socks
Bonobos
Bottega Veneta
Brandy Melville
Burberry
Cabi
Calvin Klein
Calypso St Barth
Camper
Canada Goose
Carbon38
Carhartt
Carolina Herrera
Carven
Celine
Chiara Ferragni
Chico
Chloe
Christian Dior
Christian Louboutin
Christian Siriano
Cinq a Sept
Citizens of Humanity
Clover Canyon
Coach
Coldwater Creek
Cole Haan
Converse
COOGI
Cosabella
Current/Elliott
Cuyana
David Meister
David Yurman
Derek Lam
Desigual
Diane Von Furstenberg
Diesel
Disney
DKNY
DL1961
Dolce & Gabbana
Dooney & Bourke
Draper James
Eberjey
Eileen Fisher
Elie Tahari
Eliza J
Elizabeth and James
Eloquii
Equipment
Ermenegildo Zegna
Everlane
Faithfull the Brand
Fendi
Ferragamo
For Love and Lemons
Fossil
Frame
Free People
Frye
Gal Meets Glam
Gigi C swimwear
Givenchy
Goyard
Greylin
GRLFRND
Gucci
Gymshark
Halston Heritage
Haute Hippie
Helmut Lang
Hermes
House of Harlow 1960
Hudson
Hunter
Isabel Marant
J Brand
J. Crew & J. Crew Factory
J. Jill
Jack Rogers
James Perse
Jean Paul Gaultier
Jeffrey Campbell
Jill Sander
Jimmy Choo
Joe's Jeans
Johnny Was
Joie
Karen Millen
Kate Spade
Keepsake the Label
Kavu
Kora
Kendra Scott
L'Agence
La Perla
Lafayette 148 New York
Lanvin
Lauren Moffatt
Levi's
Lilly Pulitzer
Lo & Sons
Longchamp
Louis Vuitton
Lovers & Friends
Lululemon
Maaji
Madewell
Madre
Mara Hoffman
Marine Layer
Marmot
Max Mara
MCM
Michael Kors
Minnetonka
Misook
Miss Me jeans
Miu Miu
Modcloth
Moncler
Monique Lhuillier
Monrow
Mother jeans
Nasty Gal
Nike
NSF
Nux
Opening Ceremony
Oscar De La Renta
Outdoor Voices
Paige jeans
Pandora
Parker
Patagonia
Plenty by Tracy Reese
Prada
Prana
Proenza Schouler
rag & bone
Ralph Lauren
Ray-Ban
Rebecca Minkoff
Rebecca Taylor
Reformation
Reiss
Roberto Cavalli
Rothys
Sam Edelman
Seafolly
See by Chloe
Sherri Hill
Shoshanna
Show Me Your Mumu
Smartwool
Sonia Rykeil
Spell & The Gypsy Collective
Spiritual Gangster
Splits59
St. John
Stella McCartney
Stuart Weitzman
Summersalt
Sundance
Supreme
Swarovski
Sweaty Betty
Ted Baker
The North Face
The Upside
Theory
Theysken's Theory
Tibi
Tieks
Tiffany & Co.
Tommy Bahama
Torn by Ronny Kobo
Torrid
Tory Burch
Trina Turk
UGG
Under Armour
Vera Wang
Via Spiga
Victoria Beckham
Vince
Vince Camuto
Vineyard Vines
Vivienne Westwood
White House Black Market
Wildfox Couture
Yoana Baraschi
Zac Posen
Zadig & Voltaire
Zara
With all these insights, our hope is that resellers trying to gain financial flexibility and freedom through selling on Poshmark are more likely to succeed!
If you already have inventory, or want to make it easier to sell the brands you see above, we recommend reading our primer on how to share fast on Poshmark.
Share up to 28,000 times a week, without doing anything
Join hundreds of sellers who trust SuperPosher to grow their business. Every day SuperPosher can do up to 4,000 shares, follow hundreds of users, return shares & follows, and even send offers to likers. You just have to turn it on from your phone.
No credit card required
Sours: https://superposher.com/blog/top-poshmark-brands/
10 Menswear Brands That DON'T Sell On eBay \u0026 PoshMark - Men's Clothing to Avoid When Sourcing
The Best Places to Sell Men's Clothing Online
It's time to ditch those pieces you bought from an online clothing store that don't fit — along with gifted garments that are simply collecting dust. Start on one end of your closet and lay everything you haven't worn in the last six months on your bed (feel free to cancel any months spent in quarantine). Chances are if you haven't worn them in that time frame, you never will. Why not give them a new home while adding a couple of zeroes to your bank account?
Ahead, we round up some of the best online consignment shops with tips on how to successfully sell yours like new and gently used clothes. Note, most of these sites will not accept clothing that is worn, damaged, or majorly wrinkled. Remember, presentation is everything.
Best for Outerwear: Poshmark
Chances are you know someone that either buys or sells on Posh. Sellers here take photos, upload and determine the price of their own items while including a short description. Think of it as a little online boutique of your unwanted items. Buyers can make an offer and you can negotiate. Once you get into the swing of things, it can become as addicting as a video game. Soon enough, you'll rack up that account balance. The site takes a 20% commission and sends you an automatic shipping label for every sale. Brand names like Lululemon and Patagonia do well here.
Best for Vintage Clothes: Depop
Depop is known as the creative community's marketplace. It has a more indie, Brooklyn-hipster vibe to the items listed. Similar to Poshmark, it's super easy to use and runs on an app only (not a website). Depop is great for your grandfather's no-name old Hawaiian shirts hanging in the back of your closet that you've been saving for a costume party. Anything marketed as "vintage" here does well, whereas on Poshmark it might not. And the platform only takes a 10% commission.
Best for Streetwear: Grailed
Although not as widely known, Grailed is one of the best online selling platforms for menswear. The interface is extremely user-friendly and aesthetically pleasing and more importantly, sales only entail a 6% commission, not including PayPal fees. The standards, however, are a bit high as the Grailed community is fashion-educated and the marketplace is curated. Streetwear brands like Supreme, Off-White, and Vetements do well here.
Best for Novelty Clothes: eBay

As the OG buy-and-sell-from-home platform, eBay is still among the best places to sell your items online. And this goes beyond just the closet. Ebay takes a percentage of all sales, ranging from 1.5% to 12% depending on the value and shipping costs per item. Because you can buy and sell just about anything on eBay, it's not as streamlined as the more closet-focused apps. Novelty items (like this Nutella hoodie) do well on eBay.
Best for Luxury Items: Vestiaire Collective

Your Gucci loafers and Prada briefcases will find a second home at this online consignment platform specializing in luxury items. Selling your pieces is a breeze on Vestiaire. Simply fill out a form with your item's info, including season, size, and designer, and a brand representative will let you know if your garments are fit for the marketplace. If approved, you'll receive a shipping label to send your items to the platform's Paris headquarters for authentication. Vestiaire takes up to a 35% commission.
More Great Places to Sell Clothes Online
The RealReal
The luxury consignment store is one of my favorites for selling off designer pieces, from Tom Ford sunnies to an A.P.C sweater. You can request a mailer via the site or set up an in-person appointment at the store or your home with a specialist. Sellers get to keep up to 85% of the sale price and items typically sell pretty fast!
Rebag
If you're anything like me, you're a bit of a bag hoarder, possibly from luggage to tote bags, wallets, and everything in between. If you have bags starting to linger about and take up excess space, Rebag is the perfect place to turn these bags into cash. Using CLAIR, Rebag is revolutionizing and transforming the luxury bag resale industry. Rebag has created an easy-to-use appraisal index as well as universal codes and condition grades to serve as a common pricing reference for resellers worldwide. In just a few minutes, Clair determines the value of any handbag across a list of more than 50 brands and 10,000 styles. Additionally, it offers consumers an exact and fully automated price that Rebag is currently willing to pay to acquire that item.
LePrix
LePrix works with some of the best store boutique partners around the world that are expert purveyors of authentic and pre-owned luxury. LePrix offers a few ways to sell via the platform; on your own, through consignment, or via trades with other sellers. Although the site specializes in high-end products, you can definitely still sell more accessible priced items via the platform a well.
ASOS Marketplace
Unlike a lot of its counterparts this online consignment option doesn't focus on the brand, but the aesthetic of the pieces. It's great for selling those retro concert tees, distressed denim, and repurposed vintage pieces just hanging around. You set the price but ASOS Marketplace does take a 10% commission on the sale price of each item.
Buffalo Exchange
The popular thrift store with locations all across the U.S. now offers mail-in options for that summer closet cleanout.  It's a super effortless process; just request a free bag online. Within a few weeks of receiving your bag, Buffalo Exchange will send you 25% of our selling price in cash via PayPal or 50% in-store trade. For any items the company is unable to take, you can have them returned for the cost of shipping or donate them to deserving local non-profits through our Clothing for the Community program!
Crossroads Trading Co.
Crossroads has been leading the resale fashion industry for over 27 years. Catering to fashionable and eco-conscious customers, the store offers a "mail-in" option that you can request via the website. The company looks for gently used seasonal clothing for cash or trade; that's right, not consignment, so you get paid 30% of the sale price upfront!
Etsy
If you want to set up your own curated vintage shop, Etsy is the place to go! The site comprised of artisans who sell mostly vintage and handmade work allows you to make the platform yours with free range on setting pieces you want to sell, pricing, and content. Etsy does charge a 20-cent listing fee per each item and once an item is sold there's a 3.5% transaction fee and 3% payment processing fee.
Instagram
More likely than not you're already on Instagram, so why not use it to your advantage? Simply just take some shots of the pieces you want to sell and post them on your story with the sale price. The great thing about this is that you get to avoid any tax margins or retail guidelines. You also get to offer these pieces directly to your followers who would jump on that linen suit you only wore once to a summer wedding.
Facebook Marketplace
Similar to Instagram selling, Facebook Marketplace allows you to be in full control of your selling. You'll be surprised that your friend from middle school who you haven't seen in 10 years would be into some of your pieces! It's a super quick and easy process, just take a photo of the product and upload it to the site. Facebook Marketplace also opens your listing up to people in your area to be potential buyers. You can either decide to ship the piece out or if they're local arrange a pickup to eliminate any shipping fees.
Mercari
Similar to the other self-service sites like eBay, Mercari offers a platform for you to name the price and decide your own shipping criteria. You simply post an item and, once sold, you ship it out to the buyer and viola! Mercari pays you through direct deposit every week, so it's perfect for someone looking for quick cash turnover.
Editors' Recommendations
Sours: https://www.themanual.com/fashion/best-menswear-consignment-stores-online/
Shirts poshmark mens
17 Best Brands to Sell on Poshmark
When I come across talk about Poshmark, the question that always comes up is what sells well on the platform. That leads to a discussion about the best-selling brands.
I put together this list of 17 top brands to sell on Poshmark to help answer that question. A lot of people don't know what to sell when starting their closets. I had to do some research to learn about popular brands and trends when I started selling.
Now I have my go-to brands because some are easier to acquire than others, but I'm always on the lookout for these best-selling brands below.
>>> By the way, here's another list of 21 top-selling brands for 2021!
Now before I get into this list, consider a few things:
There are hundreds of brands that sell well on Poshmark. Poshmark caters to women, men, and children. Now there's a home goods market and even a back-to-school market. Each of these have their own top brands that sell well.

Poshmark is going to continue opening new markets, meaning even more brands and items that will sell well on the platform.

I've listed mostly women's brands here. There are many other brands out there that sell well in the women's market and other markets. Don't feel disheartened if you're not able stock your closet with these brands.
• What sells for one person may not sell for another. Some people say certain products and brands like women's jeans fly out of their closet, while others can't give them away if they try.
The brands I've listed here are some of the top selling brands on Poshmark, but you'll find some people have more success with one brand over another. Try out different brands and styles to see what sells best for you!
• Consider the item type and condition, not just the brand. The type of item and its condition matter too. With most brands, the rarer and in-demand styles sell better than the stuff that looks like it came from anywhere. New or like new items sell better than those that are worn.
• Keep your costs low no matter the brand. The only way to make money on Poshmark is to sell an item for more than it cost to acquire. Don't forget that Poshmark takes its commission too.
Check how much items are selling for before purchasing them to resell. Then buy them only if you can make money from them. This is true no matter the brand or item.
Disclosure: This post contains affiliate links. This means that I may receive compensation when you click on a product link or purchase an item linked on this site. Click here for details.
***If you don't have a Poshmark account, you can receive a free $10 bonus when you sign up with my code SFGIRL2015. Amount varies by promotion.***
1 | Eloquii
Eloquii is a women's plus-size apparel brand. Items are reasonably priced at retail and stylish. Most items sell for under $50. Dresses tend to sell for more, particularly if they're new.
Sours: https://www.frompenniestoplenty.com/blog/best-brands-to-sell-on-poshmark
How to Fold and Photograph Men's Dress Shirts for eBay and Poshmark
.
You will also be interested:
.
238
239
240
241
242