Velocity App for Fitbit Ionic
The Velocity application turns Fitbit Ionic into a smart digital compass and a speedometer using the data taken from the onboard GPS receiver. It can be used as a backup navigation solution while hiking or walking, and it is an invaluable tool for a small sailboat that helps you understand how well the sails are trimmed and keep to the desired course.
Features
Shows the current and maximum speed (tap to switch between units).
Indicates acceleration/slowdown with a color bar.
Shows the rotating analog compass directed to the average heading (tap to switch between current/average heading).
Lock mode to lock the average heading and increase compass resolution (down button to enable/disable)
Calculates time to sunset/sunrise (time screen, click up button to switch between screens).
Screens
Loading screen
This will be the first screen you'll see opening the app. When GPS connects, it will switch to the compass screen automatically. You can press the "up" button to switch to the time screen and back.
Compass screen
The main screen that shows the rotating compass and the speed.
The color speed bar shows the percentage of the current speed from the maximum, indicating with a color if you are speeding up (current speed = yellow + green) or slowing down (current speed = yellow, while the red is the slowdown from the average speed).
Average and current speeds are displayed above the bar. Tap to switch between the units - knots, mph, kph.
The rotating compass is below, aligned with the direction of your average movement in 10 seconds. The current direction is shown with an arrow, red if you are turning left and green if you're turning right.
The direction of travel in degrees is displayed at the bottom. Tap the compass to switch between current and average direction.
Lock mode
Press the "down" button to enter the lock mode. Average speed and direction will be locked, and compass view will increase the scale resolution showing a sector of 40 degrees which will help you keep to the locked course. Press the "down" button again to exit the lock mode.
Time screen
Press the "up" button to switch between screens.
Here you can see the current time, speed, and direction. It also shows the time left until sunset for your current location, which is important if you want to finish your trip before the dark. When there will be less time left until sunset than time passed since the application start (presuming you launched it in the beginning of your trip), time to sunset will become red indicating you should return immediately.
FAQ
Why doesn't the GPS connect?
The GPS connection depends on satellite visibility and might take some time, especially for the "cold start" if you're starting it for the first time. Give it a few minutes and make sure you're not inside of a building. Normally, it will take about 30 seconds or less to connect if it's not a cold start and you're outside. If you standing in the middle of a city with skyscrapers blocking the sky it might take longer.
Why doesn't the compass work?
Keep in mind that Fitbit Ionic doesn't have a real compass and the direction is being taken from the GPS; if you're in a sailboat the GPS direction is actually preferable. You need to be outdoors and move for the app to determine direction properly.
Support or Contact
If you have any issues or feature suggestions, please create an issue here.
Sours: https://github.com/gaperton/velocity
Fitbit Versa 2 review: specs and price
Sleep better, live better and play better with a Fitbit Versa 2. In terms of design and functionality, this luxury smartwatch seems to have it all. The premium design merges with top-tier features such as sleep tracking, 24/7 heart rate tracking, and water-resistant casing to provide users with an all-around top-notch smartwatch that suits everybody, from athletes to professionals.
Featuring all-new design options, you can look as good as you feel as you monitor your health, enjoy free on-screen workouts, and easily respond to text messages straight from the watch. The large AMOLED display area ensures that responding to messages and getting a good workout in look as bright and clear as ever.
Why is Fitbit Versa 2 better than the average?
Waterproof depth rating?
50mvs44.47m
Weight?
38gvs48.66g
Height?
40mmvs44.41mm
Width?
40mmvs41.59mm
Charge time?
2hvs2h
Maximum operating temperature?
60°Cvs48.92°C
Warranty period?
2vs1.36
Volume?
19.2cm³vs22.58cm³
Cheap alternatives for Fitbit Versa 2
Samsung Galaxy Watch Active2 LTE Stainless Steel 44mm
Samsung Galaxy Watch Active2 LTE Stainless Steel 40mm
Samsung Galaxy Watch3 LTE 41mm
Samsung Galaxy Watch Active2 LTE Aluminium 40mm
Samsung Galaxy Watch Active2 Aluminium 44mm
Samsung Galaxy Watch Active2 Stainless Steel 44mm
Apple Watch Series 5 GPS + Cellular Aluminium Case 44mm
Samsung Galaxy Watch 4 LTE 44mm
Design
The device is dustproof and water-resistant. Water-resistant devices can resist the penetration of water, such as powerful water jets, but not being submerged into water.
Damage-resistant glass (such as Corning Gorilla Glass or Asahi Dragontrail Glass) is thin, lightweight, and can withstand high levels of force.
Resistance to sweat makes it ideal for use while doing sports.
You can operate the device easily, by pressing the screen with your fingers.
The watch band is removable and can be replaced by any standard watch band of the correct size, allowing you to customise it to your liking.
The device has an electronic display to present information to the user.
Resolution is an essential indicator of a screen's image quality, representing the maximum amount of pixels that can be shown on the screen. The resolution is given as a compound value, comprised of horizontal and vertical pixels.
The user can see information such as date, time, and notifications even when the screen is off. The functionality can be enabled or disabled.
The bigger the screen size is, the better the user experience.
Sensors
A heart rate monitor can help show your fitness levels, enabling you to calculate a suitable intensity of exercise.
GPS enables global positioning, useful in map, geo-tagging or navigation apps.
Your blood oxygen level is a measurement how much oxygen is reaching your muscles. It is important because low levels mean that you will become easily fatigued during exercise. The more exercise you do, the better your blood oxygen levels will become.
An accelerometer is a sensor used to measure the linear acceleration of a device. A common application is detecting when a device changes between vertical and horizontal positions.
A compass is useful for gaming, maps, and navigation software.
This measures barometric air pressure. It can predict weather changes, for example a sudden drop in air pressure could mean a storm is coming. When calibrated correctly it can be used to determine altitude, which helps GPS devices to lock on quicker and with greater accuracy.
With a temperature sensor you can monitor changes in temperature to measure your exertion levels and avoid hyperthermia.
A gyroscope is a sensor that tracks the orientation of a device, more specifically by measuring the angular rotational velocity. Initially, they were built using a spinning rotor to detect changes in orientation, like twisting or rotation.
A cadence sensor measures the number of pedal revolutions per minute when you are cycling. It enables you to monitor how fast you are pedaling.
Activity tracking
It can track your sleep, such as how long you sleep for and the quality.
It tracks how many steps you take throughout the day, allowing you to see how active you have been.
Measuring pace shows how much time it takes to travel one kilometer or one mile. For example, in running, a 4 minute kilometer would be a very good pace.
Your activity data is analysed to give you reports, available to view through the app or website. This allows you to see how active you have been and to help you make improvements.
Your sleep data is analysed to give you a report, available to view through the app or website. This allows you to see the quality of your sleep and to help you make improvements.
The device automatically detects when you start an activity such as jogging, saving you from entering it manually at a later time.
It can detect changes in elevation, such as when you are climbing stairs.
Connectivity
NFC (near-field communication) allows a device to perform simple wireless transactions, such as mobile payments. Note: this feature may not be available in all markets.
The device syncs all of your data wirelessly, without the need for cables.
The device automatically syncs your data when in range of your computer or smartphone.
Bluetooth is a wireless technology standard that allows data transfers between devices placed in close proximity, using short-wavelength, ultra-high frequency radio waves. Newer versions provide faster data transfers.
It is compatible with a range of iOS devices such as iPhones, iPads and the iPod Touch.
Devices that use cellular technology can connect to mobile networks. Cellular networks have much wider signal coverage than Wi-Fi.
Wi-Fi 4 (802.11n) is a wireless standard released in 2009. It has faster transfer rates and improved security compared to its predecessors – a, b, and g.
Battery
With a longer battery life, you don't have to worry about charging the device as often.
Battery power, or battery capacity, represents the amount of electrical energy that a battery can store. More battery power can be an indication of longer battery life.
The manufacturer offers a branded wireless charging kit. To charge the device, you simply put it down on its charging base.
There is less chance that you will run out of battery during an adventure.
In power save mode you can still check what time it is and other basic functions. A long battery life is good if you wear the device day to day.
With a long battery life, you can train for several hours a week and only have to recharge the device every few weeks.
Features
The device has a feature that allows you to find your smartphone if you have misplaced it.
The device alerts you to incoming calls on your smartphone, and allows you extra control such as muting or rejecting the call.
If you get a notification such as a call or message, the device will vibrate on your wrist or make a noise to alert you.
The device can wake you using vibration, so as not to disturb anyone else sleeping in the room.
It determines when you are in a light state of sleep and wakes you up within a set period of time before your alarm. This can allow you to wake up feeling fresher and more alert.
9.RAM
Unknown. Help us by suggesting a value.
Random-access memory (RAM) is a form of volatile memory used to store working data and machine code currently in use. It is a quick-access, temporary virtual storage that can be read and changed in any order, thus enabling fast data processing.
Miscellaneous
You can listen to your own music when working out. This can make exercising more enjoyable and motivate you to push yourself further.
You can download the app for free, from platforms such as Google Play or the App Store.
It has an exercise diary, allowing you to easily keep track of your previous workouts.
Your data is synced to the cloud, making it easier to access across different devices and making sure it is always backed up in case you lose your device.
Adverts can be distracting and obtrusive. Apps and blogs without ads are more aesthetically pleasing, nicer to use, and make the content stand out.
You can personalize the appearance of the app - for example, choosing a different theme or colors.
Which are the best smartwatches?
Samsung Galaxy Watch Active2 LTE Stainless Steel 44mm
Samsung Galaxy Watch Active2 LTE Aluminium 44mm
Samsung Galaxy Watch Active2 Stainless Steel 44mm
Samsung Galaxy Watch 4 Classic LTE 46mm
Samsung Galaxy Watch Active2 Aluminium 44mm
Garmin Tactix Delta Solar Edition
Apple Watch Series 5 GPS + Cellular Aluminium Case 44mm
Show all
This page is currently only available in English.
Sours: https://versus.com/en/fitbit-versa-2
lzurutuza.github.io
With Cockpit application you can turns your Versa into a speedometer, odometer and digital compass with altimeter. It also shows weather information according to the current location. You can get travel statistics such a average speed, maximum speed, elapsed time and maximum altitude. You can get up 2 partial distances measurements. It is an ideal tool to use when it is required to monitor values such as speed, distance traveled or simply use as a compass while traveling. Even if you are not doing a specific sport activity. It can be used as a backup navigation tool while riding a bike, running or hiking for example. This app requires the companion GPS and internet access to update the weather information (openweathermap.org free suscription is required). Support Metric and Imperial system of measurement.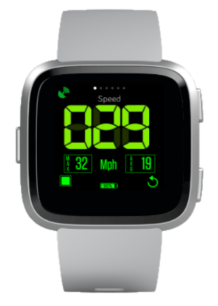 Cockpit App - Fitbit Link
COMMON BUTTONS and ICONS:
All screens has 3 common buttons and one icon:

Connection Status button, represents the comunication between Versa and Companion GPS. STATUS GREEN represents OK, ORANGE indicates connecting to GPS and RED is not communication with GPS.
Access Configuration Screen.
Toggle screen Auto OFF ON / OFF.
Restart statistics counters.
Update weather information with Current Location (only visible in weather screen).
Shows current battery charge level.
MAIN SCREENS
1- SPEED

You can RESET values for AVERAGE SPEED and MAX SPEED by pressing the left part of the screen (over the first number) for max speed and right (over the last number) for average speed.
2- DISTANCE

You can RESET values for partial DISTANCE1 and partial DISTANCE2 by pressing the left part of the screen (over the first number) for max speed and right (over the last number) for average speed. Partial distance1 has 2 decimals and growth up to 99,99 km. Partial Distance2 has 3 decimals and growth up to 9,999 km.
3- COMPASS

Show total time, altitude and cardinal points with degress (these values are calculated according to the current movement).
4- ORIENTATION

Show cardinal point and degress (these values are calculated according to the current movement).
5- STATISTICS

Show statistics information about the trip: Distance, Speed, Time and Altitude.
6- WEATHER

Show weather information of current location (GPS location). The city name is obtained from this location. You can update this information using tue update button at the bottom . Information obtained from openweathermap.org.
GPS STATUS SCREEN

In this screen you can view the status information about companion GPS. When the GPS location is acquired you can see the current latitude and longitude. Also you can get the street name, town/city, district, state and country based on current location. You can update this information with Update button o return to main screen with OK button. If the communication with GPS fails, you will see an error message and your Versa will vibrate.
CONFIGURATION SCREEN

In this screen you can configure the measurement units: Metric or Imperial and activate SPEED ALERT. When speed alert is activated, Versa will vibrate and speed numbers will change from green to RED color.
COMPANION CONFIGURATION SCREEN (at Fitbit mobile app)

You can get this configuration screen at FitBit mobile app, Versa -> My Apps -> Cockpit -> Settings Button.
Here you can configure Screen Auto OFF (yes or not), Measurement Units (Metric or Imperial), Open Weather Map API KEY and Speed Alert.
Openweathermap.org API KEY
API KEY is neccesary to get weather information from your current location. Cockpit has a default API KEY that can take up to 60 queries per hour. If this number is exceeded, the query will fail. Because of that, is recomended to obtain your own FREE API KEY from openweathermap.org. In this configuration screen you can paste your API KEY obtained from https://openweathermap.org/appid. You can sign in free to get your own API KEY and use it with Cockpit.
Luis Zurutuza. [email protected] 2019. PayPal.Me/lzurutuza
Sours: https://lzurutuza.github.io/
Fitbit Charge 4 Review: 9 New Things To Know
.
Compass fitbit with
.
Speedometer and Compass GPS for Samsung smartwatches
.
Now discussing:
.
250
251
252
253
254