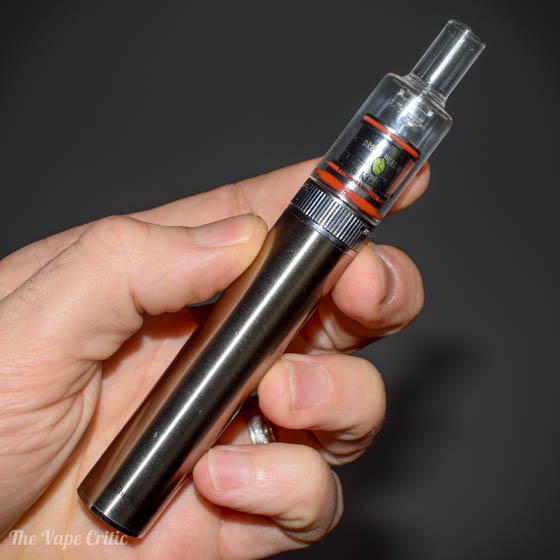 This is the Kind Pen Dream, a vape pen designed for use with wax and other solid concentrates (just not thin oils).
I like this one, it's a tiny bit different than most other pens and has a few unique characteristics that set it apart.
Larger Than Your Average Pen
It's bigger than most pens, it's not the standard "ego" size and shape, it's wider. It's actually only about a centimeter longer than competing pens (KandyPens, Puffco, etc) but it's about 50-75% wider in diameter (feels nearly twice as thick).
---
This review is outdated and I don't currently have the same feelings and thoughts about this vape. Check out my top picks for best vaporizer pen to see the models I rate the highest right now. Kandy Pens is consistently in the top 3. Stay up! 
---
The battery has a 1500mAh capacity which is at the top of the range for wax pens, most have capacities under 1000mAh which means this one has above-average battery life.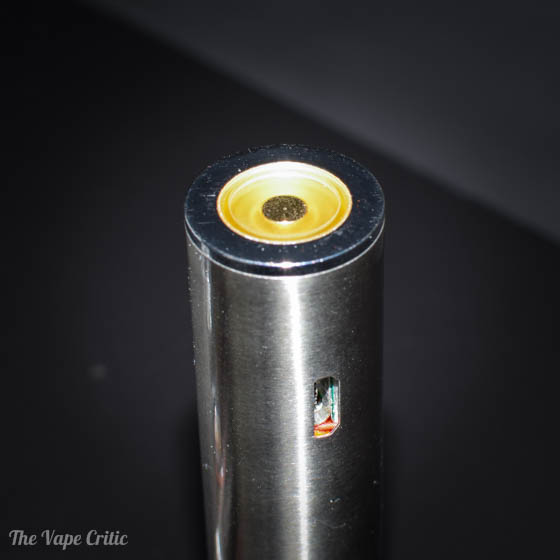 When you need to charge it there's a micro-USB port on the side near the bottom, and it has pass-through charging so you can use the pen and it'll function normally while plugged in and getting charged. Not many pens actually have this ability so it's one of the main differentiators.
Not Your Typical Power Button
There's no button on this battery like there typically is on other pens, the way it's powered is by a touch sensor on the bottom of the battery.
It's interesting, I kinda like it but at first it might feel a little awkward to hold. When you grab the pen it's typically easiest to touch the sensor with the tip of your middle finger, if you can picture that. I don't think it's bad it just means you hold it a little differently than other pens.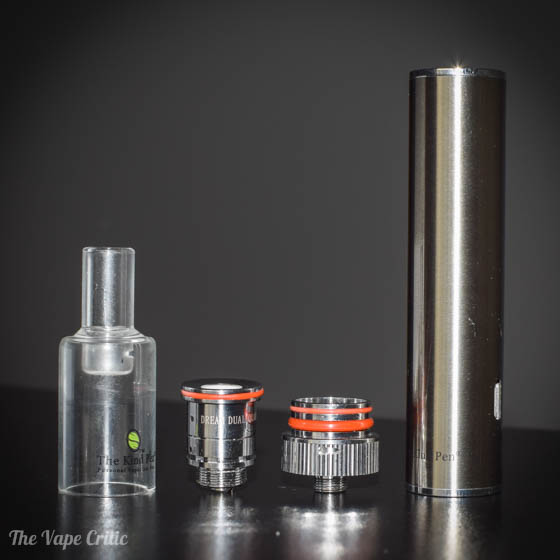 It still works the same way as other batteries – 5 taps to turn it on and off, 3 taps to change heat settings, and you hold your finger on the sensor to keep the heat engaged while you're drawing from it.
Two Nice Atomizers – Quartz & Ceramic
The Dream comes with two different atomizer styles, and I'm diggin them both. One of them has dual quartz rods (coil-wrapped) and the other one is considered a "coil-less" ceramic plate. However, both of them share the same ceramic cup that they're sitting in.
Many vape pens currently on the market heat at very low temperatures which can have its advantages, but this pen heats up faster than most so it feels more powerful and produces denser vapor with shorter hits.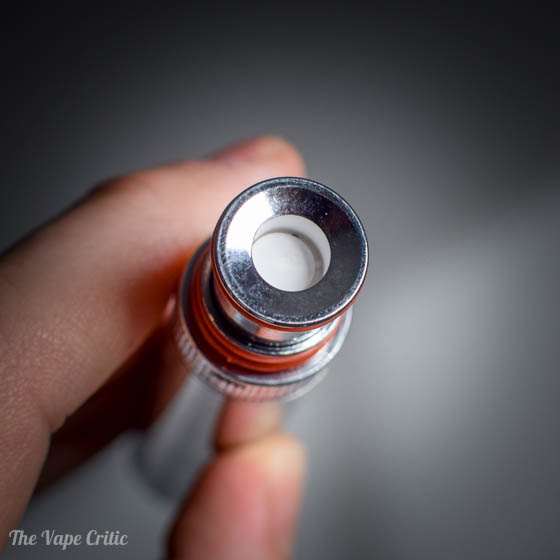 The battery has 3 heat levels and even on the lowest level I still feel that this one is strong, it doesn't really have a "low" setting to me.
This means that even with the ceramic plate atomizer on low you'll get good vapor production with a short ~5 second draw, and a monster cloud if you keep pulling for 10 secs.
The higher you set the heat the faster your concentrate will be vaporized, so I recommend drawing at a fairly quick pace for the smoothest vapor and best taste (on any setting).
With the quartz atomizer your wax is vaped very quickly so you usually won't have to draw from it for more than a few seconds to get a good hit.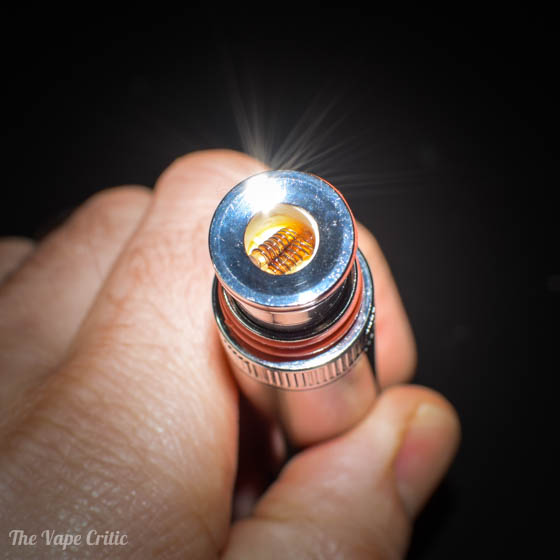 As far as the differences between them that's really for you to decide. I actually don't feel that the way they perform is that different, they both heat up quick and produce lots of vapor with relatively short draws.
Some people seem to prefer the taste from a quartz coil, and some people like the flavor from ceramic more, it really seems to just be personal preference.
I normally like quartz a little better but the ceramic plate atomizer this one comes with is cool because it's powerful, so I'd say I like them both equally with this pen.
Like most pens this one does work best when you load small amounts of wax at a time, about the size of a BB which will get you a handful of nice draws. Then if you want more, load more.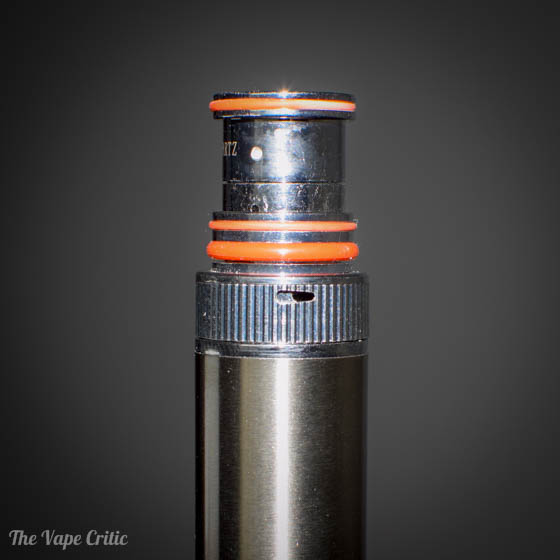 Practically Perfect Airflow
The airflow through the atomizer is very good with the Dream, the level of draw resistance is actually exactly what I prefer.
You can adjust how much air gets through by turning the ring on the atomizer to expose the four air holes, and you can keep the holes partially closed if you want to really fine tune the resistance.
When you completely close it up you get zero airflow through it, and when you open it up all the way it has a very natural free-flowing draw. You have the ability to adjust it to any level in between which I think was done perfectly. Some pens don't provide enough airflow, and some are just too open, but this one hits the sweet spot.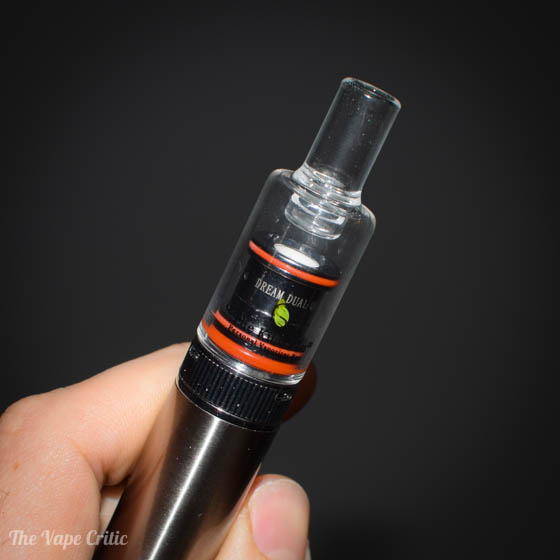 The only thing you need to be mindful of is that they placed the air holes that are inside the chamber at a very low point on the walls. This has pros and cons… the bad part being that you really can't load more than a tiny bit at a time to avoid any leakage down into the atty, and you shouldn't try using very thin oils in here. The advantage of the low holes being slightly smoother vapor when the airflow comes from under the coils as opposed to the top of the atomizer walls.
Glass Mouthpiece w/ Splatter Guard
So it has a glass mouthpiece or "globe" and there's three things I like about it and one thing I don't. Not many pens come with glass parts but they did it right with this one.
What's great is the unadulterated taste of the vapor since it only touches glass, there are no metals, filters or anything else in the airpath.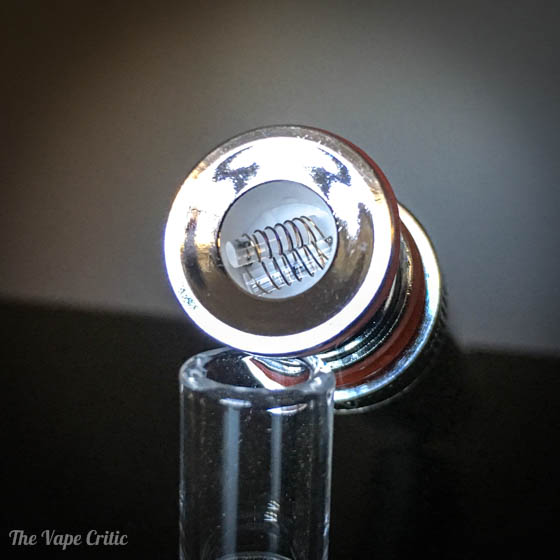 It's also super easy to keep clean because all you gotta do is soak the whole thing in some ISO alcohol after running it under some really hot water, and it'll come out like new.
The last thing that's cool about it is the built-in "splatter guard" which helps prevent any of your wax from bubbling up and splattering up to the mouthpiece. Not every pen has this and I like it, it's well-designed and serves a functional purpose in addition to looking unique.
Now the only thing that's pissing me off about it? It has a few o-rings that help hold the glass in place when it's attached, and they do a great job of keeping a snug fit without wobble, but sometimes the top o-ring likes to comes off when I pull the glass off.
I'm guessing this is because when a little oil residue builds up on the walls of the glass it causes the o-ring to stick to it, and since the top o-ring is a pretty thin one the sticking can make it dislodge itself. It's easy to get it back on, and I haven't lost it, but it's a little annoying.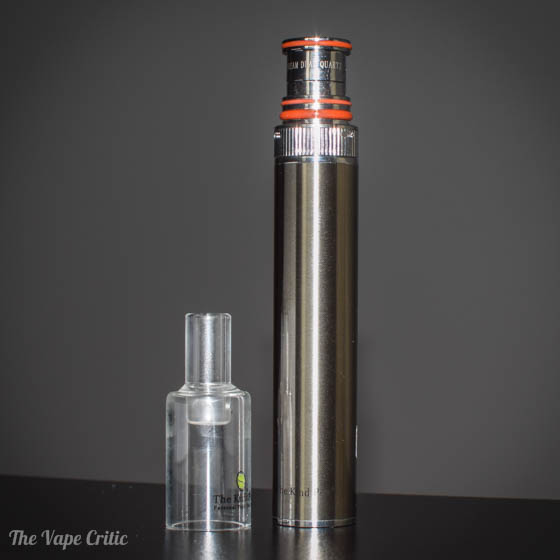 Luckily the glass actually stays in place fairly well without that top o-ring even in there, it just provides a little extra stability, so if it bothers you it's not a problem to just leave it off.
Lifetime Warranty (#VapeLife)
This company stands behind their stuff and offers a lifetime warranty on the pen. Atomizers are delicate and can't be guaranteed after you load them but if anything is wrong with them when they arrive or if anything ever goes wrong with the battery they'll take care of you.
Overall I'm really diggin the Dream, it's a well-built pen with great performance and a bunch of cool characteristics.
The strong ceramic atomizer and the near-perfect airflow are my two favorite things about it.
Stay up
Sours: https://vapecritic.com/kind-pen-dream/
As a vape enthusiast, you know that if top critics believe a product is worth its salt, it almost certainly will be. Many have praised Kind Pen brand for their sophisticated line of products, which includes many different unique vaporizers. Each model from Kind Pen is incredibly lightweight, making it easier than ever before to carry around. As you are able to place any of them in your pocket, backpack, or simply hold in the hand, is why this brand makes vaping anywhere at any time an easily accessible dream. This very well know brand in the industry constantly improves vapes intended for wax, oil, dry herbs, and e-liquids. Each model described below also comes with a lifetime warranty.
**Contents:
Kind Pen is precisely what its name suggests: a slender, portable, conduction style wax pens. Also available in an assortment of fun, vibrant colors in a durable matte finish, it features the common on/off system of five clicks of its power button in rapid succession to ensure the device will not turn on in your pocket.
Creating vaporization is an atomizer with a titanium coil and dual ceramic rods, a combination that provides dense, crisp vapor with a clean flavor profile. Both the coils and the rods are housed inside of a ceramic casing which provides even-heating capabilities. This type of heating element also works to thoroughly use up your waxy materials, and it does so slowly, ensuring that you are getting the most out of your every vaping session. Furthermore, any wax that was not used by the coils and rods initially will land on the ceramic chamber and vaporize that way, promising an efficient session every time. Though it only has one temperature setting, the temperature has been optimized for perfect vapes each time.
A universal USB charger is included with the kit, so you can charge your vape pen no matter where you are. A packing tool is also included, allowing you freedom to take it with you anywhere without having to lug around bulky tools. Ultra portable, this slender vaporizer resembles a typical e-cig for stealth purposes. The parts screw together, making for simple, durable assembly and use anywhere you go.
Go Back To The Top
V2w for Wax
The Kind Pen V2.w is a concentrates vaporizer that is slightly larger than the Slim model. The device is available in as many colors as the others, and also has a strong matte finish. For your convenience, the V2.w comes with a snap-in atomizer made of dual ceramic rods and a titanium coil. This combination is key for impeccable flavor and vapor production. It features a standard 5-click on and off button to prevent misfiring in your pocket or bag. A powerful lithium ion battery powers the unit, and it can be charged using a universally compatible micro-USB charger.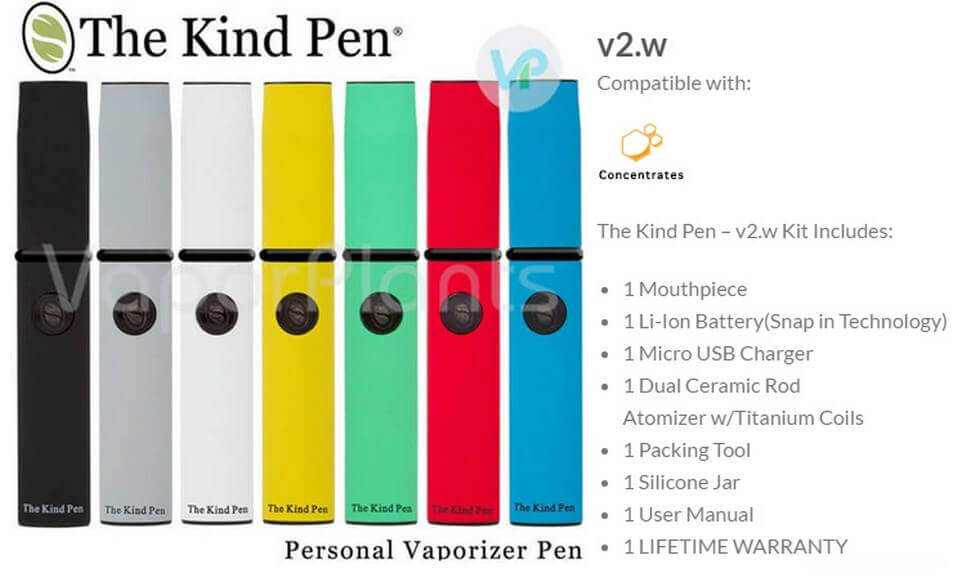 Go Back To The Top
Bullet for Wax
Your dab pen should be as exciting to look at as it is to use, and that is what you'll find in the high quality Kind Pen Bullet. It has a durable matte finish and an easy-to-grip design for on the go usage. The bullet features a standard 5 clicks of the power button to turn it off and on. Once on, the securely screwed-in dual quartz rod and titanium coil atomizer begin to heat in no time at all. The Bullet vaporizer includes a skillet tool that makes loading your material a breeze, and when the batteries have been depleted, charge them up with the included universal micro-USB charger that makes charging your batteries anywhere a very fast and simple process.
Go Back To The Top
Box Mod for Oil
Compatible with both oils and e-juices, the Kind Pen Discreet, is exactly what its name suggests. Stealthy and simple to hold in the hand, it bears resemblance to a standard box mod one might use for an electronic cigarette. A 650mAh battery powers this vape, and it comes with an 0.6 milliliter wickless, 1.8 Ohm glass tank that is attached with a magnetic 510 thread adapter. Five clicks in rapid succession turns the vaporizer on and off as a safety measure to stop it from firing unintentionally. To charge the unit, plug the unit's battery into the included micro-USB charger and enjoy the universal convenience of charging it virtually anywhere.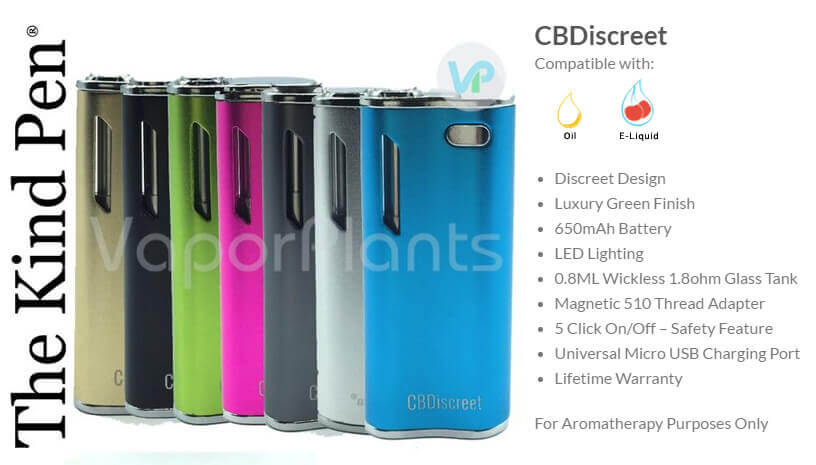 Go Back To The Top
V2 All-in-One
V2 model is powerful 3-in-1 vape for concentrates, dry herbs, and e-liquid. The Kind Pen V2 is complete with a heating element that is composed of an evenly heating dual ceramic rod with a titanium coil atomizer and a separate e-liquid atomizer. It has its own dry herb "burner" with a ceramic chamber along with a skillet tool and silicon jar for the packing and storing of wax. All of these atomizers can be changed out just by snapping them in and out of place. The V2 vaporizer pen also features a 5 click power on and off function as a safety feature and is stylized with a durable and attractive matte finish.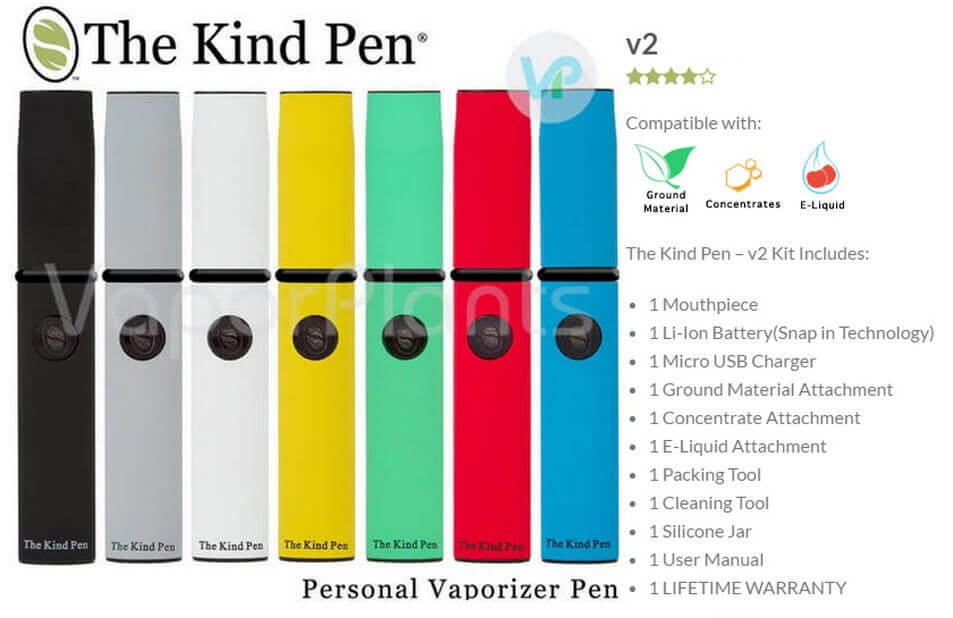 Go Back To The Top
Kind Pen Dream
Our new favorite way to dab concentrates on the go, and its name is the Kind Pen Dream. This wax vaporizer features a deep ceramic chamber with dual quartz rods and titanium coils which are able to distribute heat evenly and efficiently. Because of its quartz heating element, glass mouthpiece, and lack of wicks, dyes, and glues, there is no tainted flavors of any kind. Touch Sensor 1500mAh lithium ion battery features temperature control technology with 3 settings including 350, 390, and 430 degrees Fahrenheit and an automatic safety shut off after 10 seconds. Its elevated air flow system ensures there will be no leaking or clogging, while also delivering crisp hits every time. This vape is 510 threaded for easy transferring from battery to battery and can be charged using any micro-USB cable.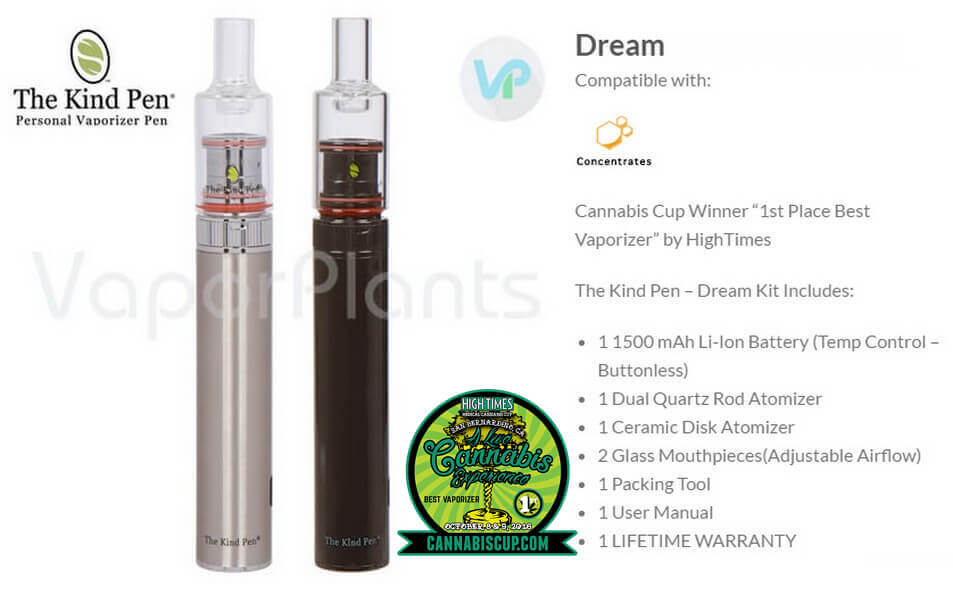 Go Back To The Top
Short Manual
1. Make sure you have your dabbing tool ready, whether you use your own or the one that might have been included in your kit.
2. Unscrew the battery, mouthpiece, or whatever component is blocking your access to the atomizer.
3. Using the dab tool, collect the wax or oil concentrates and place it onto the heating element, using very little per load.
4. For best results, use caution and attempt to "knock" the wax off of the tip of the tool. Do not touch the coil with the tool.
5. Once loaded, if the heating element has wicks, give the power button a pulse or two to help it absorb into the wicking.
6. Carefully replace the battery, mouthpiece, or any other part you may have unscrewed.
7. and it is ready for your enjoyment!
Kind Pen always makes it easy to enjoy any material, all through a constantly growing convenient line of vaporizers. With their unmatched portability, ease of use, incredible flavor, and versatility, it's no wonder why so many critics holds this brand in such high regards.
Go Back To The Top
Kind Pen Dream, Bullet, V2 or V3 Vape Pen for Wax, Oil. KindPen is precisely what its name suggests: a slender, portable, conduction style wax pens. These Vapes for wax and oil are efficient, ease to use, and come with Lifetime Warranty! Vape any concentrates with Dream, Bullet, V2 or V3 vaporizer now! 10off
Rating: 4.3/5 based on 40 review(s)
Price: $34.00 - In stock
Brand: The Kind Pen
Sours: https://www.vaporplants.com/the-kind-pen-dream-essential-bullet-v2-slim-vaporizer-for-wax-oil
Kind Pen Discreet -Black
Essential Oils oil and e-liquids your thing? The "Discreet" is for you! The Kind Pen does it again, this portable vaporizer has a ceramic wickless .8ML chamber that can be filled with either e-liquid or essential oil.
Equipped with a 10 second pre-heat(2.2v), variable temp 650mAh battery(2.8v, 3.3v, 3.7v), the "Discreet" Oil Pen will be sure to pack a punch, while lasting the full day on a charge. Included is a USB charger to restore its power when it does run low and a magnetic universal 510 adapter to hold the tank in place. Simply drop it in place and your ready to vape! The vape is very flavorful vapor due to its ceramic wickless tank.
Styled with a metallic finish, the "Discreet" fits in the palm of your hand, keeping up with its namesake.
ABOUT OIL VAPORIZERS
Oil vaporizers are vapes specifically designed for use with legal essential oils. Oil vaporizers are wickless and heat up to vaporize your substances and turn them into tasty vapor ready for inhalation. S
We take pride in honoring a 100% customer satisfaction guarantee on all of our vaporizers and accessories. If for any reason you are unsatisfied with your purchase, send it back!
Sours: https://www.cbdsupplymd.com/cbd-store/kind-pen-discreet-black/
The Kind Pen: Twist – Variable Voltage 510 Battery Review
The Kind Pen v2.W Concentrate Vaporizer
Description
Product Features
Easy single-button operation (5-clicks on/ 5-clicks off)
Easy access for loading, simply pop the top off
Uber-compact concentrate vaporizer and lightweight for on-the-go consuming
Dual ceramic rod / titanium coil atomizer (medium size clouds)
Durable matte finish (doesn't show scratches)
Dimensions: 4″ (L) x 0.5″ (W) x 0.25″ (D)
Cleaning
Cleaning is super simple, and can be accomplished using two methods: 1) dry burn-off method – with the cover removed and the atomizer facing downward (over something non-flammable), turn power turn on and then hold the button to fire the coils for about five (5) seconds. Repeat the process of firing the coils two or three times, depending on the amount of residue buildup. Any residual concentrate should 'burn-off' or drip out of the atomizer onto the non-flammable surface below; or 2) Using a Q-tip, dip lightly in 91% Isopropyl Alcohol (available at more drug stores), and then gently rub around the dual coils. Be sure to let thoroughly dry before using again.
Other Concentrate Vaporizer Pen Choices
If The Kind Pen v2.W concentrate vaporizer isn't what you're looking for, check out Lord Vaper Pen's many other choices HERE!
Additional information
Weight
7 oz
Dimensions
5.7 × 3.8 × 1.4 in
Colors

Black, Blue, Green, Grey, Red, White

Package Contents

1 – The Kind Pen v2.W Concentrates Vaporizer
1 – Loading/dab tool
1 – USB charging cable
1 – Silicon storage container
1 – User guide
1 – Lifetime Warranty registration card

Product Warranty

The Kind Pen stands behind their products with a full LIFETIME WARRANTY. That's right, if it fails to do its job, The Kine Pen will replace it no questions asked! Upon receiving the product, secure the warranty card in a safe place, since it has the unique serial number of your v2.W for use in case warranty service is needed.
Only logged in customers who have purchased this product may leave a review.
Sours: https://www.lordvaperpens.com/product/the-kind-pen-v2-w-concentrate-vaporizer/
Pen the kind
The Kind Pen Review
The Kind Pen is a vaporizer company based in Long Branch, New Jersey. Thanks to the complete dedication of the team to realize the vision of the company by offering high-quality products, The Kind Pen became one of the most trusted and reliable companies in the global vaping market in a very short time. The vaporizers created by this company are highly advanced, and they offer an innovative and effective delivery system. You will definitely not find any other vape pens for weed, hemp, CBD, hash, and other products for vaping, that have the same quality or specifications as The Kind Pen's.
If you are fed up with pipes and bongs filled with resin, you should not worry. The deivce produced by The Kind Pen are an affordable alternative that you will adore. These pens are ideal for vaping CBD, weed, and hemp because they are both discreetly portable and potent. All you need to do in order to taste the world in a new and amazing way is the combination of five clicks and one deep breath.
The main goal of this vaporizer company is to provide exceptional and high-quality products. That is why they offer a lifetime warranty for all of their devices.
High Times Magazine, the number one resource for cannabis news, brands, culture, and laws on marijuana legalization, emphasized the quality of The Kind Pen's products. They recommended their vaporizer, The TruVa, as a High Buy in 2015, which speaks volumes about the quality, design, and unique specifications of the product. The company's name is closely related to their vision and approach towards work – they try to create a friendly community of vapers and to offer quality products that will promise the best vaping experience, while money and fame are irrelevant for this company's team. They are putting a lot of effort to create health-conscious vape kit for a reasonable price, such as the V2 Tri Use Kit, and the DreamConcentrate Vape.
If you are entering the vaping world for the first time and you are searching for a dry herb vaporizer, then it is recommended to try the Status Vaporizer. Unlike any other vaporizer, this one has a very big chamber that can hold great amounts of herbs. The Status Vaporizer is ideal for beginners because it is very easy to use. It takes five clicks to activate or deactivate the device, and thanks to the Smart Memory Technology, the vaporizer will remember the temperature you vaped at the last time. This is a very safe vaporizer as well because it has a five-minute shutoff option. Even if you forget to turn it off, the battery will not burn out because it will automatically turn off. Moreover, it has a very durable battery that can last up to four hours.
If you want to be able to vape both dry herbs and concentrates with a single vape pen, then the V2 Tri Use Kit is the perfect choice for you. It is the only pen that can be used with concentrates, oils, and dry herbs.
The safety and satisfaction of the customers is the priority of The Kind Pen. In order to make sure that the products customers buy are completely authentic, The Kind Pen has partnered with NeuroTags, a company that offers anti-counterfeit solutions. You can simply scan the code with your smartphone to authenticate your product and get additional information about it.
Highlight of The Kind Pen
Being aware that the vaping market is flooded with countless different portable vaporizers, the team of The Kind Pen decided to create unique products that will be both affordable and useful. They have managed to offer the ultimate vaping experience to vapers, and quickly became the number one choice for herbal vape pens and portable herbal vaporizers. The Kind Pen offers a wide range of herbal vaporizers that are specifically designed to make the vaping experience delightful and smooth. It is unlikely that you will find better portable vaporizers, essential oil vaporizers, or herbal vape pen on the vaping market than those created by The Kind Pen.
The Vape Pen offers products that are suitable for both beginners and experienced vapers. Their wide range of products includes ones with one-of-a-kind specifications and attractive and compact design. For example, The Kind Pen Status is the one and only herbal vape pen on the vaping market that has a substantially large chamber that can accommodate a large number of dry herbs. The Kind Pen Status and the TruVa are herbal vaporizers that are specifically designed to offer customers an unsurpassed herbal vaping experience. A great number of The Kind Pen herbal vape pens can be used with concentrates, dry herbs, and essential oils. If you want to switch your vaping experience between all of these vaping materials, then the V2 herbal vape pens are perfect for you. You can easily change between essential oils, flowers, or concentrates, and that is a feature that only a few different vape pens have.
Why Choose The Kind Pen?
The Kind Pen sells all kinds of vaping products, including portable vaporizers, essential oil vaporizers and wax vaporizers. These innovative products promise an unrivaled vaping experience and guaranteed enjoyment. The Kind Pen have all the kinds of herbal vape device that you can think of.
The Kind Pen is one of the most progressive CBD brands in the vaping industry that is completely focused on development and innovation. Customers love the way in which the company has managed to revolutionize the process of vaping CBD. Now it easier for customers to take daily doses of CBD while enjoying a one-of-a-kind vaping experience with the latest technology provided by The Kind Pen.
This company selects hemp extract with the highest quality, and after the hemp extract is being tested by third-party laboratories, they convert it into user-friendly and bioavailable formulas.
Customers adore The Kind Pen because they offer numerous possibilities, such as an optimized vaping experience and the ability to vape several different vaping materials besides CBD e-juices. They have mastered device production, and they have contributed to improving the vaping market with their innovative and advanced products. If you want to take your vaping experience to the next level, then you should definitely try The Kind Pen's products.
This company offers a lifetime warranty on their herbal vaporizers and wax vape pens because they are confident that the quality of their products is the best. You just need to register your product once you buy it, and in case anything goes wrong, they will send you a replacement.
Sours: https://www.vape4ever.com/the-kind-pen_c1141.html
Dank City Unboxing Kind Pen
.
Similar news:
.
314
315
316
317
318