Hyatt Grand Opening with Robe
Over 100 Robe ColorSpot 170 moving heads and Anolis Arcsource RGB LED fixtures have been installed in the newly refurbished banqueting and ballroom facility at the Grand Hyatt, Melbourne, Australia.
The new facility's fabulous multi-purpose function areas now cover two levels, offering 2100 square metres of conference facilities, and were recently opened in a blaze of glory, including the new Art Deco style Mayfair and Savoy Ballrooms. The banqueting facility is designed to meet the highest international standards and is unparalleled anywhere else in Australia.
Lighting was integral to the whole interior design. The lighting scheme was designed by Michael Huggins and the installation completed by two companies - Premier Lighting (for the Robe elements) and Lightmoves (for the Anolis fixtures). Robe Show Lighting and Anolis brands are both distributed in Australia by ULA.
The Savoy Ballroom features over 100 Robe ColorSpot 170s which are discreetly located in the ceiling panels, carefully positioned so they can light virtually any part of the room in a range of colours and gobos.
The Mayfair Ballroom's natural light-filled atrium features another 10 ColorSpot 170 ATs, rear projecting images onto glass panels on the floor and in the ceiling. Robe's ColorSpot 170 AT is designed for multiple applications. It is particularly good for architectural lighting, bars, restaurants, shops, retail environments, product launches and special events and for use as an image projector.
This fixture was specified at Hyatt for its many features, including a rotating gobo wheel, a new colour wheel, remote focus facility, Robe's renowned "SLOT&LOCK" colour and gobo changing system, the remote lamp on/off and its very fast movement. It utilises a long-life lightsource – a great bonus for all types of installation. Onboard master/slave programming enables 300 scenes to be stored in the fixture's onboard memory – ideal for stand-alone operation and scenarios.
Both ballroom foyers feature glass panels which have been imaginatively backlit with 48 Anolis ArcSource6 RGB LED fixtures. These provide a myriad of intense colours, transforming the dynamics of the spaces into virtual artworks.
The Anolis ArcSource 3 RGB, 6 RGB, and 7 RGBW fittings combine cutting edge Luxeon emitters and lighting technology with industry standard MR16 fittings to create top quality lighting systems. The Anolis brand is characterised by utilising the best materials and precision manufacturing techniques. A top end interchangeable optical system ensures that the desired effects can be achieved across the widest range of applications. The fixtures also offer all the positive environmental benefits and cost efficiency of LEDs.
Gala Opening
The Hyatt Melbourne unveiled the results of its 6 month refurbishment project with a Grand Opening Night, attended by over 1600 VIPS including Australia's top conference organisers. They received large amounts of Red Carpet treatment including a light and sound extravaganza.
In addition to the installed Robe ColorSpot 170AT's, Premier Lighting boosted the illuminations for the opening event using Robe ColorSpot 1200 ATs, ColorWash 1200 ATs and ColorSpot 575 ATs, plus Robe smoke machines.
Ricki Loca ignited the evening in the Savoy Ballroom while the Sarah Wallis Jazz Quartet eased into it in the Mayfair ballroom. Later in the evening the B# Big Band had people swinging and dancers jiving to their tunes and later in the Savoy Ballroom, Vanessa Amorissi topped the night with her own special style of music and light.
The opening event rig was designed by Andy McKay. Everyone enjoyed the awesome ambience of the new facilities and appreciated the achievement and the central role played by 'light' in launching Hyatt's new venue on the world conference scene.
For more press information on ROBE please contact marketing department on +420 571 751 506, e-mail: [email protected]
Sours: https://www.robe.cz/news/hyatt-grand-opening-with-robe
Can You Keep a Hotel Bathrobe?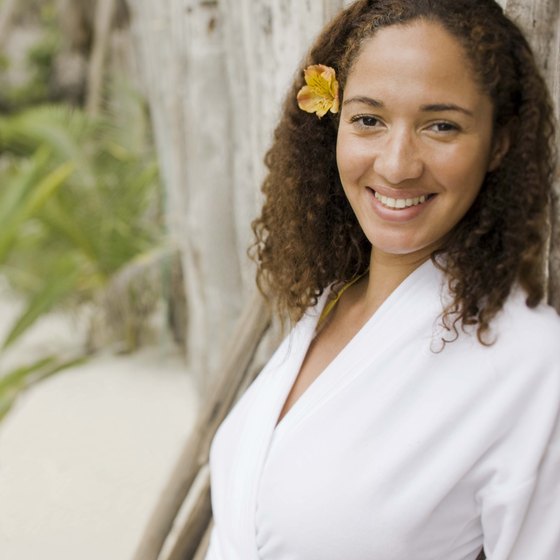 Swiping a bathrobe from a hotel could lead to certain consequences.(Photo: Jupiterimages/Creatas/Getty Images )
Most hotels stock their rooms with plenty of amenities for guests to enjoy during their stays, including bathrobes. Hotel bathrobes and spa robes are famous for being soft and luxurious, especially at high-end hotels and resorts, which might leave you feeling tempted to keep the robes at the end of their trips. But before you roll up that hotel robe and stuff it in your suitcase, consider a number of factors and some consequences that are involved.
Hotel Bathrobe Ethics
A great deal of debate exists over the ethics of taking hotel robes. Some feel it is perfectly fine and harmless, while others feel it is the equivalent of stealing. While many upscale hotels factor guests taking robes and other items into their budgets, small-scale, privately owned hotels and motels might not make such adjustments, and taking a robe could take a cut out of their profits and ultimately harm their business. While it might seem innocent enough for you, as one person, to take a robe, consider what would happen if every guest who stayed there took one. Soon enough, the cost of lost robes and replacing them could drive the hotel out of business, or at least force them to adjust their prices as if everyone were getting a robe.
It Doesn't Hurt to Ask
Most hotels don't care if you take certain "disposable" amenities, such as shampoos, soaps and lotions, but this doesn't necessarily include robes. Consider calling the front desk to politely ask what the policy is regarding taking the robes. The staff might tell you that it is perfectly acceptable for you to pack the robe and take it home with you, or might offer to sell one to you.
It Might Cost You Money
Most hotels no longer accept cash payment, and if they do, they usually require a debit or credit card number to be kept on file just in case they need to charge a guest for damages to the hotel room. If the hotel has your credit card information and you take a robe, you could find yourself footing the bill for it. Of course, not every hotel will go out of its way to do this, but it is a possible consequence of taking a hotel robe without permission.
It Might Cost Even More
While the chances of this happening are pretty slim, the hotel could press theft charges against you for stealing its property. Hotels in Nigeria and Japan have filed police reports and pressed charges against guests for stealing their towels and other amenities; and in Nigeria, guests have been sentenced to jail time for helping themselves to the hotel's wares. Even though luxury hotels may just have some of the best bathrobes in the world, taking one isn't worth getting a theft charge on your criminal record.
What About Those Slippers?
Okay, so there are plenty of ethical and even criminal reasons to ask before you walk off with a hotel bathrobe. But what about the slippers that were waiting for you in your room, or one of those cushy towels? The general consensus amongst hoteliers is that if it can't be reused, you're welcome to have it. In fact, they often put their logos on "disposable" items like notepads, pencils, small toiletries – and yes, slippers – in hopes that you'll take the items home, see the logo, and think of the hotel.
But hotel towels can and will be reused – so leave them in the room, lest you want to risk a guilty conscience and maybe even a charge on your credit card. You can also leave the light bulbs, curtains and artwork right where they are; all three made a list of the most frequently stolen hotel items that was compiled by the British site The Telegraph.
Sours: https://traveltips.usatoday.com/can-keep-hotel-bathrobe-108053.html
Waffle Bathrobe
Waffle Bathrobes | 75% Cotton 25% Polyester
Waist Tie | Front Pockets | Medium & Large Sizes
As Supplied to Grand Hyatt
---
Our Marco Polo Hotel waffle bathrobe is an ideal addition to any household and is the perfect gift for all occasions. Purchase separately or as part of our little Marco Polo gift packs.
The waffle hotel bathrobe is supplied to hotels across Australia, including the Grand Hyatt. As they are supplied to our commercial clients, we have undergone years of research to ensure this products is of the best quality. Made to withstand hotel laundering, which will last you years of comfort in your household.
This bathrobe is available in two sizes, medium and large and comes with a waist tie and front pockets.
Light, absorbent and luxurious softness will keep you in them all day, everyday.
Available Colours: White Only
| | |
| --- | --- |
| Weight | 0.92 kg |
| Dimensions | 32 × 19 × 5 cm |
| Size | Medium, Large |
Sours: https://whamad.com.au/product/waffle-bathrobes/
Grand Hyatt Dubai – Luxury Resort Hotel review -(4K video)
15 Luxury Hotel–quality Bathrobes You Can Buy Online
There is nothing quite like slipping into a soft and cozy bathrobe in your hotel room after a long day of travel. That's one of the many benefits of staying at a five-star hotel — you get to wear the good stuff. We're talking plush, Italian-made, velvety cotton that feels like heaven on your skin.
Thankfully, there is a way to bring that luxury feeling back to your home. A lot of hotels now have online stores where you can purchase the same products, including spa robes, that are available in those oh-so-comfortable-and-stylish hotel suites. Just imagine putting on a soft terry robe from Ritz Carlton after taking a hot bath and cuddling up in your own bed.
Related: Turn Your Bedroom Into a Luxury Hotel With This Five-star Bedding 
And how about indulging in some at-home spa treatments wrapped up in an elegant, luxury bathrobe from Frette, a company that has been around for decades and is currently working with some of the world's most luxurious hotels.
Without further ado, here are 15 of the best bathrobes worthy of top properties around the world.
Ugg Lorie Terry Short Robe
UGG Lorie Terry Short Robe
Credit: Courtesy of Nordstrom
Made from a super soft cotton terry knit, this Ugg robe is perfect for lounging around the house. Along with two front pockets that are big enough to hold your essentials, the plush bathrobe comes in two colors and ranges in size from XS to 2XL. Plus, it's machine-washable for added convenience. "It is hard to find a comfortable bathrobe, and this was perfect," wrote one shopper. "It fits true to size (maybe even a little big, which I appreciate) and soaks up any water after a shower without you feeling like the robe is the slightest bit damp."
To buy: nordstrom.com, $88
Richie House Plush Fleece Bathrobe
Richie House Women's Plush Soft Warm Fleece Bathrobe Robe
Credit: Courtesy of Amazon
Over 9,400 Amazon shoppers are fans of this warm and cozy fleece robe by Richie House. The belted bathrobe features two spacious front pockets and fuzzy accents on the cuffs and collar. Reviewers say the full-length robe's polyester material is super soft against their skin and warm enough to snuggle in on chilly nights at home. "This robe is so comfy and great, I have bought it for three friends! It fits as expected. The length is great for staying warm. It is SO comfortable, but also pretty," wrote one.
To buy: amazon.com, from $25
Boca Terry Microfiber Bathrobe With Plush Lining
Hotel bathrobes you can buy
Credit: Courtesy of Boca Terry
This bathrobe has a plush roll-up collar and cuffs and comes in nine shades. The robe boasts a soft and cuddly microfiber material on the outside, while the inside is lined with an absorbent terry cloth lining, so you can wear it straight out of the shower. It also features two front pockets, a tie at the waist, and a sturdy hanger loop for easy storage. "Exactly like the luxury robe I wore at a cruise spa that I fell in love with," said one shopper. "Fabulously soft on the outside, wonderful fine terry on the inside, this is a substantial and weighty robe that makes you feel wonderful wearing."
To buy: amazon.com, from $70
Pottery Barn Waffle Weave Resort Robe
Credit: Courtesy of Pottery Barn
This cozy spa robe, made from 100-percent organic and environmentally friendly cotton, features a full shawl collar, rolled-up cuffs, and two side pockets. The unisex robe ranges in size from small to XL, and it's machine-washable. For an additional fee, you can also add your monogram to the robe for a fun personalized touch. Even better, you can shop the matching slippers to complete the cozy ensemble. 
To buy: potterybarn.com, $129
Chambers Hydrocotton Robe
Hotel bathrobes you can buy
Credit: Courtesy of Williams Sonoma
Wrap yourself into this fine lightweight robe after a long bath, and you won't want to wear anything else ever again. Made from ultra-soft Turkish cotton, the fluffy bathrobe is designed to fall below the knee, and it has two roomy pockets on the front. It has classic piping along the collar, and it can be monogrammed for an additional $12.50 per letter.
To buy: williams-sonoma.com, $129
Parachute Classic Bathrobe
Credit: Courtesy of Parachute
This ultra-cozy Turkish cotton bathrobe will make anyone feel like they're at a five-star hotel spa. It comes in dark gray, light gray, blush, brown, and white and has two front pockets. More than 1,500 shoppers love the fluffy robe so much they gave it a perfect five-star review. "I love this robe so much that I bought two! It is so warm and soft and thick. I use it daily. It is expensive but totally worth it. Can't live without it. I miss it when I go away on vacations," wrote one. 
To buy: parachutehome.com, $99
Monarch/Cypress Unisex Chamois Microfiber Shawl Collar Robe
Hotel bathrobes you can buy
Credit: Courtesy of Amazon
Favored by four- and five-star hotels worldwide, this unisex chamois microfiber hotel robe is lightweight and wrinkle-resistant. Along with a drawstring closure, it features rolled cuffs, a fluffy collar, and three front pockets. There are nine versatile colors to choose from, and it ranges in size from XS to XXL. The robes are all 50-inches long and are made with a cozy microfiber material. "Love the material inside and out. It's definitely high-end hotel/spa-quality," said one customer. "I recently spent a day at a spa in Napa and this is even better than their waffle weave spa robes. It looks very sophisticated too."
To buy: amazon.com, from $90
Hanro Night & Day Knit Robe
Credit: Courtesy of Amazon
The 137-year-old Swiss brand is known for using high-quality fabrics and for paying attention to the smallest detail when it comes to tailoring its luxury bathrobes, and it shows in this 100 percent cotton men's style. One shopper said the machine-washable robe feels "luxurious" against their skin, while another called it "one of the softest robes."
Westin Spa Robe
Westin Spa Robe Absorbent Microfiber Robe
Credit: Courtesy of Amazon
The hotel chain's lightweight microfiber bathrobe is incredibly soft and absorbent. Customers say it will make your days and nights more comfortable. The one-size-fits-most robe has two roomy front pockets, a tie-waist closure, and it has the Westin logo on one of the sleeves. Not only is the robe soft and cozy, but it's super absorbent and quick-drying too. "This is the most comfortable bathrobe I have ever worn," wrote one reviewer. "I loved it when I stayed at a Westin Hotel, and I just had to have one, so I bought it. It's hard for me to get out of it after a bath or shower."
Serena & Lily St. Helena Robe
Credit: Courtesy of Serena and Lily
The Serena & Lily team drew inspiration from their favorite spas for this waffle-knit, knee-length spa robe rendered in 100 percent Turkish cotton. The soft robe dries quickly and comes in four different sizes. Even better, it comes with a 60-day-warranty, so if you aren't fully satisfied with how comfortable the robe is, you can return it for a full refund. 
To buy: serenaandlily.com, $148
Missoni Home Warner Hooded Cotton-terry Robe
Credit: Courtesy of Matches Fashion
This colorful robe is made from French cotton terry and features the brand's signature zigzag motif. The thick robe has two deep front pockets that are big enough to hold more than just the essentials, and it even has a cozy hood to keep your head warm. The designer robe boasts a comfortable, relaxed fit and is true to size.  
To buy: matchesfashion.com, $279
Matouk Cairo Robe
Hotel bathrobes you can buy
Credit: Courtesy of Bloomingdale's
We promise you, slipping into this beautiful U.S.-made super-soft bathrobe will be the best part of your day. The long robe has contrast piping for a sleek, elegant look and is made from 100 percent cotton. It comes in four different sizes and is machine-washable. "OMG...The Matouk Cairo Robe is the most luxurious robe I've ever had," said one shopper. "It's made of high-quality cotton, so soft, and the stitch work is amazing. I love the Azure blue piping. The fit is perfect, and it is so comfortable and snuggly."
To buy: bloomingdales.com, $240 (originally $300)
Versace 'I love Baroque' Logo-jacquared Cotton Bathrobe
Hotel bathrobes you can buy
Credit: Courtesy of Matchesfashion.com
This jacquard bathrobe is crafted in absorbent cotton and features the brand's signature Medusa logo. You can find those in both Palazzo Versace hotels in Dubai and Australia. The luxe robe is handmade in Italy, and it comes in four different colors: red, white, black, and yellow. The thick waist-tie is detachable, and the front pockets are super roomy.
To buy: matchesfashion.com, $595
Frette at Home Unisex Milano Terry Bathrobe
Hotel bathrobes you can buy
Credit: Courtesy of Frette
For over a century, this luxury Italian brand has been providing some of the best hotels in the world with bed linens and bathrobes. This bathrobe is made of plush terry cotton that's not only luxurious but also moisture-wicking. The mid-weight robe comes in four colors and is designed to hit halfway down your calf.  "This robe is great! A very soft terry cloth that feels great on the skin. The robe is very thick but doesn't make me too warm even in the summer months," wrote one happy shopper. 
To buy: wayfair.com, $150
Marriott Terry Velour Robe
MARRIOTT Terry Velour Robe
Credit: Courtesy of Amazon
Now, you don't have to check into a Marriott hotel to enjoy their fluffy 100 percent cotton hotel robes, you can actually snag one on Amazon! The machine-washable essential is made from a cozy terry velour fabric and features two deep front pockets. The fluffy robe is 48-inches long and one-size-fits-most. One customer called it "the best robe ever," while another wrote, "This robe is snuggly and the quality is fantastic. It's so comfy you'll want to wear it all day (even to the office). The price may deter potential buyers, but if you are a frequent robe donner, you should consider investing in the Marriott robe."
Love a great deal? Sign up for our T+L Recommends newsletter and we'll send you our favorite travel products each week. 
Sours: https://www.travelandleisure.com/style/shopping/luxury-hotel-robes
Robe hyatt
.
Review: Regency Suite with Pool Access at Hyatt Regency Hua Hin
.
Similar news:
.
345
346
347
348
349