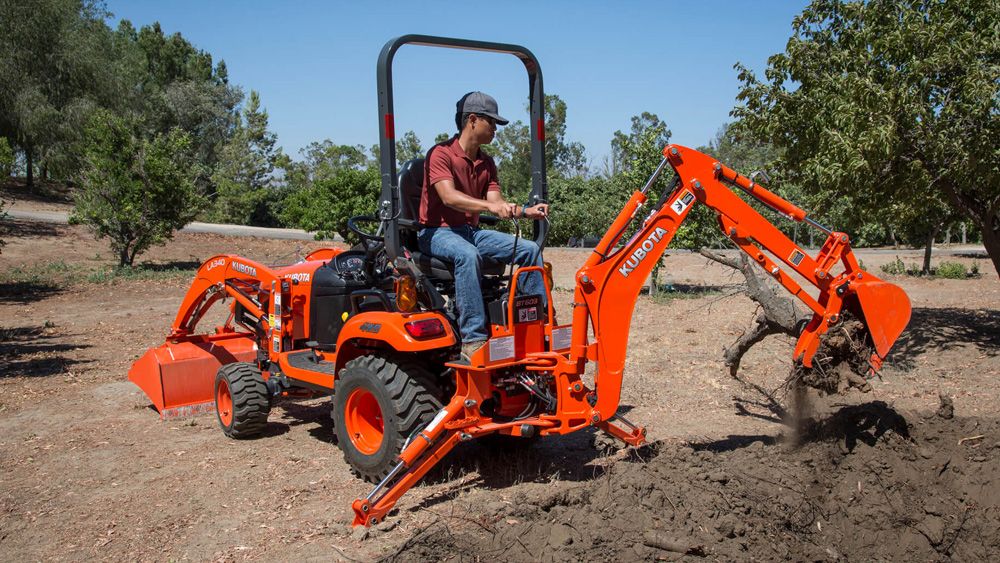 Kubota attachments are a wise investment, as farmers and landowners alike polish their Big Orange machines and prepare to break ground. With a full range of tractors and equipment spanning large to small, Kubota attachments are built to fit the spectrum of needs as well. But choosing the best Kubota tractor attachments can be tricky. As Kubota is one of the biggest names in tractors big and small, the Internet is full of options of every kind.
Kubota also has a nationwide dealer network with both new and used models at every price point. But with so many options, and as everyone knows, only so much money to go around, it does make an enthusiast feel like a kid in a candy store at times. With that in mind, below is a list of some of the best Kubota tractor attachments available to serve as inspiration for your consideration as you prepare for the coming spring.
1. Multi-Purpose Disc Cultivator Garden Bedder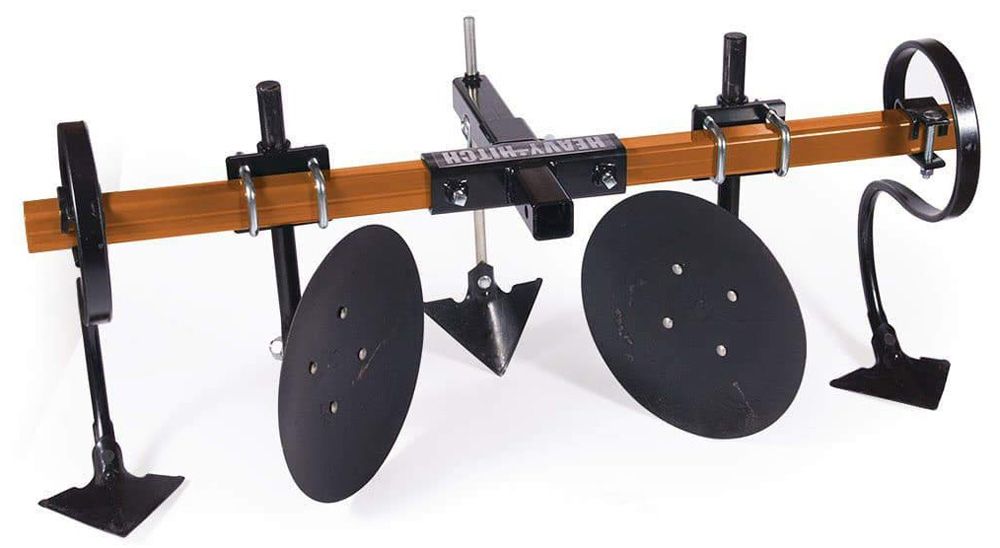 Built to last, the 48" wide Kubota attachment comes in orange and uses 2" x 2" heavy wall steel tubing and is compatible with most off-the-shelf clamps and other Kubota attachments. Equipped with a 2" receiver mount, the fully adjustable 14" disc hiller clamps so even sub-compact tractors can tackle wider or flatter hills. A unique sleeve design allows the user to adjust the toolbar from side-to-side, requiring less time. Great for shaping and tilling of any kind.
Buy Now
2. Titan 4000-Pound Capacity Clamp-On Pallet Forks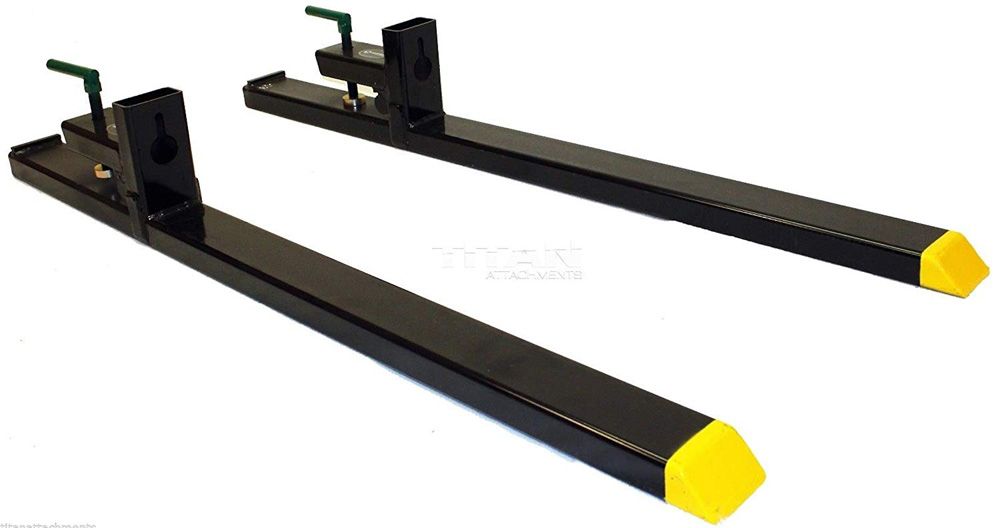 Built to work with Kubota tractors as well as others, these pallet forks can augment your farm or home operation in terms of hauling. With 4000 pounds of capacity, these forks can handle loads from fence posts, lumber pallets, or bags of mulch. Built with roll back protection slots, these forks keep the heaviest loads right where they need to be, and offer chain holes for further security. Forks are 43" long with a width of 4", with a total length once installed of 60".
Buy Now
3. Titan 48" Grapple Bucket Tractor Brush Root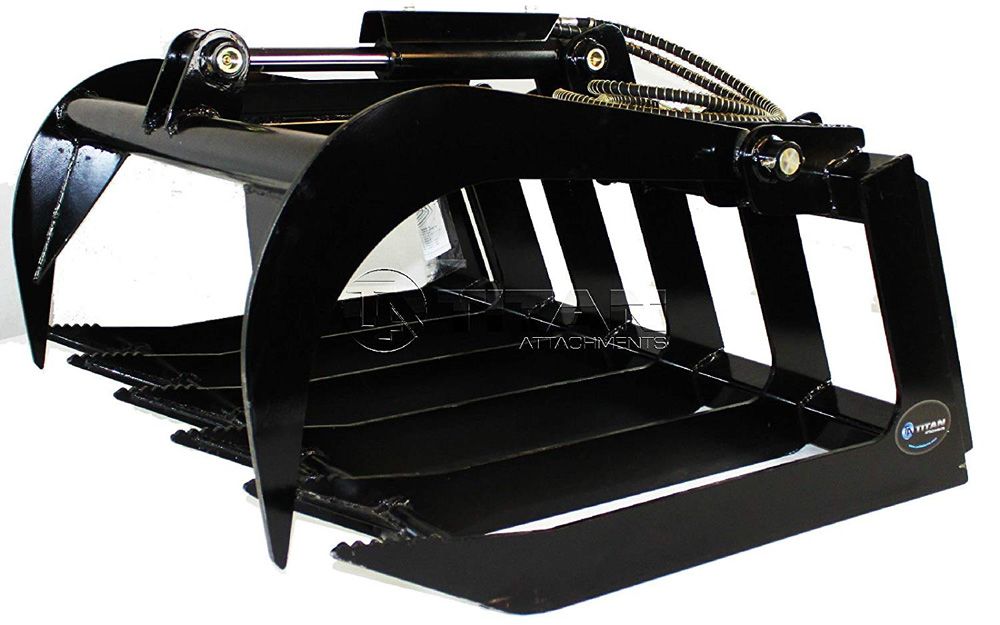 Get a grip on that brush to haul, whether from old fence rows or part of yours woods. Offered in 48", 60", 72" and 84" options with a universal skid steer style hookup with greaseable pins and bushings. The attachment weighs 450 pounds with a 48" wide opening. Hoses and flat-faced couplers are included with a single 3000 PSI cylinder. Teeth thickness is 3/8" with length of 24".
Buy Now
4. Titan Skid Steer 42" Pallet Fork & Trailer Hitch Attachment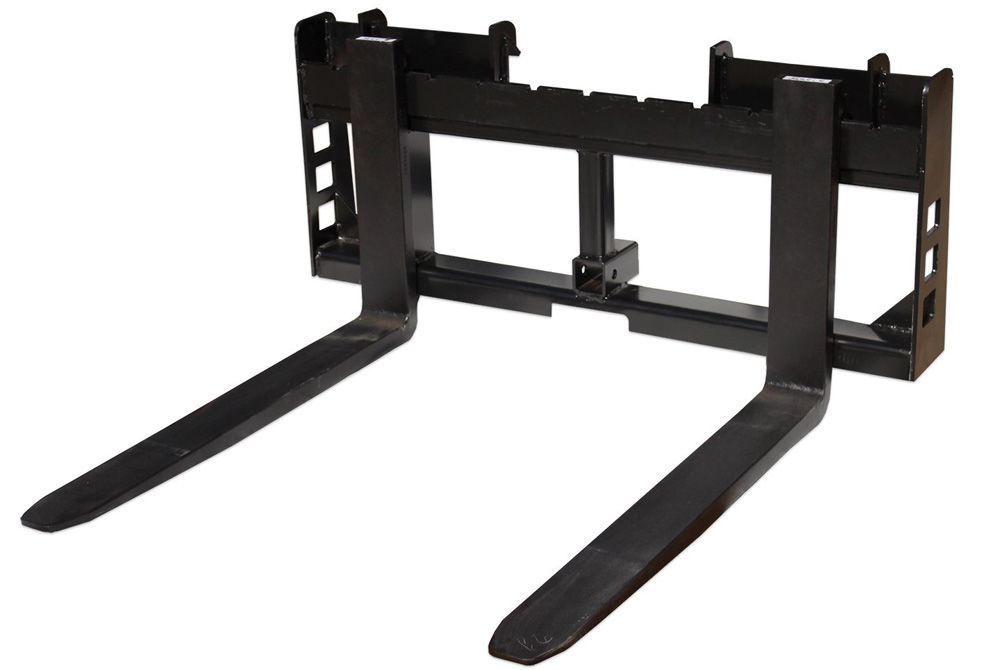 Big loads need the right attachment and this Kubota-friendly unit can support up to 3000 pounds, whether logs, timber or firewood. With a solid 105-pound frame and fork blades that measure 42" in length, the overall attachment has a width of 45.5" and a height of 19". Equipped with a standard 2-inch hitch receiver to hook to, this attachment works with Kubota as well as other mowers and haulers. Available with 36", 42", 48" forks and frame only. Built with convenience in mind, it's easy to hook up and off and is one of the best Kubota BX23S attachments you'll find anywhere.
Buy Now
5. WARN 78950 ProVantage Steel Plow Blade with Wear Bar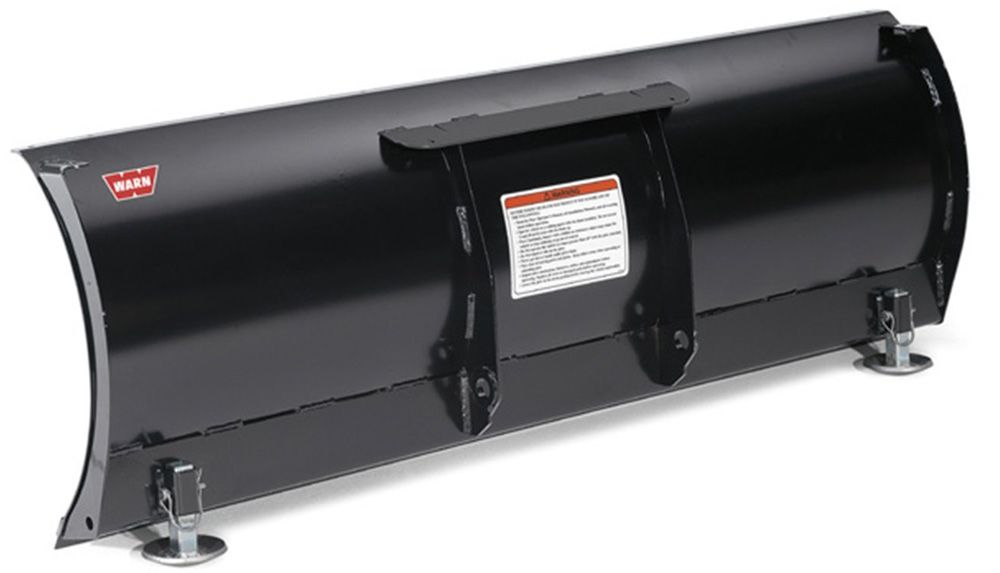 For snow and ice, this plow attachment works like a charm. Available in 50", 54", 60", 66" and 72" and made from thick 12-gauge steel with heavy duty ribbing, the plow is built for performance and easily attaches to Kubota tractors of various sizes. Designed with a center cross member for added rigidity, its boxed design adds extra support.
Buy Now
6. Steel Quick Tach Attachment Mount Plate Skid Steer Loader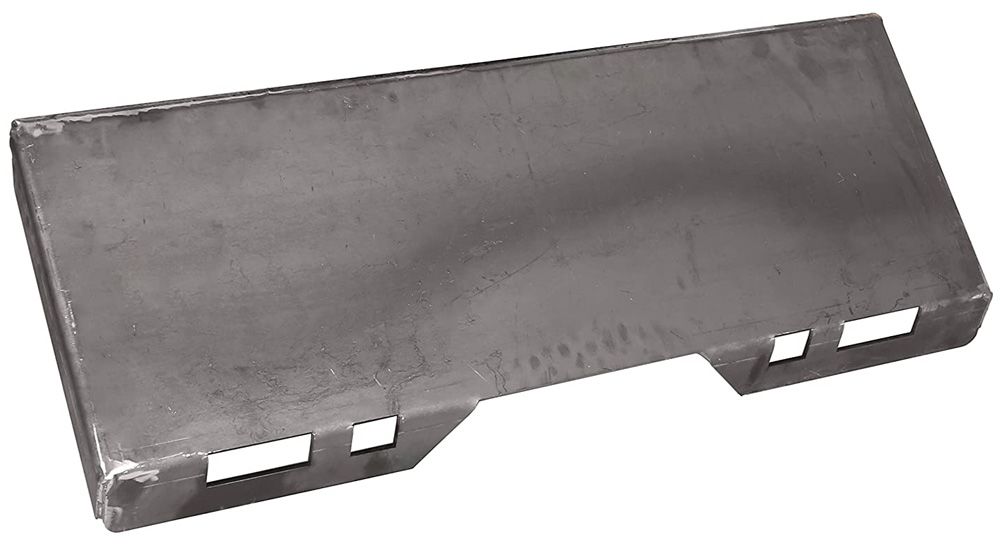 Made of Grade 50 structural steel, the 5/16" thick mount plate can easily weld or bolt onto plows, forks or any attachment needed to convert to quick tach hookup. Fits with most Kubota tractors as well as skid steers with a universal tach mounting system. Total weight is only 58 pounds with an outside width of 46", inside width of 45", height of 18.5" and a top bar of 3/8."
Buy Now
7. CURT Weld-On Trailer Hitch Receiver Tube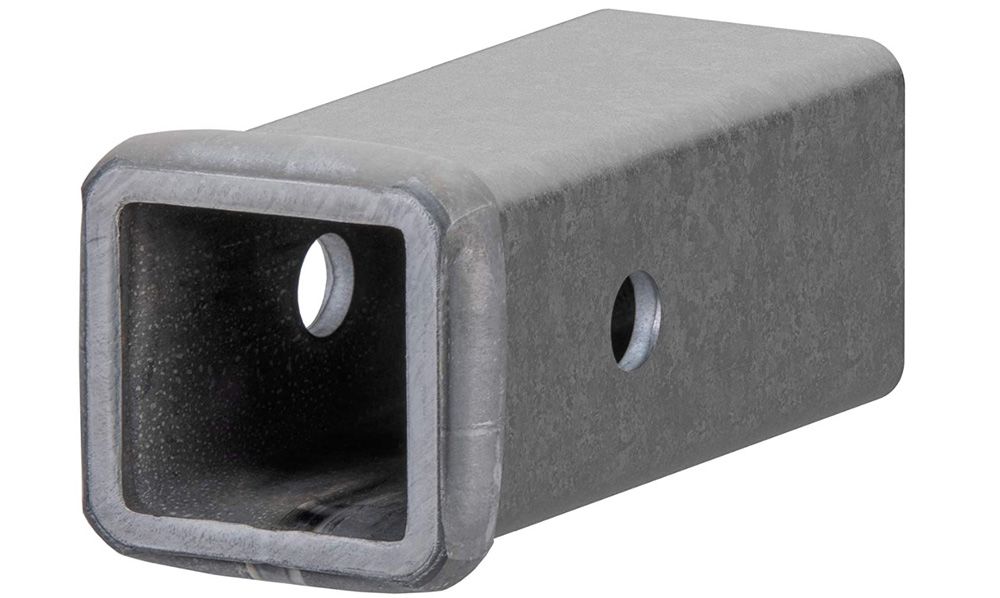 This standard fit hitch receiver tube features inside dimensions able to accept most 2-inch by 2-inch shanks, including trailer hitch ball mount, tow hook or other receiver hitch accessories. Strength at the opening is maximized with a fitted ½-inch reinforcement collar. The weld-on hitch receiver comes with a raw steel finish to allow for welding into place right out of the package and is pre-drilled holes for trailer pins.
Buy Now
8. Titan 60" Grapple Bucket and Tractor Hay Spear Attachment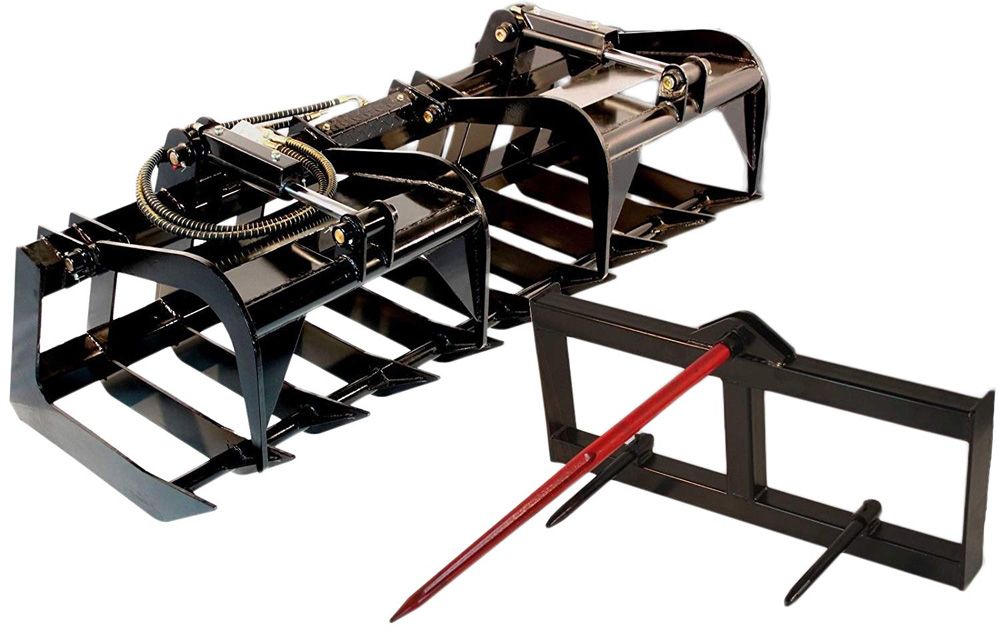 This universal skid steer style hook up features hose springs which keep the hydraulic hoses from getting pinched while using. Greasble pins and bushings, hoses and flat-faced couplers are included. Designed with cylinder back stoppers to prevent the upper clamps from getting stuck in the upright position or hyper-extended, this grapple bucket/hay spear is one of the best Kubota attachments available and comes with twin 3,000 PSI cylinder and offers a 3,000 pound capacity.
Buy Now
We are committed to finding, researching, and recommending the best products. We earn commissions from purchases you make using the retail links in our product reviews. Learn more about how this works.
Sours: https://www.tractor.com/news/8-of-the-best-kubota-attachments/
2021 Kubota L3901 For Sale, Price, Specs, Review, Attachments, Features, Overview
Introducing Kubota L-Series L3901 Gear-drive model (2WD/4WD) and HST Model (4WD) tractor information such as price, engine performance, transmission, hydraulics system, technical specification, and implements.
It's producing high performance, Outstanding durability, easier operations, and enhanced comfort. The Standard L3901 not only has improved performance but also features a revamped design with smooth, rounded contours from front to rear that enhance visibility so you can get the job done easier and quicker.
Also Check:
The Kubota L3901 compact tractor some main fact such as Direct injection, verticle, water cooled 4 cycle diesel engine, that produces 37.5 hp engine gross power and 36.3 engine net power. 
Two types of transmission system like first is the Gear shift with synchronized shuttle with 8 forward and 8 reverse gearbox system and second is the Hydrostatic transmission 3 range speed, so you can choose as you wish.
It offers lifting capacity at lift points 900 kg. There is little information about this compact tractor, you can check its full details information below.
You can also read the Kubota L series Kubota L3301 and Kubota L4701 Tractor information on our site. 
Kubota L3901 Compact Tractor Price
The Kubota L3901 Compact Tractor price is $26,942.  If you want to know about the Kubota all tractors price list, so pleaseclick me.
Kubota L3901 Compact Tractor key features
Engine Performance
The Kubota L3901 Tractor has a Direct injection, vertical, water-cooled 4-cycle diesel engine. It's more robust and reliable.
It's main features such as 33HP Engine gross power, 31.4HP Engine net power, 27.7HP Power take-off, cubic capacity 1826cc, fuel-efficient and cleaner burning thanks to the Common Rail System (CRS) with electronic controlled direct fuel injection.
HST Transmission
The Kubota l3901 Compact Tractor has a Gear-drive transmission and HST transmission; The Gear-drive transmission offers 8 forward and 8 reverse speeds, enabling you to select the right speed for excellent productivity.
HST produces constant speed control with HST pedal that can be operated just by pressing down on the pedal.
Hydraulics and PTO Switch
The Kubota L3901 Compact Tractor hydraulic performance is well for the loading and farming operation. It's lift capacity at lift point is 900kg and 24 in. Behind lift points lift capacity is 650kg.
Electric Over PTO Switch makes PTO operation simpler than ever. The switch is simply located on the right side of the driver seat. Just a push and turn starts the PTO, and a single push stops it.
Seat
The soft seat suspension provides a high level of comfort. The seat is contoured and ergonomically designed to help reduce driver fatigue when working long days.
Fuel Tank
The Kubota L3901 models fuel tank capacity is 42 Liters. That best for the large farming work no need to frequently refuel.
Tire Size
The Kubota L3901 tractor has a three type of tire, select from your choices like AG, Industrial, and Turf. That all tire provides better grip and traction on the farm.
Dash Panel
The Kubota 3901 Tractor dash panel features large standards and a digital LCD the panel that provides valuable information including engine error codes and a parking brake indicator.
Kubota L3901 Compact Tractor Specification
MODEL 
L3901
Gear-Drive Transmission
|  HST
2WD
|  4WD
|  4WD
ENGINE
Type
Direct injection, Vertical, Water-Cooled 4 cycle diesel
Engine gross power*
37.05HP (28 kw)
Engine net power*
36.3HHP (27.1KW)
PTO power
32.1HP  (23.9KW)
|  30.6HP (22.8KW)
No. of cylinders
3
Bore & stroke
3.4 × 4.0 (87 × 102.4)
Total displacement
111.4cu. in. (1826cm)
Rated speed
2700rpm
Battery
12V, RC: 110 min, CCA: 580 A
Alternator
12V, 40A
Fuel tank capacity
11.1 US gal(42 L)
PTO(Power Take-Off)
Rear PTO type
Live-continuous running
| Live – with            overrunning clutch
PTO/Engine speed
540/2425
| 540/2580
HYDRAULICS
Lift control type
Position control
Pump capacity (main)
6.3gpm (23.9L /min)
Pump capacity (PS)
3.8pm (14.5L /min)
3-point hitch
Category I
Lift capacity at lift points
1985lbs (900kg)
Lift capacity 24 in. behind lift points
1433lbs (650kg)
System pressure
165PSI (16.2MPa)
TRANSMISSION SYSTEM
Transmission
Gear shift with synchronized shuttle, 8 forward and 8 reverse
| Hydrostatic transmission, 3 range speed
Steering
Integral type power steering
Brake
Wet disc type
Clutch
Dry type dual stage                        | Dry Single
TIRE SIZE
AG Standard
5.00 – 15Front/11.2 – 24Rear
|  7.2 – 16Front/11.2 – 24Rear
TURF Option
23 × 8.50-12 13.6-16
| 25 × 8.50-14Front /13.6-16Rear                      
Indust. Option
N / A
|  27 × 8.50 – 15Front/15 – 19.5 R4Rear
TRAVELING SPEED WITH STANDARD AG TIRES mph / (km/h)
Forward 1.1 (1.7) – 13.2 (21.2) Reverse 1.1 (1.7) – 13.1 (21.1)
| Forward 0.0 (0.0) – 14.1 (22.7) | Reverse 0.0 (0.0) – 12.7 (20.5)
DIMENSIONS
Overall length (w/o 3P)
110.6in. (2810mm)
|  107.9in. (2740mm)
Overall width (min. tread)
55.1in. (1400mm)
Overall height (w/Foldable ROPS)
91.7in. (2330mm)
Wheelbase
63.3in. (1610mm)
Min. ground clearance
13.6in. (345mm)
|  13.4in. (340mm)
Tread Front tire
41.3in. (1050mm)
|  43.1in. (1095mm)
Tread Rear tire
43.8in. (1115mm) / 47.1in. (1195mm) / 50.8in. (1290mm)
Min. turning radius (w/brake, 4WD disengaged) feet (m)
7.9 (2.4)
|  8.2 (2.5)
Weight (with ROPS)
2590lbs (1175kg)
|  2767lbs (1255kg)
|  2778lbs (1260kg)
Kubota L3901 Front Loader Features
The Kubota L3901 Compact Tractor designed with The LA525 Front Loader. It has a uniquely designed curved boom that can handle the big tasks that the LA525 is made for, providing lifting capacity of 1131 lbs. (at pivot pin) and maximum lift height of 94.3″, as well as exceptional strength.
LA525
2 Lever Quick Coupler
OPT
Matching Tractor
L3901
Maximum Lift Height (Pivot pin)
94.3in. (2394mm)
Clearance w/Attachment Dump
76.2in. (1936mm)
Reach @ Maximum Height
25.4in. (645mm)
Maximum Dump Angle
40 deg.
Reach w/Attachment on Ground
63.7in (1618mm)
Maximum Rollback Angle
31deg.
Digging Depth
6.9 in.(176mm)
Overall Height in Carry Position
51.3in. (1302mm)
Kubota L3901 Compact Tractor BH77 Backhoe Features
The BH77 backhoe is designed with the Kubota L3901 to more power and greater capacity. That is equipped with quick attach/detach mounting system. This makes attaching or detaching the backhoe a snap. So you can quickly move on to your next job.
BH77 Model
Matching Tractor
L3901
Transport height
80.3 in. (2040mm)
Stabilizer spread transport
51.8 in.(1315mm)
Ground clearance
11.5 in. (292mm)
Digging depth, 2ft. flat bottom
89.8 in.(2280mm)
Loading height
65.7 in.(1669mm)
Reach from swing pivot
124.3 in.(3156mm)
Swing pivot to rear axle center line
37.6 in.(954mm)
Bucket rotation
180 deg.
Stabilizer spread operating
69.0in. (1753mm)
Kubota L3901 Compact Tractor Review Video
You can see in that below video Kubota L3901 Tractor advantages and that live performance. Must watch it.
Final Words
Hope you like this article but If you have any query regarding this article, then please comment below in the comment box, and if you like it so, please share with your friends. Thanks for visiting our site and stay tuned with me for more new tractors information like this.
Categories KubotaSours: https://tractorsinfo.com/kubota-l3901-compact-tractors-information-price-and-specs/
Kubota L3901 Attachments
2014 -
Standard L Series
Compact Utility tractor
Attachment overview
Front-end loader
Backhoe
Kubota LA525 Loader
Height (to pin):
94.3 inches
239 cm

Clearance, dumped bucket:
76.2 inches
193 cm

Dump reach:
25.4 inches
64 cm

Dump angle:
40°


Reach at ground:
63.7 inches
161 cm

Rollback angle:
31°


Breakout force (at pin):
2462 lbs
1116 kg

Breakout force (at 500mm):
1874 lbs
850 kg

Lift to full height (at pin):
1131 lbs
513 kg

Lift to full height (at 500mm):
855 lbs
387 kg

Lift to 1.5m (at pin):
1490 lbs
675 kg

Lift to 1.5m (at 500mm):
1182 lbs
536 kg

Raise time to height:
3.5 s


Bucket dump time:
1.7 s


Lowering time:
2.3 s


Rollback time:
2.2 s


Kubota BH77 Backhoe
Backhoe type:
Kubota BH77 Backhoe

2-Foot flat digging depth:
89.8 inches
228 cm

Reach from pivot:
124.3 inches
315 cm

Loading height:
65.7 inches
166 cm

Bucket Rotation:
180

Bucket force:
3421 lbs
1551 kg

Dipperstick force:
2190 lbs
993 kg

Page information
Last update:
September 24, 2015

Copyright:
Copyright 2021 TractorData

Contact:
[email protected]

©2000-2021 - TractorData.com®. Notice: Every attempt is made to ensure the data listed is accurate. However, differences between sources, incomplete listings, errors, and data entry mistakes do occur. Consult official literature from the manufacturer before attempting any service or repair.
Sours: http://www.tractordata.com/farm-tractors/008/0/8/8087-kubota-l3901-attachments.html
Top 5 Worst Tractor Attachments
The Kubota L3901 is a compact diesel tractor, that has proved to be one of the most versatile and popular tractors in the market. Kubota have a reputation for building tractors that are small, but also incredibly powerful and versatile.
The L3901 is cleverly designed to be both comfortable and practical, and places great emphasis on all-round visibility that both enhances job performance, and gives a greater sense of safety for the cab operator.
Kubota L3901 Specs
The Kubota L3901 series are powered by the latest Kubota engines, which have always had a strong reputation risk in terms of reliability and output. The latest engines have also been redesigned to be highly fuel-efficient, and has a direct fuel injection system that is electronically controlled.
The L3901 has a gear drive model, which is either two will drive or four-wheel-drive, and an HST model which is four-wheel-drive only. Both have an engine horsepower of 37.5.
It has a dual capacity of just over 11 gallons, or 42 L, it has a three-point hitch that had a rear left of just under 2000 lbs, a rear power takeoff (PTO) that has a dual stage drive disc clutch system and a rear RPM of 540.
The Kubota L3901 has a wheelbase of just over 60 inches, it weighs between 2600 to 2800 lbs,  and has a chassis that is 4×2 – 2WD. It has power steering, mechanical wet disc brakes and a two post folding ROPS cab.
Its hydraulics are of an open centre type, had a pressure of approximately 2500psi, has a pump flow of just over 6gpm, and a steering flow of just under 4 gpm.
Kubota L3901 price
The price for the Kubota L3901 will vary somewhat, depending upon where the person lives, what attachments they purchase and whether or not the tractor is a new or used one. The price for a new one will come out somewhere around US$22/23,000 depending upon discounts etc.
It should also be remembered that although the price is important, there are other factors to negotiate at the same time as the price, namely the issue of warranty, servicing and maintenance costs and offer may broaden the issue of transportation of the tractor to from the dealership for any repairs or upgrades that need doing.
Credit is often available for a new Kubota L3901, either through Kubota credit or some other type of finance house. A number of companies also rent the Kubota L3901, either on a daily, weekly or monthly basis. While this would work out more than buying it, for many people it is a short-term option that is more preferable.
Kubota L3901 reviews
Reviews of any tractor are a slightly tricky issue. There will be a number of reviews online, quite often videos made by enthusiastic owners, or dealerships or both. These can be very valuable, so long as it is realised that they are not likely to be particular critical of the tractor.
More impartial reviews can normally be found on discussion forums, such as tractor by net and other groups, as well as many Facebook pages. These tend to give a more realistic and objective view of the strengths and weaknesses of any tractor, and can focus on any specific problems that the L3901 may have had, and whether or not Kubota have dealt with these.
Kubota L3901 backhoe and other attachments
The Kubota L3901 has both a backhoe and a front loader that make it one of the most versatile tractors available. The frontloader type is a Kubota LA525, has a height of just over 90 inches, a clearance of the dumped bucket of 75 inches, a dumped reach of 25 inches and a dumped angle of 40°.
The Kubota backhoe is a Kubota BH77 type, but has a 2 foot flat deemed that of just under 90 inches, has a loading height of just over 60 inches and a bucket rotation of 180°.
Kubota L3901 manual
People often only refers to a manual when there is a problem the product they are bought, but with the Kubota L3 901 manual they could be missing out on important information. Whilst there is a lot of good general safety and usage advice, there is also a lot of practical advice about how the tractor should be serviced and maintained, as well as identifying ways in which the warranty could be breached if not serviced or maintained properly.
Most manuals can be found online and downloaded as PDF's, either from a number of main Kubota websites, or specialist tractor websites as well.
Kubota L3 901 problems
As with all reviews, the difficulty often is getting objective views as to what are real problems and what are personal issues that someone might have had with a dealership, or with a specific tractor. Any individual tractor can have its problems, as can a car or a truck, when it is new or used.
What you are trying to find out is whether the Kubota L3901 has had or has any current manufacturing issues that would seriously impact on its usage or value.
The best place to find out these issues is on discussion forums and Facebook pages. If nothing readily is found, it is worth posting a question which should solicit a number of decent replies.
What is also important is to make sure that where possible, the tractor has some type of warranty, that will at least give you some protection in the event of any mechanical or electrical problems.
Sours: http://www.kubotakubota.net/kubota-l3901/
Attachments kubota l3901
Attachments For Kubota BX1870
Attachments For Kubota BX2370
Attachments For Kubota B2601
Attachments For Kubota B3301
Attachments For Kubota L3800
Attachments For Kubota L3901
Attachments For Kubota MX5100
Attachments For Kubota MX5200
You won't find this feature anywhere else on the Internet. We have taken the time to hunt down a picture of your Kubota Tractor as well as the specifications for it. Then, we match that Kubota Tractor to our most popular American Made attachments that are a great fit and value for each individual tractor model. What we ended up with is the easiest way for you to match your tractor with the right attachments to ensure a proper fit.
No more looking online through page after page of attachments, wasting your valuable time trying to figure out if "this one" or "that one" will work properly with your Kubota Tractor. Innovation is what we are all about at Everything Attachements.
Sours: https://www.everythingattachments.com/kubota-tractor-equipment-s/3788.htm
#85 Everything Attachments 55\
.
You will also like:
.
347
348
349
350
351