How to Organize a Closet Under the Stairs and DIY Pantry Organization Ideas
I am a Brand Ambassadör forIKEA U.S. This is a sponsored post. 

We have lived in our home for 7 years and there is one spot (ok maybe two or three) that I have wanted to tackle since the day we moved in, one thing I really wanted to do: organize the closet under our stairs, and coming in a close second is pantry organization.  We have a nice long closet under our stairs and for the last 7 years, we have shoved stuff in there in a semi-organized way on plastic shelves (the part of me the LOVES to organize and loves mydecluttering a house list absolutely hated this closet).  Well, I finally reached the point where I needed to do something.  So we decided to discuss some under the stairs ideas and actually do it!  We also decided that at the same time we would also organize the small pantry in our kitchen!  So I am excited to share how to organize a closet under the stairs and also our DIY pantry organization ideas with you today.  Woot woot!
I will admit that during the busyness of the holiday season, we let our closet and pantry organization go even more.  My baby became mobile, and we just had so much going on that I couldn't seem to ever get and keep it under control.  But now that the holiday season is over, and we are back to normal, every-day living, I needed my home to be a sanctuary once again for my family.  I need my home to be a peaceful happy place that is organized and well-thought out and even beautiful!  Having an organized home brings me peace and comfort.  And so we wanted to tackle these small spaces to really help bring order and organization into our everyday living in a beautiful and impactful way.
So are you ready for the moment of truth?  This is what our small pantry and our space under the stairs looked like BEFORE we began the work...sooooo embarrassing.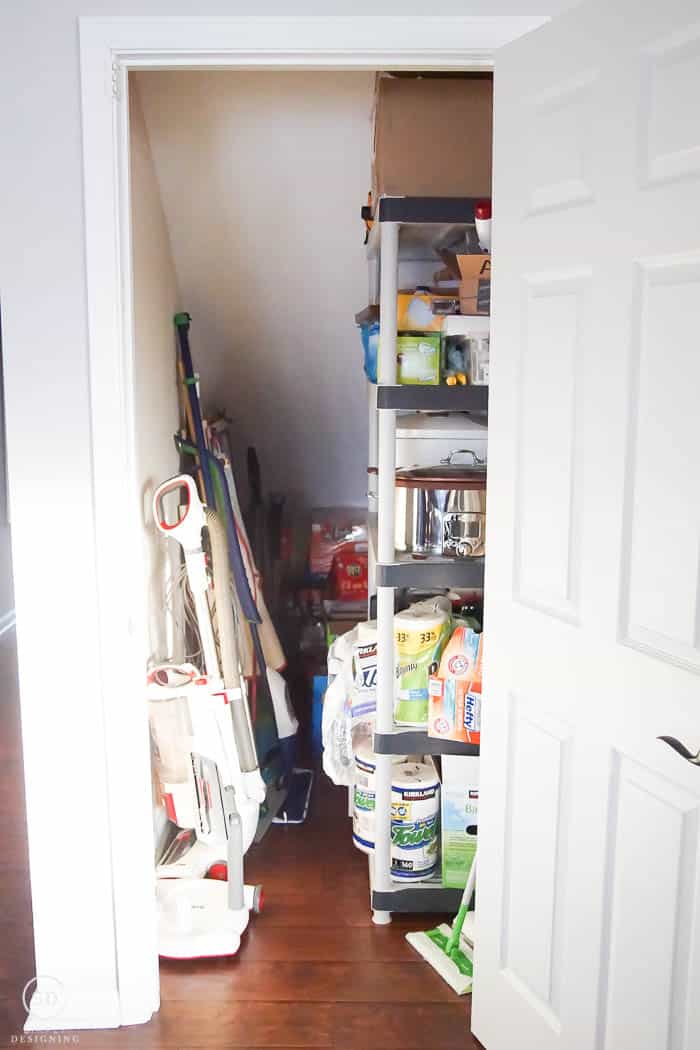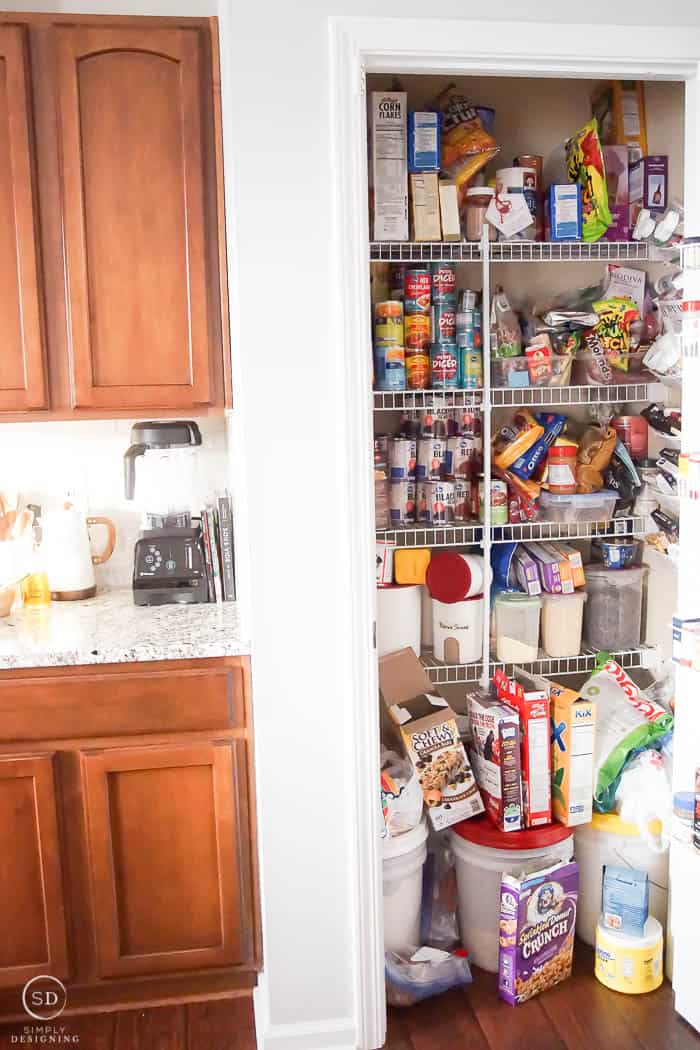 Oh man, it was AWFUL!
Nothing had a place, so my kids just put things back wherever they wanted to.  My son couldn't reach the cereal easily because that was on the top shelf, so he would climb on top of a bin to get cereal down, but leave the cereal boxes on another shelf or just on the floor when putting them away because he isn't tall enough to reach.  And our canned food is precipitously stacked...just waiting for the slightest breath to knock them over.  Our small pantry needed major organization!
And our under stairs closet was not much better.  At one point there was organization.  But after bringing home one-too-many boxes from Costco, and having no real way to organize things, we all just gave up and it became a mess.  I sort of knew what I had in there and could usually find it, but more often than not, I just bought another because...well...I didn't really know what I had in here.
So we had our work cut out for us.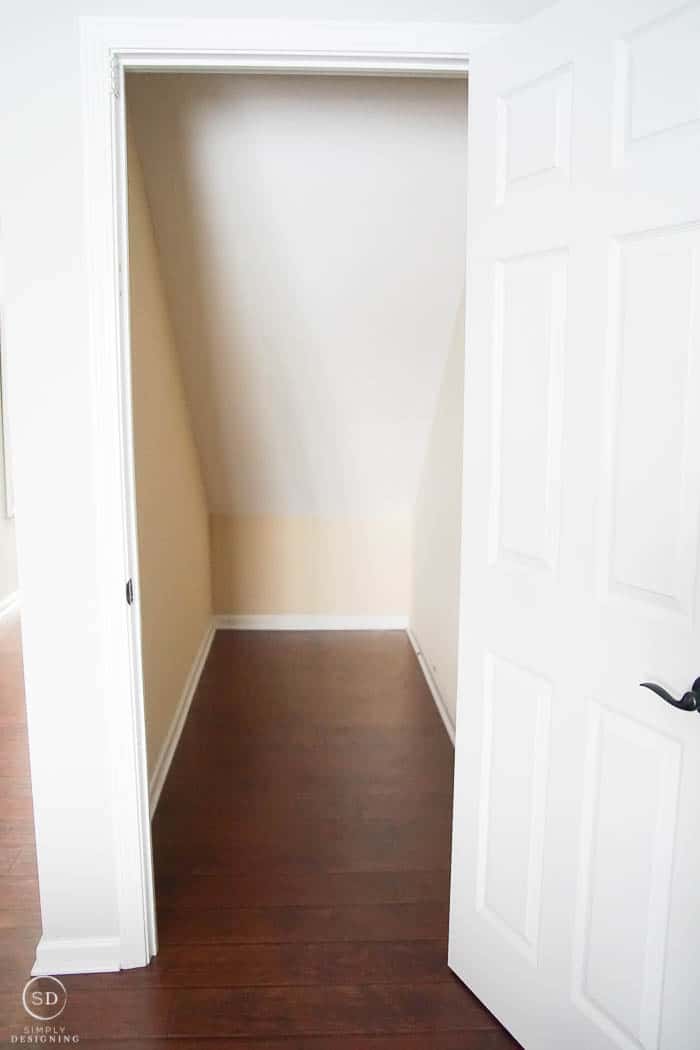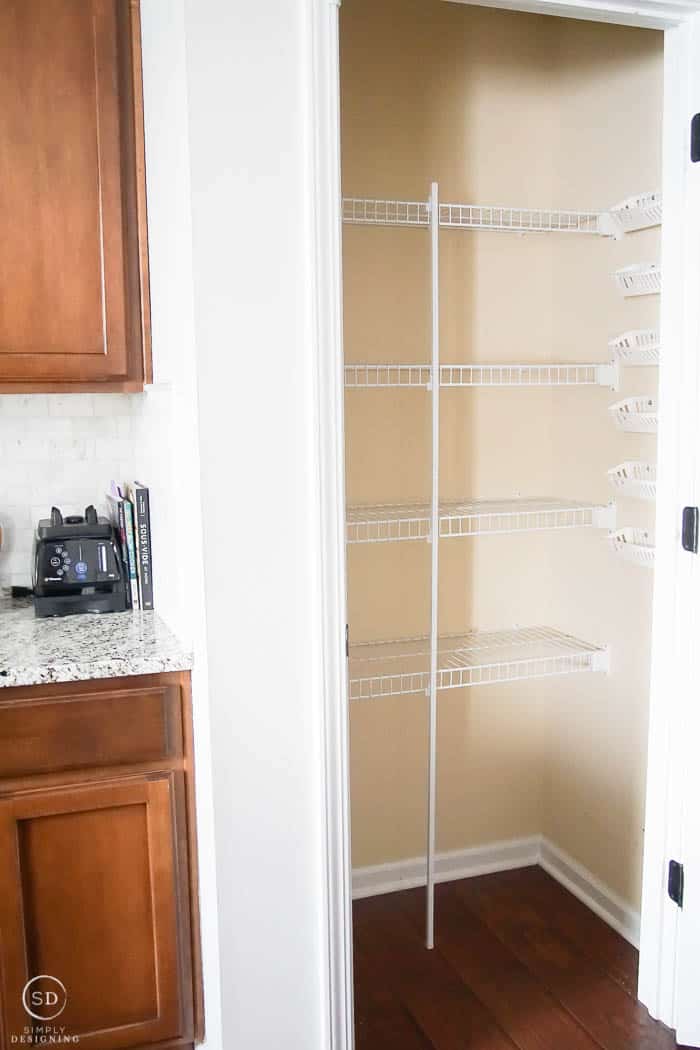 We began by emptying out 3 closets in our kitchen including our small pantry closet and the closet under the stairs and put everything in our piano room.  (I am only sharing two closet organization projects with you today, but we needed to empty all three out so that we could come up with the best plan for where to put everything and how to organize our kitchen in one cohesive way.)  We borrowed a few baby gates so our little one couldn't get into this room and then we got to work!
I will admit that living in a home in a state of chaos and un-organization is hard for me.  I just think more clearly when my home is organized.  I am more productive too.  But this is one of those projects that I knew would get worse before it got better.  So I averted my eyes as much as I could and got to work because I knew that having an organized pantry and organized storage under the stairs would be worth it in the end.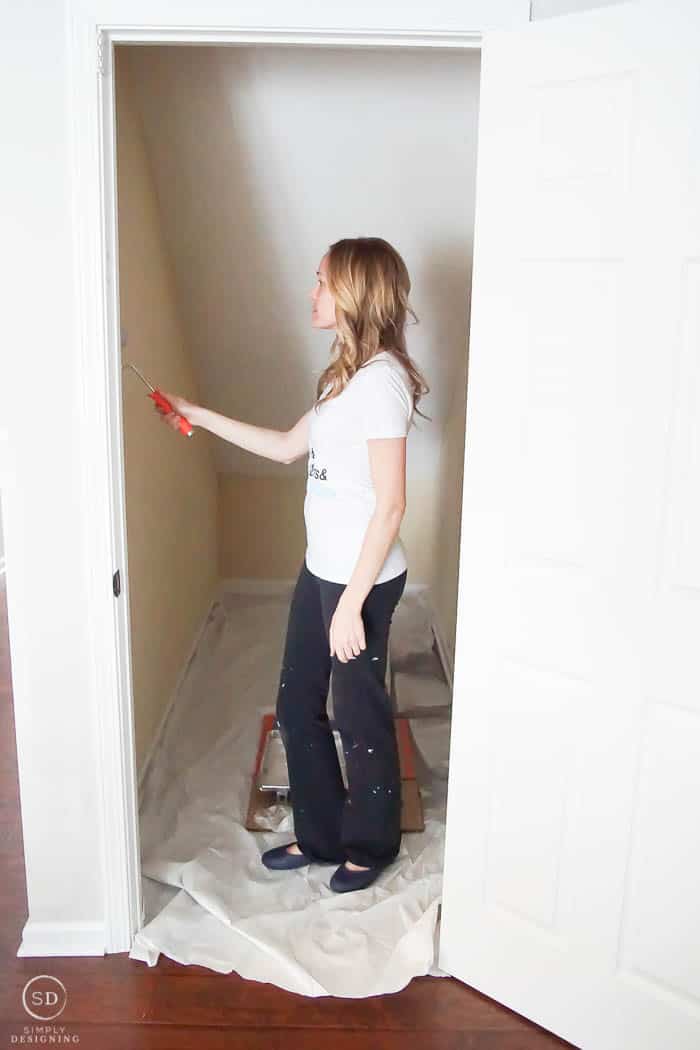 After our pantries were emptied, we removed the wire shelving from the small pantry in our kitchen (oh how I hate wire shelving in pantries!), and then we patched and painted all of the walls in both spaces.
This pantry organization was definitely inspired by IKEA!  IKEA recently opened a store near my home and let's just not talk about how many times I have already been in there...ok?!  It's one of my favorite stores to shop for home decor, storage and organizational products.  Oh, and of course, who can turn down their yummy food!?  But I digress...anyway...we had an idea of what we wanted to do, but a quick trip to IKEA helped us finalize our plans for our DIY pantry organization.

How to Organize a Closet Under the Stairs
We decided to take advantage of as much of the wall space as we could and to install shelves along the back and one full side of the closet under the stairs.  We designed the space using the ALGOT system from IKEA.  This system is really easy to install and easy to customize.  And because we have a weird, angled space under our stairs, we needed something that we could customize as much as possible to get the most use out of this space.  This did the trick!  We measured, and I drew a little under the stairs closet storage plan, and then we ordered the product that we thought we would need and could use for this space, knowing that I might have to get a little creative or we may have to modify things as we went along because figuring out exactly what would work in this angled space was a little tricky.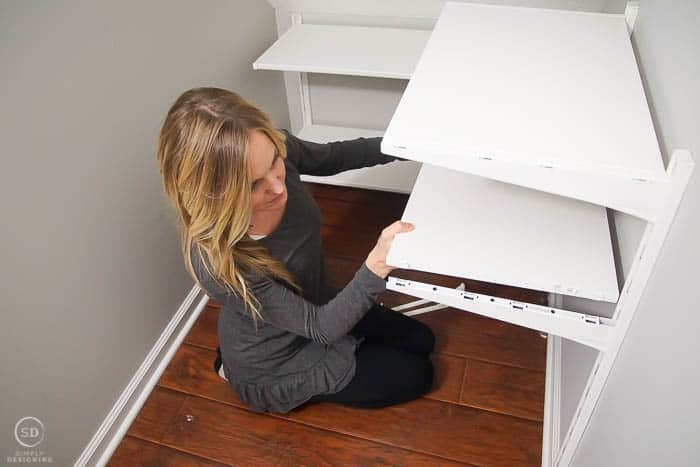 When we thought about how we wanted to organize the closet under the stairs, I really wanted usable space with a home for everything.  But I also knew I needed to maximize the space as best as I could to create the most opportunities for storage as possible.  The goal for this closet was as many shelves and bins as possible!
Because we couldn't always install these wall units into a stud, we used wall anchors whenever there wasn't a stud, in order to secure these units to the wall well.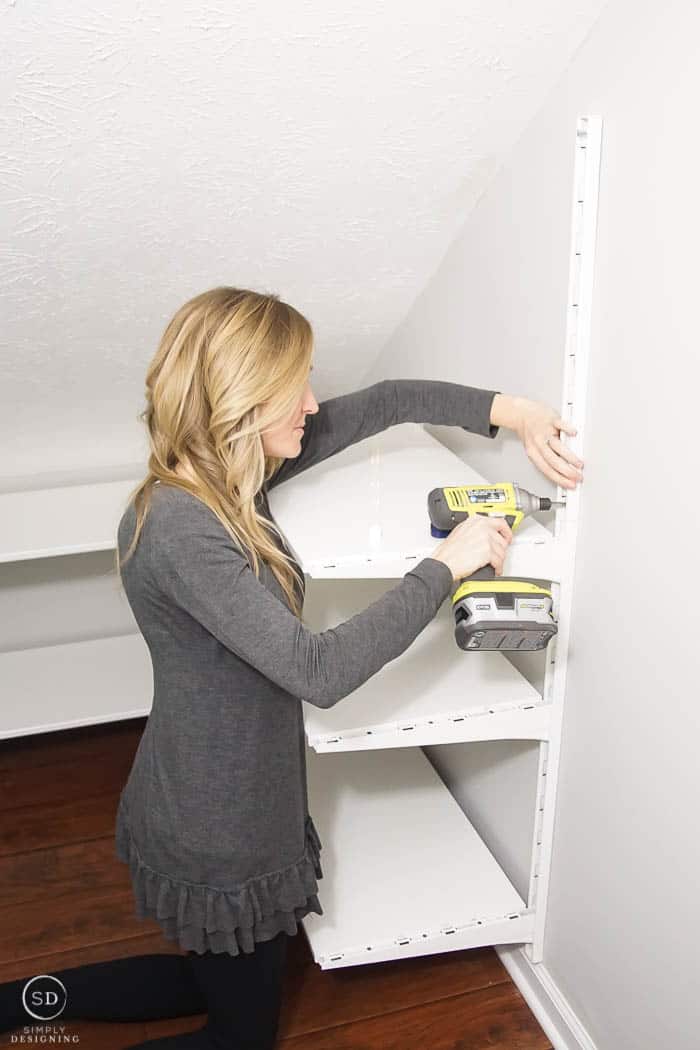 We installed the shelves on the back of the closet under the stairs first, and then we worked our way forward.  We installed as many shelves as made sense, and then we also added two large bins and two small bins.  These bins hold paper towels, toilet paper, wipes and tissues.  Oh man, I love having a home for these necessities!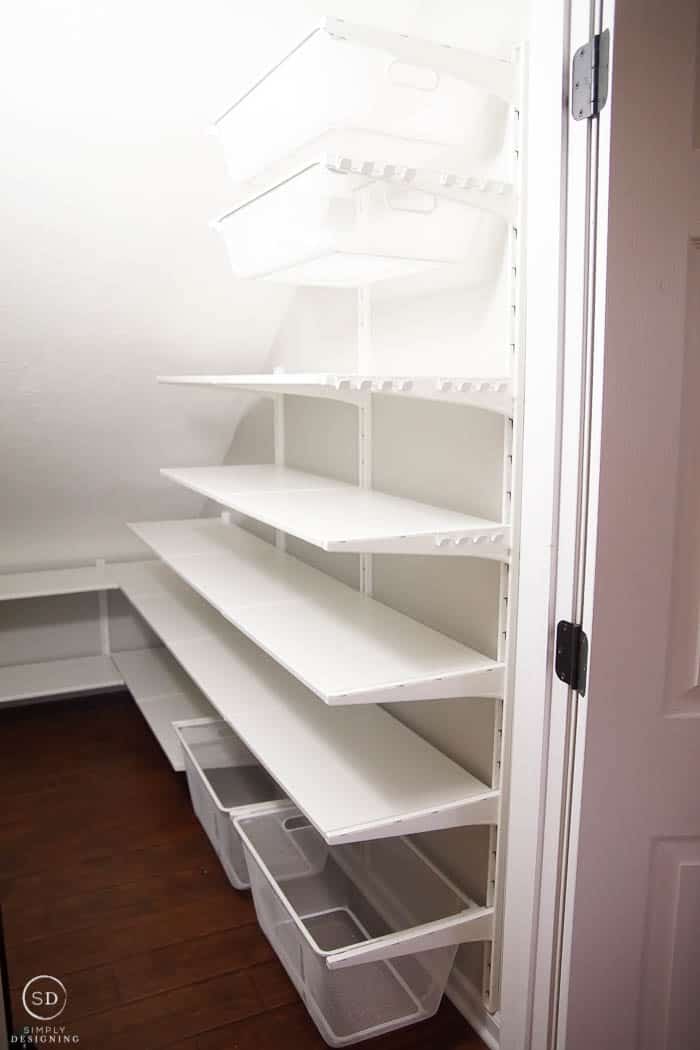 We then placed large things like cooking appliances and platters on the shelves.  And we also put some big, bulky containers that we have for food on shelves as well.  (I like to buy my rice, flour, sugar and salt etc from Costco and so this is where I put the huge amounts of staples.)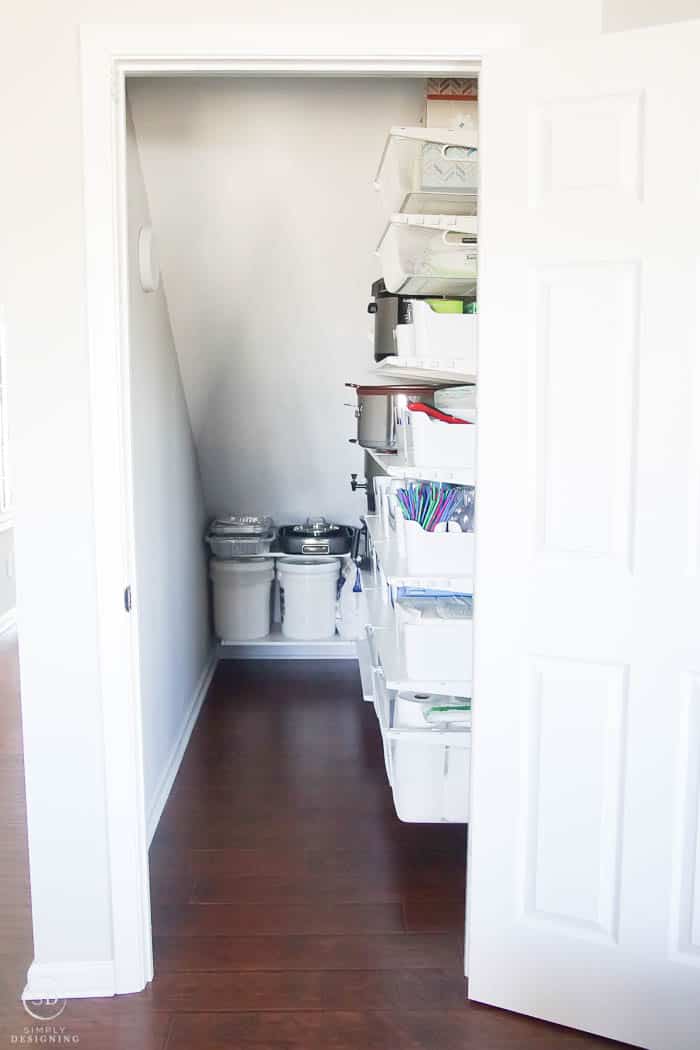 Then we filled the rest of the shelves with PLUGGIS and VARIERAbins to organize the rest of our items.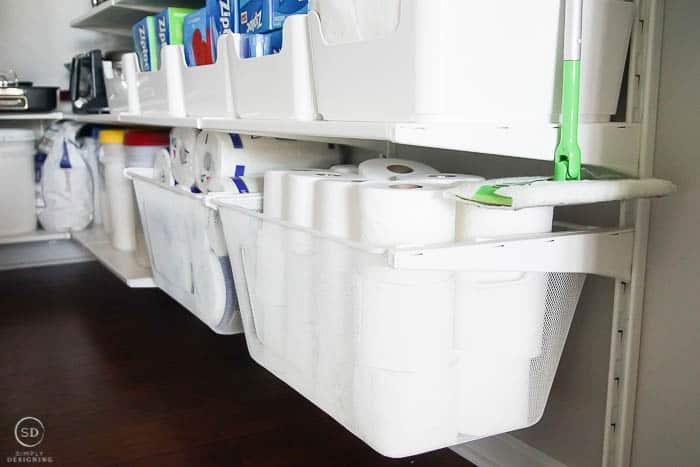 We filled these bins with things like smaller cooking appliances, paper goods, canning supplies, and Ziploc bags.
In one PLUGGIS bin, we put several BESTAENDE utensil holders and we store our plastic silverware and straws in them.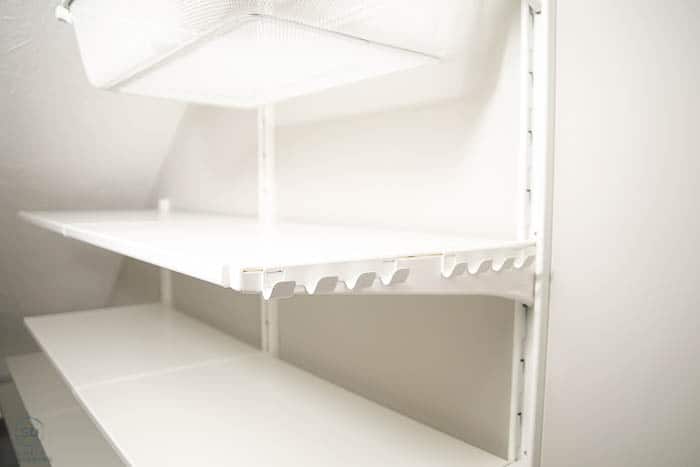 We added a few ALGOT hooks on the end of our shelves so that we could hang things like our sweeper.  I love having everything off of the floor!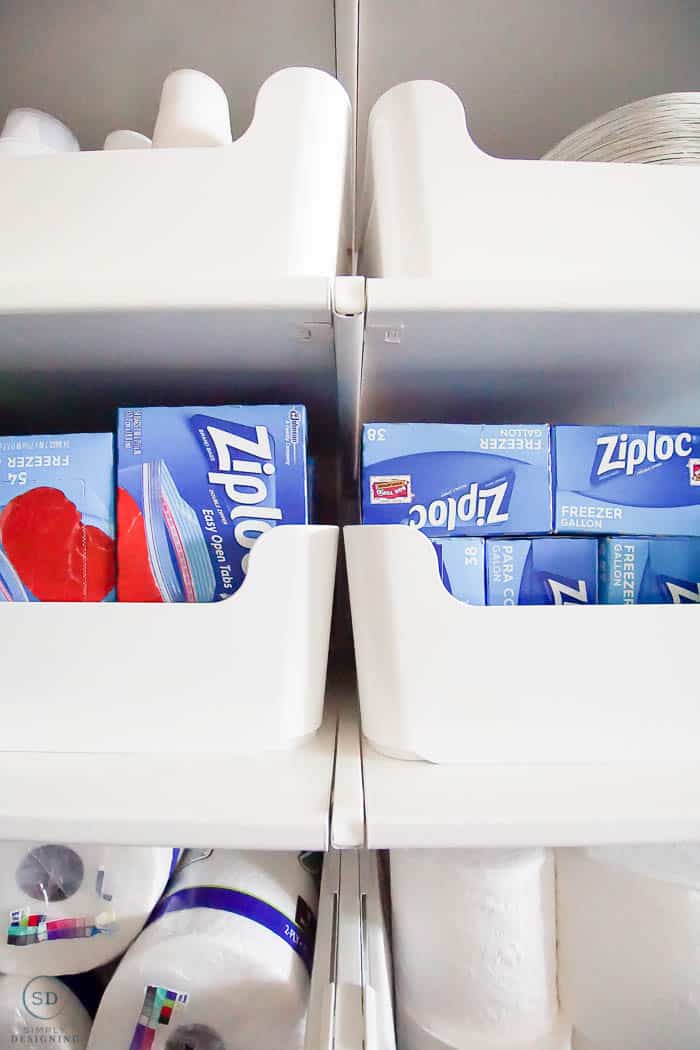 We also hung a VARIERA plastic bag dispenser so that I could keep a few plastic grocery bags on hand in a neat and organized way.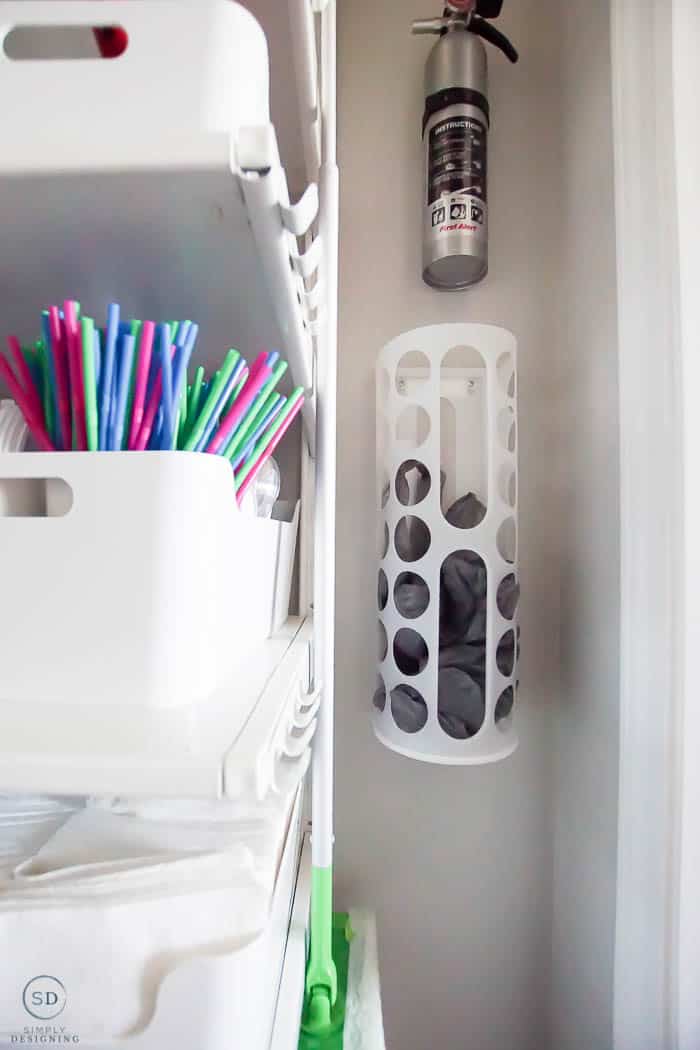 And perhaps the best thing we added in this closet under the stairs was a STOTTA battery operated light!  This light turns on with motion detection so it is the perfect light to have in a space like this and I love that it turns on as soon as I open my closet door!  And because we didn't have any electrical wiring in any of the walls on this closet, a battery operated light was just what we needed.  Also, I am really impressed with how much light it gives off in the space!  So not only is my space organized and beautiful, I can also see in it!
I really LOVE having an organized space in my closet under the stairs!  It has been such a difficult space to organize but the ALGOT system from IKEAreally did the trick.  I love that everything I need to store has a home, and I also love that I can easily see everything that I have so I know when I am running low on things.  And this system leaves me enough room to easily walk in and out of this space without difficulty!  Woot woot!

This may be my favorite new space in my house!!  Yes, I really love it that much!
But my pantry might be running a close second!

DIY Pantry Organization Ideas
For our DIY pantry organization, we really thought about how we could best utilize this space.  Yes, I wanted the most shelf space possible, but I also wanted it to be useable shelf space for the food I bought most often.  I also had a stack of can dispensers waiting to be used and so I knew I wanted to incorporate these into my space.  I also wanted to make it easy for my kids to reach the things that they use most like cereal, chips, granola bars and other snack and lunch items.  So the major goals for pantry organization for my small pantry were to find a way to incorporate can dispensers so that my canned food was no longer stacked and ensure that this closet was as kid-friendly as possible.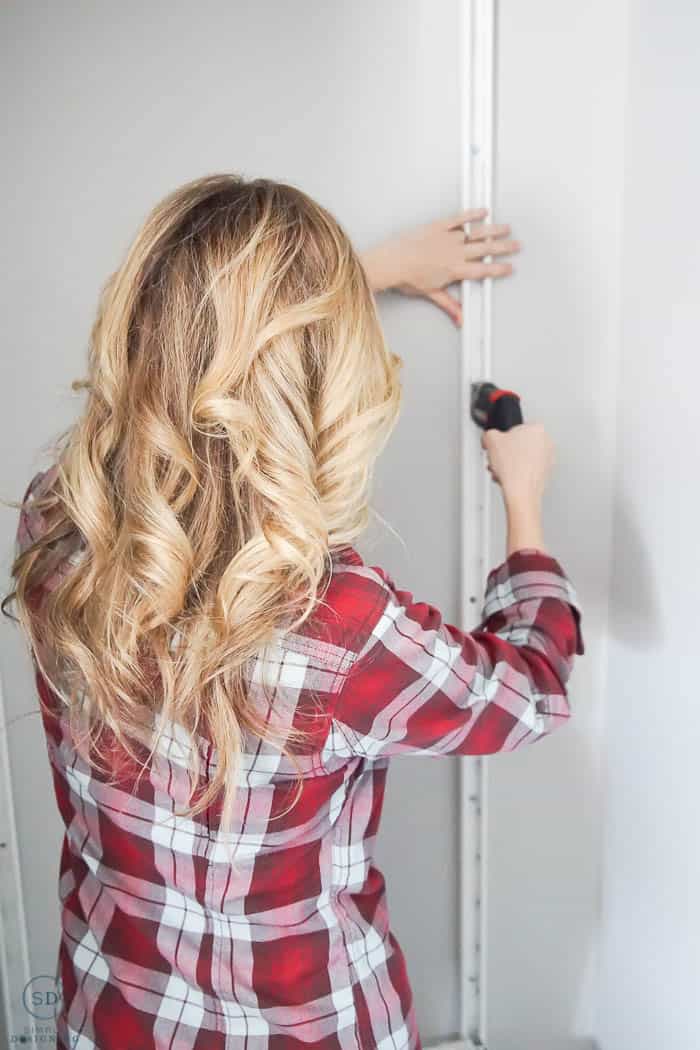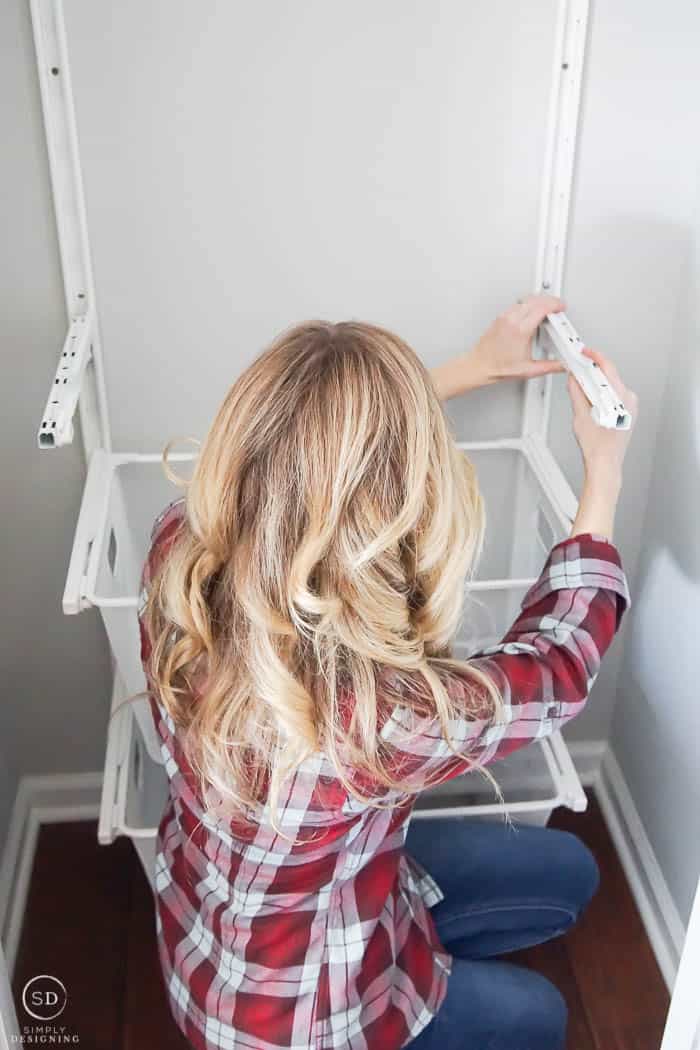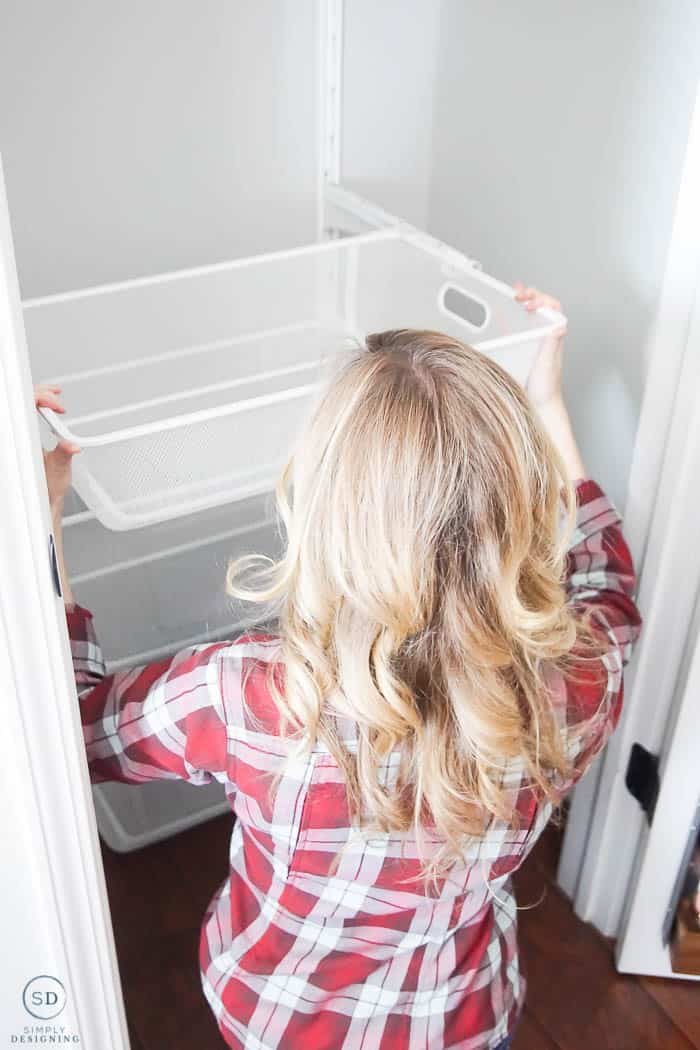 Once again, theALGOT system from IKEAdid the trick!  I installed one system along the back wall and another system on each side wall in order to give me maximum space for food storage!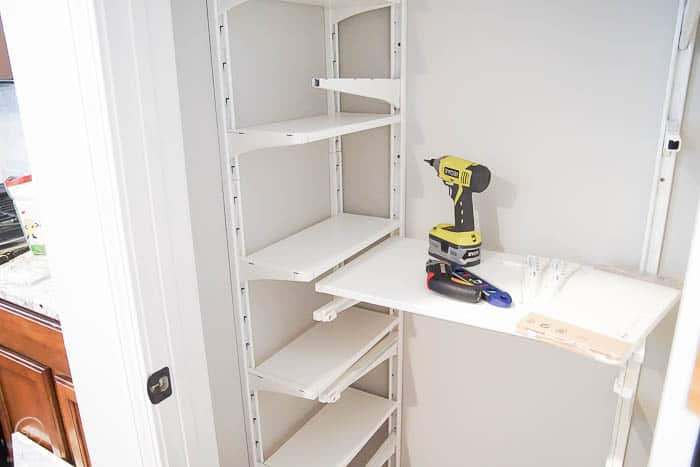 The systems on the sides where the perfect size to put the can dispensers that I have been waiting to use, and I love the bins on the bottom for easy storage and access of things like snacks, applesauce containers, granola bars and chips.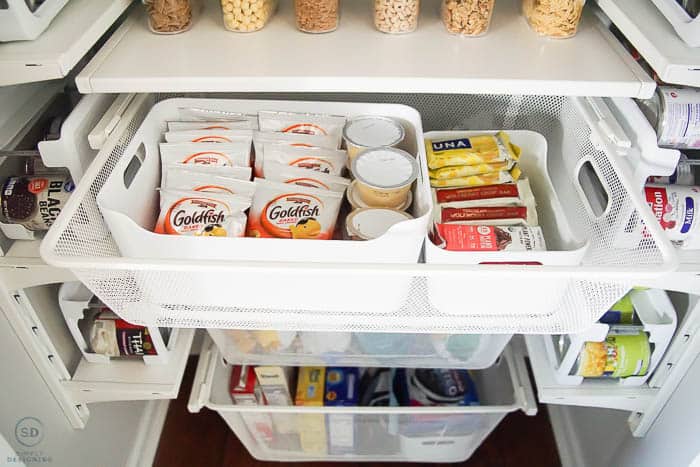 We snagged someTORKIS clothes pins to use as chip clips for all of our chips.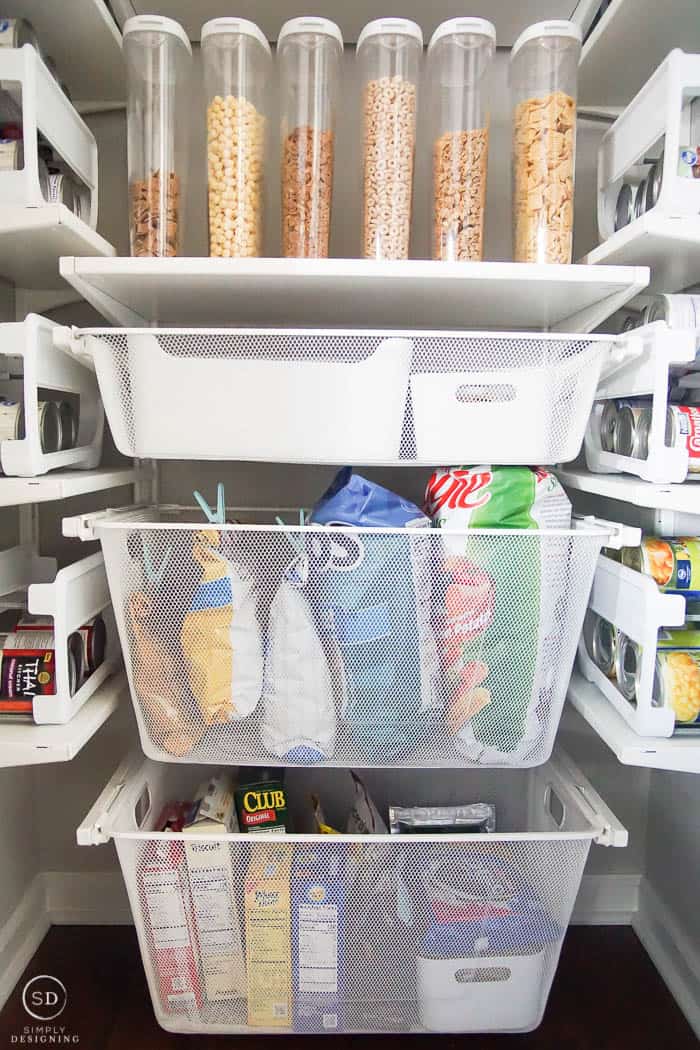 And then we decided to place cereal in IKEA 365+ containerson the lowest shelf so that my kids could easily access the cereal!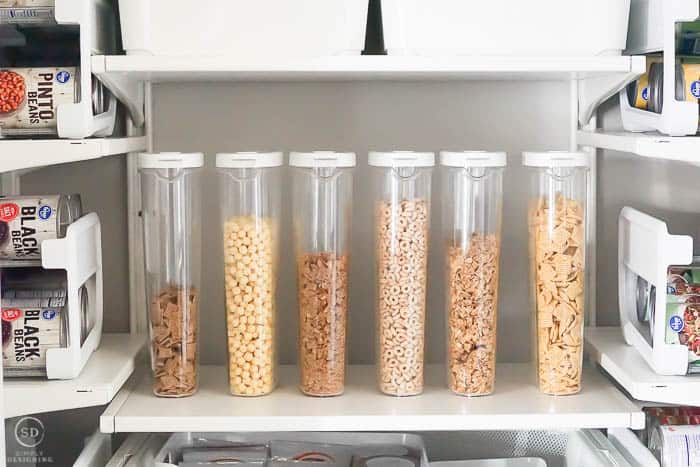 The rest of the shelves are filled with PLUGGIS bins with everything organized in them!  I really love how everything has a place in my small pantry organization.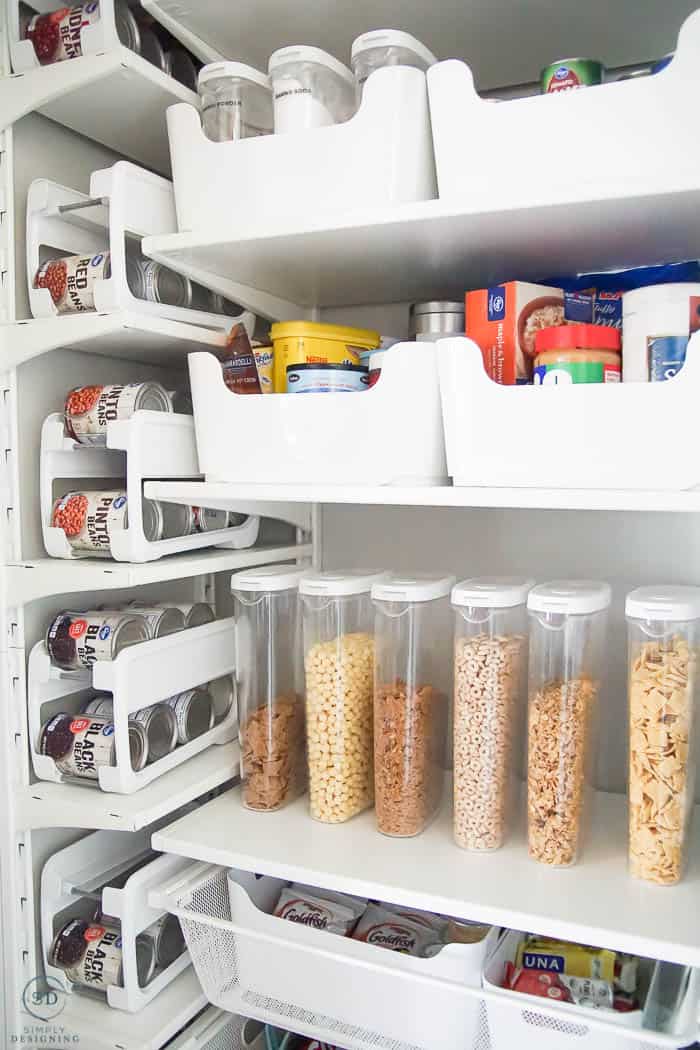 I also used some smaller IKEA 365+ containers to hold things like baking soda, baking powder, cocoa powder and other baking items that I use a lot.  I used my label maker to label these containers and placed them in a bin.
I could easily fit (6) of the smaller 356+ containers in (1) PLUGGIS bin which makes my organizational heart so happy!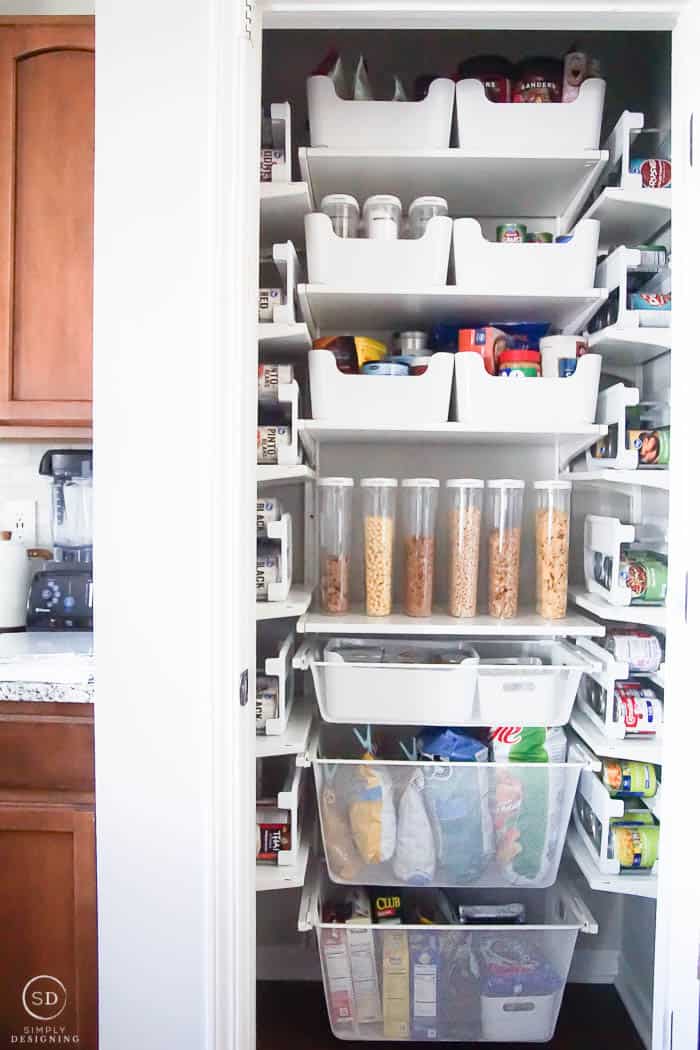 Seeing how this all came together really made my heart so happy!  I just love having organized closets and pantries!

I really love that everything is up and off the floor in this pantry too.
It took us a little while to get everything back into the closets, but it was well worth the time and effort!  I just love how pretty and organized everything is.
The most important thing when organizing a space is to really take a look at how you use the space and what items you need to store in the space.  And that you make sure to plan so that everything has a place.  My organized pantry and my organized closet under the stairs accommodate everything we truly need in these spaces and also are now so easy to access and use!  I love that I know right where to find everything in these spaces too!  I know this will make cooking and just everyday life so much easier for myself and my whole family.

Shop this post here:
All products are from IKEA. 
You might also enjoy: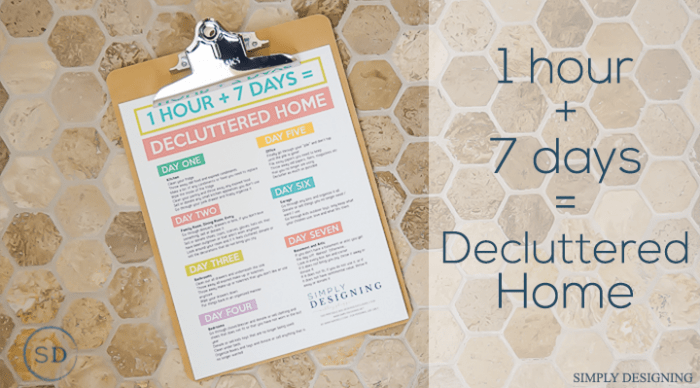 7 Hours to a Decluttered Home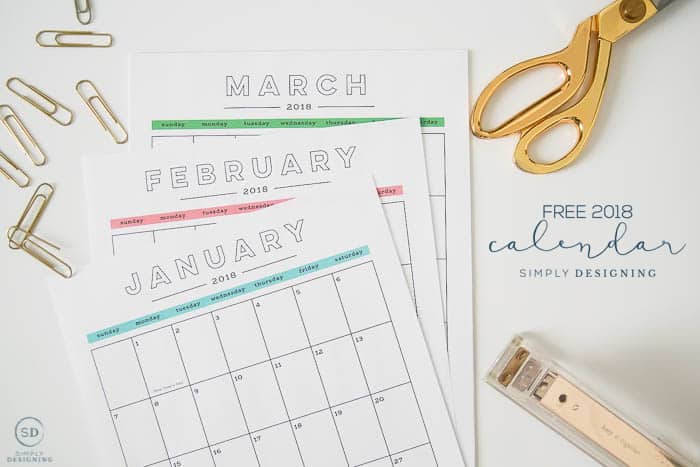 FREE Monthly Calendar Printable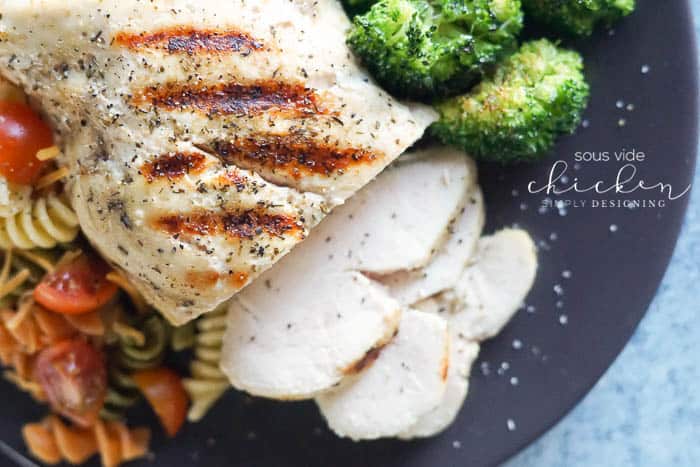 How to Sous Vide Chicken
I am a Brand Ambassadör for IKEA U.S. This is a sponsored post.
Sours: https://simplydesigning.porch.com/organize-a-closet-under-the-stairs-and-diy-pantry-organization-ideas/
When renovating your home, there are some spaces you might skip over, not realizing their hidden potential. At the top of that list are these genius under stair storage ideas that will give you the gift of space. You might not realize how important great staircase ideas can be until you see some clever uses and realize their potential. For instance, if you're lacking on space in your kitchen to store your cans and non-perishable food items, you can easily turn the room under the stairs into an area fit for all your pantry organization ideas. Or, you can install a playroom for your kids as a couple ideas in this list demonstrate.
You'll be surprised you never thought of all the possibilities this your staircase has to offer instead of just taking up room. There are also a few creative DIY bookshelf ideas that look beautiful in addition to being functional. You could also use these shelves to store kids' toys or just proudly display some of your collectibles. There are even some ideas for the furriest member of your household with a DIY doghouse and a roomy kennel. These small space decorating ideas are exactly what you need to achieve the maximum under the stair storage space.
1Vintage Cabinet
Tuck a beautiful cabinet under your stairs for a storage option that is as purposeful as it is gorgeous. An area rug and cozy armchair create a space you can lounge in as well.
SHOP THROW BLANKETS
2Kitchen Pantry
Transform your staircase space into a quaint pantry, ideal for storing all your dry goods, baking ingredients, and more behind a sliding barn door.
SHOP WOOD SHELVES
3Home Office
No designated home office in your house? No problem. Turn the unused space under the stairs into a cozy home office.
SHOP DESK STORAGE
4Hidden Playroom
Create a hidden alcove in a playroom by turning the space under the stairs into a secret room for your kids.
SHOP POLKA DOT WALLPAPER
5Closet Door Painting
Turn a closet under the stairs into an artistic opportunity by decking it out with a custom mural, or even chalkboard paint for some versatile art.
SHOP CHALKBOARD PAINT
7Playhouse
Transform a basement corner into an imaginative place for kids to play.
See more at Thrifty & Chic.
8Reading Nook
Fill it with plush pillows and a blanket, and you'll never want to leave.
9Pet Kennel
Keep your pets out of trouble when they're at home alone with this neat space designed just for them.
See more at Ethan Abramson.
11Bookshelves
Showcase your collection of books, knick knacks, or antiques with this smart storage solution.
See more at Level Building Projects.
12Pantry
If your kitchen cabinets don't offer enough room for your cookware and food storage needs, then consider this inventive idea.
13Wine Cellar
While many homeowners shell out a ton of money to install an expensive basement wine cellar, you can skip the hassle (and high cost) with this clever hack instead.
See more at Houzz.
14Library
Perfect for bookworms, you'll feel delighted every time you walk by and see the shelves filled with your favorite reads.
15Coat Closet
Make your entryway feel larger by eliminating the need for a bulky, protruding armoire and install a sleek coat closet under your stairs instead.
16Drawers
Use these extra compartments for whatever your family needs, like a place to store craft supplies, sports equipment, or kitchenware.
See more at Tom Stringer Design Partners.
17Seating Area
Take a cue from Joanna Gaines and use this spot to create a relaxing mini-library, just for you! Or if your home doesn't have a formal living room, you can also use it as an area to host guests and relax with friends.
See more from Chip and Joanna Gaines' Magnolia House B&B.
18Powder Room
With just enough space for a sink and toilet, this nook easily transforms into a small bathroom.
See more at My Bespoke Room Ltd.
19Mudroom Storage
Installing cubbies, hooks, and shelves is the easiest way to upgrade this area into a storage unit, which is perfect for housing kids' jackets, school supplies, and sports equipment.
20Wet Bar
For the homeowner that loves to entertain, impress your guests with a bar nestled just beneath the stairs. It beats a simple bar cart any day!
See more at Cortney Bishop.
Erin CavotoErin Cavoto is the Editorial Assistant at ThePioneerWoman.com, covering food, holidays, home decor, and more.
This content is created and maintained by a third party, and imported onto this page to help users provide their email addresses. You may be able to find more information about this and similar content at piano.io
Sours: https://www.countryliving.com/home-design/g4300/under-stairs-storage/
If you're anything like us, your wedge-shaped under the stairs ideas can only be described as an Armageddon of mismatched shoes, piles of plastic boxes and an ever-expanding collection of umbrellas... No, we're not spying on you, but if this does sound true, then it's time to make the most of that lost space.
The best staircase ideas usually come complete with under stairs storage elements covered. From practical and affordable shelving options to incredibly indulgent, temperature-controlled wine cellars, you'll never just chuck stuff under the stairs again.
Under stairs ideas that uncover unlimited opportunities
'Typically one of the first things we see when entering our homes, stairs can be the perfect place to create unique solutions that will help to maintain a pristine hallway and be sure to impress guests.', says Rachal Hutcheson, retail area sales manager at Sharps.
But while we often pay attention to things hallway ideas that we can instantly see, the saying goes: 'it's the inside that counts', so look beyond banisters and staircase runners because the beauty of your stairs runs much deeper... Inside the crevices of your stairs to be exact.
1. Create a space-efficient home office
'For those looking to make the most of every inch of space in their home, the humble staircase is often an underutilized area,' says Hutcheson.
'If an additional workspace would be beneficial consider creating a dedicated desk area. Incorporating plenty of storage, drawers and shelving will keep files organized without needing to hide them away.'
'Accessorizing with a selection of personal trinkets, photos and plants will ensure the space remains stylish when not in use and most importantly doesn't feel too corporate to be part of your home decor.'
2. Add a boot room style bench for brisk country walks
If you haven't been blessed with a big country home with a large space to create a dedicated boot room design, your dreams don't have to go down the drain!
This cute and contemporary farmhouse idea with a bench and coat hook idea is part of an under the stairs project by Humphey Munson. Lift up the seat to uncover lots of space to hide away footwear, sports equipment and anything else you'll want to grab before heading outside for some fresh air.
So whether your kids need to burn off some energy, or if the dog needs a walk, you can fill this bench-cum-storage-box with leads, treats and all sorts of other goodies.
3. Create a temperature-controlled wine cellar
'When we first met with the client on an under the stairs wine cellar project, her main goal was to store as many bottles as possible in an under-the-stair climate controlled wine cellar,' says Krisanna Sanders, licensed general contractor of Recast Homes in Portland, Oregon.
'An avid wine lover, she knew the importance of proper storage for her ever-expanding library of wines. With maximization in mind, I saw the opportunity to bump the space out beyond under the stairs to allow a "walk-in" room rather than just a closet. Doing this allowed more vertical storage and brought the total bottle count near 600,'
'I learned SO much on this project - especially about R-value (the insulating property of materials) and how it's impacted with every decision. We had to make sure to get the highest R-value glass because I wasn't willing to compromise that design element,'
'Making the room with the highest R-value materials possible was important to be able to properly regulate the temperature and humidity once the cooling system was installed - keeping that wine oh-so-fresh.'
4. Shoo away your untidy hallway with shoe storage
Mules, flip-flops, sandals, sneakers and more. It's hardly surprising that our shoe collection can build up quite quickly... So when you're dealing with a flummox of family footwear, consider adding the best shoe storage ideas to the dead space under the stairs.
Choose vertical solutions that slip onto the back of a door, with many affordable DIY options from IKEA and the like to make those stairs work extra hard. Mounting hooks to hang your outerwear means there's no excuse for little ones dropping their coats on the floor as you can lower the hook for little hands to reach up high.
If you really want to maximize your wall storage, consider mounting a door front on hinges and add some hooks for shoes. Place a mirror behind it for quick outfit checks before heading out to do your errands or go to special events.
5. File away flimsy papers and important documents
'Perfectly sized storage items like baskets, trolleys and shelves can give you extra space for supplies and paperwork if you don't have an office in your home, ' says Emma Parkinson, interior designer, IKEA.
'For a more seamless look, try keeping them all within the same color scheme.'
This blue and grey hallway idea is certainly a calming combo whether you're trying to file taxes or a student trying to cram in that last bit of revision before an exam.
6. Create a storage idea centered around the kitchen
Designed for a project by architect Simon Whitehead, this under the stairs storage idea is centered around one of the family hubs of the home. If you're looking for ideas for kitchen decor, look no further than this sleek cabinet design.
Here, teens can help set the table, knowing where the crockery, cutlery and condiments are. Recreate your own version of this metro handpainted matt lacquer under stair storage unit by using Farrow & Ball's paint in shade Ammonite.
Though this hue is named after the fossils found along the coast, it's a trendy shade that creates a hushed and calming feel – perfect for chaotic dinner times!
7. Create a custom breakfast bar
Create a chic breakfast bar space that feels like you've woken up in a 5-star setup for a modern approach to your under stairs space.
Making an ideal spot where you can store bread, croissants and hot beverage items, ready to start the day right. And, if smoothies are your thing, you can close the door to muffle the noise of your fruity drink whizzing away, while other members of your family are still sleeping.
8. Build under stair storage closets
Even modest sized homes have decent under stair storage space. Make the most of yours by putting in a central door to create a spacious small closet idea for large items (or lots of small ones); a door beneath the bottom steps for seldom used items; and use leftover space for a shelved-out niche, like the one below.
This bespoke under stair storage closet is by De Rosee Sa Architects.
9. Squeeze in a downstairs cloakroom
A downstairs cloakroom idea is a great under stair storage idea, as it is a must-have for many potential house buyers, and a valuable asset in a family home, especially if you've got small children who've returned home from a long car journey.
If you're tight on space, it makes most sense to put the loo beneath the sloping ceiling, and to fit a sliding door rather than one that opens out into an already squeezed hallway. A corner sink is a space-efficient solution for hand-washing, as are floating shelves to hold liquid soap and hand lotion.
10. Keep everything to hand with open storage
If you want to create an impression of space in a small hallway design, keeping the cavity under the stairs open is a good option. Then, it's just a case of fitting shelves and investing in stackable storage to fill the space in a bespoke way. Choose a simple color scheme for the boxes to make the space look as neat as possible. Take inspiration from Ikea's clever de-cluttering with the Sortera range.
11. More shoe storage needed? Make it modular
The under stair area is just asking for shoe storage! After all, most staircases are usually close to the front door, so it makes sense to buy clever hallway shoe storage to keep the space neat. Modular storage means that you can keep building space for your new purchases... especially if they're on sale right?
12. Cool and compartmentalized looks
If you like more of a rustic vibe in your hallway, a welly box needn't just be used for your Hunter boots. This shoe unit from Cox & Cox has a combination of tall and short compartments means there's room for wellies and knee-high boots as well as shoes. It makes the perfect hallway shoe storage idea.
Not all under stair storage ideas have to be fitted. If you can squeeze a freestanding side board under your stairs, then this will add a bit of extra storage, plus a surface area for you to decorate to your heart's content. The Ikea Hemnes side board/shoe cabinet, is a favorite among small hallway owners as it's super slimline being only 30cm deep, so it's sure to slide under most staircases.
14. Create storage drawers under the stairs
Who knew steps could become drawers? If you're really squeezed for space, this neat under stair storage idea utilises the space inside the staircase itself. Useful for storing shoes, paperwork, the dog's lead...
This sleek, contemporary stair design is by London's Lipton Plant Architects.
15. A traditional and slightly hidden home office
For those who like a bit of privacy when working from home, but do not have a separate study or home office, a bespoke under stair study space is a great under stair storage idea. But, contrary to the home workspaces you've already seen, these don't have to be modern and contemporary – especially if you've got a historic home and want to respect the existing architecture.
Although the space will be relatively small, the advantage is being able to design and style it exactly how you want it. Check out more small home office ideas for a ton of inspiration.
16. Turn an under stairs cupboard into pantry storage
If your staircase is in your kitchen or dining area, why not design the under stair pantry storage to hold everything you need to hand, whether dinner tableware or table linens? If it's within the kitchen area, you could design the cupboard fronts to mimic those of your kitchen cabinets – ideal for making a small space look more streamlined.
John Lewis of Hungerford have a bespoke solution for an under stair space that's next to the dining room.
17. Design a walk-in wine cabinet with lighting
Maybe your house has no basement for storage, or you simply don't fancy going down into a cellar every time you want to open a bottle? Why not pinch this under stair storage idea and utilise that space to create a beautiful, functional wine room?
A real step up from the classic wine rack, you bougie wine buffs might like to create a climate-controlled space that's lit to show it off, too. Find out how to create a wine cellar in our guide.
This wine storage was created by Sorrells Wineracks.
18. Store toys in under stair drawers
Toys scattered around the hallway can test even the most serene parent's patience, but large, pull-out storage drawers make for an ingenious toy storage solution for that awkward under stair space. Why stick to toys? Drawers are an ideal under stair storage idea for stashing shoes, gloves, hats, coats and even cleaning products.
These drawers are by Clever Closet.
19. Carve out an under stairs nook for a pet bed
Animals love a nook to steal some precious napping time in, and what better place for it than the cozy under stair space? You can buy and put a pet bed under the stairs, or go for a more streamlined solution - a bespoke under stair pet area. The one shown here is by the design studio Create Perfect.
20. Bespoke and luxury looks
Bespoke under stair storage ideas can help integrate all your sundry bits and pieces into a modern, clutter-free open-plan interior. This intricate example is by Roundhouse Design.
21. Fit a utility room under the stairs
Sours: https://www.realhomes.com/design/under-stairs-storage
DIY Under Staircase Makeover - Mini Bar and Storage
17 Creative Under Stairs Storage Ideas You Need to Try
Wondering how to use the space under the stairs in your home? With a little creativity, this compact and sometimes awkwardly shaped staircase area can be transformed into a functional living or storage space you'll love! From pantries to libraries, check out this list of unique staircase storage ideas that will inspire your next home improvement project!
Build Under Stair Bookshelves
Install a few shelves or cabinets, fill them with your favorite novels, and turn that awkward space under the stairs into a gorgeous small home library! This area provides a perfect book storage solution without having to add extra furniture to other rooms. You can also store magazines, photo albums, and board games here!
Create a Kids Playroom
Turn an open space under stairs into a children's playroom. Not only does this make a fun hideout spot for your little ones, but you can store books, games, and toys in this space to keep everything neatly tucked away.
Install Under Stairs Storage Drawers
Sliding drawers are an easy and compact way to maximize staircase storage space that would otherwise go to waste. They also provide a way to hide unsightly items, making them great for smaller homes that may not have enough closet space.
Design a Cozy Reading Nook
If you can't fit a reading nook in a small living room or bedroom, you can make one out of the space under the stairs. Simply add comfy cushions and good lighting, and you'll have a space you'll never want to leave! If you have enough room, build a bench and a few book shelves to give yourself some extra under stair storage.
Make a Phone Booth & Charging Station
Need a private space in your home to take phone calls? Turn the area under the stairs into a personal phone booth for calls. If you don't have a landline phone, this area can be used as your home's  designated charging station for smartphones, smart watches, and other electronic devices.
Create an Under Stair Pantry
Do you have limited kitchen storage? One amazing way to utilize storage under the stairs is to create a staircase pantry. With a few floating shelves, rolling drawers, and clear storage containers, you can store dry goods of all shapes and sizes and give yourself a bit more space in the kitchen as well!
Expand Your Kitchen Cabinet
Instead of turning a space under the stairs into an additional pantry, you can use it as a cupboard to store your dishes, silverware, and serving trays! This under the stairs storage idea is especially great for storing china or dishes that you only use for special occasions and entertaining.
Design Your Dream Wine Room
You don't need a large cellar in your house to store your wine collection. Turn that under stairs space into a wine room that can both store and display your bottles. With a little work, this space can have the visual appeal of a major renovation for a fraction of the cost. There are a number of ways to style your staircase wine room, from upcycled crates to glass walls and custom cabinets.
Build a Wet Bar
When you turn that under stairs storage space into a bar, every hour is happy hour! All you need for an under stairs bar is a countertop for mixing and serving drinks, cabinet space for storing spirits, and a mini fridge. Bonus points if you can hook up plumbing under your stairs for a sink.
Put Together a Coat Closet
If you have limited closet space throughout your home, the space under the stairs can be a great spot for a coat closet. All you need are a few shelves, rods, hangers, and hooks to store umbrellas, hats, scarfs, bags, and other accessories. You can even add a door to conceal the space!
Install an Under Stairs Bathroom
Another way to utilize extra space under your stairs is by adding a small bathroom! This can be a great addition to the first level of your home, especially if you entertain a lot of guests. If that's not an option, you can always go the less expensive route and create a small powder room.
Build a DIY Mudroom
Are you missing an entryway or drop zone in your home? With a small bench and storage cubbies, you can turn your staircase storage space into a small mudroom! This idea is an excellent option for storing backpacks, coats, umbrellas, and shoes.
Set Up a Custom Storage Room
The area under your stairs can be challenging to fully maximize because it's such an awkward shape. But with some creative organization and the help of storage containers, you can turn that odd area into an under stair storage room for linens, holiday decorations, sporting equipment, and seasonal clothing.
Create a Staircase Office
Instead of using that extra bedroom for a workspace, consider turning the space under the stairs into a home office. No matter the size of your space, you can create a custom under stair office area that will feel like a private workstation. Add a few shelves above your desk to store papers, files, and other office items!
Design a Linen Closet
Do you have limited closet space in your home? With a few shelves, you can turn that free space under the stairs into a linen closet to store additional sheets, blankets, and pillowcases. You can also store beach towels, washcloths, and guest towels so you don't have to sacrifice any of your bedroom closet space or bathroom cabinet space.
Make a Small Pet Room
Even our pets need a cozy space where they can hide or take a snooze. So why not turn the space under the stairs into a mini dog room or cat room where your pet can get away? All you need to create your pet room is a pet bed, pet toys, pet food dishes, and a door or gate.
Keep Bikes Out of View
Use the space under your stairs to hang up your bicycle and free up floor and wall space in your home! All you need are a few heavy duty hooks that can be held securely by your stairs. You can also put up hooks on the wall for helmets, water bottles, a tire pump, and other biking equipment you need to store.
***
Need to store items during a home renovation? Extra Space Storage has storage facilities across the U.S. that can help you get more space for your improvement project. Find a storage unit near you!
Sours: https://www.extraspace.com/blog/home-organization/diy-projects/creative-under-stairs-storage-ideas/
For under closet ideas stairs
.
Under Staircase Makeover - DEMO DAY
.
You will also like:
.
365
366
367
368
369