Try it for free!
Pushcut is a powerful automation utility free to download on the App Store.
Check out Pricing to learn about features that require a subscription.
Trigger shortcuts
Advanced, fine-tuned control of when your automation should run.
Have options
Define multiple actions and kick off shortcuts, home automation, or webhooks.
The right notification
Build notifications with the content and actions you want to see.
On your Apple Watch
Kick off powerful automation actions from your wrist.
Time & Place
Every weekday at 9 AM when I am at work - create fine-tuned triggers.
Locations & iBeacons
Leaving work, or arriving at home - get actionable notifications and trigger background actions based on your location.
Certain features will require additional setup, such as the Shortcuts app or an automation service. Not all features are available with the free plan. See Support for more information.
Unlock the full power of smart notifications, triggers, and automation actions.
Monthly: 1.99 per month
Annual: 17.99 per year
Lifetime: 37.99, single payment
* Limited to sending pre-defined notifications without dynamic content.
Prices in USD. Available as In-App purchases. Terms of Use apply.
For prices in your country's currency please refer to the App Store or the purchase dialog in the app.
© Simon Leeb 2019
Apple, the Apple logo, iPhone, iPad, and Apple Watch are trademarks of Apple Inc., registered in the U.S. and other countries.
App Store is a service mark of Apple Inc.
Shortcuts is an app produced by Apple. We are not affiliated with it in any way.
Sours: https://www.pushcut.io/
A Beginner's Guide to Shortcuts Automation on iPhone
The Shortcuts app on iOS enables you to string together multiple actions and trigger them with one tap. That's great for simplifying tasks you do manually, but there's a deeper level to the Shortcuts app—automations.
Automations are shortcuts that run automatically based on triggers and criteria that you configure. With automations, you can control your iPhone on a schedule or based on specific contexts.
Learn how to wield the power of Shortcuts automations to control your iPhone and HomeKit devices.
How Are Automations Different From Shortcuts?
Automations are shortcuts that you design to run automatically, according to schedules, context-based prompts, or other factors.
When you set up an automation, you'll build a chain of actions just like in a standard shortcut. The key difference is that you'll also choose the specific trigger that sets off the automated shortcut.
This means you can build simple or complex chains of actions—including those that change system settings and interact with third-party apps—that will run automatically, in the background.
Automations are available in the Shortcuts app in iOS 13 and later, but some triggers require later versions of iOS.
What Types of Events Can Trigger Automations?
While some personal automation triggers run actions completely in the background, others require user confirmation before continuing. When triggered, those that require confirmation will deliver a notification that you have to tap to run the automation.
These events trigger automations that run automatically:
Time of Day
Sleep (Wind Down, Bedtime, and Waking Up)
Battery Level
Charger (Connected or Disconnected)
Alarms
Open or Close App
Apple Watch Workout
NFC
Low Power Mode
Do Not Disturb
Airplane Mode
CarPlay
These events trigger automations that require confirmation:
Locations (Arrive and Leave)
Before I Commute
Email
Message
Wi-Fi
Bluetooth
Truly automatic triggers unlock some incredibly powerful automations. Unfortunately, they come with a downside—annoying iPhone notifications. Despite not requiring confirmation, automations still send a notification each time they run.
With just a few active automations, the Shortcuts app can quickly become one of the top offenders in Notification Center and Screen Time.
While requiring confirmation is a way to discourage others from installing potentially spammy or unwanted automations on your iPhone, there's certainly room for improvement in the implementation of this feature.
Automating Your HomeKit Devices
The Shortcuts app also lets you create Home Automations. These belong to a separate category of automations that control HomeKit devices and use them as triggers to control other devices.
Home automation triggers include:
People Arriving
People Leaving
Time of Day
Accessory Controlled
Sensor Detects Something (requires a HomeKit sensor)
Home automations can control HomeKit devices or trigger full shortcuts. These automations don't require user confirmation.
You can build both personal and home automations to control various aspects of your iPhone, third-party apps, and your HomeKit setup.
To show you how to get started using automations, we've created step-by-step instructions for two example automations below, one personal automation and one home automation.
Example 1. How to Set Up a Personal Automation to Activate Low Power Mode
In this simple example, you'll build an automation that activates your iPhone's Low Power Mode whenever the battery drops below 30 percent (or your desired level).
Here's how to set it up:
Open the Shortcuts app and select the Automation tab at the bottom.
Tap the blue plus icon (+) in the top-right corner.
Select Create Personal Automation.
Scroll down to the battery triggers at the bottom and tap Battery Level.
Drag the slider to set the battery level at which you'd like the automation to enable Low Power Mode—for example, 30 percent.
Choose Falls Below 30%.
Tap the blue Next button at the top.
Now, you're ready to configure the actions. If you've ever built a standard shortcut, you'll see that the automation interface is almost identical.
Tap the blue Add Action button that's centered on the screen.
Search for Set Low Power Mode and tap it in the results to add it.
Tap the blue Next button at the top.
There's one important change left to make and it's the key to allowing your automation to run in the background:
Turn off the Ask Before Running toggle.
Tap the Don't Ask option on the alert that pops up.
Tap the blue Done button.
That warning alert simply says that the automation will run without asking for confirmation.
If you're familiar with creating shortcuts, you can also create a standalone shortcut that contains the Low Power Mode action. Then, within the automation, use the Run Shortcut action to run the shortcut you've created.
The automation will behave in the same way, but you can duplicate standalone shortcuts and share them using iCloud links—two capabilities that automations lack.
More Examples of Personal Automations to Try
As another automation example, you can use the Shortcuts app to automatically change your wallpaper to match light and dark mode.
You can also set up amazing Apple Watch automations.
Example 2. How to Turn on the Air Conditioning With a Home Automation
Home automations unlock other powerful possibilities for running shortcuts and automations. In this example, you'll create an automation to turn on the air conditioning and the lights when you arrive home.
To do so, follow these steps:
In the Shortcuts app's Automation tab, tap the blue plus button (+).
Choose Create Home Automation.
Tap the People Arrive location trigger.
Choose The First Person Arrives.
Then you can tap the Info button and uncheck everyone but yourself so that the automation will only run when you are the first person who arrives home.
To choose a specific time period during which the automation should run, tap Time and choose Specific times.
Choose the start time and end time for the period your automation should be active every day.
Tap Done at the top. Then, tap Next.
Now, it's time to choose the accessories (or HomeKit scenes) you'd like to control with the automation—for example, a smart plug that controls the air conditioner and the lamp in the entrance hall.
Tap each relevant accessory or scene in the list to select it.
Tap Next.
Optionally, adjust the brightness settings and make sure the air conditioner is set to turn on.
Then, tap Done to create and enable the automation.
You can customize this type of automation to control various accessories and use different triggers, depending on your HomeKit setup.
Use Shortcuts to Unlock Powerful Automations on Your iPhone
Personal and home automations on iOS present a slew of possibilities for streamlining your iPhone and making your smart home smarter.
While the Shortcuts app is great for productivity, its range of actions can also help you improve your health and well-being, among many other aspects of your life.
ShareTweetEmail
5 Great Siri Shortcuts to Improve Your Health and Well-Being
This collection of Shortcuts for your iPhone or iPad will help improve your well-being for a healthier life.
Read Next
About The Author
Tom Twardzik (33 Articles Published)
Tom writes about tech and how to make the most of it. You'll also find him covering music, movies, travel, and a variety of niches across the web. When he's not online, he's building iOS apps and claims to be writing a novel.
More From Tom Twardzik
Subscribe to our newsletter
Join our newsletter for tech tips, reviews, free ebooks, and exclusive deals!
Click here to subscribe
Sours: https://www.makeuseof.com/beginners-guide-shortcuts-automation-iphone/
Enable or disable a personal automation in Shortcuts on iPhone or iPad
Some personal automations can run without asking you for confirmation when they're triggered.
In the Shortcuts app on your iOS or iPadOS device, tap Automation .

Tap the automation you want to run automatically.

Turn off Ask Before Running.

Tap Done.

The automation will not notify you when it's triggered.
The following automations can be run automatically:
Time of Day

Alarm

Sleep

CarPlay

Apple Watch Workout

NFC

App

Airplane Mode

Do Not Disturb

Low Power Mode

Battery Level

Charger
Note: You also may need to set individual actions to run automatically.
The following automations cannot be run automatically:
Arrive

Leave

Before I Commute

Email

Message

Wi-Fi

Bluetooth
Sours: https://support.apple.com/guide/shortcuts/enable-or-disable-a-personal-automation-apd602971e63/ios
iOS 14 Feature - Siri Shortcut Automation - Battery Percentage!
Use automations in Home on iPhone
When arriving at or leaving a location: Tap People Arrive or People Leave. Choose when the automation is activated by people arriving or leaving, the location, and the time the automation works.
At a time of day: Tap A Time of Day Occurs, then choose when you want this automation to run.
If you choose Sunset or Sunrise, times vary as the season changes.
You can also set an automation to only occur after sunset, which is useful for turning on lights just when they're needed.
When an accessory changes: Tap An Accessory is Controlled, select an accessory, tap Next, then follow the onscreen instructions.
You might use this, for example, to run a scene when you unlock the front door.
A sensor detects something: If you've added a sensor to Home, tap A Sensor Detects Something, select an accessory, tap Next, then follow the onscreen instructions.
You might use this, for example, to turn on lights in a stairway when motion is detected nearby.
Sours: https://support.apple.com/guide/iphone/create-an-automation-iph6d50ec543/ios
Iphone automation settings
Apple's Shortcuts app has been integrated directly into iOS 13 and iPadOS 13. After years of consistent improvements, you can now create trigger-free, notification-based automations on your iPhone and iPad.
How Automations Work on iPhone and iPad
Apple introduced the Shortcuts app in iOS 12. Before that, the app was sold on the App Store as Workflow.
You can ask Siri to initiate a shortcut (a predefined set of actions) or press a button on your iPhone or iPad to do it. Now, a shortcut can fire off automatically based on given parameters. It can even happen in the background and use certain external triggers, like NFC. The Shortcuts Automations feature is available on devices that run iOS 13.1 or iPadOS 13.1 and above.
However, not all shortcut automations are automatic.
By default, the automation shows a notification in which you can trigger the shortcut after you tap "Run." Some shortcuts based on direct physical manipulation with the iPhone or iPad do run automatically (more on this below).
RELATED:What Are iPhone Shortcuts and How Do I Use Them?
How to Create an Event Automation on iPhone or iPad
You can create two kinds of Automations on your iPhone or iPad: Personal and Home. Personal automations are related to your iOS and iPadOS device. The Home automations are related to your HomeKit devices.
In this article, we focus on the Personal automations on your iPhone and iPad. Let's take a look at the actions you can trigger.
Events
Time of Day: You can trigger this at any time of day, at sunrise, or sunset.
Alarm: This shortcut runs when an alarm is stopped or snoozed.
Apple Watch Workouts: This can be triggered when a workout on your Apple Watch starts, pauses, or ends.
Travel
Arrive: A location-based trigger that activates when you arrive at a certain location.
Leave: A trigger for when you leave a certain location.
Before I Commute: This action tries to predict when you usually leave for work or home and triggers the shortcut at the given time, or up to an hour before you leave.
CarPlay: A shortcut is triggered when you connect or disconnect from CarPlay.
Settings
Airplane Mode, Wi-Fi, Bluetooth, Do Not Disturb, Low Power Mode: This shortcut triggers when you turn these settings on or off.
NFC: With this trigger, you can tap your iPhone on an NFC sticker and run a shortcut. Modern iPhones (iPhone XS, XS Max, 11, 11 Pro, and 11 Pro Max) can run NFC shortcuts in the background.
Open App: This trigger runs a shortcut when you open any app.
Let's walk through an example. Say you want to create a shortcut that plays soothing music when you open the Twitter app. Open the Shortcuts app, and then tap "Automation" in the bottom toolbar.
Next, tap the plus sign (+) at the top. If this is the first time you've used the Automations feature, you can skip this step.
Here, tap "Create Personal Automation."
You see the list of actions we outlined above. Scroll to the bottom of the screen and tap "Open App."
Tap "Choose" in the "App" section. Search for, and then select the app. Tap "Done" to return to the previous screen, and then tap "Next."
Now, tap "Add Action." You can scroll through suggested actions or explore actions based on apps and categories.
The best way to find an action is to search for it. Tap "Search" at the top, and then type "Play Music."
In the "Actions" section, tap "Play Music."
On the next screen, tap "Music."
Tap the "Search" bar to find a playlist or song, or browse your library.
Browse through the list, and then tap a song or playlist to see the detailed view.
Once you find the playlist or song you want, tap the plus sign (+) to select it.
Tap "Next."
You now see the details of the automation broken into "When" and "Do" sections. As this option supports background triggers, you can toggle-On the "Ask Before Running" feature.
When you're satisfied with the Automation, tap "Done."
Now, when you open the Twitter app, the playlist or song you selected will play. If you didn't enable the background trigger feature, you see a notification; tap "Run" to start the shortcut.
How to Run an Automation in the Background
You can enable most automations to work in the background. These are usually actions you control or that are a direct result of an action you perform on your iPhone or iPad.
The following types of actions support the background trigger feature (you still receive notifications about them): Alarm, Apple Watch Workouts, CarPlay, Airplane Mode, Do Not Disturb, Low Power Mode, NFC, and Open App.
If you set up Home-based automations, the following actions work in background: A Time of Day Occurs, People Arrive, People Leave, and An Accessory is Controlled. You have to enable this feature individually for every shortcut that supports it.
Select the shortcut from the Automations tab, and then toggle-On the "Ask Before Running" feature.
From the popup, tap "Don't Ask."
Now, when the shortcut is triggered, you'll see a notification that says, "Running your automation."
How to Create an NFC-Based Automation
You can use any empty NFC tag as a trigger for a shortcut. The Shortcuts app doesn't write any data to the tag; it simply uses it as a trigger.
Newer iPhones (iPhone XS, XR, XS Max, 11, 11 Pro, 11 Pro Max, and newer) can use NFC tags to trigger actions even when the Shortcuts app isn't in the foreground.
Open the Shortcuts app, and then go to the "Automations" tab. Tap the plus sign (+), tap "Create Personal Automation," and then tap "NFC" in the list.
Note that if this is the first time you've used the Automations feature, you don't have to tap the plus sign (+).
Tap "Scan" next to the "NFC Tag" option.
Hold the NFC tag near the top of your iPhone to scan it.
After you scan it, name the NFC tag, and then tap "Done."
You're returned to the "New Automation" screen; tap "Next."
In the "Actions" screen, tap "Add Action."
Here, you can browse through the suggested actions or search for one in particular. Tap an action to select it. In this example, we've selected a "Send Message" action.
In the "Actions" editor, you can configure the action parameters, like the message text. When you're finished, tap "Next."
In the "New Automation" overview screen, make sure you toggle-On "Ask Before Running."
In the popup, tap "Don't Ask" to enable an automatic background trigger feature.
Now, simply hold your iPhone close to the NFC tag or tap the top part of your iPhone on an NFC sticker to run the shortcut.
The Automations feature in Shortcuts is just one of the many new and awesome features in iOS 13. After you upgrade, you might also want to try enabling the dark mode.
RELATED:The Best New Features in iOS 13, Available Now
Sours: https://www.howtogeek.com/442760/how-to-create-automations-on-an-iphone-or-ipad/
iOS 14 Feature - Siri Shortcut Automation - Battery Percentage!
Use iOS Shortcuts to automate tasks on your iPhone or iPad
How To
Posted on November 6th, 2018 by Kirk McElhearn
One of the new features of iOS 12 that hasn't gotten much attention is shortcuts. Shortcuts are automation routines that you can run on your iPhone or iPad, making complex tasks as easy as tapping a button or giving a command to Siri. Shortcuts aren't that simple to create, but you can find many pre-made shortcuts and use them as is or adapt them to your needs. Here's a primer on using shortcuts for iOS.
What are shortcuts?
One reason why many iOS users don't know about shortcuts is because the Shortcuts app is not part of iOS; you have to download it manually from the App Store. Once you have done this, tap the app icon and check it out. You'll see two sections: Library and Gallery. The Library section holds shortcuts that are present by default to get you started and any others that you download. The Gallery section is a sort of App Store for shortcuts that show you a number of tasks and categories that you can use and allow you to download shortcuts.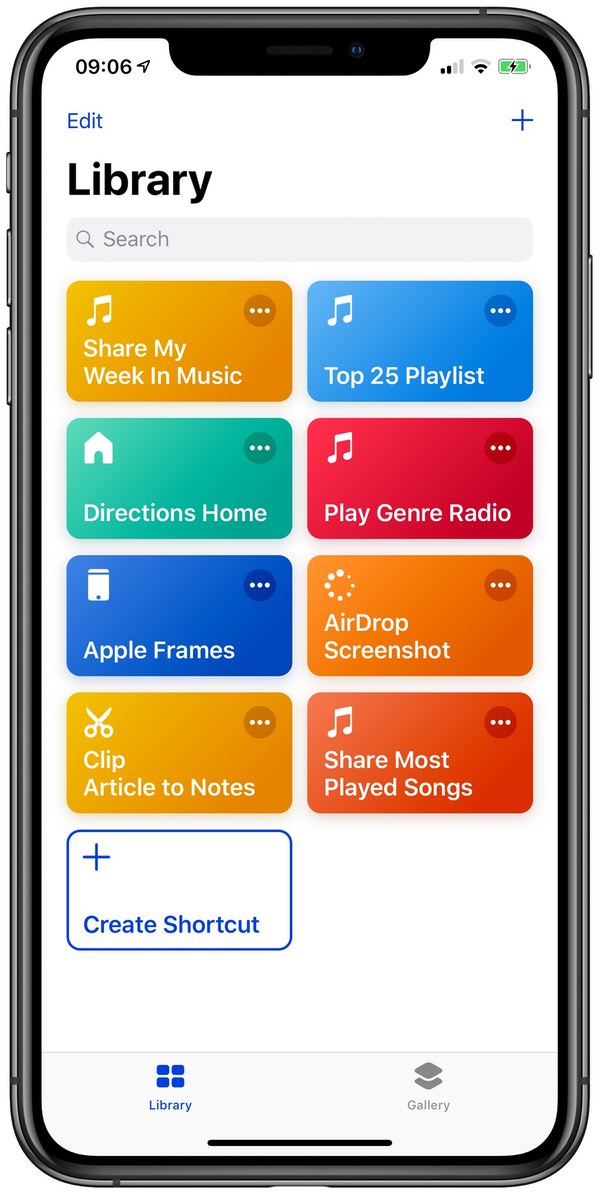 The above screenshot shows the shortcuts in my library. You'll see one called Apple Frames; I used that to create an iPhone frame around the screenshot. This shortcut is quite complex; it takes any screenshot, whether from an iPhone, iPad, or Mac, and, according to its size, puts a frame around it for the type of device where it was shot.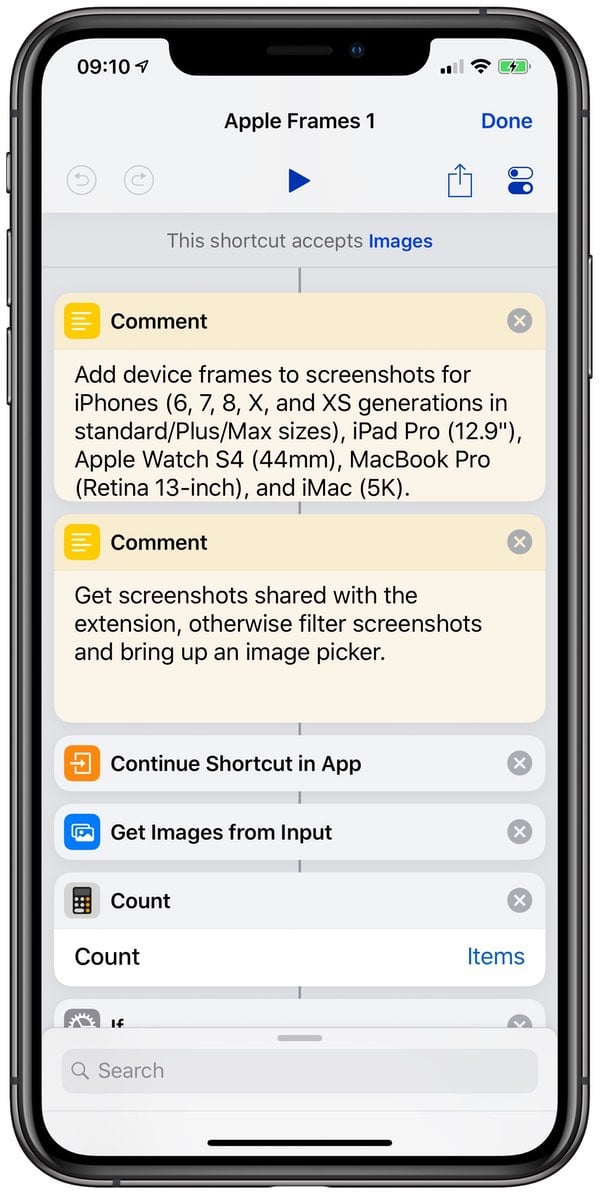 I did not create this shortcut myself; I downloaded it from the MacStories Shortcuts Archive, which is full of useful and sometimes complex shortcuts.
How do shortcuts work?
If you're familiar with AppleScript or Automator on the Mac, you will understand how shortcuts work. (Learn about Automator in this article and this article on the Intego Mac Security Blog.) Shortcuts can do many of the things that these other tools can do, but since they run on iOS, they offer many other possibilities. Your iPhone knows your location, for example, and can run shortcuts based on where you are. You can use Siri to launch shortcuts making them easy to use at any time.
Let's face it; shortcuts look daunting. That Apple Frames shortcut has more than 100 actions (an action is one step in the automation routine) and it fetches data from a web server to provide the frames it uses.
But there are plenty of simpler shortcuts in the Gallery. For example, in my first screenshot above, you see Directions Home. I tap this and Apple Maps opens showing how I can get home. Or Play Genre Radio; if I tap this, it asks which genre I want to listen to and then starts a radio station on Apple Music. Clip Article to Notes takes a URL that you have copied to the clipboard on your iOS device, copies the text of the article, and adds that article, its link and the date to Apple Notes.
How do I add shortcuts?
Browse the Gallery and find a useful shortcut. There are sections like Great Shortcuts for Siri, Essentials, Morning Routine, Apple Music and more. Tap a shortcut in the Gallery and you'll see what it does and which apps and services it works with.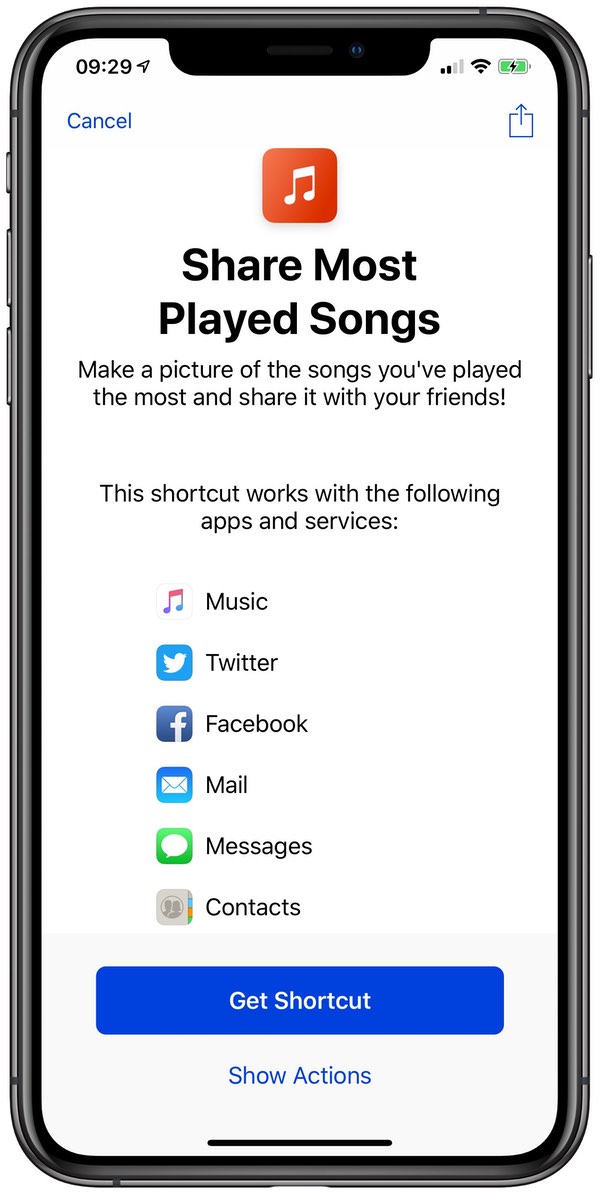 Tap Get Shortcut and it is added to your library. When you add shortcuts to your library, they sync across your devices via iCloud. If you want to know more about how a shortcut works, tap Show Actions. What you see below is just the beginning of the shortcut's actions; scroll down to see that there are dozens of actions with embedded if-then statements and more.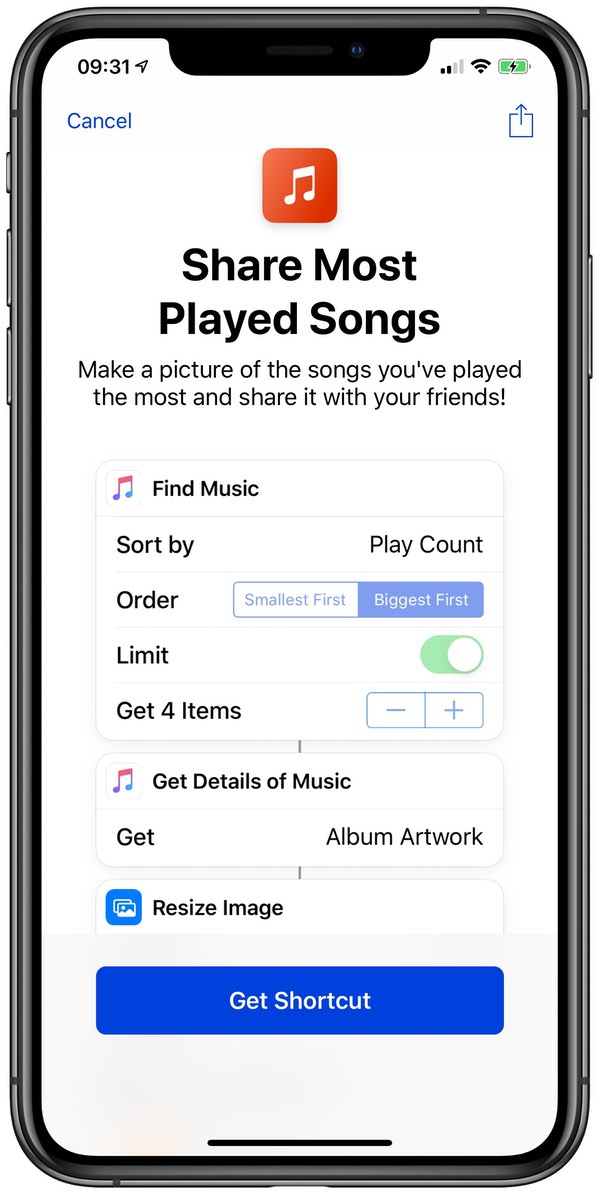 Looking at existing shortcuts is a good way to find out how to create your own, but I don't expect most people will want to do this. This is programming and you need some basics in how programs are created to do more than just the simplest tasks. Apple has some guidance in its Shortcuts User Guide, but I don't think they expect most people to create their own. Use the Gallery or MacStories Shortcuts Archive to find useful shortcuts. Many shortcuts in both locations depend on specific third-party apps such as OmniFocus, Evernote, etc., and if you use those apps you may find them useful.
Shortcuts are a very useful new feature in iOS and you should check them out. Unless you're already familiar with coding – or scripting with AppleScript or Automator – you probably won't make your own. But the presence of the Gallery and other archives means that you may find some nifty ways to save time through automation.
How can I learn more?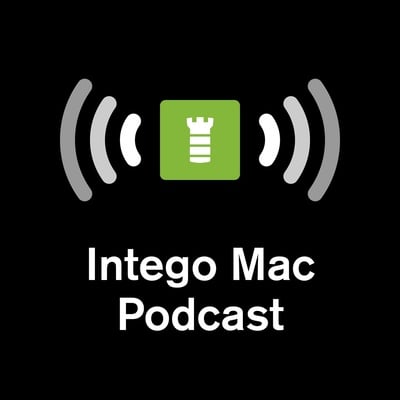 Each week on the Intego Mac Podcast, Intego's Mac security experts discuss the latest Apple news, security and privacy stories, and offer practical advice on getting the most out of your Apple devices. Be sure to follow the podcast to make sure you don't miss any episodes.
You can also subscribe to our e-mail newsletter and keep an eye here on Mac Security Blog for the latest Apple security and privacy news. And don't forget to follow Intego on your favorite social media channels: Facebook, Instagram, Twitter, and YouTube.
About Kirk McElhearn
Kirk McElhearn
writes about Apple products and more on his blog Kirkville. He is co-host of the Intego Mac Podcast, as well as several other podcasts, and is a regular contributor to The Mac Security Blog, TidBITS, and several other websites and publications. Kirk has written more than two dozen books, including Take Control books about Apple's media apps, Scrivener, and LaunchBar. Follow him on Twitter at @mcelhearn. View all posts by Kirk McElhearn → This entry was posted in How To and tagged iOS, iOS 12, iOS shortcuts. Bookmark the permalink.
Sours: https://www.intego.com/mac-security-blog/use-ios-shortcuts-to-automate-tasks-on-your-iphone-or-ipad/
You will also be interested:
.
376
377
378
379
380