Screenshots
Description
Take the Bible with you wherever you go. The Bible Gateway App is the OFFICIAL and FREE mobile Bible reading and learning experience from BibleGateway.com.

The Bible Gateway App makes it easy to read, hear, study, and understand the Bible. Features include:

• Read more than 90 different Bible translations, including the NIV, KJV, ESV, NKJV, HCSB, NASB, CEB, The Message (MSG), Amplified Bible (AMP), and many more.
• Listen to over 20 audio Bibles, including English, Spanish, Arabic, Thai, and other languages.
• Search quickly and easily for any verse, passage, or keyword.
• Learn more about any Bible passage with a library of trustworthy Bible commentaries and other references.
• Take personal notes, highlight Bible text, and star your favorite verses.
• Study Scripture at any time—even late at night—with night mode toggle.
• Enjoy a daily Verse of the Day in the translation of your choice.
• Follow one of many different Bible reading plans, including the Bible in 90 Days reading challenge and the Bible in Chronological or Historical order.
• Share your favorite Bible verses with your friends and family on Facebook and Twitter.
• For iPad users, view up to three different translations side-by-side.
• Upgrade to the ultimate Bible learning experience with a free 30-day trial of Bible Gateway Plus. Plus members enjoy access to their expanded study library of over 40 Bible study titles, including notes from the NIV Study Bible and the MacArthur Study Bible.

Bible Gateway is committed to making the Bible available to everyone, wherever they are. To begin exploring and understanding the Bible yourself, install the free App.

In subscribing to Bible Gateway Plus for $3.99 USD per month or $39.99 USD per year, you will have access to more than 40 titles, including best-selling Bible Study resources, including notes from the NIV Study Bible and NKJV MacArthur Study Bible.

When subscribing, you will be charged via your iTunes account, and confirmation of your purchase can be found there. Your subscription will be charged to your iTunes account at confirmation of purchase and will automatically renew monthly on the monthly plan or yearly on the yearly plan. If you would like to cancel renewal, you will need to turn off auto-renew at least 24 hours before the end of your current period. Your iTunes account will be charged for renewal within 24 hours prior to the end of the current period. Renewal prices are $3.99 for the monthly plan and $39.99 for the yearly plan.

Visit your iTunes Account Settings after purchase to manage your subscription and turn off auto-renewal. Please note that any cancellations made before the end of a free trial or subscription period will forfeit any unused portion of the period.

Bible Gateway's Terms of Use are available at https://www.biblegateway.com/legal/terms/?interface=print
This release fixes a bug with deep linking.
Ratings and Reviews
This is a GREAT app But
I love this app A LOT actually but something went wrong with it recently and now I can't use it. So I had to uninstall it 😔 I loved the fact that I could just put in the search bar just one word in a verse and it pulls up all the verses with that one word in it ANd it tells me how many verses has that word in it also. It give the whole Bible in over 25 different versions I can switch when I wanted I can have it in a diff language it also gives verse of the day and saved all my favorite verses in one area I got to highlight my favorite verses AND share them without it being sent all boggled where ppl had to download the app just to see it. SO I did really love the app BUT now it started to mess up now when I went to certain passages it would bring it up in the search but wouldn't actually bring it up in the Bible part I couldn't go to a certain book in the Bible anymore either. So I feel like I just lost all my data I was saving in all that I was studying in the app now! Ugh that's SO frustrating too. But please fix maybe I'll try it again later.
Needs Improvement
Have the developers actually tried using the app and searching in various languages/translations and switching between them? It's very cumbersome and somewhat of a pain to do. There are so many steps involved, and the process is glitchy, especially with the search feature. The language/translation doesn't change in the search feature, and then sometimes if you click on a result, expecting it to take you to the verse, it doesn't do anything. Navigating is a pain, and the chapters always scroll back up to the top after you go to a passage and try to scroll down. It's difficult to get to the verse you want to navigate to without having to go through extra, unnecessary steps and repeating steps because of glitches. Please test the app and stomp the bugs! Thanks!

Still needs a "Favorites" option for Bible versions!!! I am constantly switching between Hebrew, Greek, and English versions in my studies. It would be so much more convenient to use the app if I could save these Bibles to my "Favorites." It is really a pain having to go through the process of selecting the same Bibles over and over—and over—again. This should have been fixed several iterations ago...
New version does not allow scrolling ahead or back on daily read
I still think this is the best app out there, it includes many features and versions like NIV, which others don't include. I like the ability to save my notes and verses that are meaningful, and the fact that I can choose many features without signing up for emails. However, I have a few suggestions:

The book and verse scroll is not quick enough if your using it to keep up with a speaker. I'm still scrolling when others have quickly found the verse in a hard copy. A quick choice option for the verse and book choice would be better.

Also they changed the Daily Bible reading so you can't scroll back a chapter or forward to the next chapter to keep reading without going out or in from the Daily Reading section. It's cumbersome, and stops the flow of study. It should be easier to delve deeper in a your Bible Study. I don't know why they would have changed that feature, as it was not an improvement.
The developer, HarperCollins Christian Publishing, Inc., has not provided details about its privacy practices and handling of data to Apple. For more information, see the developer's privacy policy.
No Details Provided
The developer will be required to provide privacy details when they submit their next app update.
Information
Seller

HarperCollins Christian Publishing, Inc.

Size

41.8 MB

Category

Reference

Compatibility

iPhone

Requires iOS 11.0 or later.

iPad

Requires iPadOS 11.0 or later.

iPod touch

Requires iOS 11.0 or later.

Age Rating

4+

Copyright

© Bible Gateway 2018

Price

Free

In-App Purchases

Bible Gateway Plus Monthly$3.99
Bible Gateway Plus Yearly$39.99
Supports
Family Sharing

With Family Sharing set up, up to six family members can use this app.
More By This Developer
You Might Also Like
Sours: https://apps.apple.com/us/app/bible-gateway/id506512797
Bible Gateway
The Bible Gateway App is the official and free Bible reading, listening, and learning experience from BibleGateway.com (https://www.biblegateway.com).

The Bible Gateway App makes it easy to read, hear, study, and understand the Bible. With the Bible Gateway App, you can:

• Read more than 90 different Bible translations, including the NIV, KJV, ESV, NKJV, NLT, NASB, and The Message.
• Listen to over 20 audio Bibles, including English, Spanish, Arabic, Thai, and other translations.
• Quickly and easily search the Bible for a verse, passage, or keyword.
• Enjoy a daily Bible Verse of the Day in the translation of your choice.
• Follow one of many different Bible reading plans to journey through God's Word.
• Learn more about any Bible passage with a library of trustworthy Bible commentaries and other references.
• Take personal notes, highlight Bible text, and bookmark your favorite verses.
• Share Bible verses with your friends and family on Facebook and Twitter.
• Upgrade to the ultimate Bible learning experience with a free 30-day trial of Bible Gateway Plus. Plus members enjoy access to their expanded study library in the App.

Bible Gateway is committed to making the Bible available to everyone. To begin exploring and understanding the Bible yourself, install the free App or visit BibleGateway.com (https://www.biblegateway.com).
Sours: https://play.google.com/
Access Your Bible from Anywhere
Verse of the Day
I desire to do your will, my God; your law is within my heart."
Read Full Chapter
Receive your daily verse by email
By submitting your email address, you understand that you will receive email communications from Bible Gateway, a division of The Zondervan Corporation, 3900 Sparks Drive SE, Grand Rapids, MI 49546 USA, including commercial communications and messages from partners of Bible Gateway. You may unsubscribe from Bible Gateway's emails at any time. If you have any questions, please review our Privacy Policy or email us at [email protected]
Create Your Free Account
Save and sync notes, activate reading plans and more with a FREE personal account.
Log In
Become a Member
Join thousands of your peers and explore our reference library. Access notes, maps, language tools, and more!
Try it Free
Free Devotionals for Your Kids
Teach your 6-10-year-olds about the Bible with these fun, engaging, and educational free activities!
Learn More
Read Our Blog
Daily Bible-focused news, articles, interviews, and insights.
Read it Now
Trust the Bible
Looking for reasons to put your confidence in Scripture?
Sign Up
Create notes, track progress, sync content across devices, and more.


Sours: https://www.biblegateway.com/
How to Use the Bible Online! Bible Gateway
Do not fear.
It's a charge that extends back to the earliest parts of Scripture, gets repeated from the lips of Jesus, and resonates the modern world. It's also the message of the most popular Bible verse of 2018 on YouVersion, the world's most-downloaded Bible app.
"So do not fear, for I am with you; do not be dismayed, for I am your God," reads the year's top verse, Isaiah 41:10. "I will strengthen you and help you; I will uphold you with my righteous right hand."
That exhortation from the Old Testament prophet Isaiah was shared, bookmarked, and highlighted more than any other passage by hundreds of millions of YouVersion users.
The year's top honor at Bible Gateway comes from another Old Testament prophet. The most-read verse on the Bible website was the familiar Jeremiah 29:11: "'For I know the plans I have for you,' declares the Lord, 'plans to prosper you and not to harm you, plans to give you hope and a future.'"
On the leading Bible website, either Jeremiah 29:11 or John 3:16 have topped the annual list every year. (The oft-quoted line from Jeremiah has come to be considered one of the most frequently misinterpreted Bible verses.)
The rest of Bible Gateway's top 10 come from Psalm 23 (verses 1, 4, 6, and 6), Romans (Romans 8:28 and Romans 12:2), and Matthew (6:33).
YouVersion's top verse, Isaiah 41:10, ranked thirteenth on Bible Gateway. Bible Gateway's top verse, Jeremiah 29:11, also spiked to No. 1 in several countries worldwide, according to the YouVersion data.
The two Bible platforms' lists end up being pretty different from one another each year, evidence that users tend to look up different verses online than they highlight or share during their study time on an app.
This year, Bible Gateway ranked popular verses based on 920 million searches across versions of the site. YouVersion's picks stem from more than 1.7 billion highlights, bookmarks, and notes on more than 350 million devices.
Previously, YouVersion's verse of the year award has gone to Joshua 1:9 (2017), Romans 8:28 (2016), and Proverbs 3:5–6 (2015). This year marks a shift to a prophet, but continues the theme of biblical reassurance to digital readers.
"This year's data shows people worldwide are continuing to turn to the Bible in search of comfort, encouragement, and hope," said Bobby Gruenewald, pastor and innovation leader for Life.Church and YouVersion founder.
While Isaiah 41:10 was the app's most popular verse overall in 2018—and the top pick in the United States, France, Italy, the Netherlands, and Spain—several others were ranked as No. 1 in various countries.
Joshua 1:9, the global favorite in 2017, remained the most popular verse in the Central and South American countries of Argentina, Brazil, Colombia, and Mexico. John 3:16 took the lead spot in Bangladesh, Nepal, and Turkey. 1 Peter 5:7 topped the list in Egypt, India, and Iraq, and Matthew 6:33 was most popular in Thailand and Vietnam.
Not only was Jeremiah 29:11 the most popular verse of the year on Bible Gateway, it also claimed the YouVersion top spot in countries in the developed West (Australia, Canada, Japan, and the United Kingdom) and the Global South (Ghana, Indonesia, Nigeria, the Philippines, and the United Arab Emirates), spanning demographics in a way that other verses didn't.
At Bible Gateway, top searches for passages included Psalm 91, Psalm 23, Genesis 1, Romans 8, and Matthew 6. Its leading keyword searches of the year were "love," "peace," and "faith," respectively ("amor," which means love, was the top keyword in Spanish, too). "Holy spirit," was the eighth-most searched word, "forgive" ranked 15th, and "truth" came in as the 19th most commonly searched term.
And with the help of an emoji-based search on YouVersion's Bible App, which allows users to tap images corresponding to various emotions, individuals conducted more than 18 million searches to find what the Bible might say to them in the midst of their emotional highs and lows.
YouVersion celebrated the 10-year anniversary of the app in July. In the decade since it originated as one of the Apple App Store's first 200 applications, the Bible App has grown to include more than 1,800 versions of the Bible in more than 1,250 languages. Across the globe, via the Bible App, 27.2 billion Bible chapters were read in 2018; there were 4.2 billion audio chapter listens; more than 400 million verses were shared; and nearly a billion days of Bible plan readings were completed.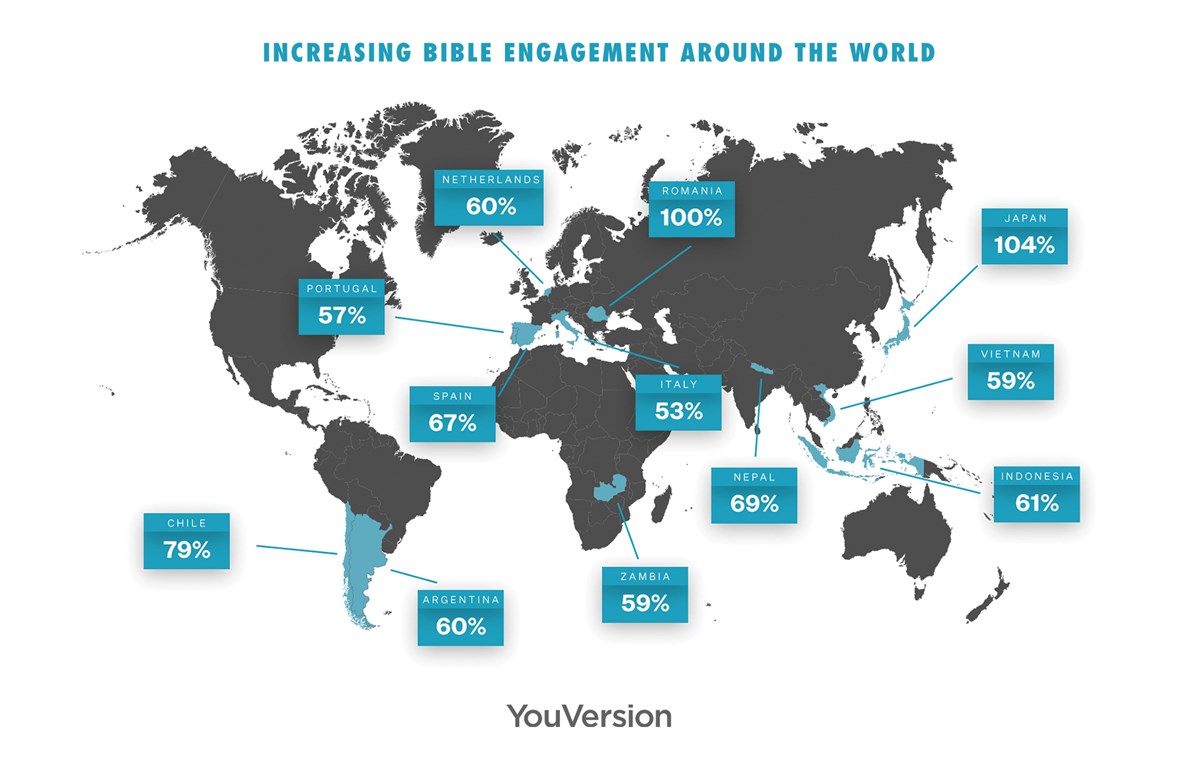 Engagement with God's Word rose across continents. In Asia, Japan led the way in increased use of the Bible App, doubling over 2017, largely due to the addition of a new Japanese translation of the Bible within the app. Nepal (69%), Indonesia (61%), and Vietnam (59%) also saw big boosts in digital Bible engagement.
European countries like Romania, Spain, the Netherlands, Portugal, and Italy amplified their use of the leading Bible application, with increases of 100 percent, 67 percent, 60 percent, 57 percent, and 53 percent, respectively. South American countries also contributed to rising overall engagement, with use in Chile increasing by 79 percent and in Argentina by 60 percent.
"Many of us grew up with the ability to read the Bible in our heart language, but countless people around the world don't have that privilege. That's why we're passionate about making the Bible available in more languages through the app," said Gruenewald.
Overall Bible engagement on the YouVersion platform reached a new pinnacle this year, featuring a 27 percent year-over-year increase in daily use from 2017. The group's Bible App for Kids, which launched in 2013 and is now available in 42 languages, saw an increase of 55 percent in installations in the last year, reaching 27 million devices worldwide.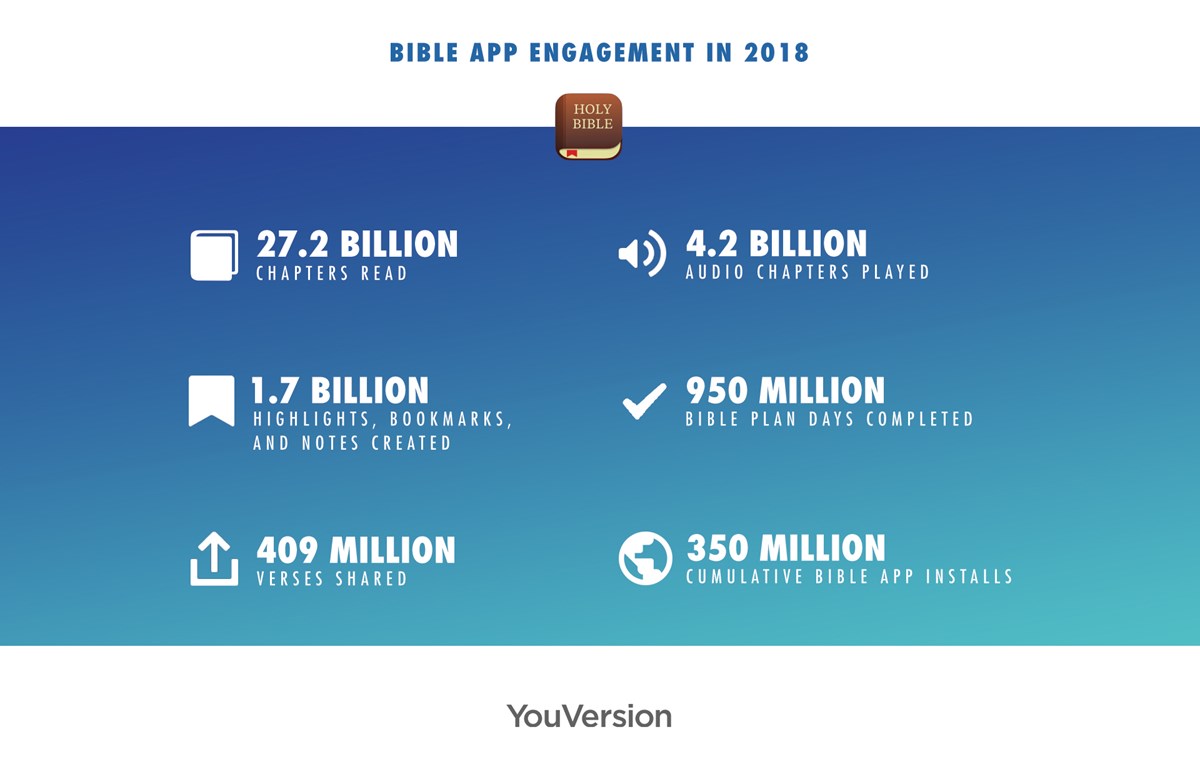 "This generation is on pace to become the most Bible-engaged generation ever, and we believe the Church should keep investing in new technologies to help adults and children connect with the Bible," said Gruenewald. "We're honored to be a part of how God is reaching people around the globe through his Word, and we're eager to see how Bible-engaged people make a difference in this world for decades to come.
Bible Gateway celebrated its 25th anniversary this year. The popular Bible directory is and "the Internet's most visited Christian website," according to HarperCollins Christian Publishing. Though most of its users continue to access the site via desktop (followed by mobile and table), Bible Gateway launched a new Bible Audio App this year.
The site has become popular among millennials and younger generations, with more users aged 25-34 accessing Bible Gateway than any other age group. The site reports that 44 percent of users come from outside the US, and 2018 saw visitors from over 240 countries and territories.
Top Bible Verses of 2018
| | | | |
| --- | --- | --- | --- |
| Citation | Verse | Countries where it ranks No. 1 on YouVersion | Overall ranking on Bible Gateway |
| Jeremiah 29:11 | "For I know the plans I have for you," declares the LORD, "plans to prosper you and not to harm you, plans to give you hope and a future." | Australia, Canada, Ghana, Indonesia, Japan, Nigeria, Philippines, Singapore, United Arab Emirates, United Kingdom | 1 |
| Isaiah 41:10 | So do not fear, for I am with you; do not be dismayed, for I am your God. I will strengthen you and help you; I will uphold you with my righteous right hand. | Chile, France, Italy, Netherlands, Peru, South Africa, Spain, United States | 3 |
| Joshua 1:9 | Have I not commanded you? Be strong and courageous. Do not be afraid; do not be discouraged, for the LORD your God will be with you wherever you go. | Argentina, Brazil, Colombia, Germany, Mexico | 15 |
| John 3:16 | For God so loved the world that he gave his one and only Son, that whoever believes in him shall not perish but have eternal life. | Bangladesh, Nepal, Turkey | 2 |
| 1 Peter 5:7 | Cast all your anxiety on him because he cares for you. | Egypt, India, Iraq | 40 |
| Proverbs 4:23 | Above all else, guard your heart, for everything you do flows from it. | China, Russia | 71 |
| Matthew 6:33 | But seek first his kingdom and his righteousness, and all these things will be given to you as well. | Thailand, Vietnam | 10 |
| Romans 8:28 | And we know that in all things God works for the good of those who love him, who have been called according to his purpose. | Ukraine | 4 |
| Proverbs 16:9 | In their hearts humans plan their course, but the Lord establishes their steps. | Korea | Not in top 100 |
Sours: https://www.christianitytoday.com/news/2018/december/most-popular-bible-verse-2018-youversion-app-bible-gateway.html
Gate bible
BibleGateway.com
Website for reading the Bible
Current logo for BibleGateway.com

Screenshot of BibleGateway.com homescreen

Available in
72 languages
Owner
Gospel Communications(1995-2008)
Zondervan(2008)
Created by
Nick Hengeveld
URL
biblegateway.com
Commercial
Yes
Registration
Optional
Launched
1993; 28 years ago (1993)
Current status
Online
BibleGateway.com is a website designed to allow easy reading, listening, studying, searching, and sharing of the Bible in many different versions and translations, including English, French, Spanish, and other languages (see below). Its mission statement is "To honor Christ by equipping people to read and understand the Bible, wherever they are". The website is free for anyone to use, but also offers Bible Gateway Plus, a membership program with enhanced services. It is currently owned by Zondervan.[1]
Bible Gateway's engagement features include the ability to display a single bible verse in all English bible translations, the ability to display and compare up to five Bible translations side by side at once; its daily Blog; more than 60 email devotions, Bible reading plans, and verses-of-the-day; an award-winning free mobile app; audio Bibles; video interviews; Bible reference books; shareable widgets; advanced search tools; Bible Gateway Blogger Grid; retail store; and Bible Gateway Deals discount program. Bible Gateway's online bookstore offers more than 500,000 Christian resources. It is an affiliate of Christianbook.com.[2]
History[edit]
Started by Nick Hengeveld in 1993[3] at Calvin College, Bible Gateway was initially planned as a static HTML presentation of the Bible.[4] In 1995, the site moved to the new Gospel Communications Network (a part of Gospel Communications International). The Bible Gateway website was originally written as a CGI script in Perl. Later versions were written in C++, PHP and Ruby.
Bible Gateway gradually expanded its database by acquiring the rights to more English and foreign language translations, including translations published by International Bible Society, The Lockman Foundation and Wycliffe Global Alliance.
In late 2008, Zondervan (the Evangelical Christian publisher of the NIV and TNIV Bible and a wholly owned subsidiary of HarperCollins) acquired Bible Gateway from Gospel Communications.[5] The sale of the site came after two years of continued financial difficulties on the part of the donation-driven GospelCom ministry.[6]
In June 2009, Joseph Park was hired as president of BibleGateway.com.[7] Park was co-founder and former CEO of Kozmo.com,[8] which was the subject of the documentary film e-Dreams. He was also co-founder and former CEO of Askville, owned by Amazon.com and closed in 2013.
In May 2009, Rachel Barach replaced Park (who became Senior Vice President of Consumer Products at parent company HarperCollins Digital, Consumer) as General Manager of Bible Gateway.[9]
References[edit]
External links[edit]
Sours: https://en.wikipedia.org/wiki/BibleGateway.com
Holy Bible Audio: PROVERBS 1 to 31 - With Text (Contemporary English)
.
You will also like:
.
41
42
43
44
45