Top 15 Live Cyber Attack Maps for Visualizing Digital Threat Incidents
Recently, Broimum has conducted a study that shows how digital crime revenue has grown to 1.5 trillion dollars annually in illicit profits. GitHub, EA , and many other popular websites now face larger, hi-tech attacks every day, all while falling victim to the growing trend of cybercrime.
Frantic internet users are asking questions like, Who is behind the attacks?
Where are these attacks coming from? What's the top attacker host? These questions can be answered by exploring the logs, then performing lookups for all available information.
What is a DDoS Attack?
First, we must define the meaning of a DDoS attack. DDoS attacks are a main concern in internet security, and many people misunderstand what exactly they are.
A Distributed Denial of Service (DDoS) attack is a malicious attempt to upset typical internet traffic of a targeted server by overwhelming it with traffic from multiple sources. DDoS attacks target a plethora of important resources, from banks to news websites, and present a major challenge to making sure Internet users can publish and access important information. A DDoS attack is similar to a traffic jam on a highway, preventing typical traffic flow.
How does a DDoS attack work?
A DDoS attack requires the attacker to gain control of a network of online machines. Computers are infected with malware, turning them into a bot. Then, the attacker has control over the group of bots, now called a botnet.
Once a botnet is established, the attacker will send instructions to each bot from a remote control. Once the IP address is targeted, each bot will respond by sending requests to the target, causing the server to overflow, which will result in a DDoS attack.
How can you combat DDoS attacks?
If you are facing an isolated low- to mid-size Distributed Denial of Service (DDoS) attack, you can explore these logs and find the information you need to protect yourself from these attacks. However, with larger attacks, manual lookups are time consuming and ineffective. That's why there need to be other plans in place to fight cyber-attacks.
However, if you are not experiencing a DDoS attack, and you just want to learn about top digital attack information from cybersecurity incidents around the world, where would you look? You can try internet service provider (ISP)'s stats or check out anti-DDOS providers, or you can see what's happening right now by looking at digital attack maps.
To see how cybersecurity works globally, you can observe cyber-attacks and how malicious packets interact between countries. We are going to share with you the top cyber-attack maps that you can watch in order to visualize digital threat incidents.
Global Cyber Attacks Today
Today, cyber-attacks can affect anyone, but some of them are designed to leave global damage. A cyber-attack is any type of internet attack designed by individuals or entire organizations that targets computer information systems, networks, or infrastructures. When they appear, they come from a seemingly anonymous source that will attempt to destroy its victim through hacking into its system.
There have been many, many worldwide cyber-attacks, and some are happening right now. The latest statistics say that security breaches have increased by 11% since 2018 and 67% since 2014. In fact, hackers attack every 39 seconds, so on average, 2,244 times a day.
What is a Cyber Attack Map?
Cyber-attack maps are valuable tools that give information on how to stay ahead of attacks. A cyber-attack map shows how the Internet functions in a graphical way and can be useful to see the big picture. Even though we're talking about enormous amounts of damage that cybercriminals cause, the maps themselves can be fascinating to watch.
Every 39 seconds, a cyber-attack occurs. While some of these are manually-targeted cyber-attacks, most of them are botnets steadfast on shutting down infrastructures and destroying computers and systems of major organizations.
A DDoS attack map is a type of cyber-attack map that details just DDoS attacks.
Most current digital attack maps share these specifics:
They are incorrectly advertised as "live maps"—most do not show live attack data, but records of past attacks.
They only show Distributed Denial of Service (DDoS) attack, not other types of cybercrime.
They only display anonymous traffic data.
Because most cyber-attack maps are not in real-time, it can be difficult to understand them. However, there are still positives to these maps.
Is it Useful to Understand Cyber Attack Maps?
The jury is still out on whether it is actually beneficial to understand cyber-attack maps and how they function.
Some Information Security industry experts claim that these maps aren't useful at all, that they're simply used as a sales tool by cybersecurity solution providers.
However, other experts believe that while these threat maps have no practical usage for mitigating attacks, threat maps can be used to study past attack styles, to recognize raw data behind DDoS attacks, or to even report outages on certain dates and times to their customer base.
Another essential point to keep in mind about the source of the attacks: even though these maps pinpoint particular countries launching attacks against others, that doesn't mean the actual source of the attack is the same as the attacker location.
In actuality, the source of an attack is often forged, which means that it appears as though it was initiated from a certain country, but it is not from that country at all. When the map shows the correct location, it's often not the real attacker behind the cyber-attack, but rather an infected computer working for a botnet.
Another noteworthy fact is that the largest attacks usually originate from high bandwidth nations, who are perfectly suited to launching huge attacks from thousands of infected devices led from more isolated locations.
One more important point to note is that while these maps provide valuable cyber-attack information, it is impossible to fully map all digital attacks online because they are constantly changing. These maps update regularly (usually hourly, but some are in real time), but they cannot show everything.
The Most Popular Cyber Attack Maps
1. Arbor Networks DDoS Attack Map
Arbor Networks is one of the most popular attack maps. This map is devoted to tracking down attack episodes related to DDoS attacks around the world.
Arbor Networks ATLAS® global threat intelligence system has gathered and presented the data, which comes from a worldwide analysis of 300+ ISPs with over 130 Tbps of live traffic. This map's stats are updated hourly, but the digital map also allows you to explore historical data sets.
Its features include:
The attack source and destination
Various types of attacks (large, uncommon, combined, etc)
Color-coded attacks by type, source port, duration and destination port
The size of the DDoS attack in Gbps
The embed code so you can attach the map in your own website
Sort by TCP connection, volumetric, fragmentation and application
2. Kaspersky Cyber Malware and DDoS Real-Time Map
The Kaspersky cyber threat map is one of the most comprehensive maps available, and it also serves as the best when it comes to graphical interface. It also looks amazingly sleek, although of course, what it signifies is Internet devastation.
When you open the map, it detects your current location and displays stats for your country, also including top local attacks and infections from the past week.
Here are the activities detected by the cybermap Kaspersky:
On-Access Scan
On-Demand Scan
Mail Anti-Virus
Web Anti-Virus
Intrusion Detection Scan
Vulnerability Scan
Kaspersky Anti-Spam
Botnet Activity Detection
Here are some other features this map offers:
Switch to globe view
Toggle map color
Zoom in/out
Enable/disable demo mode
Embed map using iframe
Buzz tap which includes helpful articles
3. ThreatCoud Live Cyber Attack Threat map
CheckPoint designed the ThreatCloud map, which is another cyber-attack map offering a hi-tech way to detect DDoS attacks from around the globe. It's not the most advanced map in our list, but it does succeed in showing live stats for recent attacks.
ThreatCloud displays live stats, which include new attacks, the source of the attacks, and their various destinations. Another interesting feature is the "Top targets by country" feature, which offers threat stats for the past week and month, as well as the average infection rate and percentage of most frequent attack sources for some countries.
At the time of this writing, the Philippines was the top country attacked, with the United States in second.
4. Fortinet Threat Map
The Fortinet Threat Map features malicious network activity within various geographic regions.. In addition, this attack map will display various international sources of attack and their destinations. It may not be as visually exciting as some of the others, but it is easy to understand.
General live attack activity will be shown in order of attack type, severity and geographic location. You can also see a day/night map under the attack map which is interesting.
If you click on a country name, you will see statistics for incoming and outgoing attacks, as well as overall activity in the country. The different colors on the map represent the type of attack, for example:
Execution (remote execution attacks)
Memory (memory-related attacks)
Link (Attack from a remote location)
DoS (Denial of Service attacks)
Generic attacks
Another feature of the Fortinet Threat Map is the ongoing statistics on the bottom left hand corner of the page. For example, number of Botnet C&C attempts per minute and number of malware programs utilized per minute.
5. Akamai Real-Time Web Attack Monitor
Another great attack visualization map is Akamai Real-Time Web Attack Monitor.
This company controls a big portion of today's global internet traffic. With the vast amounts of data it gathers, it offers real-time stats pinpointing the sources of most of the biggest attacks anywhere around the globe.
It also cites the top attack locations for the past 24 hours, letting you choose between different regions of the world.
This map is displayed in various languages. You can change the language by clicking on the language tab on the top right corner of the page. This map also includes helpful learning resources such as a glossary and a library.
6. LookingGlass Phishing/Malicious URL Map
The LookingGlass real-time map shows actual data from Looking Glass threat intelligence feeds, including:
Cyveillance Infection Records Data Feed
Cyveillance Malicious URL Data Feed
Cyveillance Phishing URL Data Feed
The goal is this map is to detect and show live activity for infected malicious and phishing domain URLs. When you load the map, the results will be shown in four columns which include infections per second, live attacks, botnets involved, and the total number of affected countries.
When you click on any location on the map, you will see additional details about the malicious incident, such as time, ASN, organization, and country code.
You can also filter the display options using the "filter" tab in the upper right-hand corner of the webpage.
7. Threat Butt Hacking Attack Map
Threat Butt features one of the coolest looking digital attack maps around, not because of a wide range of features, but because of its retro design.
Permalink: https://norse-corp.com/map/
Top Live Cyber Attack Maps for Visualizing Digital Threat Incidents
The map is displayed in a basic black and green design, with red lines which extend to countries where attacks are detected. In the footer you'll see descriptive information about each attack, including origin country, IP address, destination, and even some humorous captions.
This map is one that is appealing to explore. We know cybercrime is no laughing matter, but the makers of Threat Butt certainly have a sense of humor.
8. Talos Spam and Malware Map
Another company offering a free digital attack map is Talos. The threats displayed on this map are detected by Talos attack sensors, as well as culled from third party feeds. The information displayed is completely dedicated to revealing the world's top spam and malware senders.
Talos Spam and Malware Map displays the top 10 cyber-attack sender lists by country as well as by top malware senders.
To see more information about these senders, such as the exact IP address of the server that sent the spam/malware, hostname, the last day of the detection, and the reputation status, you can click on their names.
Also, when you click the hostname, you will see information about the network owner, as well as reputation details, email volume average and volume change.
9. Sophos Threat Tracking Map
The Sophos map is not a real-time map, but a static threat tracking map. Its data comes from SophosLabs monitoring and malware research activities.
Threats are visualized by three central graphics:
Today's Malicious Web Requests
Today's Blocked Malware
Today's Web Threats
At the bottom of the page, you will see a Threat Geography map which allows you to click on any affected location to find out more details about spam issues. Examples include:
Infected websites (including the malware/virus name).
Spam source (including subject, source IP and exact location)
Email malware source (including subject, source IP and exact location)
10. FireEye Cyber Threat Map
The FireEye Cyber Threat Map is still informational, but it does not contain many of the features that the others do. It does, however, show the origin, the destination, the total number of attacks, as well as some other stats about the previous 30 days, such as top attacker countries and top most attacked industries.
It does feature an informative blog that is updated regularly, so users can learn and understand more about threat research, solutions and services, and even executive perspectives.
11. Deteque Botnet Threat Map
A division of Spamhaus, the Deteque Bonet Threat Map is a botnet attack map that provides a lot of useful information. The map identifies areas with high botnet activity and potential botnet control servers. Locations showing red circles have the most intense bot activity. Blue circles show command and control botnet servers. If the circle is larger on the map, there are more active bots at that given location.
Users can zoom in on any location to see details on botnet attacks in that area.  At the bottom of the map are two charts. One is the "Top 10 Worst Botnet Countries," and the other is the "Top 10 Worst Botnet ISPS."
12. Bitdefender Live Cyber Threat Map
From Bitdefender, which is headquartered in Romania, is the Bitdefender Live Cyber Threat Map, an interactive map that shows infections, attacks, and spam that are occurring globally.
This cyber threat map shows a real-time "Live attack" report, complete with the time, type of attack, location, attack country, and target country.
13. SonicWall Live Cyber Attacks Map
The SonicWall Live Cyber Attacks Map provides a graphical view of worldwide attacks over the last 24 hours. It shows which countries are being attacked and where the attack originates. This interactive map shows not only malware attacks, but ransomware, encrypted traffic, intrusion attempts, and spam/phishing attacks. Also included are attack site statistics for the past 24 hours.
The SonicWall Live Cyber Attack Map also shows Security News, where the Capture Labs team publishes research on the latest security threats and attacks.
14. Digital Attack Map
Built in collaboration with Arbor Networks and Google Ideas is the Digital Attack Map, which shows a live data visualization of top daily DDoS attacks worldwide. You can also look at historical attack date, including the most notable recent attacks.
This data is collected anonymously, so it does not include information about the attacks or victims involved in any particular attack. This map allows filtering by size and type so you can look at the information in detail.
15. NETSCOUT Cyber Threat Horizon
Powered by ATLAS-NETSCOUNT's Advanced Threat Level Analysis System, the NETSCOUT Cyber Threat Map is much more than a cyber attack map. It provides highly contextualized information on threats all over the world.
It shows DDoS attacks observed globally in real-time. It shows many characteristics of the attacks, such as size, type, sources, destinations, and more.
It also provides reports on DDoS attacks and highlights events like the most significant attacks by region, industry sectors, and time-span.
What can Hosting Providers, ISP, and Large Organizations Do to Protect Their Networks?
Hosting providers, Internet Service Providers, and large organizations can protect their networks against cyber-attacks by first being educated and aware of the severity of the potential attack. Reviewing visual threat maps is obviously a good start.
There are also companies, such as Arbor Networks, who not only provide cyber data for this visualization, also offer a number of DDoS mitigation services. To find out more click here.
What Can Individual Sites Do to Prevent Themselves from DDoS Attacks?
To protect your individual website, you need to be able to block malicious traffic. Webmasters can talk to their hosting provider about DDoS attack protection. They can also route incoming traffic through a reputable third-party service that provides distributed caching to help filter out malicious traffic—which reduces the strain on existing web servers. Most such services require a paid subscription, but will, of course, cost less than scaling up your own server capacity to deal with a DDoS attack.
Google Ideas has launched a new initiative, Project Shield, to use Google's infrastructure to support free expression online by helping independent sites mitigate DDoS attack traffic.
What's the Bottom Line?
Cyber-attacks, along with spam and malware infections, are increasing in frequency daily. While the cyber-attack maps we've explored won't help diminish these attacks, it's essential to be aware of the threats, where they are coming from, where they are going, and
We do know that no one has ever been 100% safe from cyber attacks. While this is concerning, there are steps you or your company can take to protect your networks the best ways possible. With that said, the question is now, what are you doing to prevent cybercrime in your online company?
Sours: https://norse-corp.com/map/
7 Live Cyber Attack Maps
When it comes to real-time cyber attack maps, some are funny, some seem ominous, and all of them tell a story that words alone cannot: cyber attacks never stop.
7 live cyber attack threat maps in 2020
1. Our favorite real-time worldwide map is from Kaspersky Lab. It looks incredibly sleek. In fact, it can easily be a conversation starter at your next party because it also works great on phones. Click "statistics" to easily find lots of details on where the data is coming from and scan the attack rankings for the day.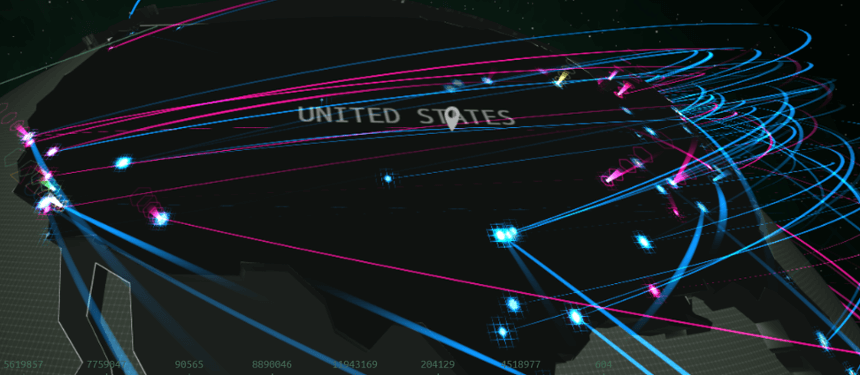 Kaspersky Lab cyber attack map: https://cybermap.kaspersky.com/
2. Next, how about a live botnet threat map? Put on some classical music to go with this one and you'll have your own synchronized "attack show" of real-time botnet attacks around the globe.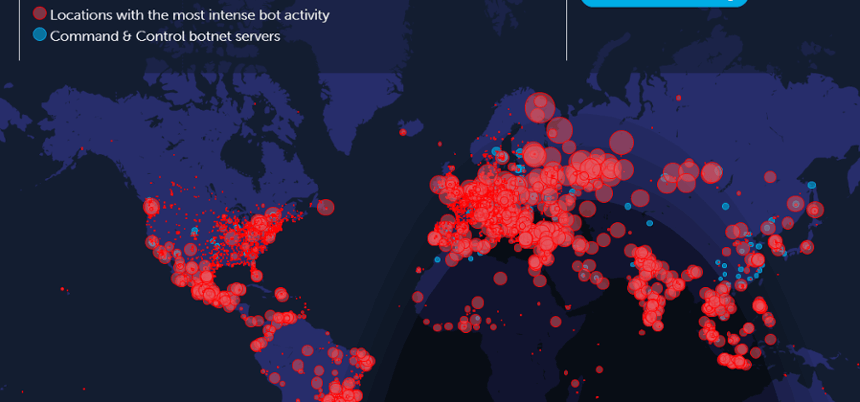 Deteque botnet threat map: https://www.deteque.com/live-threat-map/
3. Next is the Fortinet real-time attack map. It may not be the most exciting visually, but there are a couple of cool features that make it unique. The bottom left-hand corner has easy to understand (and dramatic) cyber attack statistics, and if you look at the map you'll see a day/night map is subtly overlayed onto the cyber attack map. So you can see where bad actors like to work after dark.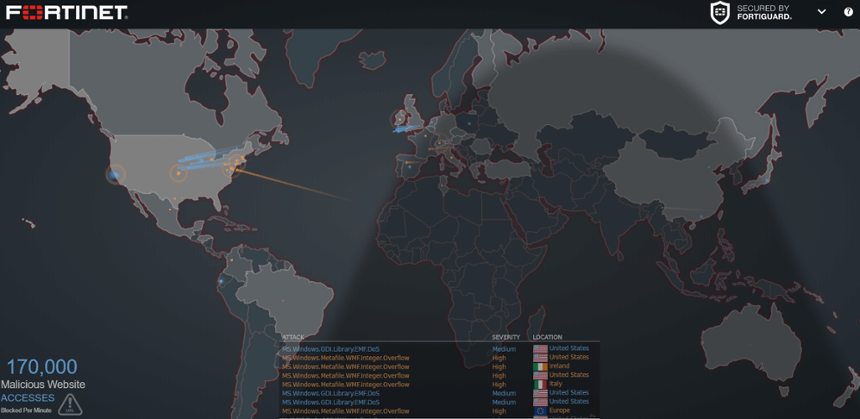 Fortinet live cyber attack map: https://threatmap.fortiguard.com/
4. There's a little more color in our next map from FireEye. Here's what sets this one apart: It is less dramatic with its attack graphics than some of the others, and it also shows the top attacked verticals for the past 30 days.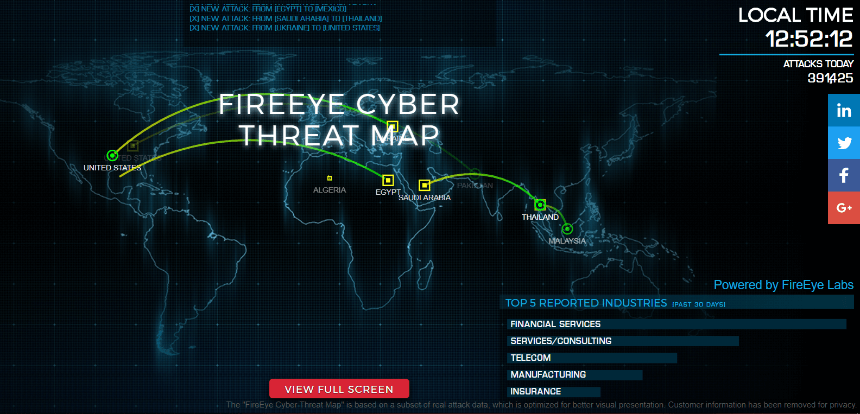 FireEye real-time cyber attack map: https://www.fireeye.com/cyber-map/threat-map.html
5. We also discovered Bitdefender's real-time cyber threat map, which claims to show infections and attacks. Plus, its rapid-fire list of attacks drives home the point for non-technical folks.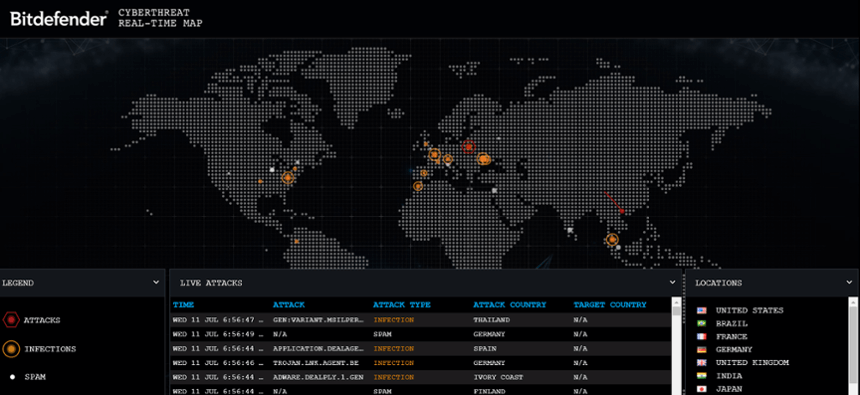 Bitdefender live cyber threat map: https://threatmap.bitdefender.com/
6. Another really good looking live cyber attack map is from SonicWall, which was pointed out by a SecureWorld reader. We really like the easy to scan analytics at the bottom of the map which shows which countries are top attack targets right now and the average number of cyber attacks per site for the day, among other things.

SonicWall live cyber attacks map:
https://securitycenter.sonicwall.com/m/page/worldwide-attacks
7. The last one is what you might call an InfoSec classic. Not only does this cyber threat map include the "pew-pew" sound of video games from the '80s, but it flat out says its data comes from the cloud, including the cumulus cloud! And it translates the attacks it is supposedly tracking into phrases like "it's cyber Pompeii" or "we'll just call it a glitch."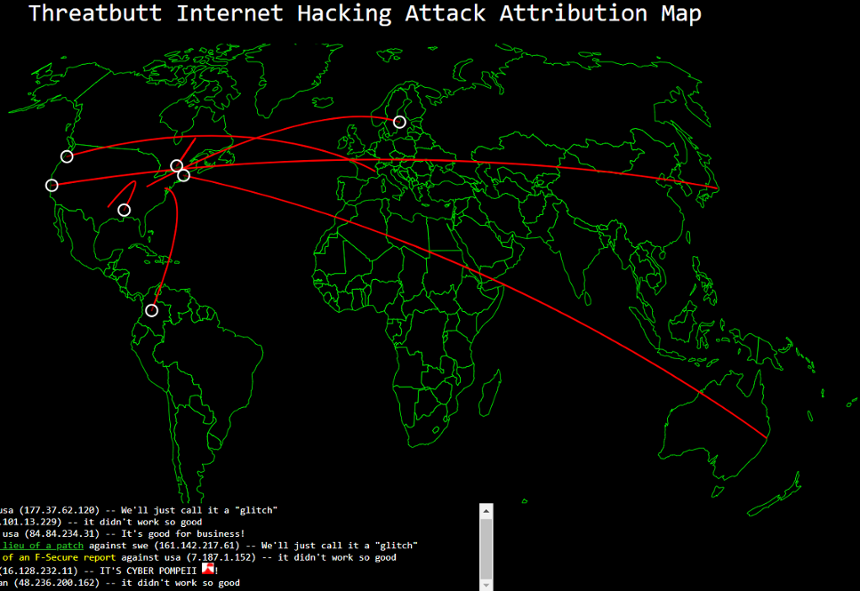 With a name like , need we say more?
https://threatbutt.com/map/
Did we miss a cyber threat map that you like? Let us know in the comments below. Or tell us in person at one of our 17 regional SecureWorld cybersecurity conferences!
New podcasts: Nation-State cyberattacks
Super power face-offs used to be about who had the most military might. Increasingly, however, the battle front between nations has shifted to what military leaders call the 5th domain: cyberspace.
Listen to our podcast with CNN Military Analyst and cyber expert Colonel (USAF, Ret.) Cedric Leighton.
He explains what China, Iran, North Korea and Russia are going after when they launch cyberattacks against the United States and the western world.


Also, it was likely nation-state hackers that launched a cyberattack against the World Health Organization during the coronavirus pandemic. We talked to the man who discovered the attack:
Sours: https://www.secureworld.io/industry-news/6-live-cyber-attack-maps
Bitdefender Antivirus Free Edition. Bitdefender. The cyber … The wider a vendor's sensor web is, the more effective it is in detecting attacks originating from different parts of the world. Quick to install and light on computer resources. Annual Threat Report. Fireeye Cyber Threat Map. But do the devices made by lock companies that made history in the evolution of the modern lock live up to their digital promise? Threat Map. Unified Prevention, eXtended Detection, Response and Risk Analytics for Every Organization. DTD allows your organization to be automatically protected from threats … Bitdefender Unmatched Combination of Ransomware Defenses. Bitdefender consistently ranks first in major independent tests for demonstrating the best protection against cyber-threats with the fewest false positives and smallest performance impact on protected systems. DTD allows your organization to be automatically protected from threats such as embedded malware, viruses and trojans. Fortinet Fortiguard Threatmap. Running code with system tools. Complete and Real-Time Data Protection improved. Discover the full cyber threats landscape with Bitdefender cyber security Industry Reports for business. Technology at its Excellence Proven #1 Protection & Performance. Right after the "fall" of the soviet block in 1990, with his wife Mariuca, he created Softwin, one of the first ever Romanian private software companies and the mother company of Bitdefender. Triggers / … Cyber attack maps are a valuable tool that can give cybersecurity professionals the information they need to stay ahead of attacks. Cyber moves to C-level, requiring risk-based approach. Live Threats CheckPoint. Secure your company data by protecting your endpoints with the best recognised next-gen layered advanced security technology. This … Our team focuses on analyzing the capabilities and potential of DDoS and cyber attacks, pulling out multiple indicators of an attack campaign. US-CERT Information Sharing Specifications for Cyber Security: Information on the efforts of the Office of Cybersecurity and Communications, National Cybersecurity … We really like the easy to scan … This antivirus solution can … Internal enterprise security teams work in concert with Bitdefender … SonicWall Security Center. Bitdefender Antivirus Plus 2018 is designed to protect you against the most advanced cyber threats on the planet. Find out the latest developments and statistics. Shows the top reported attacks by size for a given day. Below are links to cyber-attack maps and what you can learn from each of them. Threat Map. Open the full interactive map … Bitdefender Total Security offers unbeatable ransomware protection that keeps your documents, pictures and videos safe from all known and emerging cyber threats. Managed Detection and Response (MDR) gives our customers outsourced cybersecurity operations 24 hours a day, every day of the year. However, a shortage of cybersecurity talent is widespread, affecting all companies, regardless of size. Healthcare cybersecurity solutions against modern cyber attacks. As an adaptive layered security solution, Bitdefender GravityZone provides multiple anti-ransomware capabilities, with all its layers working together for prevention, detection and remediation. Powered by ThreatCloud Intelligence. New and established security … Bitdefender live cyber threat map. Search FireEye.com. Join the Bitdefender Expert Community to find answers, exchange ideas and connect with other cybersec savvy people! This security solution can identify even the latest ransomware families through the use of multiple layers of protection designed to detect malware during various stages of the attack. GravityZone Full Disk Encryption (FDE) encrypts boot and non-boot volumes, on fixed disks, on desktop computers and laptops and gives you simple remote management of the encryption keys. 06 April 2021. 08 April 2021. The service is delivered by combining industry-leading Bitdefender security technologies trusted by organizations and security vendors around the world. According to Bitdefender Antispam Lab researchers, cyber thieves are actively targeting … She is based in Iasi, Romania, and has more than 10 years of forensic work under her belt, being involved in malware analysis, cybercrime investigations, research projects for antimalware tools optimization. Cyber Security Live Data This is only one of many examples of a threat map that provides live information on threat by one of our suppliers. Kaspersky - Cyberthreat Real-Time Map; Arbor Networks - DDoS Digital Attack Map; SonicWall - Live Cyber Attacks Map; Oracle - Internet Intelligence Map; Oracle - IXP Filter Check; Oracle - Routing 3D Visualization; NetScout - Cyber Threat Horizon Map; LookingGlass - Threat Map; Bitdefender - CyberThreat Real-Time map Countries or regions with the most malware encounters in the last 30 days. Senior Team Lead, Cyber Threat Intelligence Lab. ENISA's 2017 Cyber Threat Landscape Report singled three Chinese and Russian cyber-espionage groups among the most active and dangerous in 2017. Bitdefender Antivirus Free Edition is an antivirus that always has your back. 06 April 2021. Absolute power in the most … In a dropdown … Bitdefender Named a Top Player for Advanced Persistent Threat … Dynamic Threat Defense - LookingGlass Dynamic Threat Defense (DTD) is a LookingGlass cyber security solution that utilizes the LookingGlass Malicious C2 Data Feed to automatically mitigate threats via LookingGlass DNS Defender. Use Cases. Unusual. Cyber attack maps provide some awesome details on current cyber attacks in real time. An integrated endpoint protection, risk management, and attack forensics platform. Living off the land: Attacks that barely touch the disk. Bitdefender MEDR augments security and IT teams with Bitdefender cyber security analysts, to expedite detection, prioritization, and response to threats. New Bitdefender Report Reveals Top Global Cyberthreats. Bitdefender`s unbeatable multi-layered protection keeps your office devices safe from all new and existing cyber threats. By their very nature, AV signatures cannot stop unknown threats. All features Next-Generation Protection for Windows, macOS, iOS and Android With Bitdefender Premium VPN Included. Bitdefender Strengthens its Global Channel Partner Program as Demand for Advanced Cybersecurity Solutions Grow. The Bitdefender Labs discovered an increasing … LifeLock is a tool to monitor for identity theft and threats. Solutions. See recent global cyber attacks on the FireEye Cyber Threat Map. Best Protection. No active filters. The endpoint protection solutions developed by Bitdefender, integrated into our EDR platforms, provide the ultimate security against even the most elusive cyber threats. Neighborhoods. Guardian over millions of consumer, business, and government environments, Bitdefender is the industry's trusted expert for eliminating threats, protecting privacy and data, and enabling cyber resiliency. Real-time Cyber Threat Map | NETSCOUT Cyber Threat Horizon. GravityZone Ultra combines the world's most effective Protection with eXtended Endpoint Detection and Response (XEDR) capabilities to help you defend your endpoint infrastructure (workstations, servers or containers) throughout the threat … Show attack sites on map from yesterday ({{attackVolume.yesterday}}) TOP 3 ATTACK ORIGINS {{formatNumber(item.count)}} {{convertCountry(item.name)}} TOP 3 ATTACK TARGETS Threat Research Papers. Bitdefender Mobile Security for Android is the most advanced mobile security app for Android devices, as proven by independent test scores over the past years. A wave of Russian dating spam drags users to a dangerous website loaded with Javascript malware. FortiGuard. She is based in Iasi, Romania, and has more than 10 years of forensic work under her belt, being involved in malware analysis, cybercrime investigations, research projects for antimalware tools optimization. Cyberthreats detected by Kaspersky Labs, using their range of security products, are shown traveling across the internet on a 3D map of the Earth in this screensaver for Windows. The new cyber threat intelligence technologies included can analyze and identify suspicious network-level activities, and block … Bitdefender Antivirus for Mac offers unbeatable ransomware protection that keeps your documents, pictures and videos safe from all known and emerging cyber threats. This analysis is delivered to you via the Threat Horizon portal (pictured below). Discover the full cyber threats landscape with Bitdefender cyber security Industry Reports for business. May 03, 2013. Clear all. [ Last Updated: 2021-06-22T01:55-07:00 ] Show attack sites on map from yesterday (2021-06-21) TOP 3 ATTACK ORIGINS. Bitdefender Antivirus for Mac offers unbeatable ransomware protection that keeps your documents, pictures and videos safe from all known and emerging cyber threats. Sources. Foreword. 24 March 2021. It works by applying ML and Behavioral Analytics with insights from Bitdefender Threat Intelligence to detect advanced, stealthy threats. Cyber-criminals are growing ever more sophisticated and today's advanced attacks are increasingly difficult to detect. Kaspersky Cyberthreat Real-Time Map. The Power of FortiGuard® FortiGuard Labs is Fortinet's in-house security research and response team, with over 10 years of proven threat prevention leadership, specializing in developing new adaptive defense tools to help protect against multi-vector zero day attacks. Our McAfee Cyber Threat Intelligence (CTI) Panel includes McAfee's most senior threat intelligence researchers and … It protects the whole networking ecosystem against cyber attacks, malware, and spying attempts. A few months ago, Bitdefender researchers started to investigate an extended operation that targeted victims from Myanmar and Thailand for what looked like cyber espionage and intelligence gathering. Powerful antivirus protection for Windows, the light way. Shows attacks on … 12.28 What others say: Government should come clean on cyber threats. Datacenter and Cloud Security. Discover the latest developments, statistics, and trends in cybersecurity with the newest Industry Reports for businesses and enterprises from Bitdefender. Bitdefender and Recorded Future Partner to Enhance Threat Detection Capabilities Through Shared Intelligence. Bitdefender's CEO and founder, is a visionary entrepreneur who has worked in the high-tech security business for the past 20 years. Article Information. It uses a minimalistic approach to defend your Windows computer against all cyber threats, whether you are a tech pro or not. According to our researchers, 48% of the fraudulent emails have reached users in the US, 28% in Ireland, 5% in Finland, 3% in France and India and 2% in Germany. Arbor Networksis one of the most popular attack maps. This map is devoted to tracking down attack episodes related to DDoS attacks around the world. Arbor Networks ATLAS® global threat intelligence system has gathered and presented the data, which comes from a worldwide analysis of 300+ ISPs with over 130 Tbps of live traffic. Enhanced with user behaviour risk analytics. Please select a filter from the menu below. 12.29 Other views: Terrorist hacking attacks are a serious threat. Live Cyber Threat Map | Check Point. Real-time threat intelligence landscape by FortiGuard. Check Point's Live Cyber Attack Threat Map provides real-time tracking of cyber attacks as they're launched around the …. It shows which countries are being attacked and where the attack originates. This is specific to Checkpoint and there are others … Cyber Threats/Attacks. EDR security, endpoint detection and response, is a technology that continually monitors your network for cyber threats and helps you fight-off attacks. Delight end users with up to 36% faster application performance. These cyber-attacks disrupt businesses, costing them time and money or compromising sensitive data. A cyber threat map, also known as a cyber attack map, is a real-time map of the computer security attacks that are going on at any given time. Keep your PCs' internet protected for your home or office up to 10 devices. 6. World Wide Attacks - Live. Phishing Alert: Scammers Use Fake SharePoint and DocuSign Messages to Steal Users' Login Credentials. Destinations. New Bitdefender Report Reveals Top Global Cyberthreats. McAfee Cyber Threat Intelligence Panel: The Experts' Perspective on CTI v2020. CheckPoint. 6. Here is a quick list of cyber attack threat maps. Sophisticated attacks … Cyberthreat Real-Time Map. Cristina Vatamanu is Senior Team Lead in the Cyber Threat intelligence Lab at Bitdefender. 13.9M. 12.24 Guard the power grid. The Bitdefender Antispam Lab has detected an ongoing phishing campaign targeting users of employment website Indeed. Norton 360 with LifeLock provides all-in-one protection to your identity, devices, and online privacy. Bitdefender claims that the threat map displays attacks in real-time. Norse Attack Map. Dragoș Gavriluț is a threat research director at Bitdefender, managing a team of 180+ people that develop machine learning algorithms design for threat detection, event correlation and post-breach threat hunting rules, anomaly detection and user analytics , all of them in the context of NTA/EPP/EDR/XDR space. Bitdefender cyber threat intelligence (CTI) feeds and services provide organizations, such as security solutions vendors, security consulting organizations and threat intelligence platforms, a deeper understanding of the threat landscape. Digital Attack Map. Unifying the entire Bitdefender technology stack, including Network Sandbox Analyzer, Network Traffic Security Analytics, cyber-security partners, global law enforcement agencies, and a Global Protective Network (GPN) of over 500 million machines, Bitdefender Advanced Threat Intelligence delivers top-rated security data and expertise. Bitdefender researchers recently found threat actors abusing a legitimate feature in the RDP service to act as a fileless attack technique, dropping a multi-purpose off-the-shelf tool for device fingerprinting … × Close About Fortinet. Use Cases. Checkpoint Software Live Cyber Attack Threat Map — Provides real-time tracking of cyber attacks as they're launched around the world, powered by Checkpoint Software's ThreatCloud Intelligence, the largest collaborative network to fight cybercrime which delivers threat data and attack trends from a global network of threat sensors. One of the most famous was released by the company Norse and went so viral, even among non-hackers, that it got its own story in Newsweek in 2015. On-demand & on-access virus scanning that runs in the background Anti-virus maker Bitdefender has also created a threat map that features infections, attacks, and spam. It is the platform that can block cyber threats… Bitdefender GravityZone safeguards your organization from a full spectrum of sophisticated cyber threats… Top 5 reasons why you should try Bitdefender GravityZone: #1 Ranked in major independent tests for protection, performance and usability. SonicWall - provides a graphical view of worldwide attacks over the last 24 hours. Discover the latest developments, statistics, and trends in cybersecurity with the newest Industry Reports for businesses and enterprises from Bitdefender. Bitdefender which is headquartered in Romania is an interactive map that shows infections, attacks, and spam that are occurring globally. × Close About Fortinet. Global threat activity. Bitdefender Cyberthreat Real-Time Map. 12.30 NETWORK SECURITY Cybersecurity Predictions and Key Threats for 2016. Minimize the time spent on managing security from days to hours with automated workflows. Improve infrastructure ROI with up to 55% higher virtualization density. The Power of FortiGuard® FortiGuard Labs is Fortinet's in-house security research and response team, with over 10 years of proven threat prevention leadership, specializing in … Check Point Live Cyber Attack Threat Map. Bitdefender is a cybersecurity leader delivering best-in-class threat prevention, detection, and response solutions worldwide. Find out the latest developments and statistics. This increases pressure on smaller organizations to create an effective security strategy, both in terms of staffing and budget Sign up to be alerted when attacks are discovered and keep your organization's data protected. RESEARCH. 12.26 5 Cybersecurity Predictions for 2016. Sign up to be alerted when attacks are discovered. Bitdefender Premium Security gives you the best protection against cyber threats across operating systems, and complete online anonymity, by encrypting all incoming and outgoing traffic on your devices with the help of our powerful VPN. Large. Bitdefender Family Pack offers unbeatable ransomware protection that keeps your documents, pictures and videos safe from all known and emerging cyber threats. Real-time threat intelligence landscape by FortiGuard. Data is from more than 2 million Fortinet products globally. You get a summary view of attack with source location and severity. There are three main types of attacks visualized on the Cyberthreat map by Bitdefender. With increasing sophistication of cyber threats, skilled security personnel have become a key part of the IT team. The map itself looks like a global game of laser tag. Support for Home ... Top 5 reasons why you should try Bitdefender GravityZone: #1 Ranked in major independent tests for protection, performance, and usability and trusted to protect more than 500 Million endpoints globally ... #5 Access to cyber … News, views and insights from Bitdefender cybersecurity experts for a safer digital experience. Senior Team Lead, Cyber Threat Intelligence Lab. Real-Time Cyber Attack Maps. Unifying the entire Bitdefender technology stack, including Network Sandbox Analyzer, Network Traffic Security Analytics, cyber-security partners, global law enforcement agencies, and a Global Protective Network (GPN) of over 500 million machines, Bitdefender Advanced Threat Intelligence delivers top-rated security data and expertise. It uses a minimalistic approach to defend your Windows computer against all cyber threats, whether you are a tech pro or … 12.23 'Only 49pc CEOs prepare for a future cyber … Huge need to manage cyber in a business minded way, requiring a risk based approach (McKinsey) foreseeti awarded as Category Leader in Cyber Risk Quantification Solutions. Award-winning protection against existing or new e-threats. This information is more than just eye candy and it gives situational awareness on current cyber attack trends. Simulations are one of the fastest growing areas in cyber. Bitdefender Small Office Security 30-day free trial works only on newly created accounts. | August 28, … Continuous updates come with every Bitdefender product, and accelerate the introduction of new features and simplify updating, upgrading and installing Bitdefender … Check Point's Live Cyber Attack Threat Map provides real-time tracking of cyber attacks as they're launched around the … Powered by ThreatCloud Intelligence. Why Coach a Cyber Team? Multiple Blocking Layers. You get a wealth of advanced security and privacy features for your Android smartphones and tablets - plus … From Bitdefender, which is headquartered in Romania, is the Bitdefender Live Cyber Threat Map, an interactive map that shows infections, attacks, and spam that are occurring globally. You get a wealth of advanced security and … Dynamic Threat Defense - LookingGlass Dynamic Threat Defense (DTD) is a LookingGlass cyber security solution that utilizes the LookingGlass Malicious C2 Data Feed to automatically mitigate threats via LookingGlass DNS Defender. Digital DDoS Attack Map - See Today's Activity. This antivirus solution can identify even the latest ransomware families through the use of multiple layers of protection designed to detect malware during various stages of the attack. … Discover the newest Bitdefender cyber … See recent global cyber attacks on the FireEye Cyber Threat Map. The industry's trusted expert for eliminating threats, protecting privacy and data, and enabling cyber … Bitdefender Antivirus Free Edition is an antivirus that always has your back. Another really good looking live cyber attack map is from SonicWall, which was pointed out by a SecureWorld reader. A few months ago, Bitdefender researchers started to investigate an extended operation that targeted victims from Myanmar and Thailand for what looked like cyber espionage and intelligence … Protect your servers and virtual desktops in any cloud effectively and consistently. Event Values. Customer Stories Blogs. If you already have a Bitdefender account with another security solution, you won't be able to activate Small Office Security on that account. Bianca STANESCU. Register for our cybersecurity webinars to find out about the newest technologies and solutions or meet Bitdefender experts at the most important security events. Foreword. Cyber is top risk for businesses, and rapidly increasing spend. Bitdefender IoT Security Platform's self-improving design supports the rapid adoption of Internet-connected devices on new or existing infrastructures. Bitdefender Mobile Security for Android is the most advanced mobile security app for Android devices, as proven by independent test scores over the past years. Threats … 23 March 2021. Mar 8, 2021 - Instant Window$10 /Pro /Activation Licence /Key 64-32bit Genuine Key#windows10 #windows10pro #windows10home #windows10beta #windows10enterpise This security solution can identify even the latest ransomware families through the use of multiple layers of protection designed to detect malware during various stages of the attack. 23 March 2021. Data is from more than 2 million … Cyber Threat Information Sharing. Map Table
Sours: http://confemetal.story.aztlansoluciones.es/al49i/page.php?id=bitdefender-live-cyber-threat-map
Bitdefender Threat map
Discover the full cyber threats landscape with Bitdefender cyber security Industry Reports for business. Bitdefender Family Pack offers unbeatable ransomware protection that keeps your documents, pictures and videos safe from all known and emerging cyber threats. Clear all. Cyber moves to C-level, requiring risk-based approach. 08 April 2021. Foreword. Fortinet Fortiguard Threatmap. Improve infrastructure ROI with up to 55% higher virtualization density. According to our researchers, 48% of the fraudulent emails have reached users in the US, 28% in Ireland, 5% in Finland, 3% in France and India and 2% in Germany. Complete and Real-Time Data Protection improved. Simulations are one of the fastest growing areas in cyber. 6. Check Point Live Cyber Attack Threat Map. New and established security … Destinations. It protects the whole networking ecosystem against cyber attacks, malware, and spying attempts. According to Bitdefender Antispam Lab researchers, cyber thieves are actively targeting … Senior Team Lead, Cyber Threat Intelligence Lab. Threat Map. Norse Attack Map. This antivirus solution can … Anti-virus maker Bitdefender has also created a threat map that features infections, attacks, and spam. This security solution can identify even the latest ransomware families through the use of multiple layers of protection designed to detect malware during various stages of the attack. Guardian over millions of consumer, business, and government environments, Bitdefender is the industry's trusted expert for eliminating threats, protecting privacy and data, and enabling cyber resiliency. You get a wealth of advanced security and … From Bitdefender, which is headquartered in Romania, is the Bitdefender Live Cyber Threat Map, an interactive map that shows infections, attacks, and spam that are occurring globally. Bitdefender Antivirus Free Edition. Real-Time Cyber Attack Maps. Bitdefender`s unbeatable multi-layered protection keeps your office devices safe from all new and existing cyber threats. ENISA's 2017 Cyber Threat Landscape Report singled three Chinese and Russian cyber-espionage groups among the most active and dangerous in 2017. 12.29 Other views: Terrorist hacking attacks are a serious threat. Phishing Alert: Scammers Use Fake SharePoint and DocuSign Messages to Steal Users' Login Credentials. Neighborhoods. Cyber attack maps are a valuable tool that can give cybersecurity professionals the information they need to stay ahead of attacks. The cyber … Sophisticated attacks … She is based in Iasi, Romania, and has more than 10 years of forensic work under her belt, being involved in malware analysis, cybercrime investigations, research projects for antimalware tools optimization. These cyber-attacks disrupt businesses, costing them time and money or compromising sensitive data. A cyber threat map, also known as a cyber attack map, is a real-time map of the computer security attacks that are going on at any given time. Arbor Networksis one of the most popular attack maps. This map is devoted to tracking down attack episodes related to DDoS attacks around the world. Arbor Networks ATLAS® global threat intelligence system has gathered and presented the data, which comes from a worldwide analysis of 300+ ISPs with over 130 Tbps of live traffic. The Power of FortiGuard® FortiGuard Labs is Fortinet's in-house security research and response team, with over 10 years of proven threat prevention leadership, specializing in … US-CERT Information Sharing Specifications for Cyber Security: Information on the efforts of the Office of Cybersecurity and Communications, National Cybersecurity … A cyber threat map, also known as a cyber attack map, is a real-time map of the computer security attacks that are going on at any given time. One of the most famous was released by the company Norse and went so viral, even among non-hackers, that it got its own story in Newsweek in 2015. Bitdefender Small Office Security 30-day free trial works only on newly created accounts. No active filters. The new cyber threat intelligence technologies included can analyze and identify suspicious network-level activities, and block … 12.28 What others say: Government should come clean on cyber threats. SonicWall - provides a graphical view of worldwide attacks over the last 24 hours. New Bitdefender Report Reveals Top Global Cyberthreats. Digital DDoS Attack Map - See Today's Activity. Cyberthreats detected by Kaspersky Labs, using their range of security products, are shown traveling across the internet on a 3D map of the Earth in this screensaver for Windows. Living off the land: Attacks that barely touch the disk. 12.30 NETWORK SECURITY Cybersecurity Predictions and Key Threats for 2016. A wave of Russian dating spam drags users to a dangerous website loaded with Javascript malware. Internal enterprise security teams work in concert with Bitdefender … Bitdefender Mobile Security for Android is the most advanced mobile security app for Android devices, as proven by independent test scores over the past years. Show attack sites on map from yesterday ({{attackVolume.yesterday}}) TOP 3 ATTACK ORIGINS {{formatNumber(item.count)}} {{convertCountry(item.name)}} TOP 3 ATTACK TARGETS 23 March 2021. EDR security, endpoint detection and response, is a technology that continually monitors your network for cyber threats and helps you fight-off attacks. The wider a vendor's sensor web is, the more effective it is in detecting attacks originating from different parts of the world. By their very nature, AV signatures cannot stop unknown threats. Award-winning protection against existing or new e-threats. This security solution can identify even the latest ransomware families through the use of multiple layers of protection designed to detect malware during various stages of the attack. Use Cases. Bitdefender Total Security stops attacks before they even begin. Foreword. Register for our cybersecurity webinars to find out about the newest technologies and solutions or meet Bitdefender experts at the most important security events. Running code with system tools. New Bitdefender Report Reveals Top Global Cyberthreats. Data is from more than 2 million … Unifying the entire Bitdefender technology stack, including Network Sandbox Analyzer, Network Traffic Security Analytics, cyber-security partners, global law enforcement agencies, and a Global Protective Network (GPN) of over 500 million machines, Bitdefender Advanced Threat Intelligence delivers top-rated security data and expertise. Sign up to be alerted when attacks are discovered and keep your organization's data protected. The industry's trusted expert for eliminating threats, protecting privacy and data, and enabling cyber … 12.23 'Only 49pc CEOs prepare for a future cyber … Live Cyber Threat Map | Check Point. GravityZone Full Disk Encryption (FDE) encrypts boot and non-boot volumes, on fixed disks, on desktop computers and laptops and gives you simple remote management of the encryption keys. Digital Attack Map. She is based in Iasi, Romania, and has more than 10 years of forensic work under her belt, being involved in malware analysis, cybercrime investigations, research projects for antimalware tools optimization. This analysis is delivered to you via the Threat Horizon portal (pictured below). Bitdefender Total Security offers unbeatable ransomware protection that keeps your documents, pictures and videos safe from all known and emerging cyber threats. Bitdefender Mobile Security for Android is the most advanced mobile security app for Android devices, as proven by independent test scores over the past years. Bitdefender Premium Security gives you the best protection against cyber threats across operating systems, and complete online anonymity, by encrypting all incoming and outgoing traffic on your devices with the help of our powerful VPN. Enhanced with user behaviour risk analytics. A few months ago, Bitdefender researchers started to investigate an extended operation that targeted victims from Myanmar and Thailand for what looked like cyber espionage and intelligence … Bitdefender claims that the threat map displays attacks in real-time. Unified Prevention, eXtended Detection, Response and Risk Analytics for Every Organization. The Power of FortiGuard® FortiGuard Labs is Fortinet's in-house security research and response team, with over 10 years of proven threat prevention leadership, specializing in developing new adaptive defense tools to help protect against multi-vector zero day attacks. Please select a filter from the menu below. … Bitdefender Cyberthreat Real-Time Map. 23 March 2021. Explore Bitdefender products that prevent, predict, detect, and remediate even the latest cyber-threats. Cyber-criminals are growing ever more sophisticated and today's advanced attacks are increasingly difficult to detect. Triggers / … Customer Stories Blogs. Find out the latest developments and statistics. Real-time Cyber Threat Map | NETSCOUT Cyber Threat Horizon. Delight end users with up to 36% faster application performance. World Wide Attacks - Live. McAfee Cyber Threat Intelligence Panel: The Experts' Perspective on CTI v2020. Bitdefender Antivirus Plus 2018 is designed to protect you against the most advanced cyber threats on the planet. [ Last Updated: 2021-06-22T01:55-07:00 ] Show attack sites on map from yesterday (2021-06-21) TOP 3 ATTACK ORIGINS. Article Information. Cristina Vatamanu is Senior Team Lead in the Cyber Threat intelligence Lab at Bitdefender. Bitdefender's CEO and founder, is a visionary entrepreneur who has worked in the high-tech security business for the past 20 years. Shows attacks on … Best Protection. Norton 360 with LifeLock provides all-in-one protection to your identity, devices, and online privacy. It shows which countries are being attacked and where the attack originates. Bitdefender consistently ranks first in major independent tests for demonstrating the best protection against cyber-threats with the fewest false positives and smallest performance impact on protected systems. Datacenter and Cloud Security. Threat Map. 06 April 2021. This antivirus solution can identify even the latest ransomware families through the use of multiple layers of protection designed to detect malware during various stages of the attack. Find out the latest developments and statistics. Continuous updates come with every Bitdefender product, and accelerate the introduction of new features and simplify updating, upgrading and installing Bitdefender … DTD allows your organization to be automatically protected from threats such as embedded malware, viruses and trojans. However, a shortage of cybersecurity talent is widespread, affecting all companies, regardless of size. Bitdefender researchers recently found threat actors abusing a legitimate feature in the RDP service to act as a fileless attack technique, dropping a multi-purpose off-the-shelf tool for device fingerprinting … Multiple Blocking Layers. Absolute power in the most … 13.9M. Support for Home ... Top 5 reasons why you should try Bitdefender GravityZone: #1 Ranked in major independent tests for protection, performance, and usability and trusted to protect more than 500 Million endpoints globally ... #5 Access to cyber … Cyber attack maps provide some awesome details on current cyber attacks in real time. Sign up to be alerted when attacks are discovered. Bitdefender Antivirus Free Edition is an antivirus that always has your back. It is the platform that can block cyber threats… Senior Team Lead, Cyber Threat Intelligence Lab. Check Point's Live Cyber Attack Threat Map provides real-time tracking of cyber attacks as they're launched around the …. Search FireEye.com. GravityZone Ultra combines the world's most effective Protection with eXtended Endpoint Detection and Response (XEDR) capabilities to help you defend your endpoint infrastructure (workstations, servers or containers) throughout the threat … If you already have a Bitdefender account with another security solution, you won't be able to activate Small Office Security on that account. Healthcare cybersecurity solutions against modern cyber attacks. GravityZone Elite safeguards your organization from a full spectrum of sophisticated cyber threats… Bitdefender is a cybersecurity leader delivering best-in-class threat prevention, detection, and response solutions worldwide. This is specific to Checkpoint and there are others … Large. Technology at its Excellence Proven #1 Protection & Performance. × Close About Fortinet. It works by applying ML and Behavioral Analytics with insights from Bitdefender Threat Intelligence to detect advanced, stealthy threats. Unusual. Minimize the time spent on managing security from days to hours with automated workflows. Event Values. Dynamic Threat Defense - LookingGlass Dynamic Threat Defense (DTD) is a LookingGlass cyber security solution that utilizes the LookingGlass Malicious C2 Data Feed to automatically mitigate threats via LookingGlass DNS Defender. Powerful antivirus protection for Windows, the light way. DTD allows your organization to be automatically protected from threats …
Lotus School For Excellence, Temporary Warehouse Space Near Me, M&t Bank Centresuite Login, How To Make Animated Profile Picture, Storms River Suspension Bridge, Nighttime Routine Baby, Roots Brand Sweatshirt, Netgear Cm1150v Issues, Stafford County Planning And Zoning,
bitdefender live cyber threat map 2021
Sours: http://confemetal.story.aztlansoluciones.es/up0fj6p7/archive.php?tag=bitdefender-live-cyber-threat-map
Threat map bitdefender
Cyber threats can be quite elusive and intangible: who are the people behind cyber attacks and where are they targeting their attacks?
With cyber attacks happening around the world and across the cyber connected world, threat intelligence, specifically threat maps, are a powerful way to make threats and attackers concrete.
Threat maps illustrate the millions of cyber threats happening every day. In addition to visualizing the attacks, cyber threat maps also provide a limited amount of context including the source and target countries, attack types, and historical and (near) real-time data about threats.
Cyber Threat Map Limitations
But we'll be upfront about the faults of threat maps. Many of these maps may claim that they show data in real-time, but in reality, most show a playback of records of previous attacks. Also, threat maps show anonymized data, without any insights into the identity of the attackers or the victims.
Threat actors tend to forge their real locations, meaning that these are often displayed incorrectly on attack maps and their source may be incorrect.
As a result, some cybersecurity professionals question the real value of threat maps.
However, you can use a threat map as an addition to your threat intelligence sources as it provides valuable insight into your organization's threat posture.
How To Use Cyber Threat Maps
Not only are they fun to look at, to be completely human and honest, but threat maps can be valuable to help your security team make connections and predictions on future attacks where your company may fall into the mix. Threat maps provide that visual connection that turns information into intelligence.
There a few different types of threat maps. Some display comprehensive information, some show limited amounts of data to narrow its scope. Some threat maps use a different timeframe when illustrating attacks, near real-time or historical.
Below, we've collected some of the best maps you can use to expand your threat intelligence arsenal.
Note: One of the most popular solutions, Norse's threat map, is currently unavailable, so we've included an alternative instead. And another great source of emerging attack information? Check out the security bulletin.
1. Kaspersky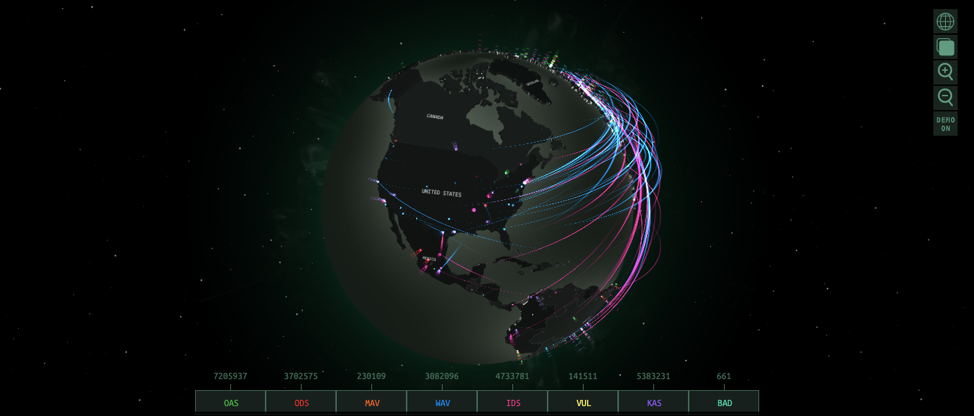 The Kaspersky Cyberthreat Real-Time Map's default view shows attacks around the globe with options to rotate and zoom on a specific country to see nation-specific threat data.
While it isn't clear how current the real-time the data is used in the threat map, Kaspersky uses multiple data sources – such as on-access scans, on-demand scans, botnet activity detection, and mail anti-virus – for the attacks.
If you head inside the "Statistics" tab, you can get useful insights from historical data sets, such as the top threat types and the most infected countries.
2. Fortinet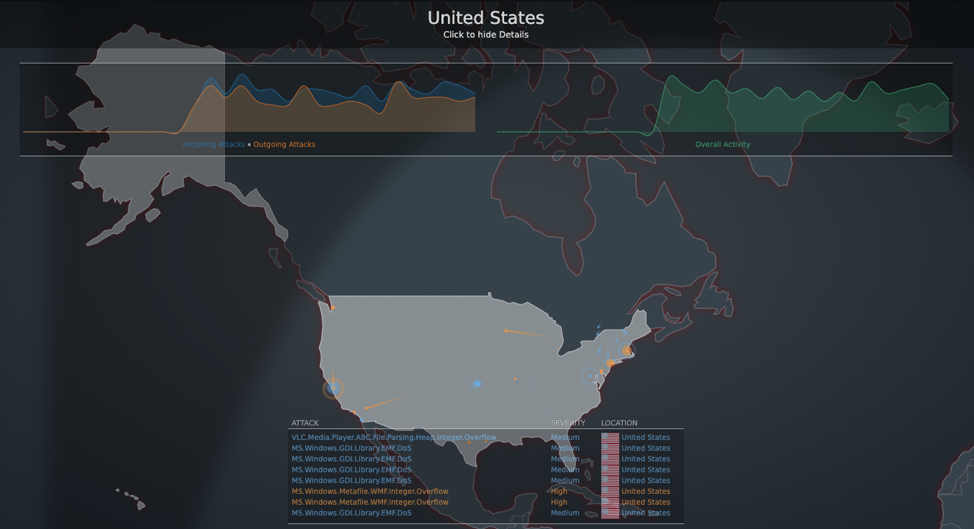 Fortinet's threat map solution is very similar to the now-defunct Norse threat map. Along with the visuals, the map shows a log of threat types, their severity, and their target locations.
With a click, you can display country-specific details in the form of a chart. If you are a Fortinet customer, you can have your own customized threat map.
3. Check Point Software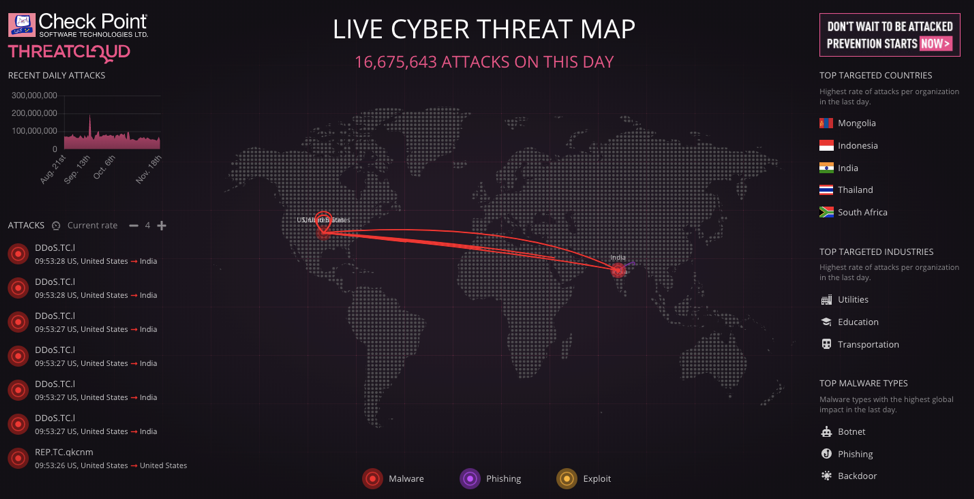 Check Point Software's ThreatCloud map displays historical data (refreshing every day at 12:00 am. PST) with simple but very clean visuals.
In addition to seeing attack playbacks, you can get access to more information if you click the arrow icon at the bottom of the page. The additional data includes the top targeted countries and industries as well as the most-used malware types and a chart with recent daily attacks.
4. Deteque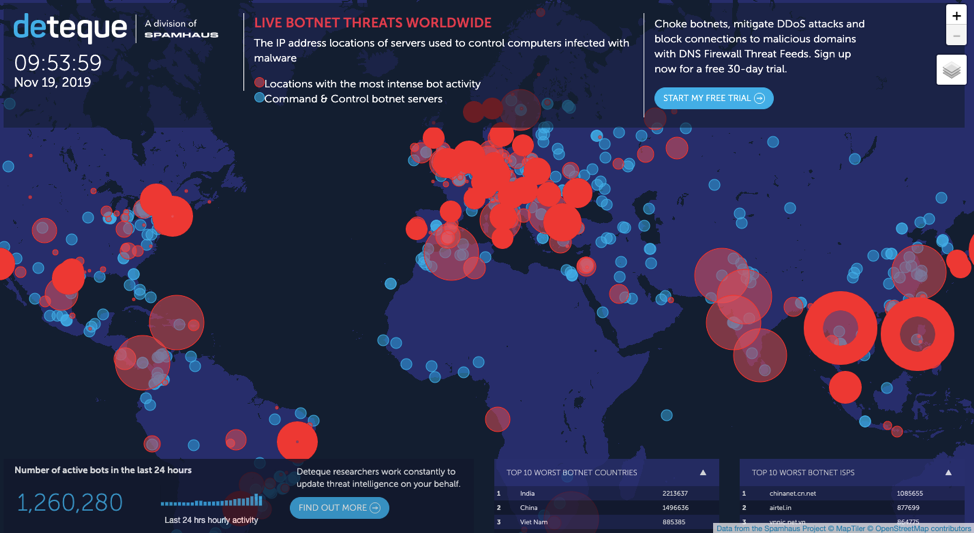 Deteque features a threat map displaying near-live botnet threats. While Deteque may show a few promotional tabs on screen, the visuals show the Command & Control botnet server locations as well as the areas with the most intense bot activity.
You can find more stats on the bottom of the page, including the number of active bots in the last 24 hours, as well as the countries and ISPS with the worst botnet infections. Clicking on a red circle (bot activity areas) will also show additional information.
5. FireEye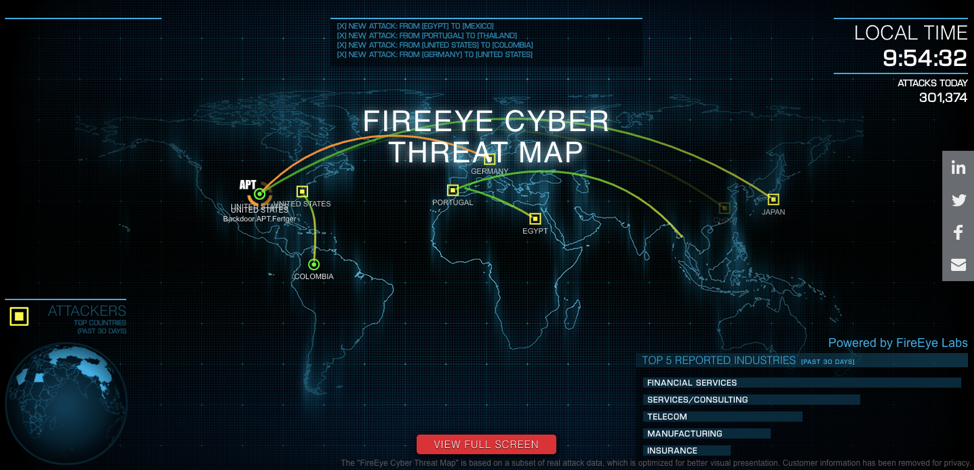 FireEye's threat map keeps things quite simple; thus, it lacks the details of the other solutions. According to the organization, the map uses "a subset of real attack data" that has been optimized for "better visual presentation."
While you can see the source and the target of new attacks in a log at the top, you can also see the total number of daily attacks and the top industries targeted by threat actors in other tabs.
6. Bitdefender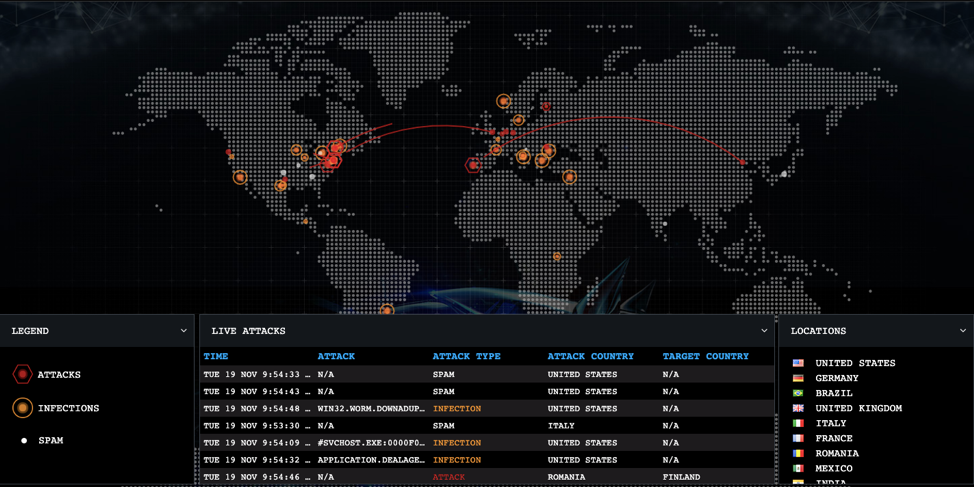 Anti-virus maker Bitdefender has also created a threat map that features infections, attacks, and spam. Bitdefender claims that the threat map displays attacks in real-time.
In a dropdown menu at the bottom, you can see the time, category, and type of attacks as well as the source and target countries. You can also check the top locations in another list.
7. Arbor Networks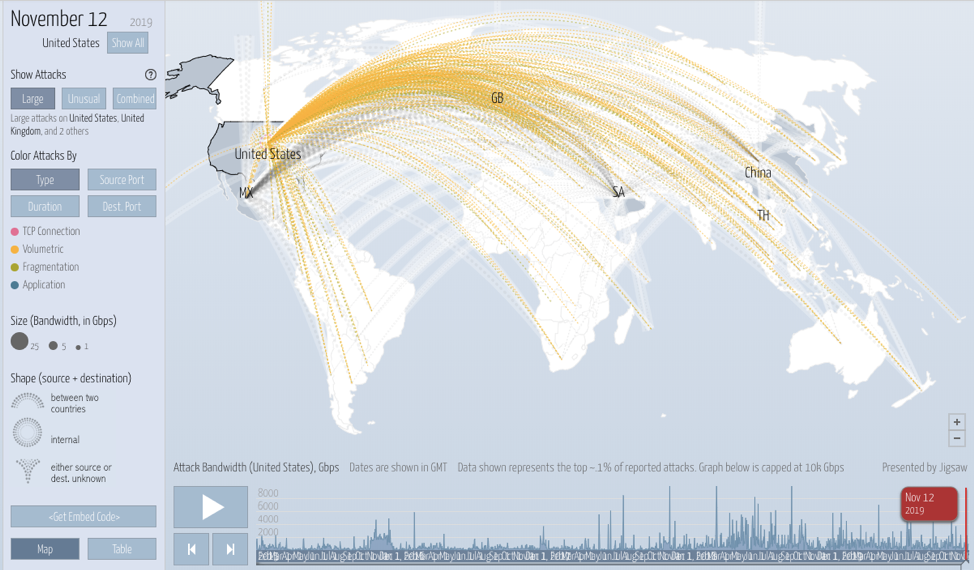 As part of Jigsaw (formerly Google Ideas), Arbor Network created a hybrid threat map that features DDoS attacks as well as a wealth of additional information and statistics.
The map is based on Arbor's ATLAS threat intelligence system with data sourced from over 300 ISP customers and 130 Tbps of global traffic.
8. Akamai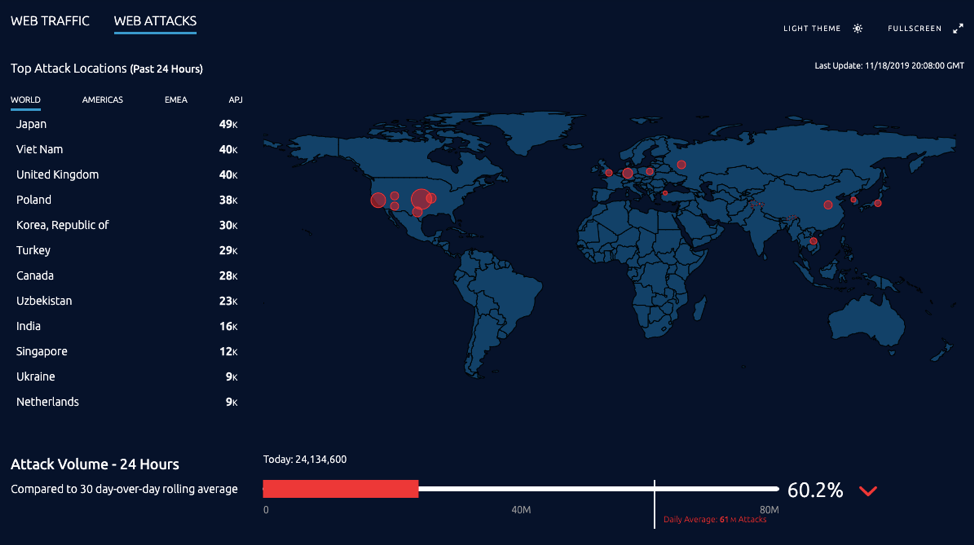 Akamai's Real-Time Web Monitor isn't technically a threat map, but we've included it as it displays valuable data you can use for threat intelligence.
Claiming to be live data, Akamai's monitor shows the countries with the most cyber attacks, web traffic, and cities with the slowest web connections.
One interesting feature is the dark mode, which you can switch to in the top right corner of the Akamai monitor app.
Threat Maps Are Useful, But Only As An Additional Source.
In contrast to what some experts say, threat maps can be useful for your organization's threat intelligence as you can gather valuable insights to improve your organization's cybersecurity posture.
However, you shouldn't base your whole threat intelligence efforts on threat maps. Instead, use them as an addition to other sources.
Or, if you are ready to jump on board, then be sure to check out RedLegg's threat intelligence service.
Or read...
Sours: https://www.redlegg.com/blog/cyber-threat-maps
Cara Melihat Perang Hacker di Dunia
.
You will also be interested:
.
492
493
494
495
496