Introduction: Simple Welding Cart
This is a simple welding cart I made to hold my new welder.
This was my first welding project ever. If you're taking the leap into teaching yourself to weld, I recommend making your own cart.
It's a great first-time welding project that provides an opportunity to practice some basic metal cutting and welding techniques. I'm not a novice to making things in general, but a lot of this was brand new territory for me. This instructable covers what I did.
To get started in welding, I strongly recommend audreyobscura's Welding Class right here on Instructables, as well as some of these other great Instructables on the subject.
Step 1: Get Some Metal
I started collecting old metal bed frames a while back, picking them up whenever I'd find them at my local thrift store.
They're a decent source of angle iron for a reasonable price. However, like wooden pallets it's debatable whether or not they're worth the effort to harvest the base material. It's a lot of work, as the iron used for bed frames is extremely hard and somewhat difficult to work, but I enjoy using old stuff like this so I think it's kind of fun.
I recommend slicing off rivet heads using an angle grinder with a thin cut-off disk, and then pounding out the rivets with a large nail punch and a hammer.
I set up some saw horses and various clamping arrangements to help out this process. After a little trial and error, I had figured out a basic system that worked for me.
If you're going to do likewise, be sure to wear all the proper safety equipment for this kind of activity.
Step 2: Marking for Cuts
For my welder and the gas bottle I got to use with it I decided to make a cart that is basically two shelves, both 11" by 28".
I made each shelf using angle iron with mitered corners.
I used a thin cut-off wheel in an angle grinder to make all my cuts. To mark cuts, I used a paint pen with a speed square.
Angle grinders can be dangerous. Follow the safety guidelines that come with your tools.
I recommend using angle grinders with the guard, and simply letting the weight of the tool do the work whether cutting or grinding. They don't respond well to excessive pressure . . much like people!
See photo notes for details.
Step 3: Cutting
To make the cuts, I clamped the metal pieces to my table to hold them securely. The cuts where then made carefully by hand.
I've used metal-cutting chop saws with abrasive disks in the past, and I'm not a fan. In my experience they are good for rough cuts but are not as precise as I want. Handheld grinders do the trick for me and are as precise as I want them to be.
Step 4: Clean Up Cuts
Some fine tuning of the cuts was done using a bench grinder.
The paint on the metal was removed using a wire wheel on the grinder wherever welds would be made.
Step 5: Lay Out and Fine Tune
The pieces for each shelf were laid out and the mitered corners got some additional fine tuning on the bench grinder to make sure they fit well and the whole thing was square.
Step 6: Tack and Weld!
Each corner was tacked together first. (A tack weld is a small welded spot, rather than a full bead.)
Then I flipped it over and did full welds along the joints.
Step 7: Complete Both Shelf Frames
Here's a shot of both shelves completed. I was excited that they were square and not warped!
Step 8: Vertical Frame Pieces
Vertical frame pieces were now measured, marked and cut as before, but with 90 degree cuts.
Step 9: Tack Up Frame
With the help of some magnets to hold things in place temporarily, I tacked the vertical supports to the bottom shelf, and the top shelf to the vertical supports.
This structure was fairly weak at this point with just tack welds, which allows for some gentle bending and tweaking to keep everything square.
Step 10: Add Full Welds to Frame
Full welds were now added to each joint.
Step 11: Oops!
At this point, I decided to grind down my welds to make the whole frame look pretty.
Mistake!
Later on I realized that I had made all these joints incredibly weak.
A couple of them cracked after the frame was painted and the wheels were in place. So later I came back, ground off the paint back down to bare metal, and then re-welded the outsides of the joints and welded the insides as well.
Several photos in the following steps show the frame in this cleanly-ground, pre-fixed state.
Step 12: Axle
For the back wheels, I purchased two no-flat wheels from Harbor Freight, and a 5/8" metal rod to be an axle.
A piece of the rod was cut to the length needed, and holes were drilled on a drill press to hold cotter pins that will hold the wheels in place.
Step 13: Weld Axle to Frame
Because of the size of the back wheels along with the size of the caster wheels I had for the front, I needed to weld the axle onto the frame about 1/4" up on the backside to make the cart be level when completed.
The axle rod was propped to the height needed with a piece of wood, and was welded in place, top and bottom.
These may be messy welds, but I think they'll hold! I had to make several passes to fill in the gaps between the round rod and flat frame.
Step 14: Almost an Oops!
I was just about to weld these zinc-plated washers in place on the axle when I recalled reading about the dangers of welding galvanized or zinc-plated metal. In a nutshell: it's highly toxic and can make you very sick or kill you. So . . you know, heads up on that one!
I ground off the plating where I was going to put a couple of small welds using my bench grinder, holding each washer with a pair of pliers to do so. Then I tacked these washers in place. I should note that I'm working next to a fully-opened garage door with a lot of good ventilation.
Step 15: Handle
The handle was made with 5/8" rod that was left over from the piece used to make the axle.
Pieces were cut as desired, and laid on my table and held as needed with magnets.
Step 16: Weld Handle
The handle pieces were tacked together on one side and then the other, and then fully welded together.
Step 17: Paint Frame
The frame was cleaned and then painted with primer.
After the primer, the frame was painted with a couple of coats of grey spray paint.
Step 18: Fix Those Weak Welds
As noted before, after painting I realized my welded joints were very weak.
I ground off the paint wherever I wanted to add reinforcing welds, and then added all the new welds.
Step 19: Shelf Boards
I made shelf boards out of 3/4" mdf, simply because this is what I had available. I may replace it at some point with something stronger and more longer-lasting, but it works for now.
A hole was cut in the back of the top shelf to hold my gas bottle securely. The shelf boards simply sit in place without any additional fasteners.
With the shelf boards cut and fitting as needed, I touched up the paint over the re-welded areas.
Step 20: Add Wheels
The back wheels were slid into place with some additional washers, and the cotter pins were dropped into the holes in the axle to keep the wheels in place.
The front caster wheels were bolted in place to the front of the frame.
Step 21: Load It Up
The shelf boards were replaced in the frame, and it was loaded up with my welder and gas bottle.
The whole thing rolls into place for storage under my folding work table.
Thanks for taking a look!
3 People Made This Project!
Did you make this project? Share it with us!
Recommendations
Halloween Contest

Audio Challenge

Unusual Uses Contest
Sours: https://www.instructables.com/Simple-Welding-Cart/
Beef Up Your Garage With This DIY Welding Cart
If you have all the welding gear but no cart to stow it on, you've come to the right place. Joe Mooney from Homesteadonomics ran into the same problem after he got his new Forney 190 MP welder. Follow these step by step instructions and you can create your very own three shelf welding cart.
Tools and Materials
Project Prep
Always remember to practice safe metalworking habits by wearing the proper personal protective equipment. A fire-resistant welding jacket or apron and sleeves,welding gloves, safety glasses and a welding helmet are vital to protect yourself against dangerous arc flashes and sparks.
Step By Step Assembly
Begin by tacking together the lower shelf. This shelf will eventually hold the wheels and the uprights that will hold the upper two shelves.
Using tack welds and your magnets, begin forming the skeleton of the cart. Use the magnets to hold up the second and third shelves, and tack them in.
Create a diagonal support from recessed metal. This diagonal support can serve two main purposes: to give the cart stability and support, and making it look super cool.
*Here Joe used tubing, but you can also use flat scrap pieces or a gusset triangle!
Next, from the same recessed metal create and tack weld cross supports for the shelves. This step is to ensure you can put sheet metal on the shelves.
After you finish the mainframe, you can begin creating a tool box out of galvanized steel for the second shelf of the cart. This box can also act as a drawer.
*It is not generally recommended to weld with galvanized metal due to the toxic fumes it releases. Joe suggests using regular sheet steel and paint it later.
Now, grab your expanded metal and begin creating the bottom of drawer/tool box. You will be adding wheels to make it a sliding option.
Now, attach the bigger wheels to the back end of your cart to make it mobile.
Next, add the smaller wheels to the front end of your cart. With two sets of wheels your cart and your machines can travel with ease.
For your final touch-ups, add sheet metal to the top and bottom shelves of the cart for a more refined look.
If you want to get really fancy, you can add fun and functional features to your cart such as a hook for a welding helmet or clamps, a milk crate for extra storage, or a bottle bracket for your gas tank.
Now step back and take a gander at the great addition to your tool bench!
For a step by step video of this project courtesy of Joe Mooney visit the Homesteadonomics YouTube page.
For more step by step tutorials and videos visit askforney.com
Shop Forney Welders
Sours: https://askforney.com/beef-up-your-garage-with-this-diy-welding-cart/
Whether you enjoy making your own projects or you often have people hiring for your talents, it's always a good idea to have the right equipment in one place. That will not only provide a much more professional vibe, but it will also keep your belongings together, preventing the chance of collecting clutter.
If you're into welding, you know that having a safe place to gather your materials together is one of the most important parts of staying safe and not creating a mess in the garage with your equipment. In this article, we will introduce you to several different DIY welding cart plans that you can use to make your space even nicer and add more tools to your collection.
These choices have been hand-picked to suit your needs and keep you safe. In addition, many are cost-effective, using only recycled materials to get the job done, and are great ways for you to be able to showcase your talents as a welder to potential customers or practice as a beginner.
13+ Best Welding Cart Plans
1. A Basic Choice
A simple guy (or gal) probably isn't looking for something too flashy to add to their collection. If that's you, then this is the perfect option. The materials are readily available, too. You are only going to need in order to make this is wood. Wood will be a great material to use because it's sturdy and easy to work with. You will simply need to make two identical bases that are 10×19, and then 4 pieces that are 19 inches tall. Put one of the bases on the bottom and the other on the top. On the bottom base, you will take one of these pieces of wood to go across on the right side, two for the left, and one on top of each other. Then, add casters on either side and you're good to go!
VIEW PLANS
2. Recycled Yet Sturdy
The next option on our list uses recycled materials to create the ideal welding cart. While some might shy away from using recycled materials, it can save you money in the long run and still prove to be a worthwhile choice. In this particular guide, the individual found a discarded paint sprayer and used the bones to create it. One thing to keep in mind is that the instructions for this include electrical components, so if you're not comfortable with those, then this might not be the best choice for you.
VIEW PLANS
3. Simple and Easy
If you're just starting out, then it might be a good idea to make your own. This can teach you all the techniques that you will need to know as you set out in this skill. You can also practice some basic metal cutting techniques. All you're going to need to do is find some metal pieces, make cuts, lay them out in the design you want, and follow the rest of the instructions accordingly.
VIEW PLANS
4. Absolut-ely Useful
Could you have imagined that the next design layout on our list was created using a steel display for Absolut Vodka? This is meant for more light-duty projects, as the author suggested that it was made for carrying half a pallet of vodka. If an Absolut Vodka cart is not something you can find easily, there are easily many substitutes that you can make work. If heavy-duty projects don't seem to be on your horizon, then it would be worth checking out this DIY project.
VIEW PLANS
5. Upcycled and Functional
Once again, here is another unique option that relies on the use of recycled materials. If you have anything laying around, such as a filing cabinet that was used in this example, that you believe is sturdy enough to handle all of your equipment and some of the projects that you will need to take on, you will have no difficulty creating the ideal cart for all your welding needs.
VIEW PLANS
6. The Very Best DIY
While one might argue about what is considered the best, this author went all-out and decided to create a welding cart that had all the bells and whistles, including sockets and a bottle rack. For this choice, they purchased a steel cart from eBay, which was sturdy but not the greatest for welding. So, this person also created a slat system that was made from a steel box section. Keep in mind that the instructions require the use of electrical equipment, so if you're not familiar with that yet, it might be a good idea to hold off or have someone else help you.
I love the smell of sooty black iron and it's almost something I expect in the summer. I have a welding unit, my own anvil, and I've been doing it for as long as I can remember. I depend on builds like these to transport my unit all around my garage work area.
VIEW PLANS
7. Cost-Effective Example
Chances are, you've been trying to find the right welding cart that will suit all of your needs and store your equipment effectively. But when you checked out the price tag (or the cost of assembling all the materials yourself), that made you question yourself about whether or not welding is truly the right path to take. In this example, we have found a guide that will enable starters to create the right cart for their garage while only costing $15.
VIEW PLANS
8. Your Custom and Unique Example
Who doesn't like to have a piece of equipment that is both customized and unique? Perhaps you don't want to have a cart that is run of the mill or that looks like everyone else's. With this option, it is now possible to have something that is small enough to lug around with you if you use public transportation (or even to fit in the trunk) while also being able to carry all the tools that will be necessary to do the job. To make things even better, this person found most of the materials on the side of the road, so this is also cost-effective.
VIEW PLANS
9. Homemade Custom Cart
What will make you prouder than being able to show off your homemade designs to potential clients to let them know about your professionalism and abilities? If you're someone who is already comfortable using electrical equipment and doing some of the welding activities on your own, then why not make something customized and unique to suit all of your needs? With this example, the author provides a sample layout to make the process of building the cart even easier. You can choose to copy what this individual did, or you can come up with something that is completely your own! Either way, it's time to bite the bullet and have a nice place for gathering all your favorite equipment.
VIEW PLANS
10. Make It From Scrap
Have random pieces of another project lying around? Scraps from old purchases that you always promised to get around to, but you simply never have the time to get? What about that old filing cabinet in your garage that seems to just be collecting dust? Well, now is the best time to get all of those out and put them to good use. Not only is this good for the environment, but it's not going to put a hole in your wallet when you make yourself a welding cart, too. You're already going to have all the materials necessary, and chances are that they're going to be sturdy enough for most low-grade projects. For those who want to do more higher-duty projects, there might be a more difficult task on your hands as you go to find the right materials. Here is an example using the wheels from an old bicycle and the pipes of an old broken trolley. In the end, it only took 2 days to build, and the best part is that the original author didn't have a specific plan in mind when they built it!
VIEW PLANS
11. Old Gas Grill and Scraps
Last but certainly not least, here is another welding cart that will only require the use of scraps or other things you have lying around at home. While welders can be portable, having a cart with wheels will help you to take it wherever you need to, and you can also have all the necessary equipment right in one place. One of the options that can be used to make this is an old shopping cart thanks to the pivoting wheels in the front. However, this particular author decided to use an old gas grill that they had lying around that was already rusted out. It also had pivoting wheels, which would make any welding task that much easier. If you don't happen to have a rusting gas grill at home, the author said that it's perfectly possible to find them on the curb or near people's trash, so it's not a bad idea to go scavenging and see what materials you can find.
VIEW PLANS
Welding Cart Building Tips
Welding Cart from DIY
Even though welding may seem like a complicated skill to learn, once you master the basics, it becomes easy and fun. Similar to other skills, the more you practice the faster you will learn to weld. And one of the most common first projects for new welders is building a DIY welding cart.
This accessory, which can be used to hold your welder and other tools, takes only a few hours to build. Before we get to the step by step guide, allow us to catch you up to speed with the wedding cart plan you should have in mind. Ideally, the cart will have a lower and upper deck, coat hooks to hang wires and helmets, and a rack on its back for C-clamps. You have the freedom to customize this design whichever way you see fit- there are lots of pdfs online that provide step-by-step instruction, including the links on this page.
My DIY welding cart (still got more to do)!!! from Welding
Let's get started on how to build a welding cart;
Get your hands on as many pieces of metal as you can. These are the resources you will use to create your cart. If you have none at the moment, you can always visit your nearest thrift store.
Mark the metal for cuts. Depending on your design, start marking all the metals for cuts. An angle grinder can help you with this.
Start making the cuts according to the required measurements. To cut metal accurately, it's advisable to clamp it and use a handheld grinder for smoother cuts.
You can then use a wire wheel to fine-tune the cuts.
Layout all pieces of metal and confirm whether they will fit perfectly.
Tack together all corners and weld the metals along their joints.
Compare if all shelves are square and of the same size. One of the key characteristics of a good welder is accuracy. So you need to know your measurements as you carry on welding projects.
Proceed to tacking up and framing the vertical pieces.
Assemble the full-frame and weld along the corners till it becomes sturdy.
Wheel up your cart. In this particular set, we advise you get your hands on some quality pair of wheels. Then connect them with a rod and weld the axle to the frame. But make sure to add a washer to fully hold the axle in place. Also, as you may already know, welding zinc plated metal is a bit dangerous and you should do so in a well-ventilated garage.
Fix a handle. Of course, your cart will need a handle. So cut the pieces and weld it on the upper side frame of the cart.
For aesthetic purposes, paint the frame with your color of choice.
Cut up two shelf boards to fit them in the square shelves.
On the welded axles, add the set of wheels.
And there you have it folks, your welding cart is complete. What's left is for you to load it up with tools and enjoy easy mobility within your garage or place of operation. Before you can start using it, however, always analyze the strength of the frame. And make corrections on areas that might need improvement over time.
MyMy Team
Hi, my name's Elena Coolidge. I'm a DIY enthusiast who loves building fun woodworking plans. These DIY plans are fun hobby projects for enthusiasts or even more advanced builders that want to build things like bunk beds, end tables or even a duck box!
MyMy Team
Sours: https://www.mymydiy.com/diy-welding-cart-plans/
Building a welding cart
50 DIY Welding Table and Cart Ideas and Designs [ Get Inspired ]
Get inspired with Ideas, Designs and Pictures for building your DIY Welding Table or Cart.  See how others have handled storage for welding machines, rods, gas tanks, angle grinders, chop saw, vises, clamping, and more.  See which work surfaces will work best for you.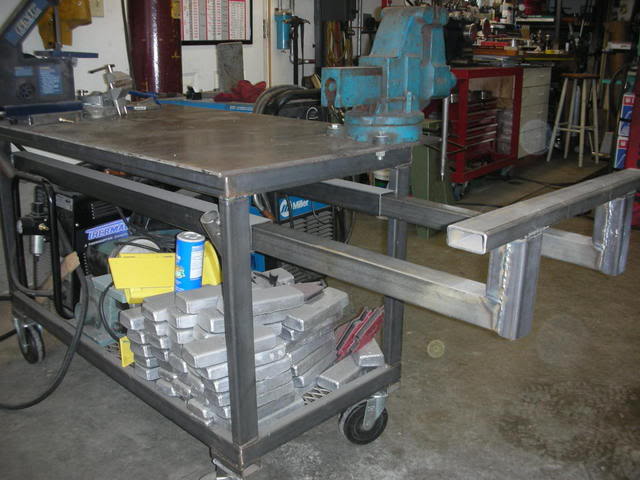 Neat pull out support for larger projects. Big vise is essential too. Lots of great fab projects like this on OffroadFabnet.com…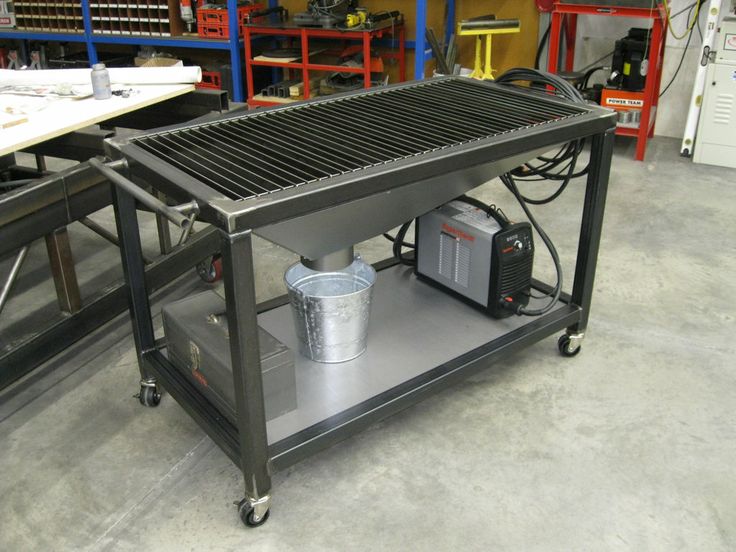 Neat idea for a plasma cutting cart. All the slag and dust funnels down to the bucket. Pirate4x4 is another great source for Fab projects…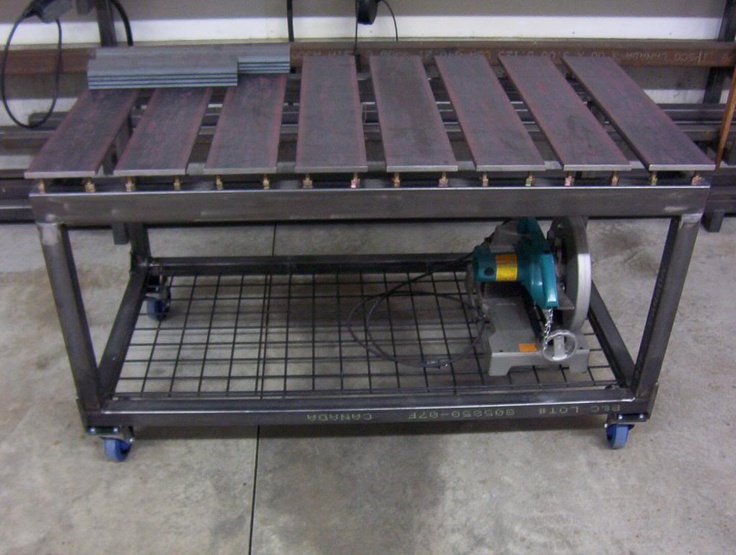 Welding cart set up for clamping. Try Garage Journal for this project and more…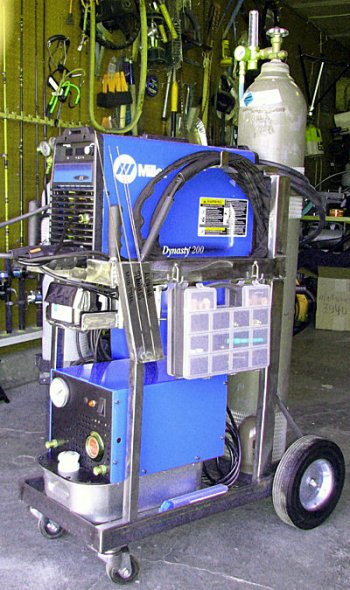 Tig Cart from MillerWelds forums is neat. Storage for the Tig, a homemade Tig water cooler, some rod, gas bottle, and the inevitable plastic box full of accessories.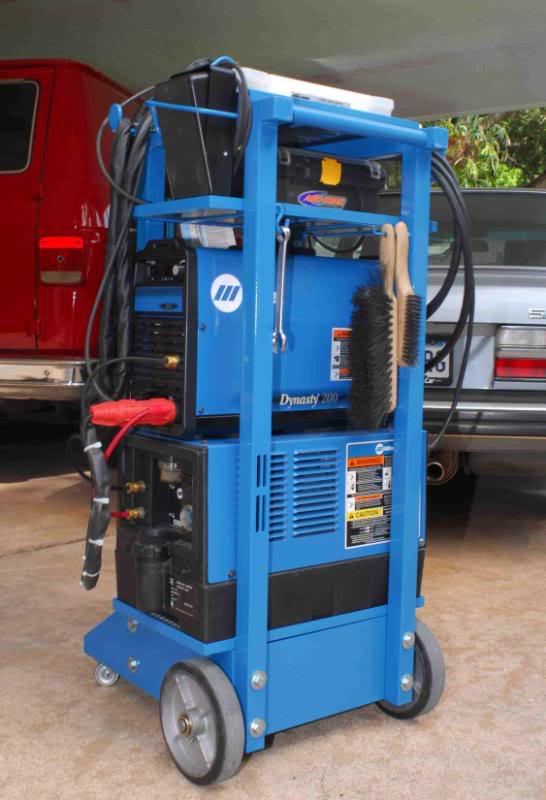 Miller Dynasty Cart. These carts that match the welder's are sharp…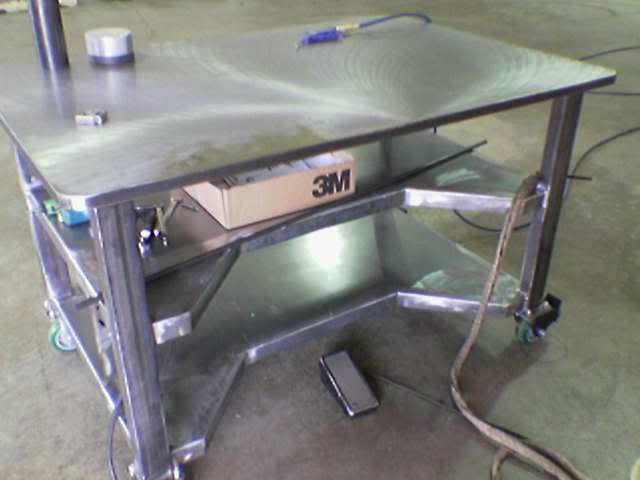 The pro-welders recommend thick plate on top. This table has 1″ steel plate. See Practical Machinist for more, another great source of ideas.  Love the cutout for the Tig pedal.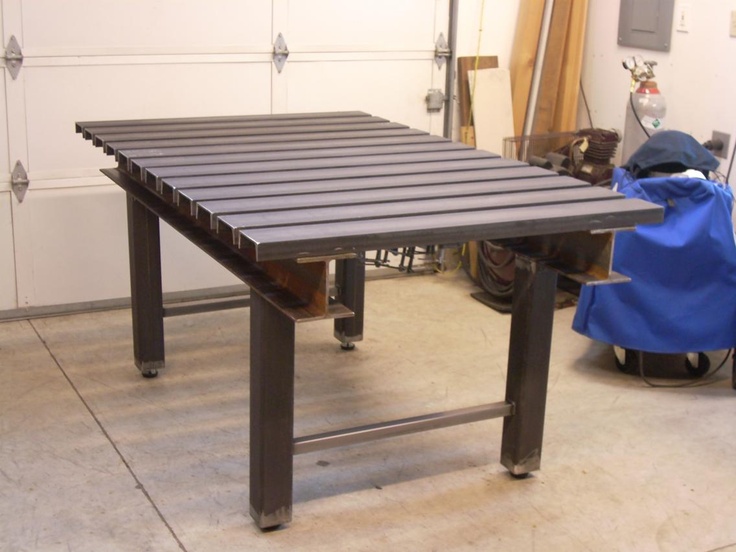 Another very stout table, set up for clamping…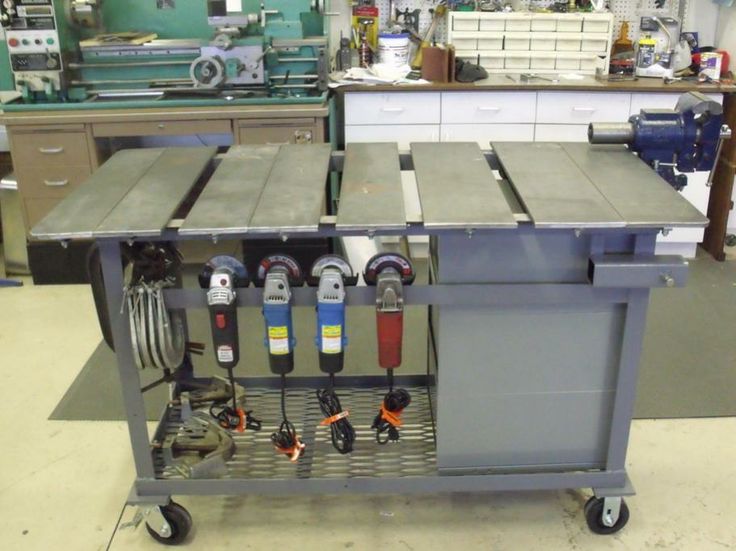 Every welder needs a bevy of angle grinders handy. I like hanging them right on the cart…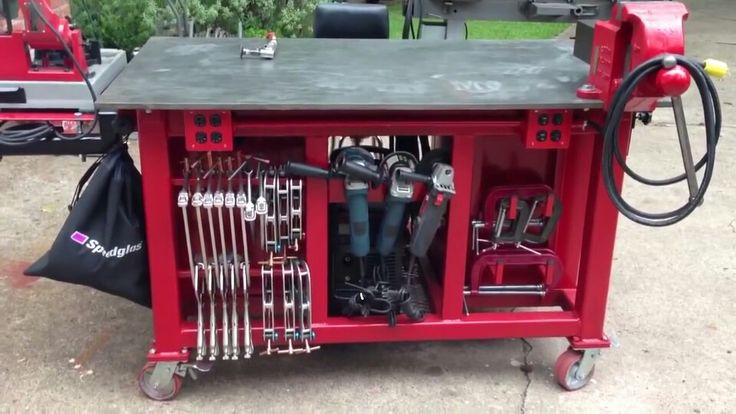 Lots to like about this Big Red Table. Thick metal top, Big Vise, Clamp Storage, Angle Grinder Storage, and look at those handy outlets for angle grinders and whatever else up under the table lip where they're protected. There's even flip up storage for the chop saw. Nice!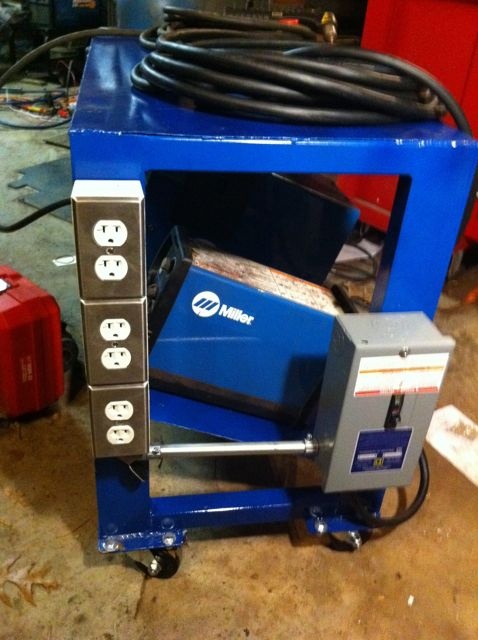 Outlets on the cart seem nice. If you've got multiple welders on the cart, providing them each with a 220 outlet on the cart that goes to a single connection the wall sounds handy too…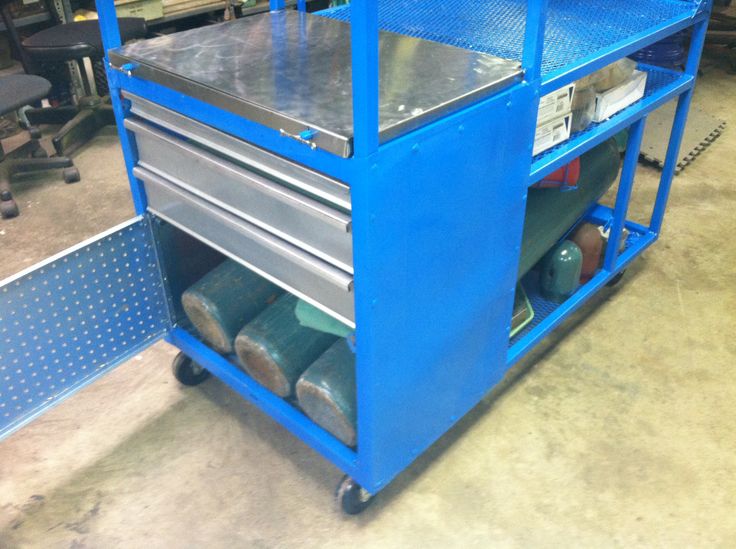 Gas tanks often consume quite a lot of space. This rig lays them in horizontally to recapture some space and keep the center of gravity low. Nice idea, though wrestling them back out of there for refill is probably painful.
Even more welding table and cart ideas: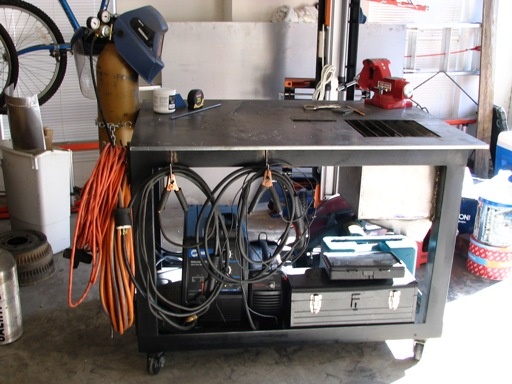 Nice basic table that includes a well for plasma cutting. Seems to me a pullout or flip-up plasma surface that's a little larger would be a neat feature for an all-in-one table + cart…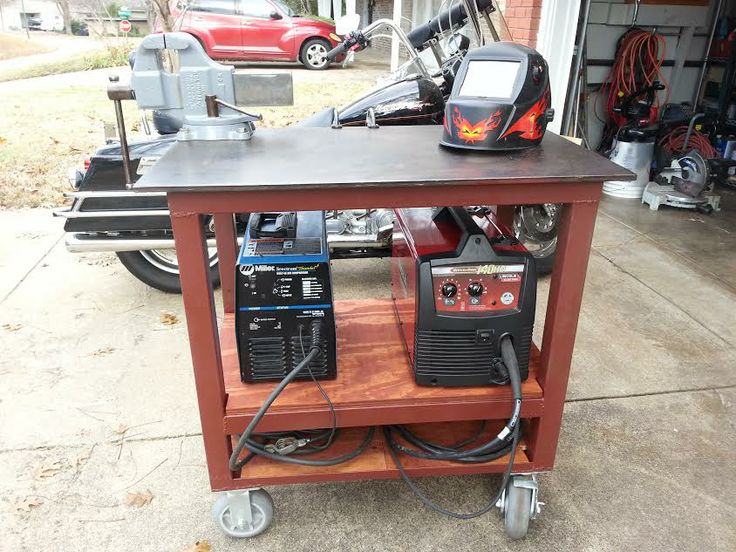 Here's a nice basic cart for welding…
And another neat little cart…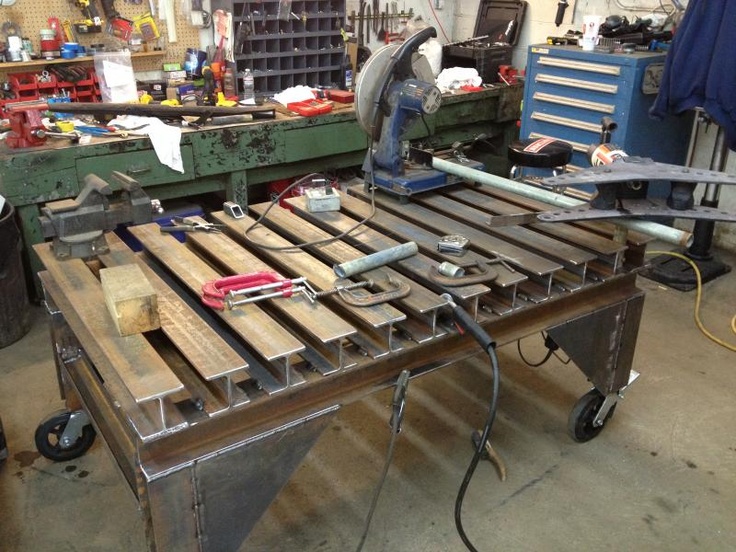 Got some I-Beams available for salvage? They make for a beefy cart. This one's from Welding Web…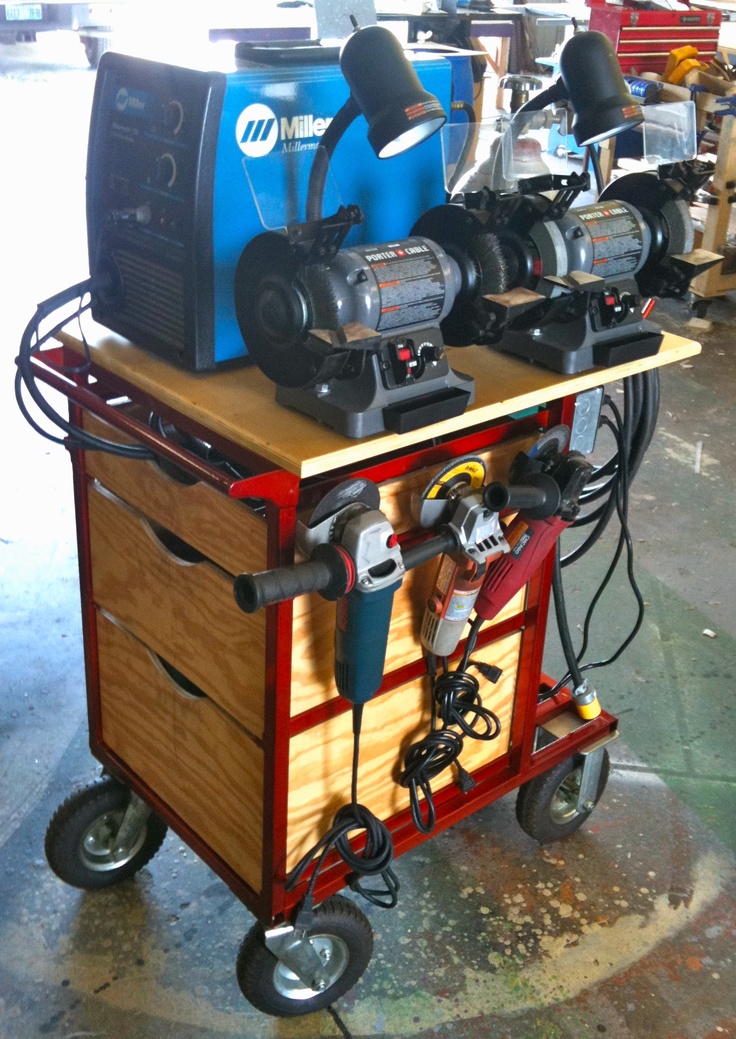 This might just be a grinder cart as much as it is a welding cart, but it is still neat…
Rod Storage right on the Cart seems like such a good idea…
Another Rod Storage Idea: Just Make a Rack for the Tubes They Come In…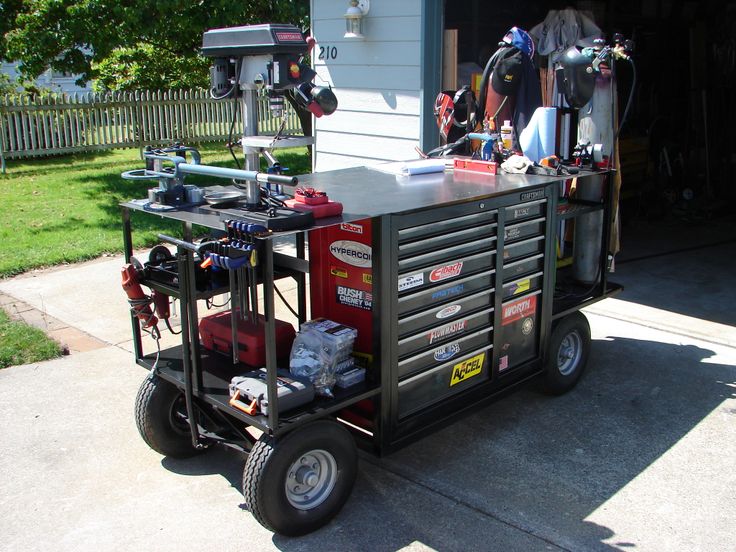 Practically an entire Fab Workshop on a cart. I'm loving the big wheels as I know rolling a heavy cart over the 3/4″ step to my garage would be so much easier with those than regular sized casters…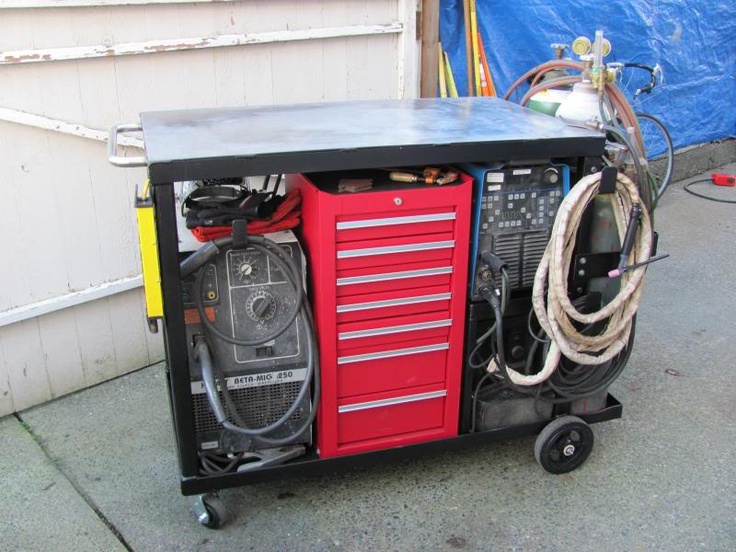 Tig, Mig, Oxy Acetylene, Nice Tool Chest (looks like a side box, which are handy when you want narrow)–All the Essentials…
Thick cast iron with square holes is the ultimate industrial welding table surface. This type of surface is called an "Acorn Table"…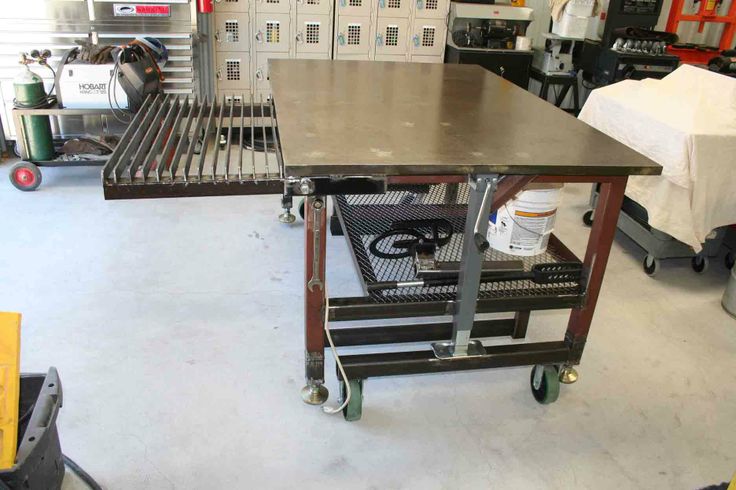 Neat pull out Plasma Cutting Rack. Note the jacking system so you can pull the casters up off the ground when done rolling the table. Thick steel table is awesome too. This one is from the Hobart Welding Forums…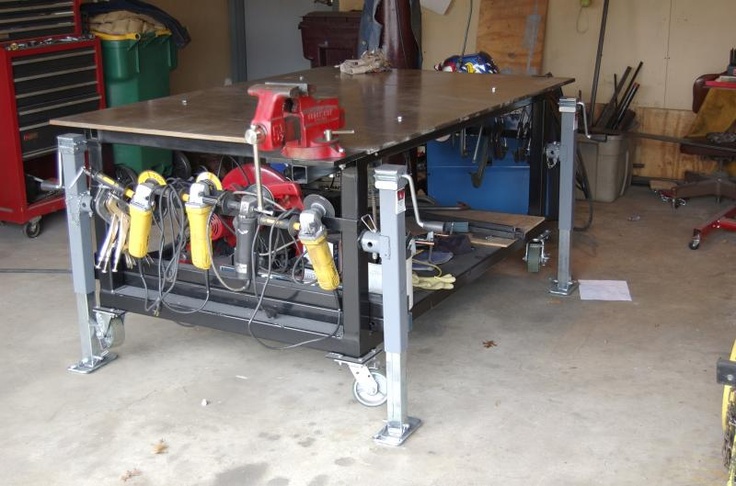 Hitch Receivers are ideal to mount vises, chop saws, grinders, and anything else you may want to get out of the way if you need more room. Here's another example of a jack up system to pull a table off the casters…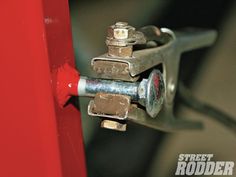 Be sure to weld a nice grounding point onto your table so you can get the ground clamp out of the way and just leave it hooked up…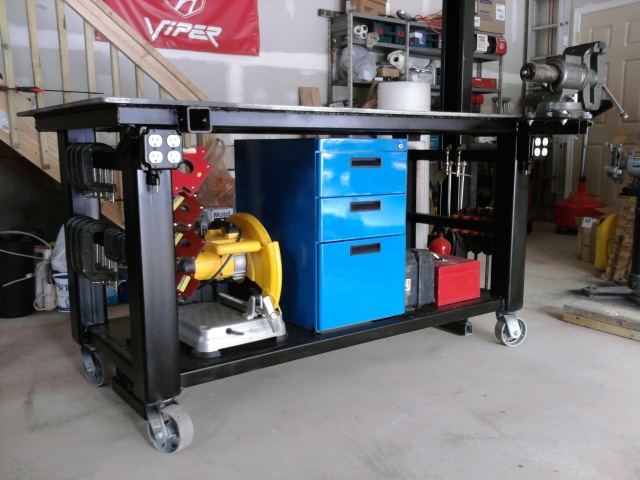 Another very nicely done table. Lots of storage + outlets + hitch receivers for accessories…
I recently took one of two car lifts out of my garage to make room for expansion of the machine shop sickness. The good news is that I picked up a large garage stall of floor space, and the bad news was that the lift had been a convenient work surface for many projects including welding. Part of this new push would involved getting things organized and fabricating some custom work surfaces. That meant I needed a convenient place to weld, hence this approach. I'm of the opinion that you can never have too much work surface nor too many drawers, so the idea of building a welding table on top of a rolling tool chest really appealed to me. Here is a brief photo essay of the project:
The idea was to use firebricks to insulate the tool cabinet from heat together with an additional stand-off bracket to increase the air gap…
The stand-offs were made from pieces of 4×4 square tubing that I sectioned on my chop saw…
Brother Dave on the Tig welder. We each did half the welds. Hard to keep in practice for Tig!
Here is the finished table. The square tubing sticking out the front was a last-minute idea. I'm going to mount my vise on there so it is removable as needed. I have a hunch that I'll come up with other things to insert in that "holster" that will be helpful. We'll see!
Sours: https://www.cnccookbook.com/diy-welding-table-cart-designs-ideas/
Homemade welding cart
10 DIY Welding Cart Plans You Can Build Today
0
Last Updated on
If you are interested in a new welding cart, you might try building your own to save money and to gain some experience using the tools you are acquiring. Welding carts are not that difficult to build, and you shouldn't need any special tools to create most designs. We've searched the internet for as many DIY welding cart plans as we could find, and we are going to present them to you here now.
How to Build a DIY Welding Cart
Here are the plans we have been able to locate for you.
1. Heavy Duty Welder Cart
The Heavy Duty Welding Cart comes to us from Dave Wirth. This design is not too hard to build and only requires a few boards and some copper tubing. The instructions are very clear and prove plenty of accurate illustrations. The resulting cart is both durable and attractive, with plenty of room for all your tools, including fire extinguishers.
Materials: Lumber, copper tubing, caster wheels, paint, wood glue
Tools: Handsaw, tape measure, paintbrush
---
2. Mig Cart
The Mig Cart comes to us from Dave Jewers and is a perfect chance to put your welder to use building this simple cart. It only requires a few materials and even fewer tools. Once you have all of the supplies assembled, it shouldn't take long to build the cart and have a useful addition to your workshop.
Materials: Square tubing, angle iron, deck material
Tools: Welder, angle grinder, clamps
---
3. Metal Welding Table
The Metal Welding table comes to us from Lincoln Electric, and this plan provides us with an easy to follow a plan that only takes a few hours and allows you to use your welding equipment. It only requires 1/8-inch steel, caster wheels, and some steel tubing.
Materials: 1/8-inch steel, steel tubing, washers, caster wheels
Tools: Welder, wire cutters, tape measure, clamps
---
4.Best DIY Welding Cart?
The Best DIY Welding Cart? Is brought to us by Giaco Whatever is another easy-to-follow project that lets you use the welder to build the welding cart. The video tutorial is very easy to follow and results in a usable cart in less than a day without many materials or tools.
Materials: Square steel tubing, steel mesh
Tools: Welder, tape measure, pencil
---
5. That Shop Teacher Guy
This welding cart comes to us from That Shop Teacher Guy, and it's another easy to assemble cart that uses square steel tubing for the majority of the build. The video tutorial moves along at the right pace, and the shop teacher takes time out to explain the important aspects of the build. As long as you have the materials, it shouldn't take more than a few hours to complete.
Materials: Various width square steel tubing, caster wheels
Tools: Welder, handsaw, sander, grinder, clamps
---
6. Simple DIY Welding Cart Project
The Simple Welding Cart Project comes to us from Urchfab and is one of the simpler designs so far on this list. It's explained well by the host of the instructional video, and he demonstrates everything in an easy to follow way. The finished product is very attractive, a little shinier than many other models, smooth rolling, and durable
Materials: Square steel tubing, caster wheels, steel piping
Tools: Welder, hand sander, tape measure
---
7. Making Stuff
The Making Stuff DIY Welding Cart is a little bit more complex than some of the other carts on this list, but it's well worth the trouble and results in a very durable cart for your welding supplies. This cart will require several bigger tools like the miter saw and the belt sander that some smaller workshops might not have.
Materials: caster wheels, square steel tubing, metal grating
Tools: Welder, miter saw, belt sander, clamps
---
8. Homesteadonomics
The Homesteadonomics welding Cart is another cart that's a bit more advanced. It provides you with many special features, including a pull-out drawer and pull-out drawer bottoms so you can choose solid or mesh. It looks better than many commercial models and is quite sturdy
Materials: Square steel tubing, sheet metal, caster wheels, metal grating
Tools: Welder, hand sander, clamps
---
9. Ultimate Welding Cart with Table Expansion
The Ultimate DIY Welding Cart with Table Expansion it brought to us by Ollari's, and this is an advanced project best attempted by experienced welders and machinists. The resulting project is extremely useful, and the folding table provides plenty of room to get your work done.
Materials: caster wheels, square steel tubing, metal grating, sheet metal, washers
Tools: Welder, hand saw, hand sander, spray paint
---
10. Welding Cart with Bench Grinder
This DIY Welding Cart with a Bench grinder is another advanced project that results in a useful way to move your welding equipment and your bench grinder. It features two torch holders, a place for accessories, large cable hooks, and a coaling water dish.
Materials: caster wheels, square steel tubing, sheet metal
Tools: Level, hand grinder, clamps, welder, hammer
Summary
When choosing which DIY welding cart to build, you'll need to compare your skill level with the features you require. Most of the plans on this list are easy and result in a very usable cart that should have enough room for all of your supplies and a place to hang your torch. If you have a lot of experienced, the carts at the end of the list provide some handy extra features that provide you with more storage space, more table space, or more tools space.
We hope you have enjoyed reading over these plans and will give some of them a try. If we have helped you choose your next project, please share these 10 DIY welding cart plans you can build today on Facebook and Twitter.
---
Featured image credit: emirkrasnic, Pixabay
Sours: https://waterwelders.com/diy-welding-cart-plans/
GARAGE Built WELDING CART DIY 2020 Setup (A Beginner Fabrication Project)
.
Now discussing:
.
561
562
563
564
565