Fancy Boxes Cricut Cartridge Ideas
by Richelle Naegle
If you love to make your own boxes then you won't want to miss out on the brand new Fancy Boxes Cricut cartridge. It has 10 new boxes that you can cut out, each of them with five different designs or sayings on them, giving you a total of 50 fun new boxes to make. As soon as I got a hold of this cartridge, I had to make a couple of creations.  I started off with the Pyramid Box. I cut it out at 14", which made it fit perfectly on a 12" x 12" sheet of patterned paper.
The one thing to note with this box that I did not realize until it was too late, is that once I glued all the edges, I have no way of putting anything inside. I went back and looked at all the other boxes and even the other pyramids and they all have holes at the top of them so you could tie up the edges and put a nice bow on the top, but this one doesn't offer that. I'm not sure why but it doesn't, so if you're like me and love this box, make sure you punch a hole at the top. You probably already thought of that, and I'm not sure why I didn't think of that before I used tacky tape (which is great for boxes!).
Domed Cupcake Box
The second box I was really excited to make was the Domed Cupcake Box!
I don't really make pretty cupcakes, so I might as well dress them up a little bit with a decorative box. I love the little intricate designs on the sides of this box. It was cut out at 6.25", and it fits a regular size cupcake perfectly!  It fits the width of the 12 x 12 sheet but it's too tall to put two boxes on one sheet. I also cut out the second layer but that isn't necessary. You could add the acetate sheets so that it's completely enclosed but you are still able to see what's inside. The possibilities are endless when it comes to this new Cricut cartridge.
I know this is a super new cartridge and most of you haven't gotten your hands on it yet but when you do, I would love for you to share your Fancy Boxes Cricut cartridge ideas with us on our Google+ page. But until then leave me a comment and let me know what you think about this cartridge.
Scoring Tip
I used the Cricut Explore and the Explore Stylus scoring tool. This is the first project I had used the scoring tool with the machine. I generally just score my own cards because I have been a bit disappointed with the previous Cricut scoring tool. Having to remember not to unload the paper was pivotal so that it will score in the correct spot. I was very pleasantly surprised by how well the scoring tool worked. The fact that I did it all in one paper load was awesome! So if you have the Explore and didn't purchase the scoring tool yet, I definitely recommend it. I think you will be pleased with your Cricut purchase. It doesn't matter if you need replacement Cricut blades or a new mat for the Explore, we have it all.
Happy creating!
Sours: https://www.craftdirect.com/blog/fancy-boxes-cricut-cartridge-ideas/
Tags, Bags, Boxes, & More Cricut Cartridge
Select, Cut And Assemble The Perfectly Wrapped Gift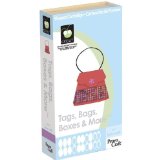 Gift wrapping has never been easier than with the
Tags, Bags, Boxes & More Cricut cartridge
. Just select and cut from a wide array of containers of various shapes and designs to fit just about any gift and for any occasion.
Each bag or box shape can be cut with a window on one side to allow the contents to be visible and the tags can be produced with and without tie holes.
The cartridge comes with the following containers:
Shopping Bag

Gift Bag

Purse

Heart Bag

Square Box

Flower Box

Matchbox

Triangular Box

Cake Box

Tree Box

Crayon Box

Nut Cup

Popcorn Box

Tag Packet

The
Tags, Bags, Boxes & More Cricut cartridge
contains shapes only. There are no alphabetic or numeric characters.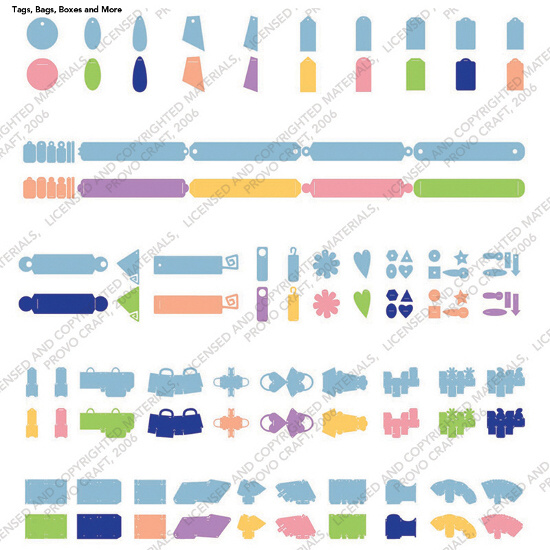 Tags:
Sours: http://cricutcartridgeguide.org/cricut-cartridge-tags-bags-boxes-and-more
Cricut Cartridge - Tags Bags Boxes and More 2
200 ratings Write a review
Item #:
USD59
Order now and get it around Wednesday, October 27
Note: Electronic products sold in US store operate on (110-120) volts, a step-down power converter is required for the smooth device function. It is mandatory to know the wattage of the device in order to choose the appropriate power converter. Recommended power converters Buy Now.
---
Product Details
Use with all cricut machines
Six creative features: box section 1, box section 2, tag, card, phrase, and phrase shadow/card phrase
Includes boxes, tags, cards, and phrases
Perfect for cards, scrapbook layouts, home décor, and other projects
| | |
| --- | --- |
| Product Dimensions | 9.5 x 1.5 x 5.25 inches (24.1 x 3.8 x 13.3 cm) |
| Item model number | 2001228 |
| ASIN | B0077EGEB6 |
| Item Weight | 8.8 ounces (249.48 grams) |
Description
Create a variety of projects in no time with the tags, bags, boxes and more 2 cartridge this versatile cartridge is filled with a wide array of boxes, tags, cards, and phrases that are prefect for any occasion. You will love using this cartridge with the cricut scoring tool and cricut gel pens to make and embellish 3d boxes and bags. Use the latest cricut cartridges to create unique and engaging designs for every occasion. The versatility of the cartridges will surprise even the most imaginative crafters.
Similar Products
All cricut cartridges, Bag in box, Brain decor, Dies to cut boxes, Cricut cards, Cricut supply
Customer Questions & Answers
No question and answer found
Customer Ratings
0 customers ratings
5 Star 0%
4 Star 0%
3 Star 0%
2 Star 0%
1 Star 0%
---
Review this product
Share your thoughts with other customers
Customer Reviews
No customer reviews found
Write Your Own Reviews
Only registered users can write reviews. Please log in or register
Sours: https://www.ubuy.com/product/CYWJ7WW-cricut-cartridge-tags-bags-boxes-and-more-2
Fabric Hand Bag Using Cricut Tags, Bags, Boxes Cartridge
ノートPC-【T-ポイント5倍】 81Y300DNJP L350 ideapad 【中古】Lenovo(レノボジャパン) アビスブルー 【346-ud】 10〕 〔Windows
〔中古品〕
〔商品ランクB〕
〔付属品〕ACアダプター(本体用)、バッテリー、Office Home and Business 2019

〔Bluetooth規格〕Bluetooth5.0
〔Webカメラ〕カメラ有り
〔無線LAN規格〕無線LAN有り(ac対応)
〔メーカー〕Lenovo(レノボジャパン)
〔グラフィックチップ〕Intel UHD Graphics(CPU内蔵)
〔シリーズ名〕ideapad L350
〔OS〕Windows 10 Home(64ビット)
〔CPU〕Celeron 5205U (1.9GHz)
〔メモリ容量〕4GB
〔メモリスロット数〕(全0/空0)
〔最大メモリ容量〕4GB
〔ストレージ種類_1〕SSD
〔ストレージ種類_1〕SSD
〔ストレージ容量_1〕256GB
〔光学ドライブ〕DVDスーパーマルチドライブ
〔モニターサイズ〕15.6インチワイド
〔モニター種別〕モニタ
〔モニター解像度〕1366x768/WXGA
〔グラフィックチップ〕Intel UHD Graphics(CPU内蔵)
〔有線LAN規格〕LAN(1000BASE-T)
〔無線LAN規格〕WiFi(a/b/g/n/ac)
〔Bluetooth規格〕Bluetooth5.0
〔モニター解像度〕1366x768/WXGA
〔光学ドライブ〕DVDスーパーマルチドライブ
〔Webカメラ〕カメラ有り
〔HDMI端子〕HDMI端子搭載
〔付属ソフト〕Office Home and Business 2019付属
〔対応SIMサイズ〕非対応
〔ジャンル〕ノートパソコン
〔発売時期〕20200612
〔OS区分〕Windows 10
〔CPU区分〕その他
〔ストレージ区分〕SSD
〔CPU〕Celeron 5205U (1.9GHz)
〔ストレージ容量_1〕SSD:256GB
〔メモリ容量〕4GB
〔モニターサイズ〕15.6インチ
〔OS〕Windows 10 Home(64ビット)


Sours: https://abhisi.com/konacha_matcha/products.php?48841nfpe213303nf0344665.html
Boxes cartridge cricut
Cricut Box it Up Cartridge
Box it Up Cartridge
Value
You will always get the best value for your money with cartridges—the cost can be as low as 11 cents an image! From specific project and card cartridges to fonts and general image cartridges, more choices give you more creative freedom.
Ease of use
Simply pop cartridges into the side port of your Cricut machine. When you link your cartridges to Design Space, all images are saved and accessible. Each cartridge contains images that share a design style or theme. For complementary décor or multiple projects that always look cohesive, cartridges are so easy to use. You don't need to be a pro to make professional-looking creations.
Projects
For every DIY project—from personalized fashion and home décor to special-event invitations and greeting cards—Cricut has the perfect cartridge.
Sours: https://www.amazon.com/Cricut-Box-it-Up-Cartridge/dp/B00I5V61FO
Cricut Tags, Bags, Boxes \u0026 More 2 and New Arrival Cartridges
.
You will also be interested:
.
612
613
614
615
616