Princess Zelda's Study: The sound of Kakariko
Kakariko Village is a reoccurring town found throughout Zelda lore. Generally a farming town, it's a quiet and relaxing place to visit, play some games, do some side quests, and overall procrastinate from what really matters. Though the location has had a change in theme song from time to time, this song has become an iconic tune that has traversed its debut in 1991 into many future Zelda titles. Yes, many songs have been reorganized to suit future Zelda games, but what's so interesting about the "Kakariko Village Theme" is that it's not always featured in Kakariko itself.
Kakariko, both the village and the song, debuted in A Link to the Past. A common mistake, also found with "Zelda's Lullaby" is that it's thought to have been created for Ocarina of Time, but it's been around 7 years prior to its release. For the most part, this soothing tune melodically sounds the same aside from its synthetic instruments. 
Once it was recreated for Ocarina of Time, it was given the sounds of recognizable instruments: guitar, harmonica, and, of course, ocarina. Actually, there are two versions of the theme in Ocarina of Time. One for when Link is a child and one as an adult. The adult version features more strings to give it a fuller sound. Otherwise, the two are exactly alike.
The next time we would hear this song would not be in Kakariko, but instead on a little island called Windfall. In the year 2002, we were given The Legend of Zelda: The Wind Waker. This indirect sequel to Ocarina of Time featured many old songs with a new spin on them, including both Outset Island and the Forest Haven's take on the "Kokiri Forest Theme" and the upbeat Kakariko transformation that is the "Windfall Island Theme".

While both A Link to the Past and Ocarina of Time featured more soothing renditions of the "Kakariko Theme", TheWind Waker's Windfall Island was filled with people hustling and bustling about, so a peppier theme was needed for such a place! The song is given a nice little intro before the first six notes we all know are finally played. However, once we reach the bridge, the tune is identical once more. The melody at this point is slightly different than the original, having a more playful tone than somber. 
Two years later this song would return, but once again not in the village of Kakariko. 2004's Four Sword Adventure takes us to a different location, like Windfall, that is similar enough to Kakariko to share its theme song. "The Village of the Blue Maiden" is another town where the people never seem to rest, so once again it has a more upbeat tone. Unlike the "Windfall Theme" however, this one's melody remains the same to its original source. It's a faster pace and played with much louder instruments, but it's the same "Kakariko Theme" we all know through and through.

Now 2006's Twilight Princess has a brand new theme song for this iconic village, and in my honest opinion, though it fits the scenery, it's just not as catchy. There is still a callback to the original "Kakariko Theme" when you first enter the scene — the first six notes are most undeniably a reference to the previous games, and you hear them once again as the track loops every so often. You can even hear bits and pieces of it while trying to calm Epona!
Of course, what good sequel wouldn't include a newly orchestrated version of a beloved theme song? In 2013, A Link Between Worlds released with an overworld nearly identical to its direct prequel, A Link to the Past, and we've officially gone full circle with this piece!
It's been a few years since then and no sign of our beloved "Kakariko Theme". Well, at least not as an actual town theme. It is one of the many songs that can be played in the Tri Force Heroes lobby, but aside from that, Breath of the Wild decided to reinvent the theme of the village to better suit the traditional Japanese tone. The Twilight Princess version is also revamped to fit the hack and slash gameplay of Hyrule Warriors. What, you didn't expect them to put in the calm and peaceful version into a game like that, did you?

It's always fun to see these songs revisited in each new Zelda game they appear in. The "Kakariko Theme" has always been a favorite of mine, especially the Windfall rendition, and I will be hoping that Nintendo revisit this theme the next time we visit Kakariko Village: or perhaps somewhere entirely new!
Stephanie Cusumano
Stephanie Cusumano is co-editor of the columns team on Zelda Universe as well as a cosplayer, author, and artist who is always ready to show off her Zelda side. She's kind of a dork, but her passion for Zelda has inspired her to be creative and try her hand at her own storytelling.
Sours: https://zeldauniverse.net/2019/02/26/princess-zeldas-study-the-sound-of-kakariko/
Music is a defining feature of The Legend of Zelda series, so much so that it becomes its own character. The soundscape molds Hyrule around Link and his friends, giving character to those he interacts with and helps the player connect with them on an emotional level. The awe-striking music from The Legend of Zelda played a significant role in why I chose to pursue Bachelor's Degree in music, and it is why I have decided to take an in-depth look at different tracks throughout the scores that inspire me as a musician. I thought a good starting point would be Breath of the Wild, one of the soundtracks that I am least familiar with. Now, seeing as Breath of the Wild has a little over 4 hours worth of music (that's 211 tracks, wow!), I figured I would start with working my way through the Sound Selection CD included in all limited editions of Breath of the Wild's original release.
---
Up until this point in our musical journey, we have been examining the vast and dangerous world of Hyrule; but from here on in, with the latter half of the Sound Selection, we'll be looking more closely at the various towns and villages Link can discover to get a good rest, find some good food, and maybe even acquire some new clothes. These village soundtracks all come in a night and day package, and it is futile to look at one without the other. As such, these next few Musical Musings will be done as comparisons and contrasts of their partner pieces.
---
Introducing the Pieces
These two tracks, "Kakariko Village (Day)" and "Kakariko Village (Night)," tracks 14 and 15 respectively, were both composed by Hajime Wakai. Side by side, they have many similarities, as well as many differences, though both retain the same motifs.
---
Special Instrumentation
These two pieces have such a wide variety of instruments that we have not yet encountered, which is quite impressive considering we're now 15 tracks in. This piece is very centered around traditional Japanese court music, or gagaku. As such, it takes many of the instruments from that style. Starting with percussive instruments, the most prominent and recognizable is the taiko, which are those massive barrel-shaped drums often shown off in Japanese music festivals.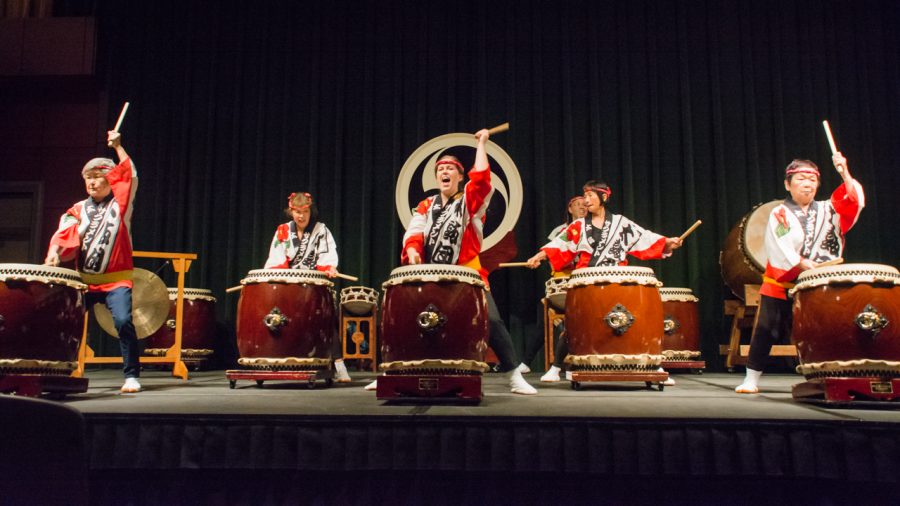 Taiko are played with special drumsticks called bachi
The other percussive instrument to note is the hyōshigi, which consists of two bamboo slats that are clapped together. Both of these instruments can be heard at the beginning of the "Day" track.
The woodwinds present are called the shakuhachi, a high ranged bamboo flute played by monks in China before migrating to Japan, and the hotchiku, a similar flute made from the very bottom of a bamboo shoot. For stringed instruments, these tunes both use a koto, the national instrument of Japan, though the one used here is a 21-stringed koto, as opposed to the more traditional 13-stringed koto.
The koto has adjustable pegs to change the tuning of the strings
The "Night" variant features an instrument not present in the 'Day' form, the kokyū, which has made an appearance once before, in the 'Main Theme.'
---
General Analysis
As I stated before, these tracks are both based on traditional Japanese court music, referencing the clear antiquated style of Breath of the Wild's version of Kakariko Village. Court music was played in full regalia, and in the courts of people of power. The architecture of Kakariko Village also clearly references the palaces of Feudal Japan. The most interesting thing about these two pieces is how different they can be while still being pretty much exactly the same. Take the main motif, for example:
Kakariko Day motif
Kakariko Night motif
The difference in the motifs is insignificant. In fact, the only differences are the grace notes in the "Day" and the instrumentation ("Day" is lead by the shakuhachi and "Night" is played by the hotchiku). Otherwise they are completely the same, and yet, due to being played with a different feel, they sound completely different. That is the mark of an excellent instrumentalist. This is the standard between these two tracks. They have essentially the same instrumentation, yet the rhythms of the percussion are different, creating a relaxing feel in one, contrasting the upbeat feel of the other. The koto actually plays a key role in this. In the "Day" theme, the koto is quite active, doubling the melody or playing runs like this:
Whereas in the "Night" portion, it plays light clusters here and there, and trying not to be too intrusive.
---
Technical Analysis
This theme is pretty cool to look at because it is not in a "standard" key signature. It is composed in the e-minor pentatonic scale. What this means is that the instrument is only allowed to use five (penta) of the notes of the scale (tonic).
The scale includes I-III-IV-V-VII
The cool thing about a pentatonic scale is that it is pretty hard to mess up a harmony with. If someone were playing an e-minor chord progression underneath a soloing instrument, all the soloist would have to do is pick notes from the pentatonic scale. That's why it is so popular in jazz and funk!
---
Matt's Musings
Honestly, for the first little while I had a hard time accepting these themes as being Kakariko Village. I had become so connected to the original theme from A Link to the Past that it basically obscured me from hearing the actual music. However, given time, I eventually came around to giving it a try. Now I enjoy them both, and though the "Day" theme is much more compositionally compelling, the "Night" version is something to marvel at in its own right. I think Breath of the Wild lacks just straight-up calming music, and the "Night" theme fits the bill nicely. I will say, however, that the music fits the scenery so well. I can really hear and feel the culture behind each note.
---
So what do you think about these themes? Which one do you prefer? Do you like the upbeat Day theme or the more chill Night music? Do you struggle with accepting this new theme as the Kakariko Village theme song? Let us know in the comments below!
Matt Pederberg is part of the Writing Team at Zelda Dungeon, holds a Bachelor of Music, and has used that knowledge to develop his love of excellent music in excellent video games!
Tagged With: No tags were found for this entry.
Sours: https://www.zeldadungeon.net/musical-musings-contrasting-the-differences-of-kakariko-villages-day-and-night-themes/
Kakariko Village- Sheet Music
Kakariko VillageArr. Daniel Meiners
Soprano Recorder
b 3 &b 4 3 bb 4 & bb 4 & 3 b b
..
.
.
Acoustic Guitar
.. . ..
Harpsichord
n
6
S. Rec.
&b &b
6
Ac.Gtr.
6
Hpschd.
bb & &b &b b b
12
S. Rec.
.
b
12
Ac.Gtr.
12
Hpschd.
b &b
.
.
start: 9-3-09 finish: 9-7-09
Kakariko Village
2
18
S. Rec.
b &b b &b
.
.
18
Ac.Gtr.
.
18
Hpschd.
b &b bb
24
S. Rec.
&24
.
Ac.Gtr.
b &b
24
Hpschd.
bb & &b &b b b
.
.
30
S. Rec.
30
Ac.Gtr.
Hpschd.
n b 30 . . . . bb &
3S. Rec.
36
bb & bb &
Kakariko Village
.
. .
. .
36
Ac.Gtr.
36
Hpschd.
b &b
.
42
S. Rec.
b &b &b b
.
.
.
42
Ac.Gtr.
42
Hpschd.
b &b
b b . .
48
S. Rec.
b & b n. bb &
.
.
.
..
Ac.Gtr.
Hpschd.
n b .. 48 . . . .. . bb &48
Sours: https://dokumen.tips/documents/kakariko-village-sheet-music.html
Kakariko Village - The Legend of Zelda: A Link Between Worlds
Kakariko Village from The Legend of Zelda: Ocarina of Time
In this page you will find information and downloads about the musical theme known as "Kakariko Village" from the Nintendo 64 (N64) game "The Legend of Zelda: Ocarina of Time". This is the music you can hear when you are in Kakariko Village.

If you have problems downloading or opening the files, solve them here: How to Use this Website.
---
General information
Name: Kakariko Village
Game: The Legend of Zelda: Ocarina of Time
System: Nintendo 64 (N64)
Composer: Koji Kondo
Length: 1:33 (main loop)
Key: Bb major
Original music: Listen on YouTube
---
Arrangement: BlueSCD's piano version
Preview sheet music: Page 1Page 2
Sheet music: Download
Music file: Download
MIDI file: Download (optimized for Synthesia)
Synthesia: View on Synthesia / Play on Synthesia / Show scores
Game footage: Watch on YouTube
Arranger: BlueSCD
Have you recorded yourself on video playing this piece? Great! Add a link to this page on your video description, send us the link to your video ([email protected]) or write it on the comments and we'll put it here for everybody to check out.
---
Other arrangements
Have you got a different arrangement of this theme on your website? Tell us on the comments and we'll put a link here, or submit it to us!
More The Legend of Zelda: Ocarina of Time sheet music
More Nintendo 64 (N64) sheet music
---
---
---
Musical Comments
Sours: http://www.gamemusicthemes.com/sheetmusic/nintendo64/thelegendofzeldaocarinaoftime/kakarikovillage/index.html
Village music kakariko
Kakariko Village
About Song
We all love listening to songs. Isn't it interesting how listening to a song can bring back a special memory or make you feel happy or calm? Every song has different vibe & every person has a different taste in music. With Wynk, you can now listen to songs online throughout genres. While listening to Kakariko Village song online, amplify your emotions through lyrics of the song. There are also options to choose your favorite artist Guy Hughes songs on Wynk. Download Mp3 Songs from all genres seamlessly with Wynk. You can now download mp3 songs from across all categories for free and play songs offline without Internet.
Listen & download songs online from various languages including latest English Songs, Hindi Songs, Punjabi Songs, Malayalam Songs, Tamil Songs, Telugu Songs, & many more. Also, listen to Kakariko Village-From "Legend Of Zelda" album songs online here. Wynk also makes it easy to create your own playlists that you can listen to anytime on Wynk Music. Keep Wynking!
Sours: https://wynk.in
Kakariko Village (Day) 10 Hours- Zelda Breath of the Wild
.
You will also be interested:
.
712
713
714
715
716