'

Oh Lord, I just gotta find it....
Forums60
Topics124,925
Posts1,008,218
Members45,094
Most Online1,229
Jan 21st, 2020
cab rotisserie
#1150210Mon Feb 15 2016 01:02 AM
S
OP
Wrench Fetcher
Is there a place where the plans for a cab rotisserie can be downloaded?
H
'Bolter
Two Harbor Freight heavy duty engine stands and some 2" angle iron- - - -instant rotisserie!
Jerry

---
The murder victim was drowned in a bathtub full of Rice Krispies and milk.
The coroner blamed the crime on a cereal killer!

Cringe and wail in fear, Eloi- - - - -we Morlocks are on the hunt!
D
Extreme Gabster
Cab, frame or body....all looks the same to me Deve,
cept for the length and the mount.

A friend, aka; ctheusa sent me a picture of what he used for
his '47 build. Had one end on an engine stand and the other
on his engine hoist. Looked pretty cool.
http://www.pbase.com/dennygraham/image/162586860

dg
Last edited by Denny Graham; Tue Feb 16 2016 02:48 PM.
R
Shop Shark
Sweetietheswede,

This is what a freind of mine and I came up with. He was the mechanical engineer, between the two of us. I contributed a few ideas to it. I was sent to the steel yard with a list. Then I cut all of the steel to length. He welded the framework together. I was in charge of tracking down the tall hydraulic jacks. Which, I did find at Harbor Freight. I am sorry there are no plans for it. We didn't have the foresight, to think about saving a list of measurements and take pictures of the step by step assembly. Perhaps, it will give you a rough idea how to build one. We used a couple different sizes of square tubing, for the base. This allowed us to slide inside the other. That way we could adjust the size. If you are going to only use it for one size cab, that pobably isn't necessary. We welded plates at the end of the round tubing, that spanded accross the doors. The upper door hinge and striker plate bolt holes were used to fasten the cab to the rotisserie. I wasn't as interested in capturing the rotisserie as the cab, when taking these attached pictures. Sorry that it is not a more detailed, for you. Hope this helps you out. Good luck with your project.

Rugo
http://s1380.photobucket.com/user/Rugocigars/media/Cab%20Rotisserie_zpszfjg1cv8.jpg.html?o=2
http://s1380.photobucket.com/user/Rugocigars/media/IMG_0573_zpsahwsn3pa.jpg.html?o=0
http://s1380.photobucket.com/user/Rugocigars/media/IMG_0572_zpsamgykvyd.jpg.html?o=1
Last edited by Rugo; Tue Feb 16 2016 05:17 PM.
---
Steve Rugg
53 3100
D
Gas Pumper
No Denny, the cab is WAY different. And very problematic. The Cab was never designed to hold its own weight other than in its usual orientation. I have seen plans where they use the door posts to flip the cab over, but CRINGE when I see it because those door posts were never designed to handle the weight of the entire cab. I have thought of how to do it grabbing the actual floor mounting holes with an L shape bracket that also bolts to the firewall, but then, it defeats why you need it... to get to the hard spots to prep and paint.

In the end, I decided to make a cab cart with a pedestal to raise it high enough to paint everything but the floor, then have someone over to help me pick it up and set it on the firewall when I need the floor accessible. There are other people out there way smarter than me.. so I am hoping someone will say.. hmmmmmmmmmmm....

Rugo.. all I see is that I can get 65% off Wall Art. No pics.
---
Deve

1950 Chevy 3100 Deluxe Cab
1950 Chevy 3100 Standard Cab
In the Stovebolt Gallery
The Think Tank
More info and tips at Deve's Technet
R
Shop Shark
Thanks Deve, I will give it another go. I am not sure what my calling in life is. But, I can safely cross off compters as a possibility.

Rugo
---
Steve Rugg
53 3100

Moderated by 48bigtrucks, MNSmith
Link Copied to Clipboard
Sours: https://www.stovebolt.com/ubbthreads/ubbthreads.php/topics/1150480/re-cab-rotisserie.html
Toggle Nav

Sours: https://www.eastwood.com/autobody/rotisserie.html
Re: Cab Rotisserie Thoughts.
Quote:
Originally Posted by
Fred T
Eliminate the center wheels, they are redundant.
They may look redundant, but they're not.
They actually help to stabilize it from tilting toward the cab because they're closer to the cab.
Here's the one I built last fall
without
the center wheels. It has a 3/16" 2x2 square tubing that connects the two pieces and runs through 2.5x2.5 tubing under each half which is adjustable for different cars. But, before I use it again it will have center wheels. This is a 70 Mach-1 (not a real heavy car) but without that center wheel, it makes the 2x2 span piece sag about 1", or maybe more in the middle. I would never have guessed that 3/16 would flex like that, but it does.
If you look right under the tail light, you'll see a piece of 1/2" all thread rod with a "t" welded on top and a 1/2" nut welded on the side of the 2.5x2.5 that I added to try to correct the flex. It works fine, only problem; it has to be loosened every time I move the car outside.
It's not a huge problem. And maybe I'm over cautious, but I'll be adding center wheels before it's used again. Probably right about where that all-thread is now.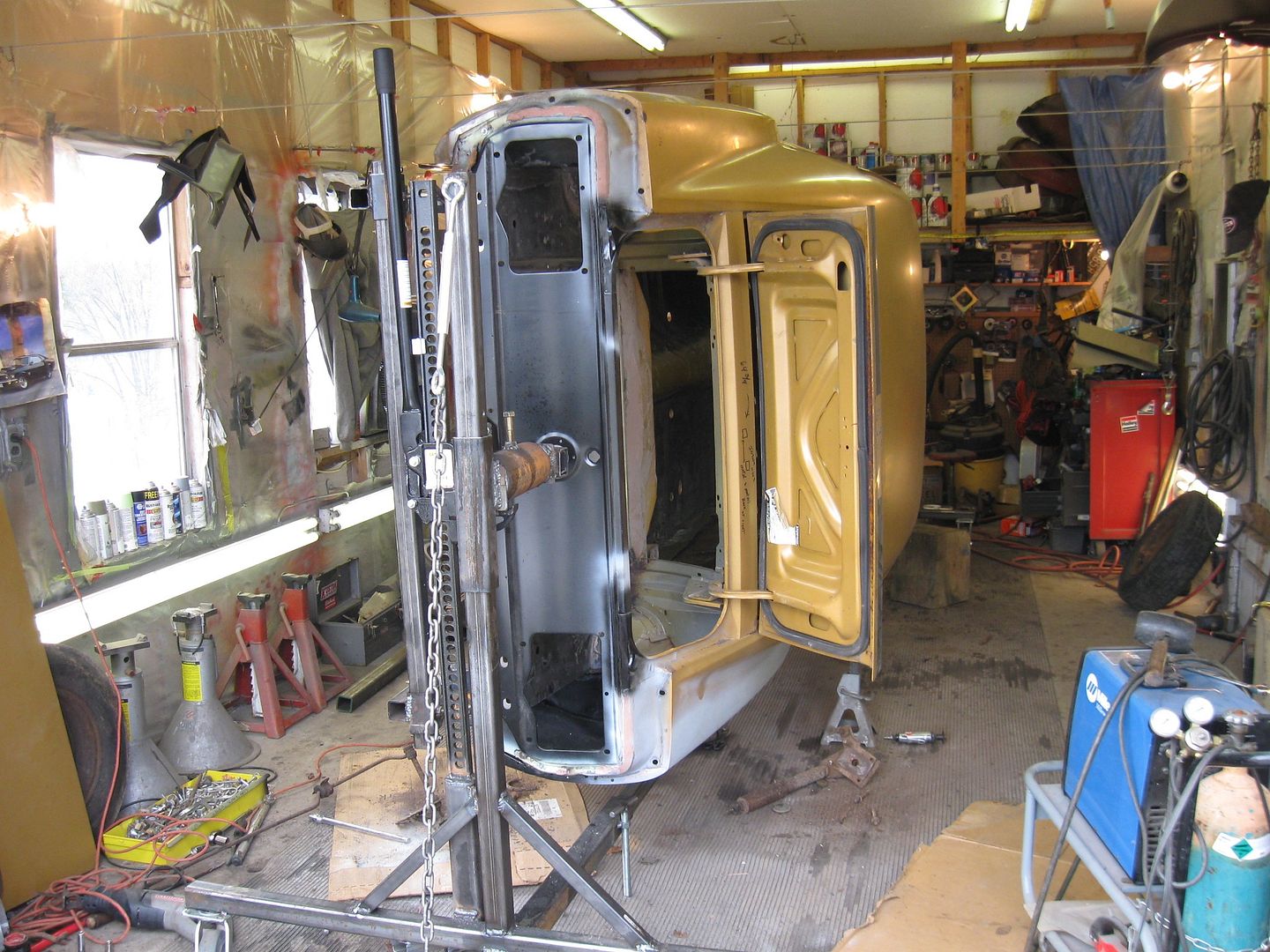 ---
Last edited by 63 & 64 Bowties; 06-06-2010 at 10:29 PM.
Sours: http://67-72chevytrucks.com/vboard/showthread.php?t=406238
TRUCK CAB TIP-JIG!!! Quarter turn wood rotisserie.
NEW AutoTwirler Rotisserie Body Mount Vehicle Frame Mounting Rails Truck Cab Kit
$416.85Buy It Now3d 2h, FREE Shipping, 14-Day Returns, eBay Money Back Guarantee
Seller:igilmore✉️(2,879)98.7%, Location:Pensacola, Florida, Ships to: US, Item:251886940760NEW AutoTwirler Rotisserie Body Mount Vehicle Frame Mounting Rails Truck Cab Kit. There are multiple ways to mount bodies to our rotisseries. In order to give you clear access to the rear corners of the cab, weve made this Truck Kit, shown in ORANGE. The rails run between the mounting arms on the rotisserie and bolt securely to each end. Each mount arm of the Truck Kit can then slide along the rail to match up to the cab mounts. The mounting arms can be positioned horizontally or vertically. There are holes in the end of each arm to bolt into the cab mount. Please note the rotisserie shown in this picture is NOT included. Order yours today! KEY NOTES • Standard price is in BARE STEEL • Product is meant for the truck cab, not the truck bed • Product is NOT compatible with the Kernel CR-3000 rotisserie Specs • Includes 2 x 6 rails • Kit shown in Orange • 5 year steel warranty • Includes 4 x 8" mounting arms • Rotisserie shown in green is NOT included • Fits the Auto Twirler Plus and Basic models We proudly accept the following: ©2012 REDLINESTANDS ALL RIGHTS RESERVEDCondition:New, Restocking Fee:No, Return shipping will be paid by:Buyer, Returns Accepted:Returns Accepted, Item must be returned within:14 Days, Refund will be given as:Money Back, Brand:Auto Twirler, MPN:AT_Truck_Kit
PicClick Insights - NEW AutoTwirler Rotisserie Body Mount Vehicle Frame Mounting Rails Truck Cab Kit PicClick Exclusive
Popularity - 10,154 views, 4.2 views per day, 2,403 days on eBay. Super high amount of views. 5 sold, 5 available.

10,154 views, 4.2 views per day, 2,403 days on eBay. Super high amount of views. 5 sold, 5 available.

Price -
Seller - 2,879+ items sold. 1.3% negative feedback. Great seller with very good positive feedback and over 50 ratings.

2,879+ items sold. 1.3% negative feedback. Great seller with very good positive feedback and over 50 ratings.

Recent Feedback
People Also Loved PicClick Exclusive
Auto Twirler Rotisserie Body Mount Vehicle Frame Mounting Rails Truck Cab Kit

$110.00Buy It Now22d 3h

NEW Redline AutoBody Door Rotisserie Restoration Telescoping Steel Frame Braces

$181.44Buy It Now11d 3h

Auto ROTISSERIE PLANS For all Cars & Trucks Build it Yourself & Save on Shipping

$13.75Buy It Now30d 4h

Redline Auto Restore Restoration Car Truck Rotisserie Adapter Kit Brackets

$193.59Buy It Now6d 2h

Auto ROTISSERIE PLANS For any Truck, Car, Ford, Chevy, Dodge, Foreign & Domestic

$13.75Buy It Now25d 4h

AutoTwirler Body Cart Mustang Each

$580.99Buy It Now27d 7h

AutoTwirler Body Cart Mustang Each

$580.99Buy It Now23d 0h

Chassis Frame Leaf Spring Hole Body Stand Cart Rotisserie Bracket Mount Kit

$29.99Buy It Now20d 10h

2x Rubber jack Pad Keep the Chassis Rails from Getting Pinched, Bent, and Broken

$17.90Buy It Now14d 12h

2014 3.0 Ram Ecodiesel Fuel Rails C393

$199.99Buy It Now27d 10h

Auto ROTISSERIE PLANS For all Foreign & Domestic Cars and Trucks Easy To Build

$13.75Buy It Now24d 11h

3.0 Ecodiesel V6 Fuel Rails M1S45

$150.00Buy It Now8d 8h

NEW Redline RTS3000 Automotive Rotisserie Replacement Gear Drive Rebuild Kit

$477.35Buy It Now11d 3h

ROTISSERIE ADAPTER MOUNTING PLATES (4) ATEHT-MOUNTING-PLATES Brand New!

$46.70Buy It Now22d 8h

ROTISSERIE UNIVERSAL DOOR BARS ATEHT-UNIVERSAL-DOOR-BARS Brand New!

$168.53Buy It Now22d 8h

car rotisserie

$1,000.00Buy It Now18d 6h

ROTISSERIE UNI-BODY ADAPTER ATEHT-UNIBODY-ADAPTER Brand New!

$77.76Buy It Now22d 8h

ROTISSERIE VALANCE ADAPTER ATEHT-VALANCE-ADAPTER Brand New!

$77.76Buy It Now22d 8h

ROTISSERIE LEAF SPRING ADAPTER ATEHT-LEAFSPRING-ADAPTER Brand New!

$53.20Buy It Now22d 8h

NEW AutoTwirler Rotisserie Corvette Sub Frame Body Mount Vehicle Car Adapter

$1,689.50Buy It Now17d 3h

Kernel Mopar Front Rotisserie Brackets Restoration Car Mount Arm Adapter

$181.49Buy It Now11d 4h

AutoTwirler AT-MPC-BOX3 Body Cart Components, Tube, Mopar, Box 3 of 3, Each

$27.99Buy It Now8d 8h

Auto Hydraulic Car Rotisserie Automotive Car Twirler 4000 lb Capacity by 5 Star

$1,499.99Buy It Now21d 0h

Titan Rot 4500 Automotive Rotisserie Titan 4500

$1,655.00Buy It Now8d 23h

Auto Twirler At-Pro-Assy Pro Auto Rotisserie

$1,783.95Buy It Now4d 5h

JEGS 81241-2 Replacement Jack Screw Rod Bolt Fits Auto Rotisserie (555-81241) Pa

$13.99Buy It Now24d 18h

Redline ROT3000-LD Auto Restore Restoration Classic Car Truck Rotisserie

$1,299.50Buy It Now18d 4h

NEW Kernel Auto Restoration Classic Vintage Car Truck Vehicle Rotisserie

$1,479.99Buy It Now6d 6h

TUXEDO CR-3000 Rotisserie Car Rotator 3,000 LB Capacity

$1,389.93Buy It Now16d 6h

Kernel Mopar E Body Rotisserie Brackets Restoration Car Mount Adapter

$254.09Buy It Now9d 6h
Sours: https://picclick.com/NEW-AutoTwirler-Rotisserie-Body-Mount-Vehicle-Frame-Mounting-251886940760.html
Rotisserie truck cab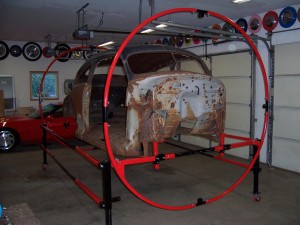 Back in 2005 my father and I came up with a body lift and roller system that would allow one person to separate a car body from it's frame. With a standard rotisserie the biggest problem we saw was how to get the body onto the rotisserie with out having 4 guys come over to manually lift it. An even bigger problem we saw was, after you completely restored your car body (fresh paint and all) how were you going to put it back on the frame?
Here are some of the benefits:
Fully adjustable for any sized car including truck cabs
Can be used as a body cart for portability
Can be made to fit under an 8′ ceiling
Legs are telescoping for easy height adjustment
Universal to fit any type or model of car
Can be operated with minimal shop tools(9/16″, 3/4″, 11/8″ sockets)
Has a capacity of 1500 pounds
Body cart can be used with a standard auto rotisserie
Firewall and trunk are completely accessible
Breaks down for easy storage
Will adjust from 5′ to 8′ wide
Will adjust from 6′ to 12′ long
Will adjust from 24″ to 39″ high
Capable of raising bodies as low as 10″ from the ground
The body lift & roller plans are 50 pages of easy to follow blueprints that are based on common sense and not engineering jargon. There is more than enough information on the drawings to successfully build a complete body lift and roller.
The capacity drawn is for 1500 lbs. If you have the skills to restore a car, you have more than enough skill to build this body lift. Every part is clearly drawn and dimensioned in 4 views including a pictorial view for clarity. The blueprints also come with building notes and a full material and cut list.
Sours: http://redwingsteelworksplans.com/tag/truck-cab/
Heavy Duty 3000 lb Automotive Rotisserie - Great for Car \u0026 Truck Restorations - Eastwood
.
Similar news:
.
739
740
741
742
743