BougeRV 30-Quart Fridge/Freezer
BougeRV reached out to us asking if we wanted to review a portable refrigerator. Of course we obliged, and they sent us a 30-quart single zone fridge/freezer.
At 30-quarts, this fridge/freezer sits on the small end of the portable fridge/freezer selection. A cooler with roughly the same external dimensions would have closer to 40-quarts capacity. However with the 12-volt fridge there is no need for space consuming ice to keep it cool, and it can be set at a desired temperature rather than whatever temperature the ice/dry ice keeps a cooler at.
Items included in the BougeRV Portable Refrigerator
Fridge/Freezer
12-volt power cord
110-volt power cord
Divider
User manual
2 replacement soft feet
Specs
Capacity: 30 Quarts
Size: 22.7 x 12.6 x 15.6 inches
Temperature Range: -4°F – 50°F
Weight: 22.8 pounds
Voltage: 12/24 DC or 110 – 220 AC
Wattage: Eco Mode 45W Max Mode 60W
MSRP: $269.99 (BougeRV is giving our readers a 15% discount using the code: CRD15)
Initial impressions
The quality and finish appear very nice with a durable feel. The magnetic lid closure is exceptionally strong and creates a good seal. Initially, we worried that the 30-quart would be too small for our needs, but it turns out the size was just about perfect. If you're wondering what size is best for your needs, click here for a sizing guide.
For initial testing we set up the fridge/freezer in a quiet office plugged into a 110-volt wall outlet. The compressor is hushed but noticeable in an office setting and is on par with a computer running its fans at full speed.
With the empty unit plugged into a 110-volt outlet the cool down time required from to go from 68°F to 32°F was just under 15 minutes. Going all the way to 0°F took another 50 minutes, for a total of 65 minutes. The unit cooled to about 10°F quickly but going from 10°F down to 0°F took nearly 30 minutes. From there the empty unit would stay off for about a 45-minutes until it reached 4°F before turning on and cooling down to 0°F again.
Once loaded up it would take longer before the compressor would turn on, but it would stay on for a longer time to get cooled down. This is expected because the food stored inside acts as a larger heat reservoir.
Vacation Testing
We took a trip to Capitol Reef National Park in a Cadillac Escalade and decided to bring the 30-quart BougeRV portable fridge along. The fridge was used to take care of the daily cooling needs for four people. We ended up using a 110-volt outlet and set the fridge between the 2nd row captain's chairs. This outlet is only on when the vehicle is on, so there was no risk of the fridge draining the battery. On the other hand, there was the possibility of the fridge not staying cool long enough to keep the food fresh. To increase our chances of keeping the fridge cold we set the temperature to 32°F and we found that even when hiking for a couple hours away from the vehicle the fridge never exceeded 40°F.
For those using a 12-volt outlet with power even when the vehicle is off, the BougeRV portable refrigerator has three different battery protection settings. This detects the input voltage and will disable the fridge if the voltage gets below the set amount. The three modes are low, medium, and high and the voltage cutoffs to start the compressor are 10.9v, 11.4v, and 12.5v respectively. There are also two other modes which are Max and Eco for the cooling type. We used Max for our trip as the fridge only powered when the vehicle was on, but Eco mode is a good option for those running the fridge with a starting battery to save energy.
Pros
The smaller size of the 30-quart is nice for using inside a vehicle for a few reasons. Obviously, the smaller size means it fits in more places and most larger units wouldn't have fit where we wanted it during our trip. Also, on this model the handles are also recessed reducing the chance of other items getting caught on the unit. Another obvious pro is that the unit can be set to whatever temperature is desired between -4°F and 50°F and stays there. This is great for storing things like ice-cream that will melt when stored in ice.
Cons
The only downside to this smaller unit compared to other larger units is that there is only one cooling zone. Larger units can set one compartment to freeze and another to refrigerate, which allows for more versatility in storing food. However, for the 30-quart size one zone makes more sense.
Conclusion
In conclusion, when looking for a budget portable fridge, the BougeRV 30-quart is an excellent choice. The display is easy to read and adjusting the settings is simple. The built-in battery protection is great for those who are using their vehicle starting battery to power the fridge. This unit has all the necessary features at a fraction of the cost of other brands.
Matt Barnes
Matthew Barnes is an experienced towing expert. He works as a mechanical engineer and his day job involves testing a variety of vehicles while towing trailers of all types and sizes. Matt shares his knowledge by writing for automotive news outlets in the evenings. When he's not working he can be found spending time in the great outdoors with his family. He enjoys camping, hiking, canyoneering, and backpacking. Whenever possible he spends time riding in or on any power sports vehicle he can find and claims he can drive anything with a motor, which probably isn't true.
Matt lives in the Utah mountains and often posts cool off-roading videos to his Instagram and YouTube channel.
Related
Categories Gear Reviews, LATEST NEWSTags 12-volt fridge, 30-quart fridge, BougeRV, BougeRV 30-quart Fridge/Freezer Review, portable freezer, portable fridgeSours: https://www.car-revs-daily.com/2021/05/04/bougerv-30-quart-fridge-freezer-review/
The Gadgeteer is supported by readers like you! If you buy something through links on our site, we may earn an affiliate commission. Thank you! Learn more.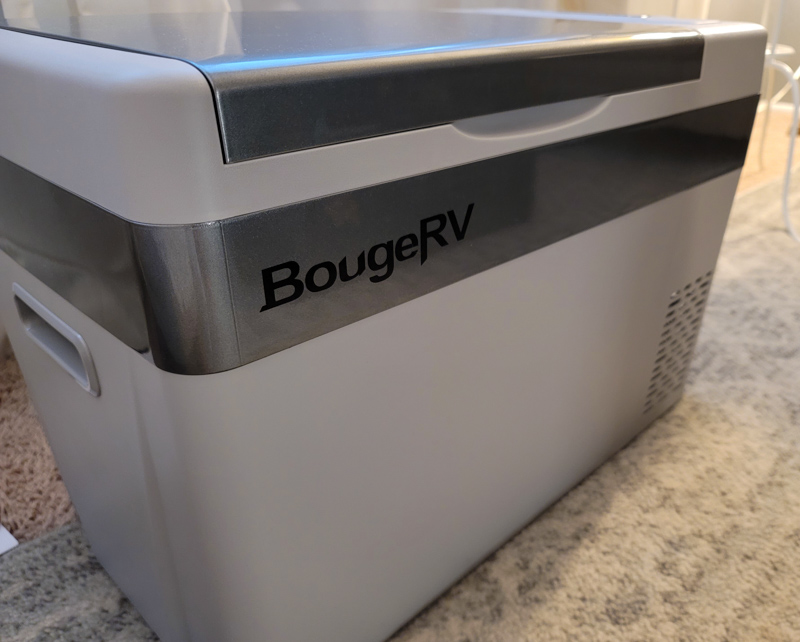 REVIEW – If I had a dollar for every time I went camping or took a trip and had a bad experience with a cooler and ice, I would have at least three dollars. Traditional coolers can have a variety of issues like leaks, soggy food from melting ice, broken backs from the weight of ice/melted-ice (also known as water), as well as a built in expiration of cooling capacity (unless you keep removing melted ice and add new ice as you go). Enter the BougeRV 30 Quart (28L) Portable Refrigerator/Freezer which can be powered by either AC or DC power (wall or car plug/solar/battery-generator). This relatively small refrigerator/freezer looks like the perfect solution for long road trips, extended camping trips, or any other event where you need either refrigeration or freezing for an indefinite period and have a power source.
What is it?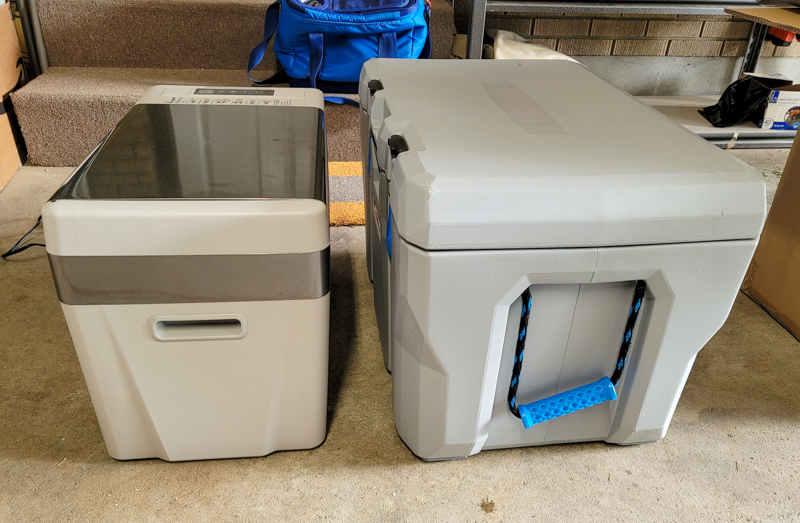 The BougeRV 30 Quart (28L) Portable Refrigerator/Freezer is a small fridge or freezer that is the size of a standard cooler, making it great for car/RV trips or any other scenario where you need a fridge or freezer in a small space. I keep saying "fridge or freezer" because it can only be set to one temperature for the entire unit: you can't keep both frozen and cold food in this simultaneously. As shown above next to our 50 quart traditional cooler, it's a large cooler, but not massive.
Where to buy:BougeRV (Use coupon code: AFFfridge to save $47 off this cooler and 15% off any other BougeRV car cooler – Expires 12/31/2021)
What's in the box?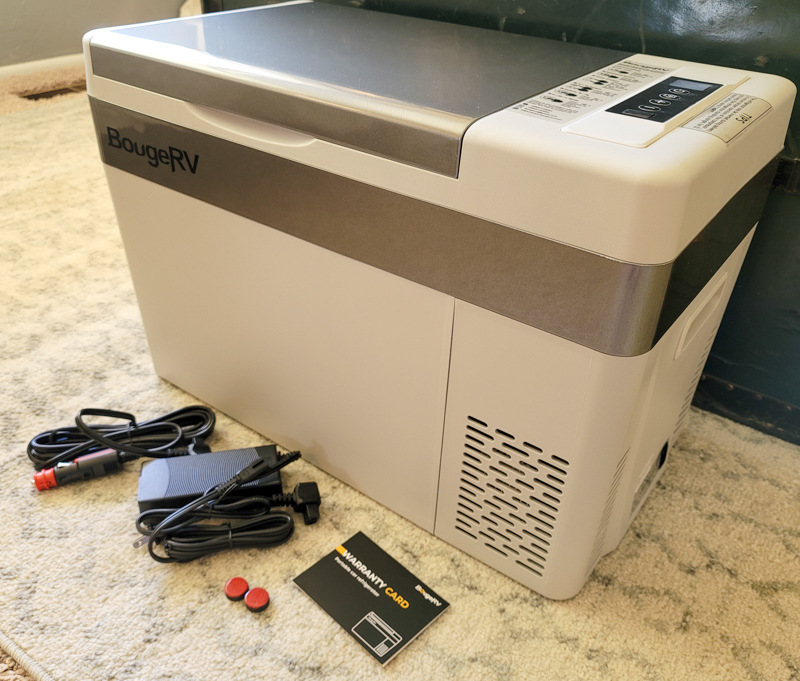 BougeRV 30 Quart (28L) Portable Refrigerator/Freezer
User Manual
12/24V DC power cord
120/240V AC power adaptor
Hardware specs
Capacity: 30 Quarts / 28 Liters / 0.99 cubic feet / 50 Imperial Pints
Dimensions width x depth x height: 22.68 x 12.60 x 15.55 inches  (76.2 x 32 x 39.5 cm)
Refrigeration Range: -7℉~50℉ (-21.6°C~10°C)
Weight: 22.8 lb (10.3 kg)
Voltage: 12/24V DC or 110/240V AC
Wattage: 45W-60W (eco/Max modes)
Noise: ≤45 dB
Refrigerant: R134A
Design and features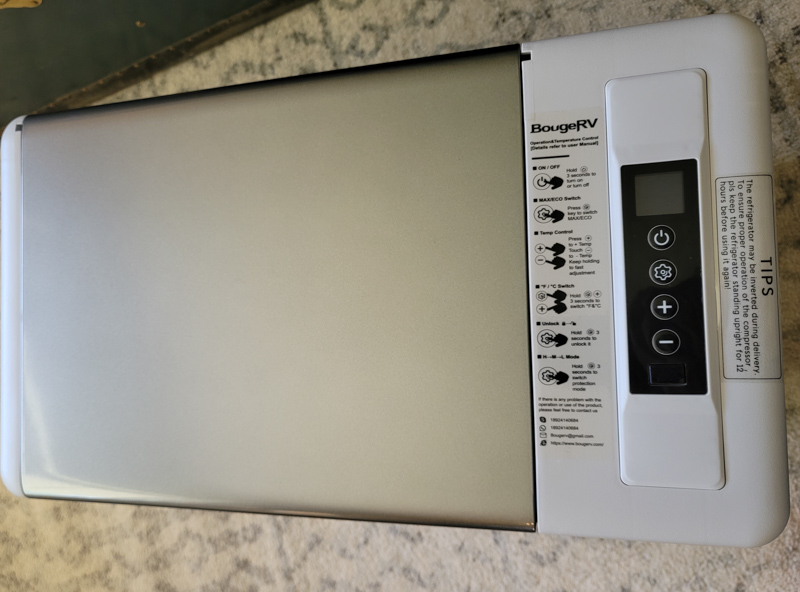 The BougeRV 30 Quart (28L) Portable Refrigerator/Freezer is a mostly plastic affair, but it all seems like high impact plastic and built to last.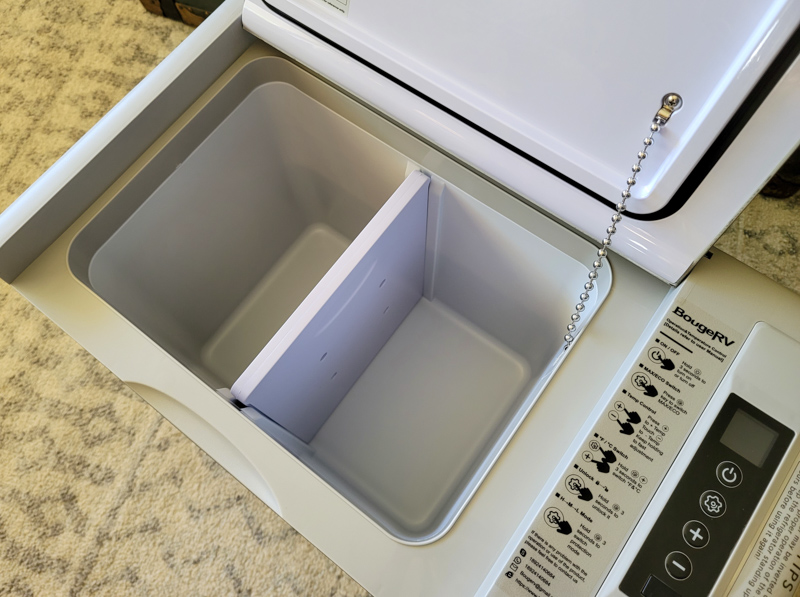 The top opens up for access, and the divider is removable. The LCD screen to the right is surrounded by helpful instructions, after skimming the manual I didn't need to refer to it again thanks to these instructions.  The LCD is bright and readable even in sunlight. It automatically locks after a few seconds which is really nice if you have inquisitive little ones around that like to push buttons, in this case they won't be able to turn off the unit or change the temp and thaw or freeze things that shouldn't be thawed or frozen.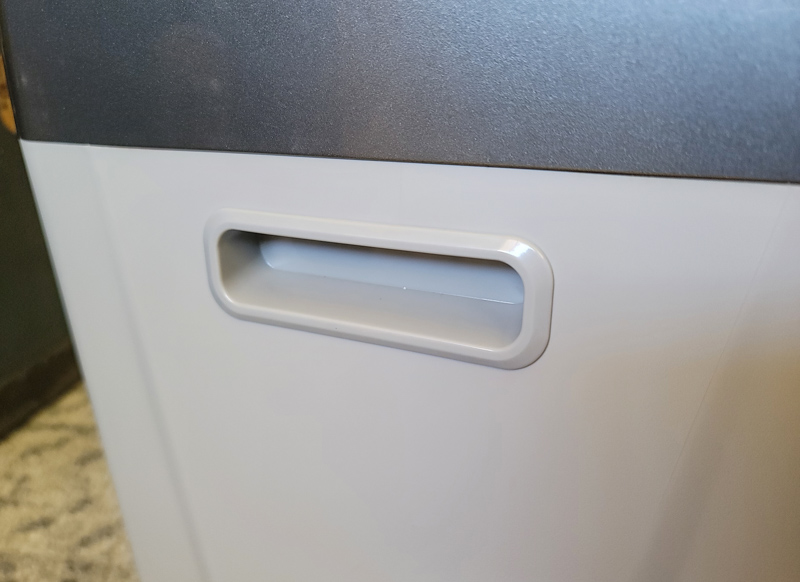 The side handles are plastic but even fully loaded they seemed sturdy, and it was easy to lift the unit.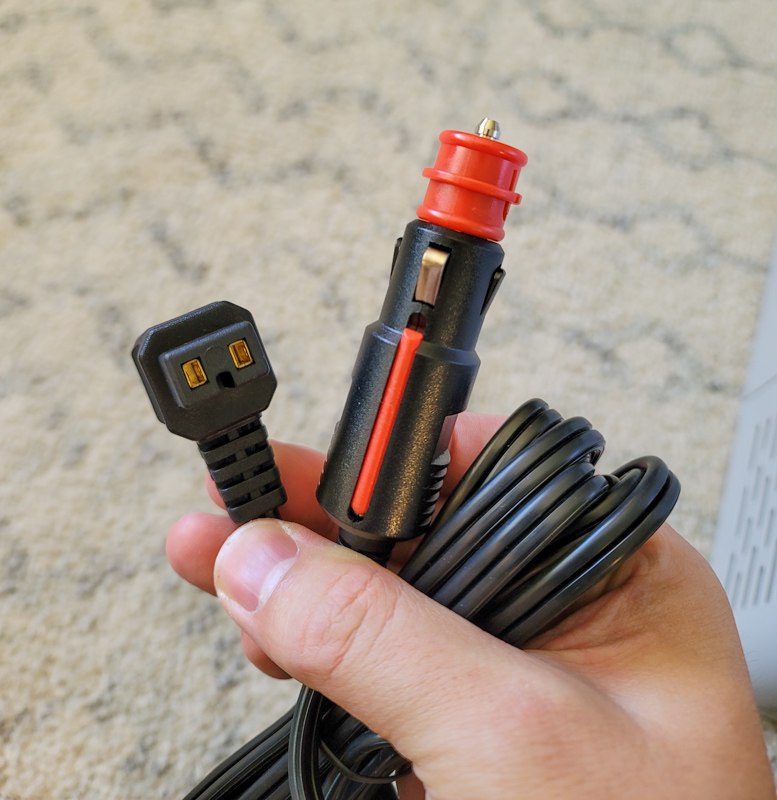 The BougeRV 30 Quart (28L) Portable Refrigerator/Freezer can be powered from an AC wall outlet, or a car 12v DC plug (this used to be called a cigarette lighter plug for anyone over 30).  You could also power this device from a generator or battery backup unit like the Puleida Portable Power Station that I reviewed recently.  This device even has a nifty undervoltage protection feature: this can be set to low/medium/high, displays the voltage level coming in, and automatically shuts the unit off if the voltage drops too low. This prevents the Refrigerator/Freezer from draining a car or RV battery so low that you can't start the car/RV.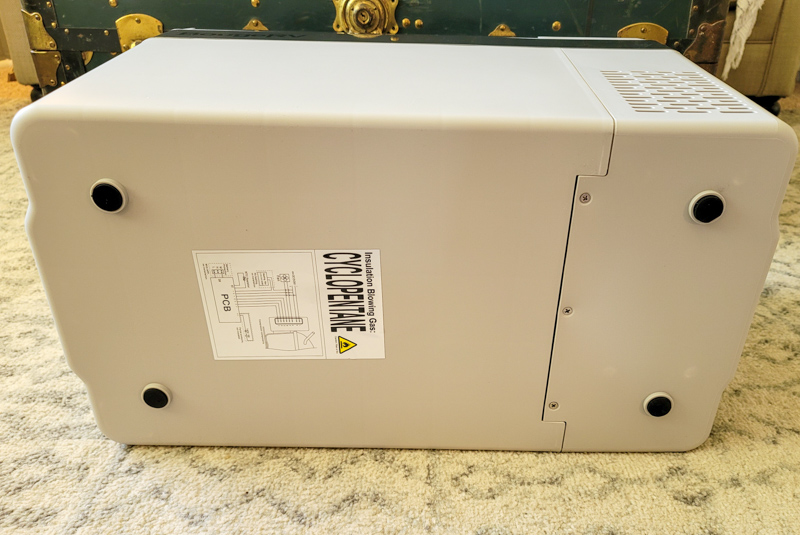 The bottom of the unit has 4 rubber feet to prevent sliding on hard surfaces, they worked great for the few weeks I was using it, and there are a couple replacements in the box in case they eventually come off.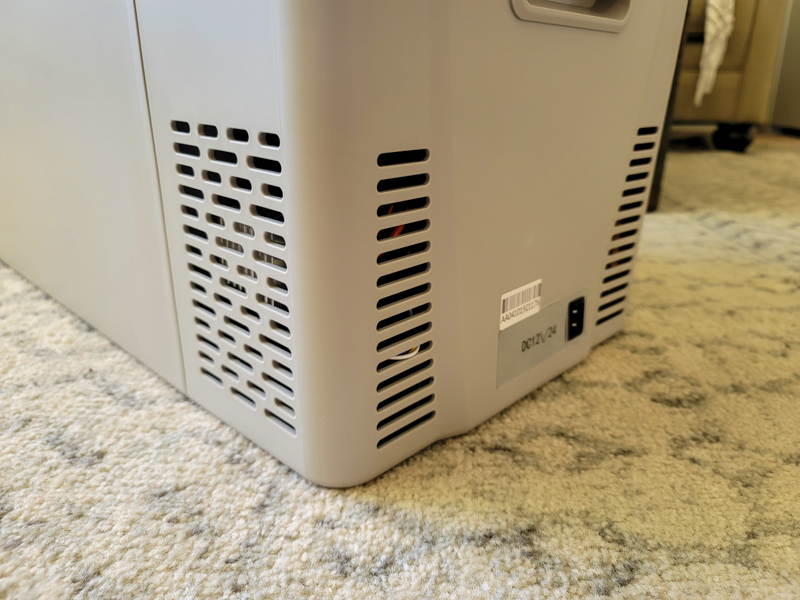 Fan vents on the right side allow for the refrigeration unit to do its thing. The fans and refrigeration unit were very similar to the small fridge/freezer I have in my office closet: you can hear them when they're working, but they're not intrusively loud.  I never noticed the white wire trying to poke itself out of the fan vent in the picture above until writing the review, but it doesn't seem like it gets quite far enough out to snag on anything so I'm not too worried.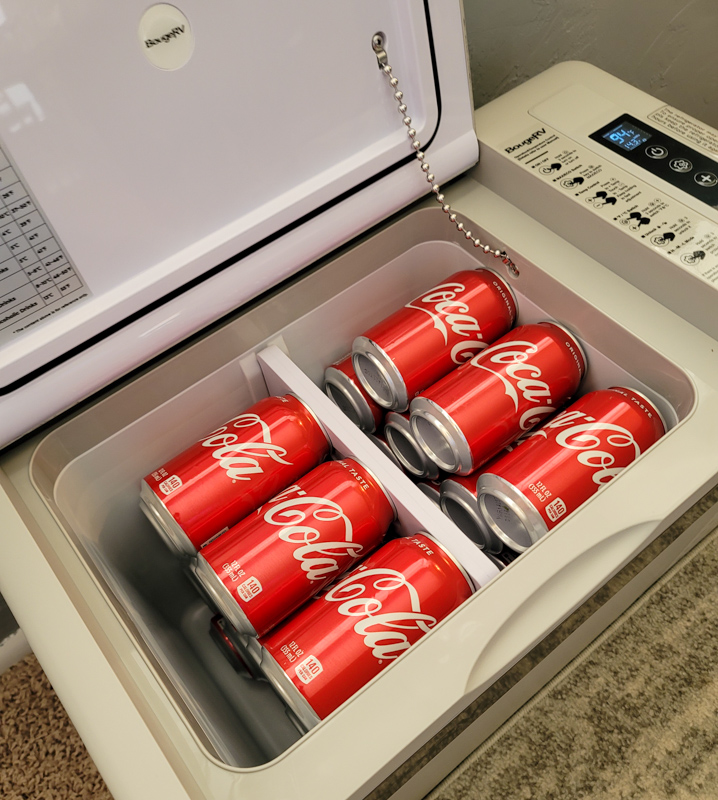 The BougeRV 30 Quart (28L) Portable Refrigerator/Freezer can hold about 30 standard soda cans in either vertical or horizontal positions. It is just wide enough to take "tall boy" cans as well, and if you're trying to fit anything larger like 2 liter or wine bottles the middle divider can be removed. This storage space is smaller than the overall footprint of the unit, but with traditional coolers you have to put in a bag of ice so it ends up being pretty equivalent in terms of storage space for overall volume.
Installation and setup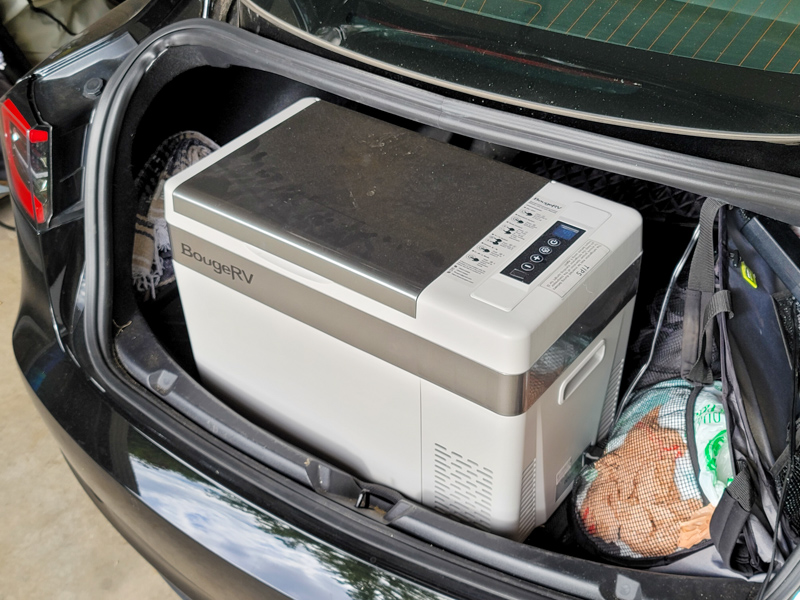 Installation is very simple: first you move the BougeRV 30 Quart (28L) Portable Refrigerator/Freezer to where you'd like to use it, be it an RV, car, or around your home or cabin.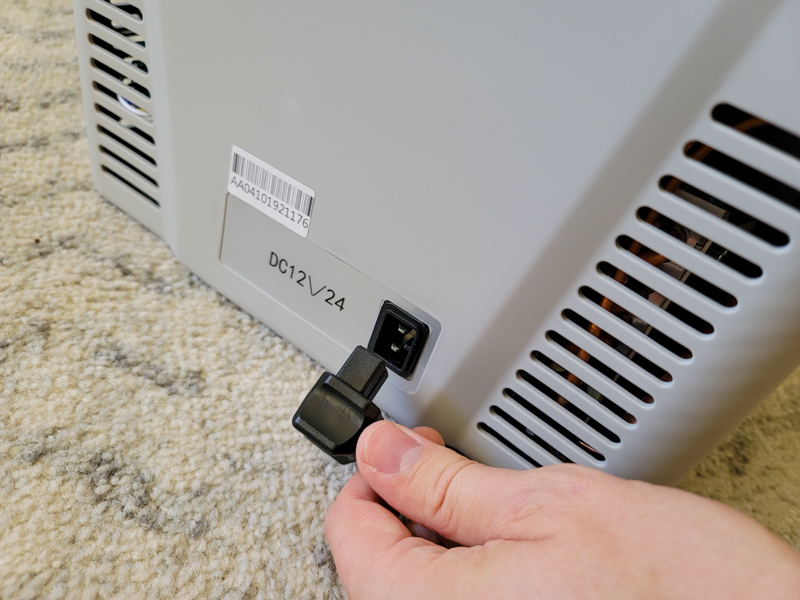 Next, you plug into a power source (AC or DC).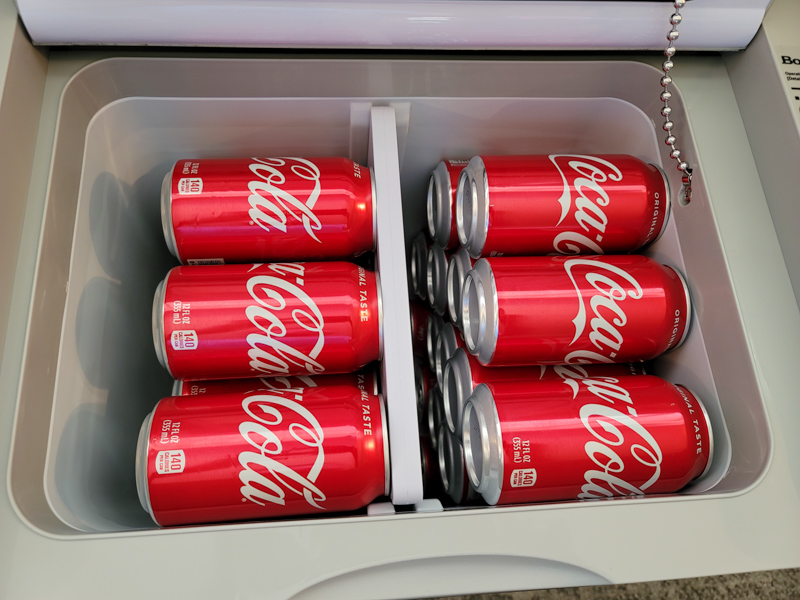 Then load up the fridge/freezer with the items to be chilled, set the temperature, and in a few hours it'll be to that temperature. If you're going to store frozen items, you'll want to plug it in and cool it first since it can take a few hours for it to get to temperature, especially if it starts hot.
Performance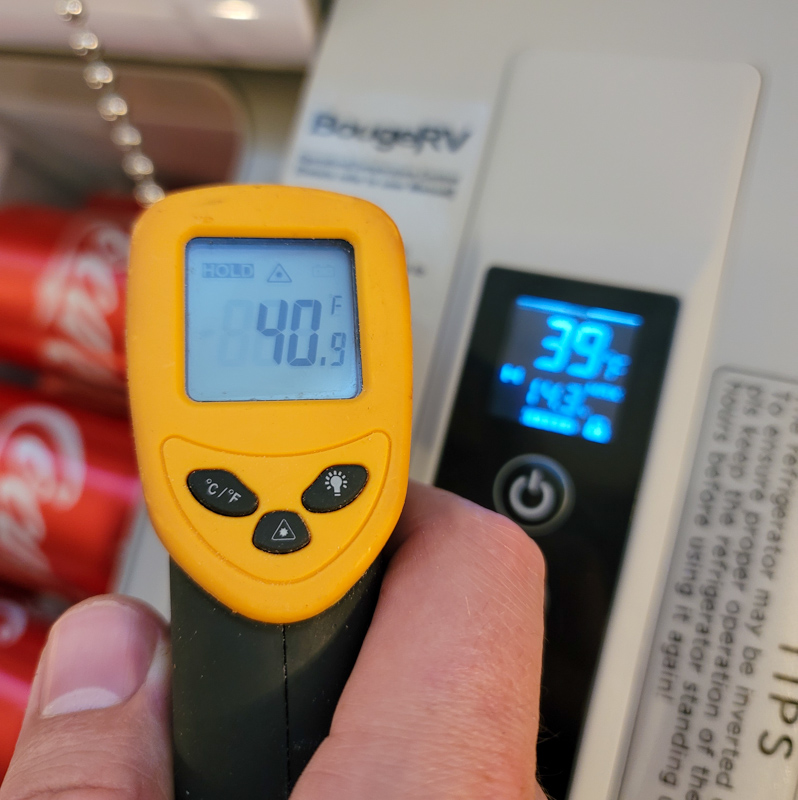 We used the BougeRV 30 Quart (28L) Portable Refrigerator/Freezer for drinks storage for an event during this review period, as well as transport for car daytrips. I set the temperature to 40℉ for drinks storage, and it cooled down from a toasty 90 degrees (sitting in a garage on a hot day) to the 40 degree mark in a couple of hours. As shown above, the unit was consistently a degree or three lower than what we set it to, we had Coca Colas bordering on slushies (which I love).  If you're using it for frozen foods it gets quite cold (BougeRV rates this to -7℉), but you can't mix and match frozen and refrigerated items, it's one temperature for the entire unit.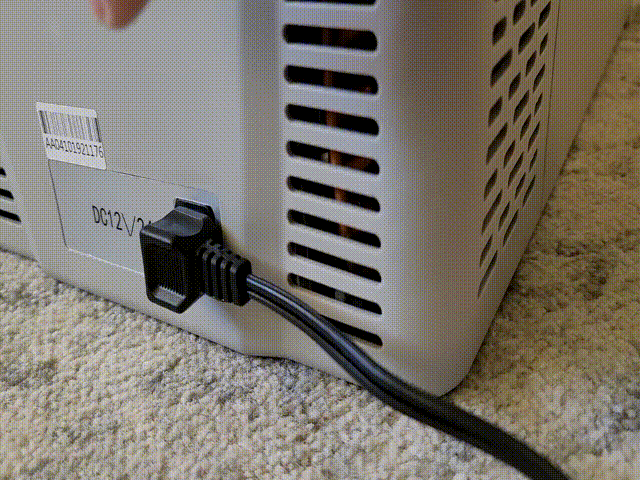 My only (mild) concern during the review period was the flex around the power plug. As shown above, the plastic has quite a bit of flex right next to the essential power connection. During normal use the power plug is very snug and I'm not worried about it unplugging, but if there was one thing I'd want improved, it would be this area.
What I like
Solid refrigeration/freezing
Fairly large storage capacity for the size
Undervoltage protection to prevent dead car batteries
What I'd change
Plastic flex around the power plug connector
Final thoughts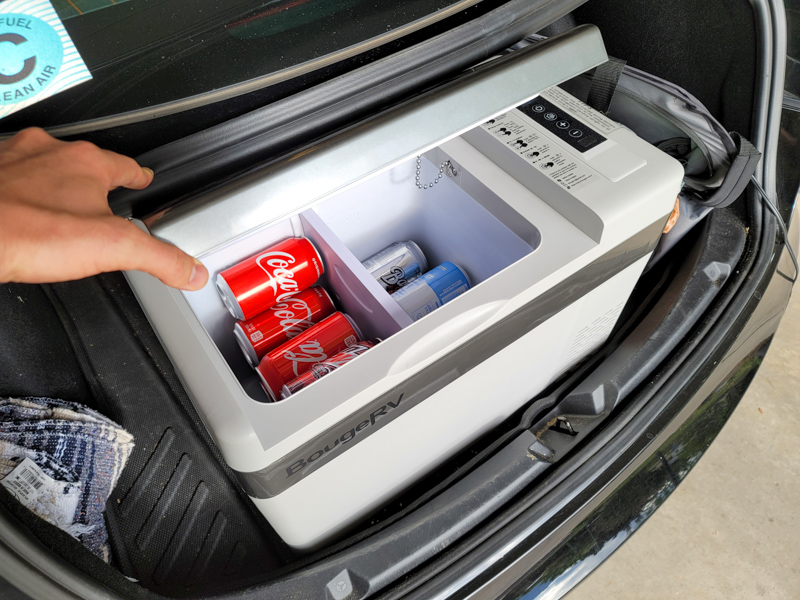 The BougeRV 30 Quart (28L) Portable Refrigerator/Freezer was a fantastic gadget to use and review. I love it when a device is truly useful during and after a review period, and this device has earned a permanent spot in our garage for additional cold drink storage. It was a reliable and handy travel cooler, and great for the 30+ person event we held a few weeks ago. I like the ease of use, reliable refrigeration/freezing, battery protection feature, and the flexibility of power inputs.
Price: $269.99
Where to buy:BougeRV (Use coupon code: AFFfridge to save $47 off this cooler and 15% off any other BougeRV car cooler – Expires 12/31/2021)
Source: The sample for this review was provided by BougeRV
SHARE ON
TwitterFacebookPin It
Support The Gadgeteer: The Gadgeteer is supported by readers like you! If you buy something through the links on our site, we may earn a small affiliate commission. Thank you! Learn more.
Sours: https://the-gadgeteer.com/2021/08/03/bougerv-30-quart-28l-portable-refrigerator-freezer-review-make-all-the-things-cold/
The world is opening up, and our freedoms may soon be returning. Hopefully, we'll all be living it up to New Zealand style shortly. Spring is well and truly here, which means hot and sticky summers are just around the corner.
There's nothing better than sinking a cold one miles away from civilization on a hot summer's day in the great outdoors. And there's nothing worse than accidentally presenting gone-off meat to the in-laws when you were supposedly the "grill king."
The only thing that separates these two outcomes is the cooler setup in your car or RV. Let's dive straight in and see how this cooler stacks up (SPOILER ALERT: BougeRV has got your back).
Road Test
After waiting patiently for UK COVID-19 restrictions to be lifted, I finally got to take this cooler on the road. The first thing I noticed about this cooler was its build quality and size, which thankfully doesn't compromise design. In our little European car (Volkswagen Polo), the cooler dominated the boot space. With its measurements of 222.68×12.6×15.55", it will look right at home inside an RV or American truck.
It's excellent, but be watchful of your little ones as it features a stunning mirrored finish on the lid and trim that will be easily scratched. There is a slight amount of play in the plastic towards the bottom of the cooler. This is an intended addition that will allow for shock-proof transit when hitting those bumpy roads leading to wandering trails.
The Little Things
The cooler's handles have been designed with consideration to space-saving inside the unit. With just enough space to get your fingertips in, you can get a good grip even with a full fridge. It's just long enough to allow you to carry the unit around with ease without compromising on consumable storage.
We know our readers are keen-eyed and astute and will have noticed that this unit's lid opens upwards. This is a great design feature for a fridge destined to be used on the road. Obviously, there is a much lower chance of its contents being spilled during transit, but there is also a cooling advantage. Convection means that cooler air will naturally remain at the bottom, meaning that even if you unplug the cooler, your food will stay cooler for longer.
If you plan a campervan conversion or a custom RV build, don't forget to consider the placement of your cooler within your units. A lid that opens upwards will mean you won't be able to build anything above your BougeRV fridge.
Break The Rules
When using an RV fridge for a day trip, a good practice is to plug it in at home, set it to the temperature you want, and then plug the fridge into your vehicle and get on the road. This allows for minimal fluctuations in temperature for your precious food and drinks.
But, being the rebel that I am, I put our sandwiches and drinks straight into the cooler and plugged them into the car without letting it cool first. The LCD screen was easy to read even in the bright light of the morning sun. The cooler's computer is nice and simple with just four buttons. I set the temperature to 40°F.
Thankfully BougeRV made this cooler idiot-proof by leaving an optional sticker that tells you how to work the thing. Without overcomplicating things, the coolest option (excuse the pun) is the battery protection setting. This allows you to determine where the fridge will cut out to protect your vehicle's battery, depending on its capacity. There is even a USB port, great for charging your cell phone on the road.
Cool Your Engines
Our journey was over 40 miles, half of it through the windy English countryside. Within fifteen minutes, we had to pull over to see what the baby was crying about. They say a watched pot never boils, but I couldn't resist a peek at the cooler. It had already reached the desired temperature and was actually hovering at around 38°F! Not one to believe everything I read, I quickly opened the lid and grabbed the sandwiches that were cool to the touch. My can of Dr. Pepper was as if I had grabbed it straight from the 7-Eleven.
I turned off the engine but left the ignition on; the fridge was still running in the quiet layby. I got really close and could still barely hear the thing. Another thumbs up!
I would confidently say that this cooler can perform from a cold start when it comes to cooling, no need for ice packs with the BougeRV. In the case of freezing, I would always recommend getting the device frozen at home first.
When we arrived at our destination, I proceeded to take our food out to put in our pack for the hike ahead. When the lid opens, it is held by a chain allowing you to easily take stuff out one-handed. Printed on the inside of the lid is a helpful guide telling you the best temperatures to set the cooler depending on what items you have stored. There is a removable divider in the fridge itself that could easily double up as a chopping board.
Here's To Good Company
You can tell that BougeRV is still a growing company and haven't become too corporate for their own good. I can't see this fridge letting anyone down, but in the unlikely event that it would, BougeRV has got you covered with contact details inside the manual and on the sticker I mentioned earlier. Skype, email, and even WhatsApp are listed, not something you see every day.
So, if you want a cooler that will take the bumps of the road and a storage capacity that could feed your family numerous times over, this may be the fridge for you. With its battery-saving functions and plug-and-play simplicity, the unit really is a no-brainer.
Let's be honest for a minute here though, at the end of the day, a cooler can't really offer much more than cooling and freezing your food. However, if you chose this cooler, you are also giving yourself peace of mind knowing that you chose a small company going out of its way to help out its customers.
It's time to sink a cold one, "grill king."
Thomas Board
Tom is an outdoor and adventure travel writer and full-time firefighter based in Leeds, UK. He can be regularly spotted in the rolling hills of Yorkshire with his wife and daughter or summiting the great mountains of his childhood home of Wales. But, his true passion lies in leaving his home island to explore the rest of the world. From cycling four countries in Southeast Asia on a $250 bicycle to walking the Annapurna circuit in frosty Nepal, he's at his happiest miles away from home not knowing what tomorrow will bring.

Send any enquiries to [email protected]
Latest posts by Thomas Board (see all)
Categories Gear Reviews, OutdoorSours: https://adventureblog.net/2021/04/bougerv-30-quart-12v-portable-car-refrigerator-review.html
Top 5 Car Refrigerator 53 Quart Review- BougeRV
Having reliable refrigeration is key to full time vanlife. But a good 12V refrigerator can be one of the most expensive items in any DIY campervan build. Top-of-the-line models, like those from Dometic and ARB, can cost you $1,000 or more – which is tough to stomach when you're on a budget, or just don't want to spend that much.
Enter BougeRV and their 53-qt (50L) portable refrigerator/freezer. BougeRV is a Chinese company that sells solar components, RV accessories, and 12V refrigerators in the US and elsewhere. They've gotten a lot of attention in the vanlife community lately due to their low prices and surprising quality.
BougeRV offered to send us one of their refrigerators to test out and review, and we took them up on it so that we could see if this cheap 12V refrigerator can stand up to life on the road.
Can the BougeRV portable refrigerator compete with our top picks for best vanlife refrigerators, including much more expensive fridges from top brands? Is it worth your hard-earned money, or should you hold out for something else? Is it energy efficient or a power hog? And how does it hold up to the rigors of fulltime vanlife?
To answer these questions, we tested the BougeRV fridge in different scenarios, all while tracking power usage. Read on for our thoughts on the BougeRV 53-quart portable 12V refrigerator.
Disclaimer: BougeRV was kind enough to send us a refrigerator for this review. However, our thoughts are our own, and the content of this post is not sponsored by BougeRV.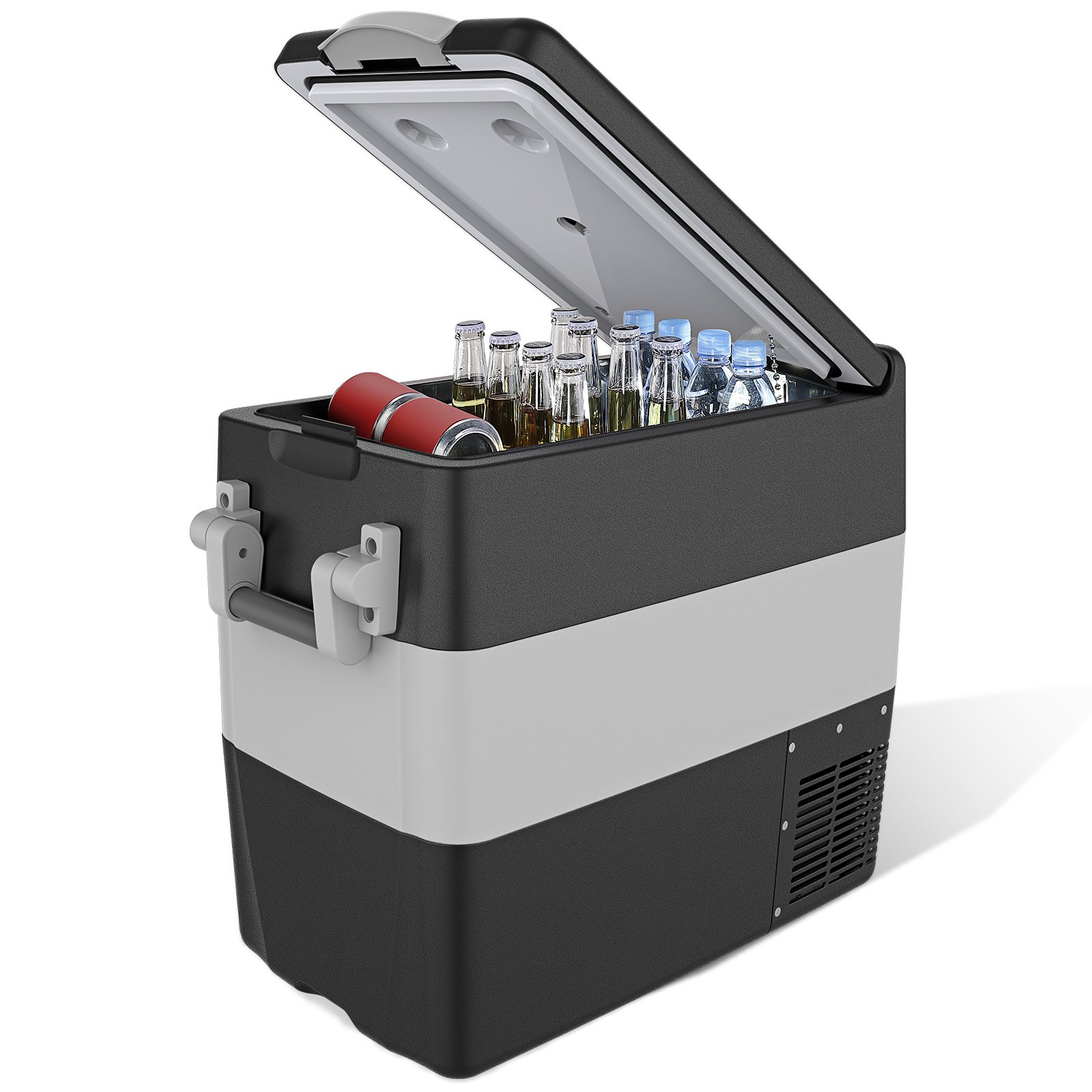 BougeRV 53-Qt (50L) Portable Refrigerator
This inexpensive 12V refrigerator offers features, efficiency, and the best bang for your buck out there.
Also available in other sizes.
Coupon Codes
Use Gnomad90 for $90 off the 53-Qt fridge.
Use Gnomad15 for 15% off all other refrigerators.
Use Gnomad10 for 10% off sitewide.
Buy on BougeRV
We earn a commission if you click this link and make a purchase at no additional cost to you.
Note: In order to run a fridge in your van, you need electricity. Check out our epic post on vanlife electrical for info on setting up your system.
About the BougeRV Portable Fridge
BougeRV refrigerators are the latest in a slew of cheap, mass-produced 12V fridges that have entered the market in the past few years.
While BougeRV is fairly new on the scene, they seem committed to becoming a reputable brand and are playing the marketing game well. They've gotten themselves featured and reviewed on the platforms of several prominent influencers in the outdoors, off grid, RV and vanlife spaces.
And their products have thus far performed well and received positive reviews from both testers and everyday users.
With that in mind, let's kick off our hands-on review of the BougeRV 50L portable 12V refrigerator.
What's In the Box
The BougeRV vanlife fridge comes double boxed in sturdy cardboard with foam padding. Unboxing is frankly a bit strange, because there is no branding to be found anywhere except for the fridge itself.
Aside from the fridge, here's what's included:
12/24V DC cigarette lighter adapter
120V AC power adapter
Attachable handle kit: parts and a t-handle allen key tool for putting the handles on the fridge
Instruction manual
The BougeRV comes packaged with attachable handles (tool included) that are really solid and have powerful springs. We're assuming that making the user put the handles on shaves off some cost, and also makes the shipping box a few inches smaller.
Design
The BougeRV fridge looks like a generic ABS plastic 12V refrigerator. However, it seems pretty solid – but doesn't feel as rugged as our (much more expensive) ARB 50L refrigerator.
The top of the fridge has a latch on one side, and a touchpad control panel on the other. The way this is configured is actually kind of annoying, because the control panel is on the opposite side from the lid opening.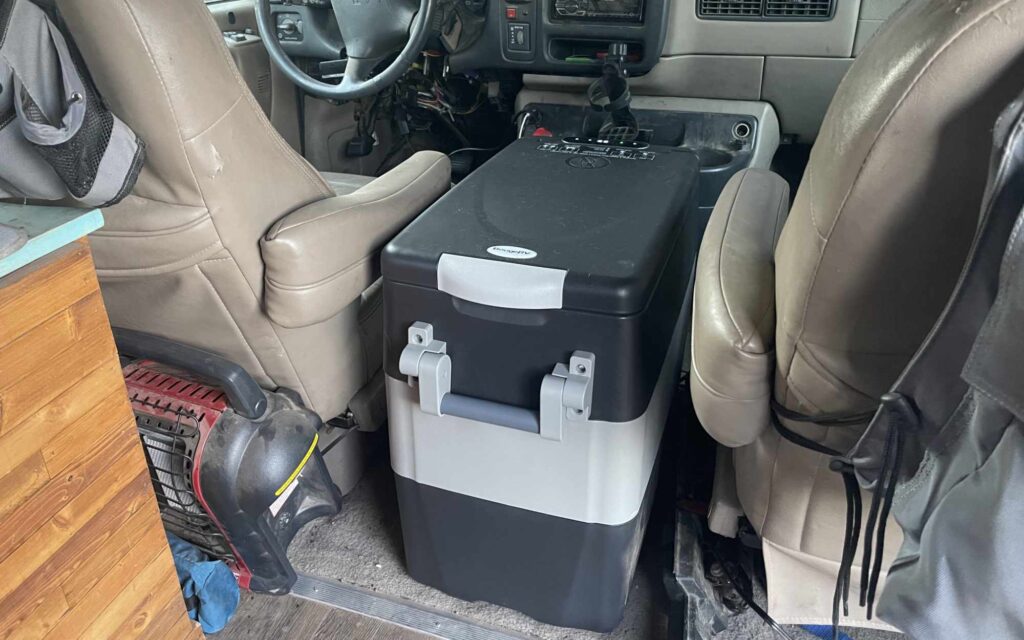 We keep our fridge between our front seats in our van, and to reach the control panel on the BougeRV we need to lean all the way over the fridge and adjust the controls upside down. This also makes it harder to keep tabs on temperature. This isn't necessarily a huge deal, but the controls really should be on the same side as the latch for better usability (or at least oriented towards the latch).
The interior of the fridge contains two compartments – a 10L "refrigerator" compartment and a 40L "freezer" compartment. How you actually use the compartments depends on your temperature settings. Set it low enough, and they'll both function as a freezer. Set it high enough, and you'll have two fridge compartments (one colder than the other).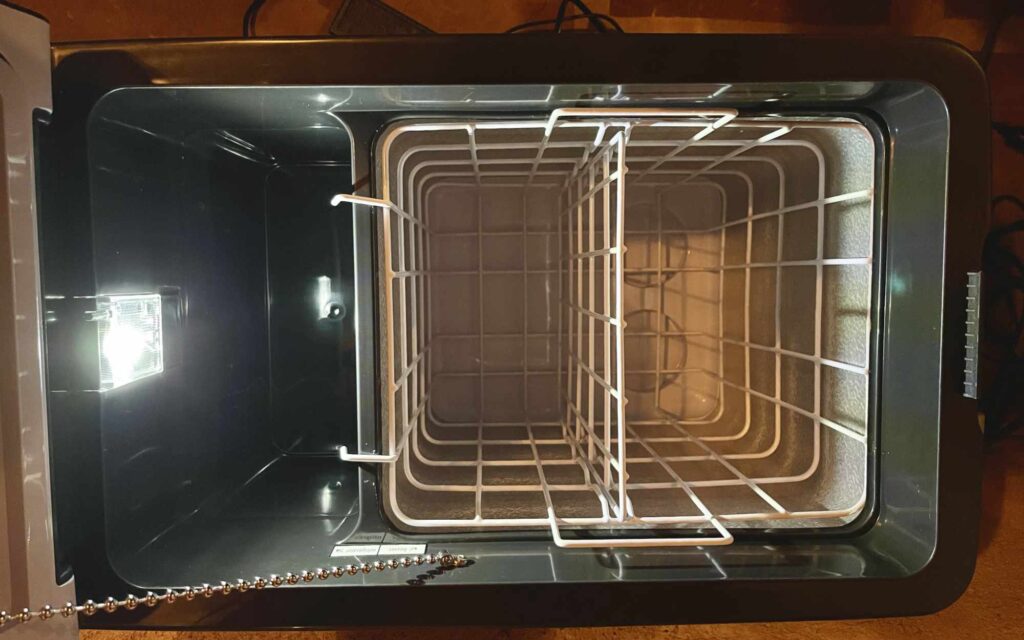 The larger compartment has a removable basket with a divider, which is pretty standard on fridges like this. There's also an interior LED light that turns on when the lid is open – which is always helpful when you're grabbing that midnight snack.
Dimensions
Dimensions are an important consideration when incorporating a fridge into your van build. And the BougeRV fridge has a different dimensional form factor than most vanlife refrigerators we've seen.
Most 12V refrigerators are slightly wider than they are tall, or at least close to the same. The BougeRV, on the other hand, is significantly taller than it is wide.
Here are the exact dimensions that we measured:
Exterior dimensions: 22.75" long (26" with handles attached) x 13" wide x 21" tall
That's at least a couple inches taller than equivalent-size fridges from other brands – which, again, tend to be wider than they are tall.
This is all a matter of personal preference and how these dimensions work with your build. A narrower/taller fridge will save you a little bit of floor space. However, it will also be a bit more difficult to dig things out of the bottom of the fridge, since the food compartments are also deeper and narrower.
Features & Specs
Aside from the design and dimensional specs we mentioned above, there are several other features to note.
Max and Eco modes. Max mode gets you fast and powerful cooling at the expense of greater power consumption. Eco mode gets you better power consumption at the expense of some cooling performance.
Temp range: -4F to 50F. This means you can set your fridge to be a super deep freezer, or to keep several bottles of wine just chilled.
Three battery protection modes. This turns the fridge off when your batteries hit a certain voltage, so that you don't drain your batteries. The BougeRV fridge features three modes (Low/Medium/High) so that you can customize the cut in/cut out voltages to your needs.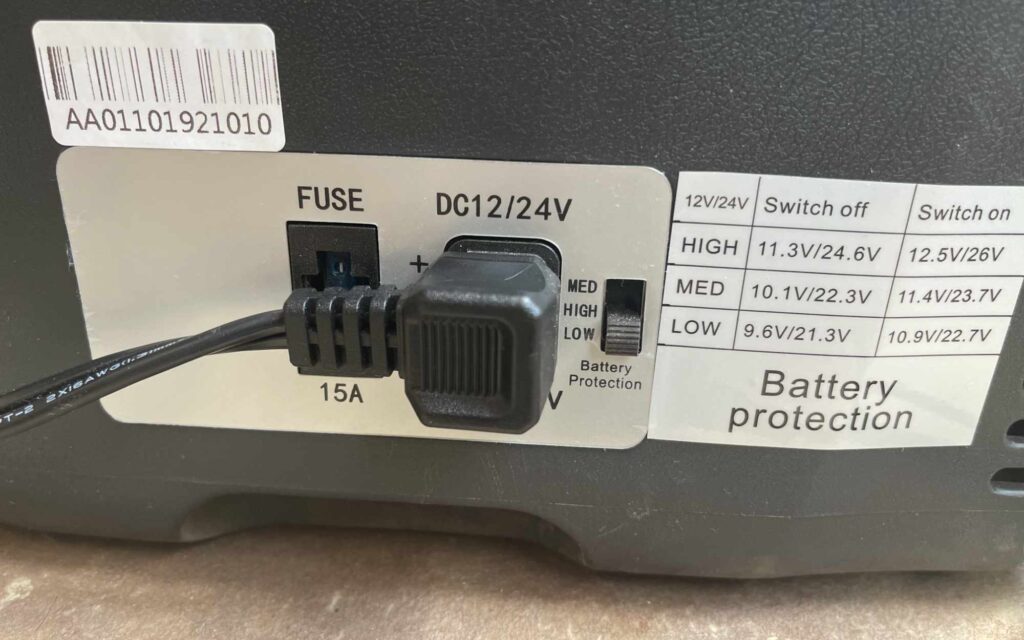 Can function at up to a 30 degree incline. The BougeRV fridge will work just fine even after getting knocked around on those gnarly forest roads.
Relatively quiet (45 decibels or less). This is quiet enough to barely be audible from a few feet away, and the noise easily fades into the background. We verified this through our own testing with a sound meter app.
Wancool ACV25FC compressor. From what we gather, this compressor is similar in design to a Danfoss SECOP compressor, but is cheaper.
2-year warranty (upgradeable to 3-year). The BougeRV fridge includes a 2-year standard warranty, upgradeable to a 3-year warranty if you register your fridge through their BougeRV Club. Not bad.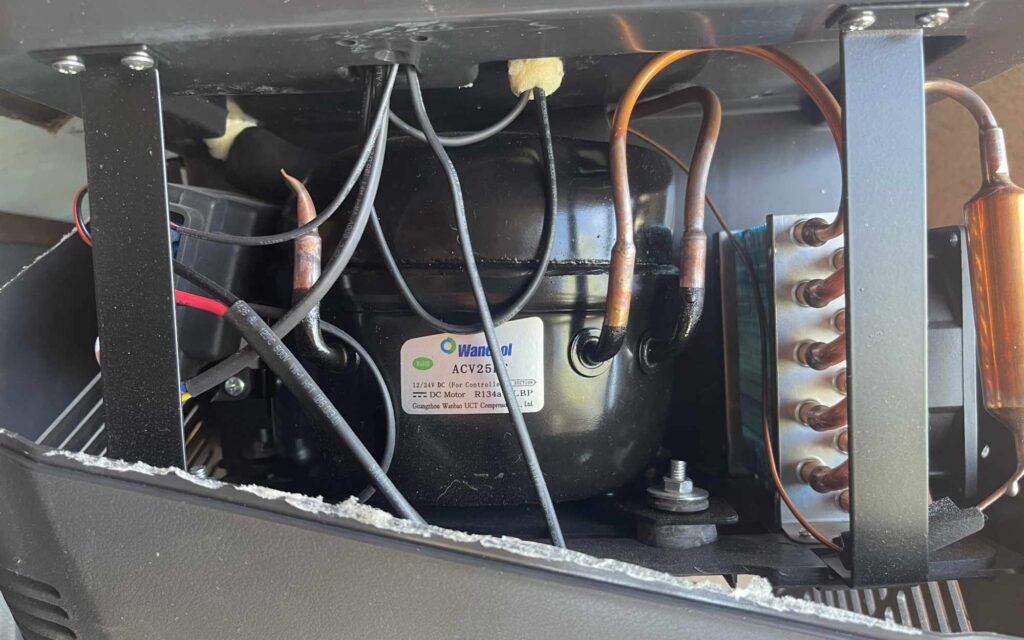 There are no Bluetooth or other smart capabilities – which is to be expected at this price point.
Other Sizes
We're reviewing the 50L (53 quart) model here, but BougeRV offers a range of sizes all the way down to 22L (23 quart).
In general, we've found that a 50L fridge is a good size for two people (our 50L fridge holds about a week's worth of fresh food for us). If you're solo, a 40L (or even 28L) fridge should be more than adequate. However, your individual needs may vary.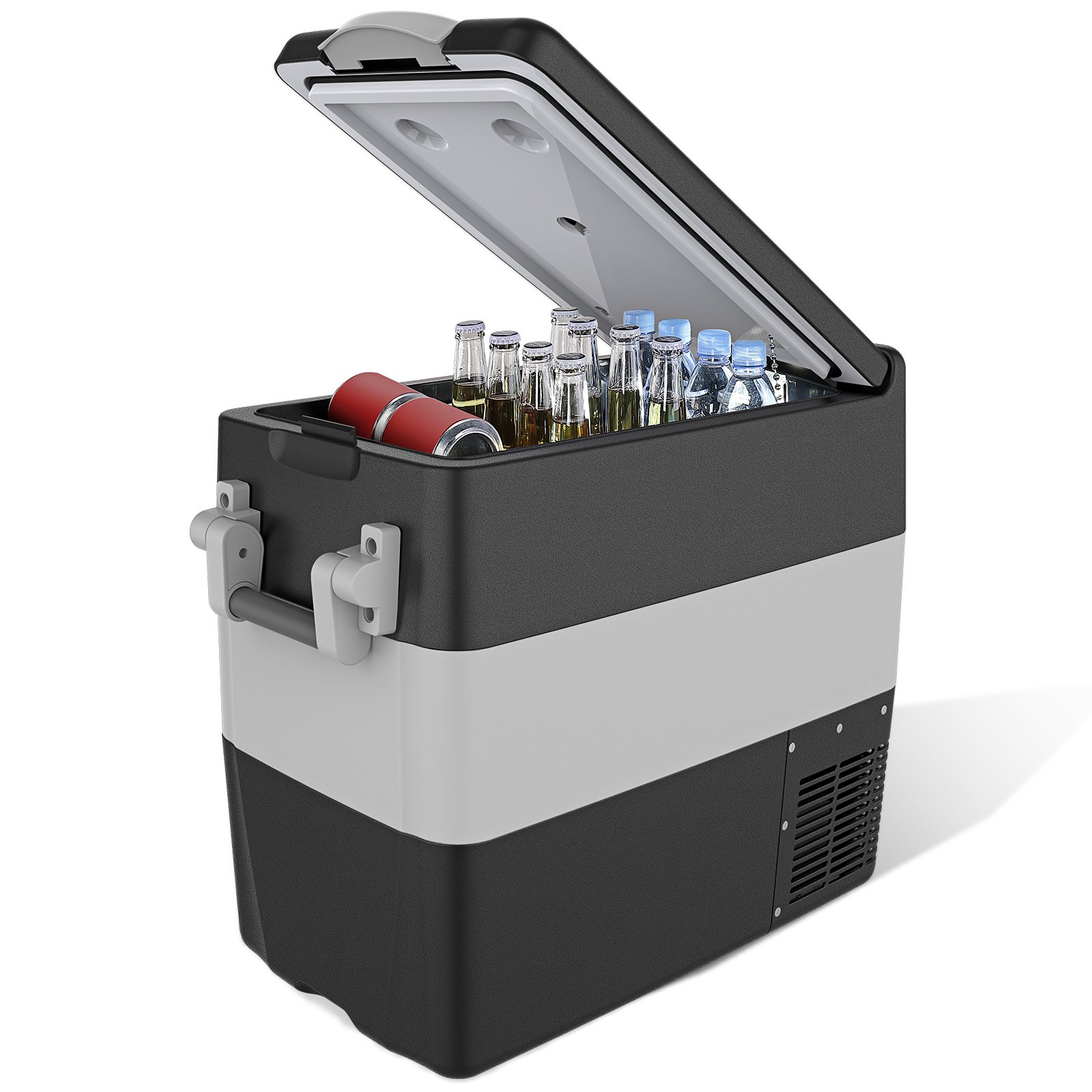 BougeRV 12V Refrigerators
Solid and inexpensive 12V vanlife refrigerators. Available in a range of sizes from 30 quart (28L) up to 53 quart (50L).
Coupon Codes
Use Gnomad90 for $90 off the 53-Qt fridge.
Use Gnomad15 for 15% off all other refrigerators.
Use Gnomad10 for 10% off sitewide.
Check Out BougeRV
We earn a commission if you click this link and make a purchase at no additional cost to you.
How the BougeRV Fridge Performs
The BougeRV has a pretty solid set of features and specifications, especially for the price. But how does it actually perform?
We tested the BougeRV in late spring in northern New Mexico. During the testing, daytime temps ranged from the mid to upper 70s, and nighttime temps got down to the mid to upper 60s. We performed the rapid cooldown tests during the day with ambient temps in the mid 70s, but 24 hour tests saw the full range of temperatures.
24-hour Power Consumption
First we tested the power consumption of the BougeRv fridge while maintaining a set temp over 24 hours. This is probably the most important test as far as vanlife goes, because this is a good indicator of how much power a fridge will draw on average.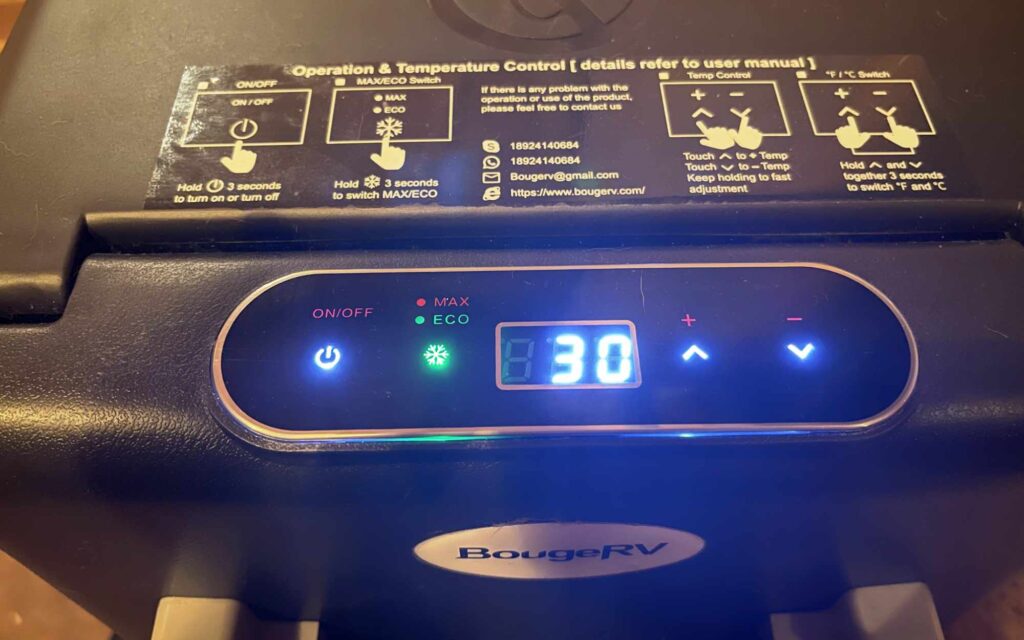 We ran these tests with a full fridge in both Eco and Max modes. If you're more concerned about power consumption, you would probably run this fridge in Eco mode.
We also basically set the temp and let the fridge do its thing. In real world usage, you would be opening and closing the lid as you grab food from it throughout the day, which means it needs more power to maintain the set temp.
Here are the results:
Eco mode:280Wh over 24 hours. This equates to an average of 0.97A per hour on a 12V system (23.2Ah total).
Max mode: 384Wh over 24 hours. This equates to an average of 1.33A per hour on a 12V system (32Ah total).
The BougeRV fridge proved to have a low power draw. It's slightly less efficient than some of the high end fridges, but not enough to really matter.
Keep in mind that we ran these tests with an ambient temperature topping out in the upper 70s. If you're uing this fridge in hotter weather, it will likely use more power, and you may even reach a point where Max mode is necessary.
Rapid Cooldown Performance
Next, we tested the BougeRV's rapid cooldown abilities, in both Eco mode and Max mode, with the fridge empty.
Here are the results:
Max mode: Cooled from 72F down to 28F in 37 minutes, and used .04 kWh (40Wh, or 3.33Ah on a 12V system).
Eco mode: Cooled from 72F down to 30F in 51 minutes, and used .04 kWh (40 Wh, or 3.33 Ah on a 12V system).
On the rapid cooldown tests, the BougeRV fridge did its job and performed as expected.
We then ran another test with the fridge filled with room temperature liquids in Max mode. You probably wouldn't be doing this type of cooling in your van, but we just wanted to see how it handled this challend. The fridge cooled from 72 down to 30 in about 2:47, and used 400kWh (about 33Ah on a 12V system).
Temperature Consistency
During temperature maintenance, the temp fluctuated about 2-3 degrees from the set temp in Max mode, and 2-5 degrees F from the set temp in Eco mode. For example, for a temp set at 28F, we saw a display temperature ranging from 26F to 33F in Eco mode. This is normal, and helps with efficiency – the compressor kicks on only when the temperature goes outside a set window.
Here's what the actual temperatures looked like inside the fridge. In fridges like this, the temperature will always be coldest at the bottom of the fridge, warmer at the top, and even warmer in the "fridge" compartment.
Here's what we measured with the fridge temp set to 28F (and reading 26F on the display):
Bottom of main compartment: hovering around 28F
Top of main compartment: hovering around 30F
Fridge compartment: hovering around 52F
This is fairly consistent overall, and the entire freezer compartment was within 2 degrees of the set temp. The fridge compartment will always be warmer – so if you're using the main compartment as a fridge just be aware of what you're storing in the "fridge" compartment because it will warmer than your set temp.
Overall, the BougeRV fridge maintained temperature well (with expected fluctuations), and had internal temperatures within 2 degrees F of the set temperature.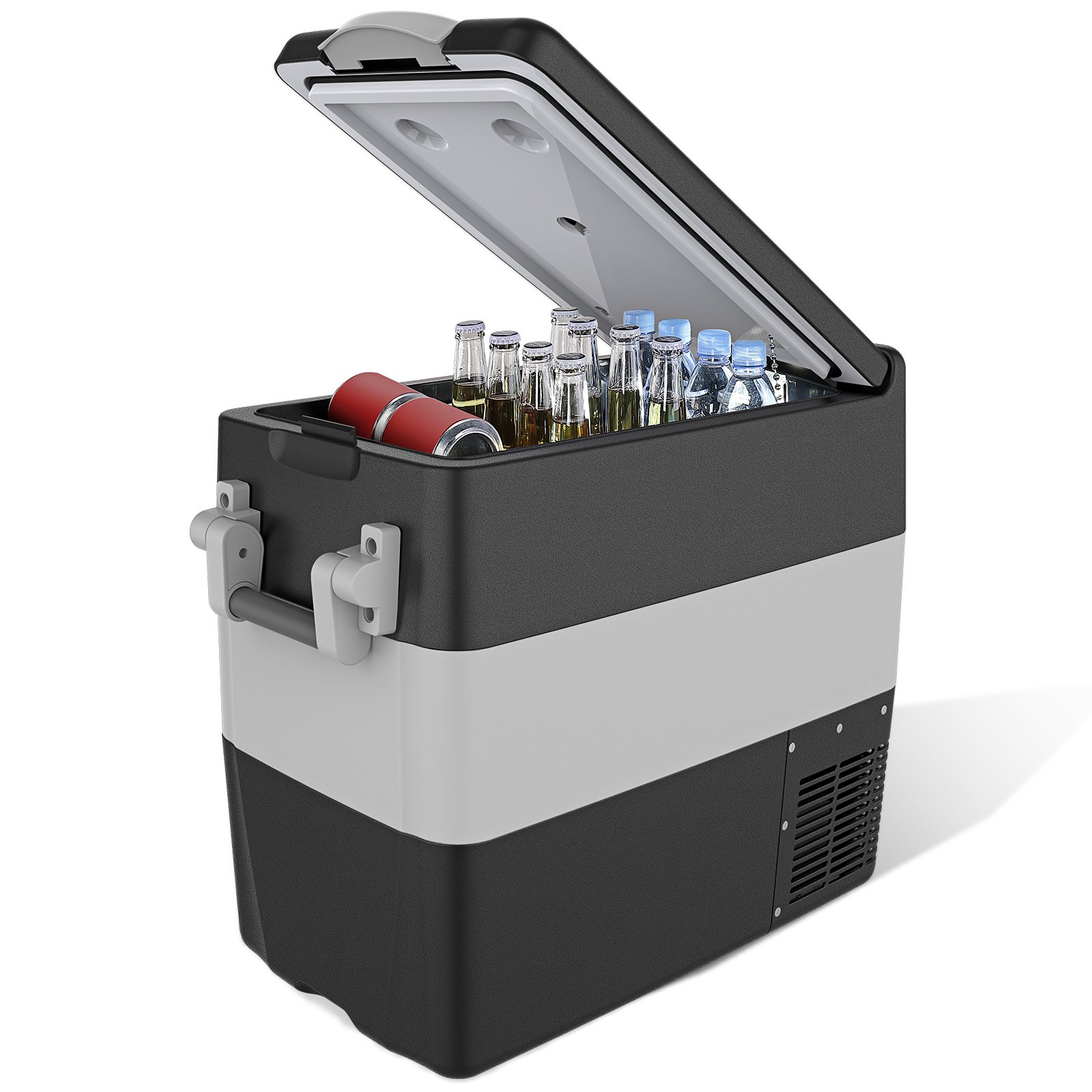 BougeRV 53-Qt (50L) Portable Refrigerator
This inexpensive 12V refrigerator offers features, efficiency, and the best bang for your buck out there.
Also available in other sizes.
Coupon Codes
Use Gnomad90 for $90 off the 53-Qt fridge.
Use Gnomad15 for 15% off all other refrigerators.
Use Gnomad10 for 10% off sitewide.
Buy on BougeRV
We earn a commission if you click this link and make a purchase at no additional cost to you.
Is the BougeRV 12V Portable Refrigerator Worth Getting?
The BougeRV 50L fridge does seem like a quality unit, and it's an inexpensive way to add refrigeration capabilities to your van – which is a HUGE upgrade if you've been rocking a cooler.
The big question to answer, though, is do you get what you pay for? How can a refrigerator this cheap compete with more expensive brands? Are you better off getting a fridge from Dometic or ARB or Iceco?
Let's be real – the BougeRV fridge is a generic 12V fridge mass-produced in a Chinese factory, and white-labeled under the BougeRV brand name. You can find pretty much the same fridge under other brand names (perhaps with some small differences). But that's par for the course at this price point.
And the fact is, the BougeRV fridge does perform well, and it seems to be good quality. Is it as nice as a Dometic CFX3? No. But it's also much, much cheaper.
After discounts, the BougeRV fridge is less than 1/3 the price of high end units from top brands like Dometic and ARB, and almost half the price of the equivalent Iceco fridge.
BougeRV discount codes: Use Gnomad90 for $90 off the 53-qt model. Use Gnomad15 for 15% off all other fridges).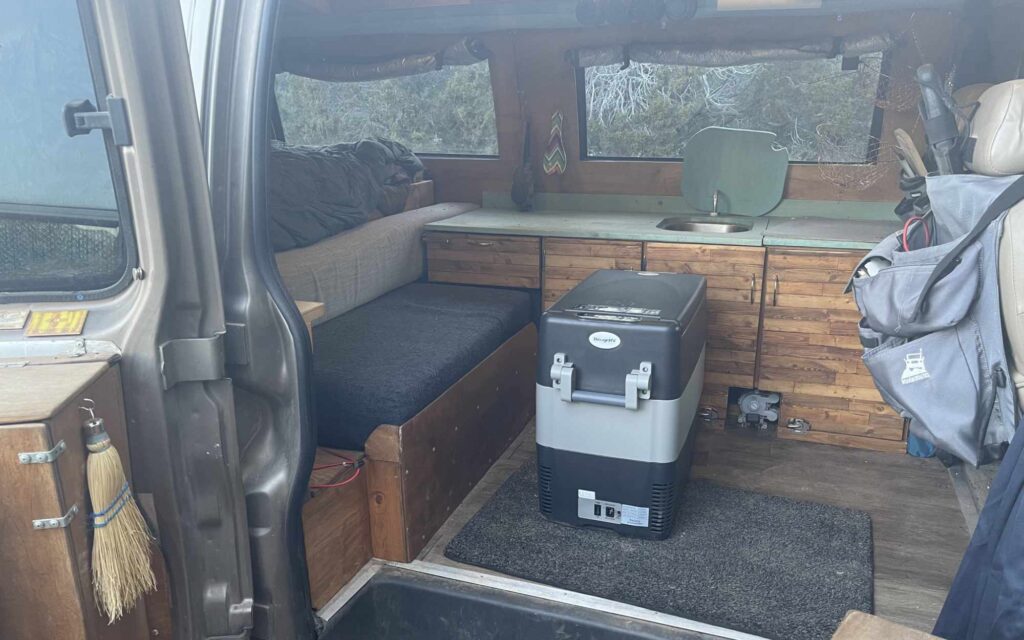 BougeRV vs the Expensive Brands
High end vanlife refrigerators may be "better" than the BougeRV – more efficient, more rugged, and more reliable – but is it enough to justify the cost premium? Depending on your needs and priorities, maybe not.
Even if the BougeRV fridge only lasts, say, two years before crapping out on you, you're still only paying about $13 per month for a refrigerator. This is an insanely cheap way to get refrigeration in your van.
Contrast that with the Dometic CFX3, our top pick for a high end vanlife fridge. First off, you'll need to shell out a lot more money upfront. And to cost you an average of $13 per month, the CFX3 would have to last you over 7 years – much longer than the warranty. What's more, you'd have to actually use it for those 7 years to get full value from it – and who knows if you'll be doing vanlife for that long?
Our best value picks Iceco VL-series and Iceco JP-series fare slightly better – the equivalent size Iceco would need to last you 3.5 years to compete with the BougeRV on average monthly cost.
(Iceco, however, uses top notch Danfoss compressors with a 5-year warranty, which is why Iceco is such a great value.)
TL;DR The BougeRV refrigerator's low price – along with good quality and performance – equals bang for your buck that the expensive fridges can't match. Even if the BougeRV only lasts you a couple years, it will still work out to be cheaper for the majority of people who only do vanlife for a year or two. Fridges from Dometic, ARB, and Iceco are "better," but may not be worth the cost premium for everyone.
Conclusion
The BougeRV 12V portable refrigerator is a solid choice if you're on a budget, or just frugal and don't want to spend too much money on your rig.
The best vanlife fridges from top brands like Dometic and ARB are certainly better fridges than inexpensive generic models like the BougeRV. They use better components, and the companies behind them have solid track records. If you have the money for these fridges and feel like they're worth it, then go for it.
But if you're on a tight budget, or aren't planning on vanlife for longer than a year or two, or don't want to spend more on the small fridge in your van than a full size house fridge costs, then you should take a hard look at BougeRV.
The BougeRV refrigerator is a solid performer that includes most of the features of the big boys for a fraction of the cost. At the end of the day, vanlife is all about getting on the road and creating your path. It's not about buying the right brands, or spending the most money on your rig, or doing things for the 'gram. And the BougeRV fridge will get you on the road (with refrigeration) cheaply and easily. Which, in our minds, makes this a good choice for your rig.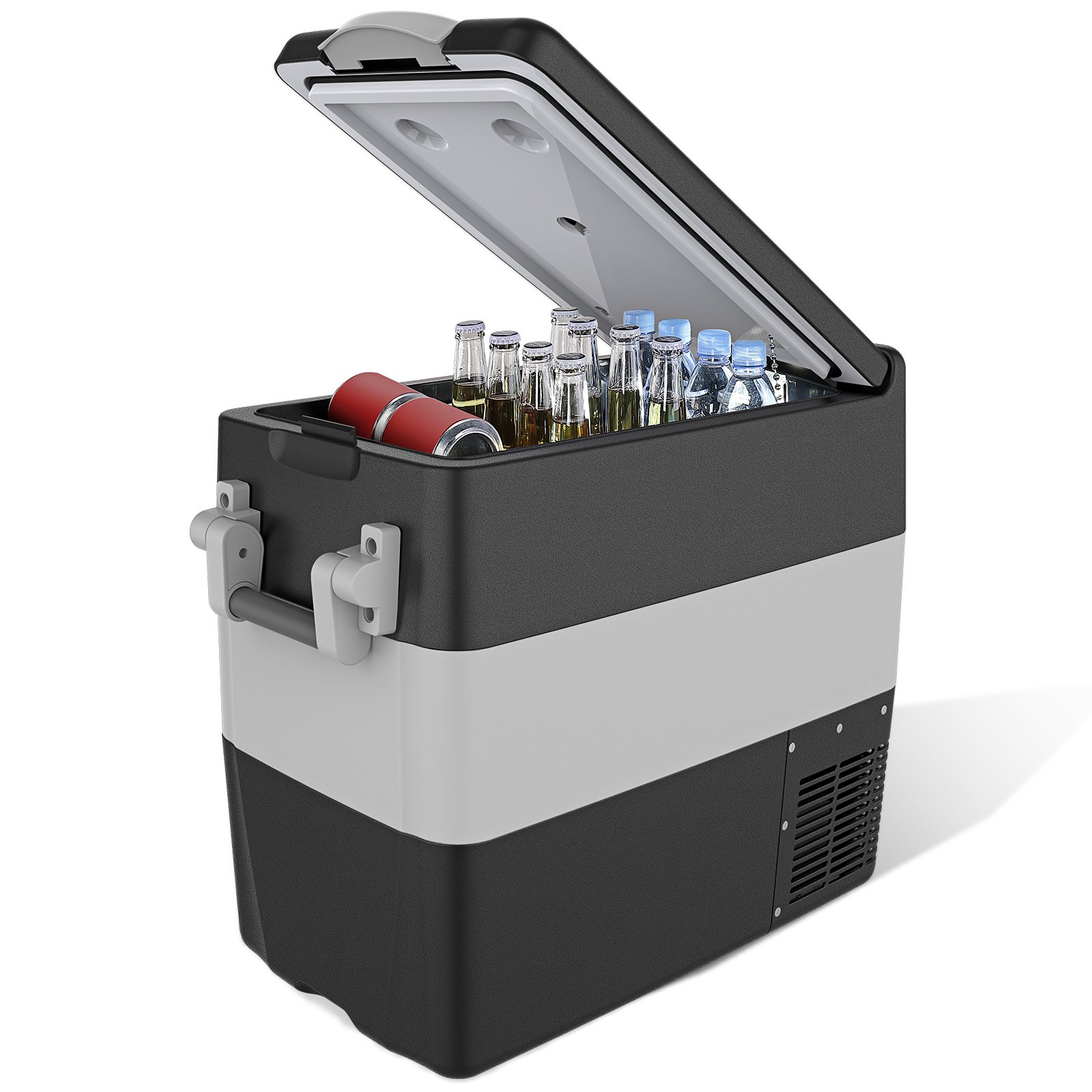 BougeRV 12V Refrigerators
Solid and inexpensive 12V vanlife refrigerators. Available in a range of sizes from 30 quart (28L) up to 53 quart (50L).
Coupon Codes
Use Gnomad90 for $90 off the 53-Qt fridge.
Use Gnomad15 for 15% off all other refrigerators.
Use Gnomad10 for 10% off sitewide.
Check Out BougeRV
We earn a commission if you click this link and make a purchase at no additional cost to you.
In order to run a fridge in your van, you need electricity. Check out our epic post on vanlife electrical for info on setting up your system.
Sours: https://gnomadhome.com/bougerv-vanlife-fridge-review/
Fridge reviews bougerv
BougeRV Freezer/Fridge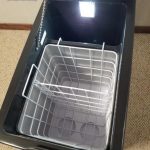 Cooling performance
9.5/10
Pros
Powerful cooling performance.
Extra large capacity.
Separate fridge and freezer compartments.
Compatible with AC, DC, and solar power systems.
Cons
All-plastic construction.
Lid design is ugly.
View on BougeRV Website
If you live your life on the road, you need a way to store food for your travels. Sure, a basic Coleman cooler is good enough for a trip to the beach or a day-long camping trip. But for long-term use over days or weeks, you need an actual refrigerator. But a travel fridge needs to meet a number of requirements. For one thing, it needs to operate on DC power. Cars, semi trucks, and even RVs use DC instead of AC, so most ordinary fridges are out. Similarly, a travel fridge needs to be designed so it won't drain your vehicle battery. Otherwise, you might wake up in the morning and not be able to start your engine.
In the past, we've looked at a number of DC portable freezer/fridge units. Today, we're going to take a deep dive into a single option. We'll be reviewing the BougeRV 53 Quart Portable Car Freezer (And Refrigerator). This is a portable combination unit that's designed specifically for cars, trucks, and RVs. It can operate anywhere there's a DC power supply, and has both a fridge and freezer compartment. But how well does it perform when it's put under stress? And what can you actually store in it? To find out, we'll have to take a closer look. Let's take a peek under the hood, and see what we find out!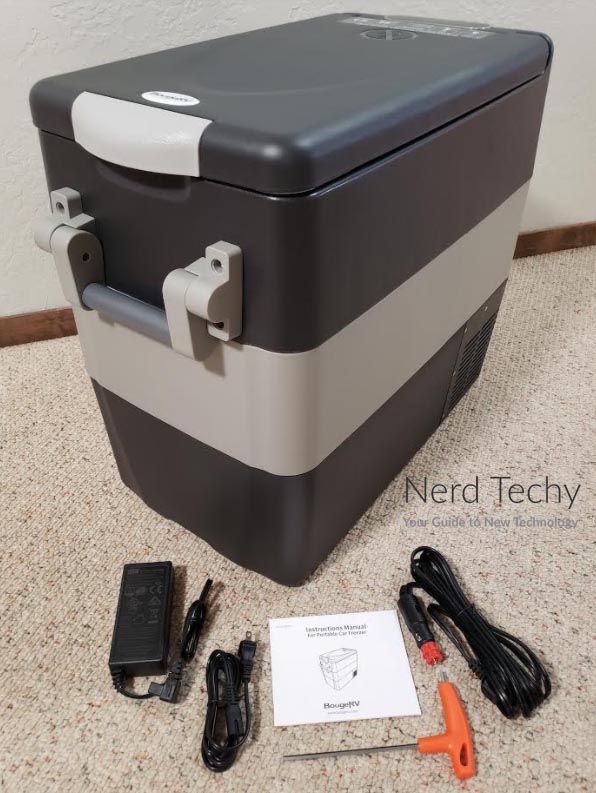 Overall Design
The BougeRV 53 Quart Portable Car Freezer/Refrigerator is a well-engineered unit that's quite roomy for the size. Most fridges with this capacity measure at least two feet on one side. This one, on the other hand, measures 22 inches in depth, 13 in width, and 21 in height. As a result, you can fit it in smaller spaces that wouldn't work for most other high-capacity fridges. We should point out that there's also a 42-quart variant available. It has most of the same features; it's just smaller. The larger variant we're reviewing today weighs 46 pounds empty. When fully loaded, it can get pretty heavy.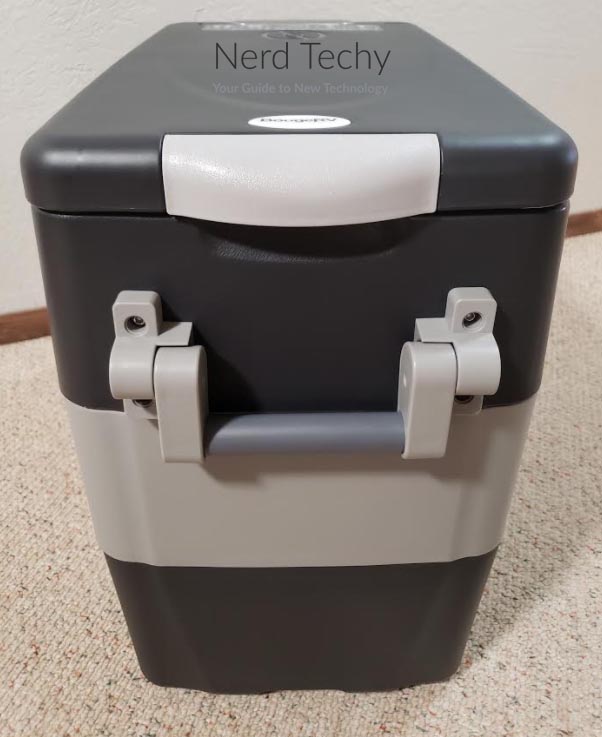 Thankfully, the fridge is easy to move. While it's a true refrigerator, it's built like a cooler. The elastic handles are big and beefy, and sit comfortably in your hand even when the fridge is full. The finish is soft, and has a little bit of give, so you won't get any pressure points on your fingers or palm. Moreover, the handles fold down when they're not in use. This keeps them out of the way during normal operation.
Use code "AFFfridge100" for $100 off through BougeRV's website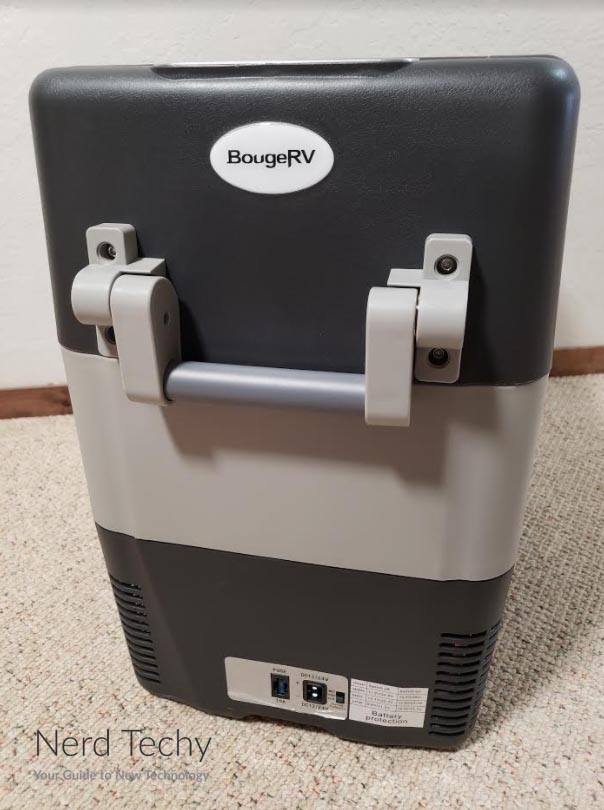 The handles aren't the only plastic parts. In fact, with the exception of the compressor, none of the BougeRV parts are metallic. This reduces the risk of corrosion, and is still surprisingly sturdy. That said, there's one disadvantage. With a metal frame, you can bolt a fridge in place for semi-permanent installation. With an all-plastic housing, there's nothing to run a bolt through. That's not what the BougeRV fridge is designed for, but it's a limitation you should be well aware of.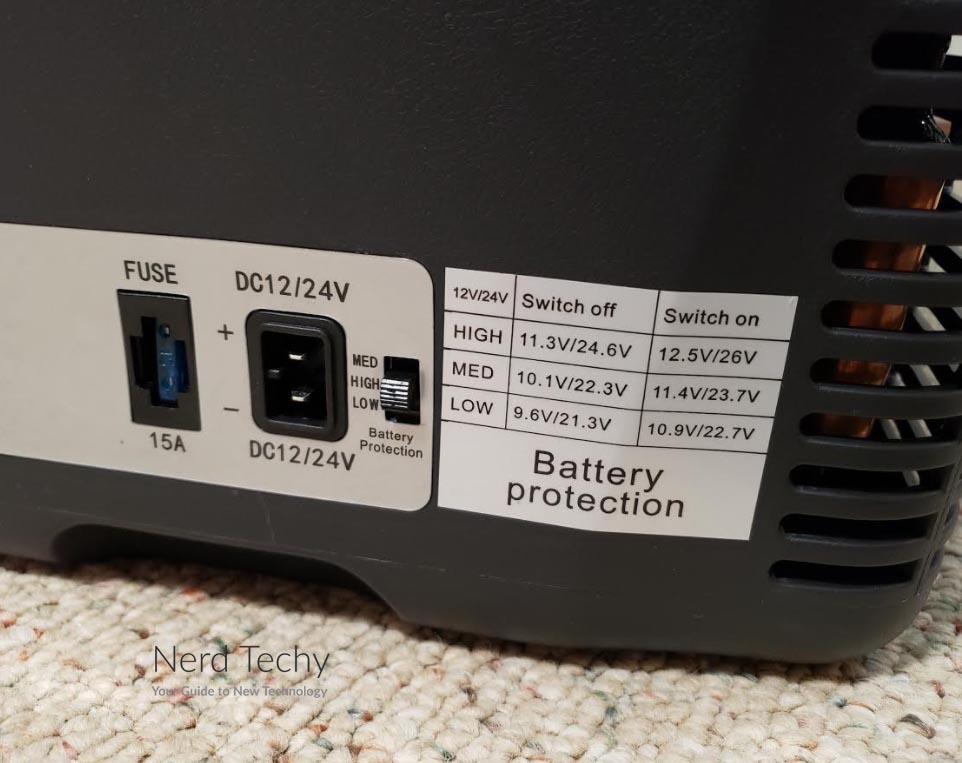 The design is surprisingly attractive, with the bulk of the body colored a solid satin black. There's also a broad grey stripe around the middle, which creates an accent. The same color pattern is reversed on the handles, with the sides in grey and the grips in black. The lid is also black, with hinges at the back. It folds up and down easily, and secures with a grey latch. This latch is very ruggedly designed, and will not pop open easily; unless you want it to, of course. The only thing we didn't like about the aesthetic is the glossy "no step" symbol embossed on the lid. It's good advice, but it's ugly as a permanent feature. A simple removable warning sticker would have been a better choice.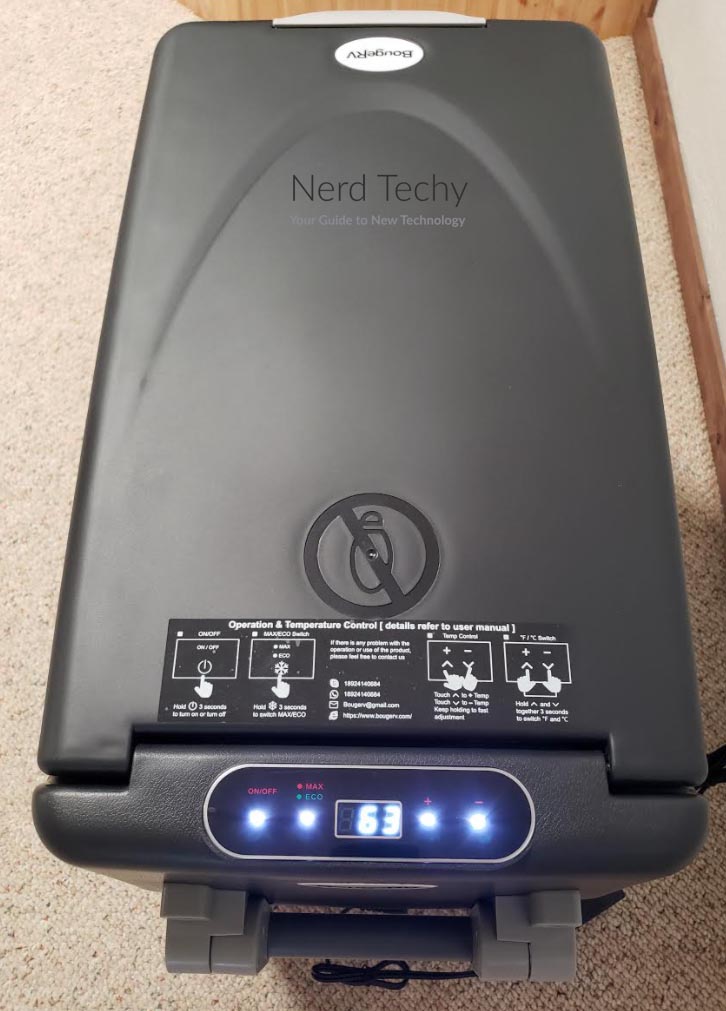 At the back of the lid, on top of the hinge, you'll see an LCD control panel. This will show you the current temperature of both compartments, as well as the fridge's current settings. You can also adjust the temperature, switch modes, and turn the unit on and off. All in all, it offers as many tweaks and customization options as many a full-sized refrigerator.
The compressor runs reasonably quietly, topping out at 45dB. This is louder than a whisper, but softer than the noise of a normal conversation. So instead of being whisper quiet, it would be better described as "mutter quiet." Still, it's not loud enough to disrupt your sleep. If you're using your fridge in a sleeper cab or an RV, the volume will be just fine.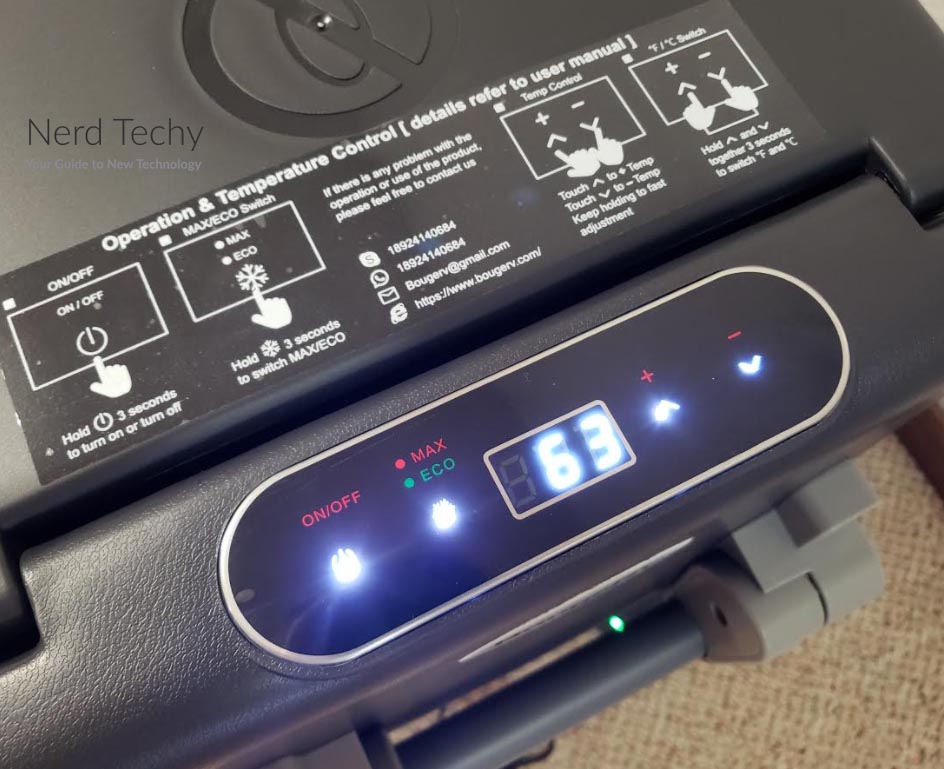 This freezer/fridge will run on both 12 and 24-volt DC power systems. Meaning that it's suitable for both very large and very small vehicles. You can run it the back of a Prius as easily as you can in a semi. In fact, it can also be used with a portable power station. This is a great way to avoid putting unneeded stress on your vehicle battery. If that's not enough, the BougeRV freezer can also run on solar power. Provided your solar panel can put out at least 45 watts at 10.9 volts, you're good to go. Finally, it can even run on both 110 and 220-volt AC power. Get a simple socket adapter, and you can use it at home anywhere in the world. As a result, the BougeRV fridge makes a solid backup for barbecues and other parties.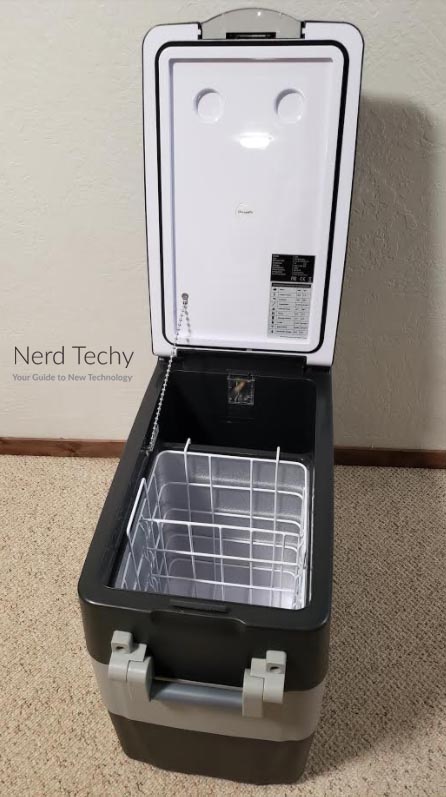 Along with the refrigerator itself, you get AC and DC power cables. The AC supply is a North American style. So while the BougeRV is compatible with 220-volt power, you'll still need a plug adapter. These accessories, along with the compressor, are covered by a two-year manufacturer's warranty. The rest of the fridge is covered by an adequate, if less robust, one-year warranty.
Storage and Organization
Inside the BougeRV freezer, you'll find two separate storage compartments. The front compartment is the cooler portion, and has a volume of about 40 liters. Because it stays about five degrees cooler than the back compartment, it's the freezer compartment. The rear compartment is significantly smaller, with a 10-liter capacity. Because it's warmer, it's usually used as the refrigerator. Keep in mind that this is simply the recommended use. In practice, the temperature range is wide enough that you can use both compartments as either a fridge or freezer.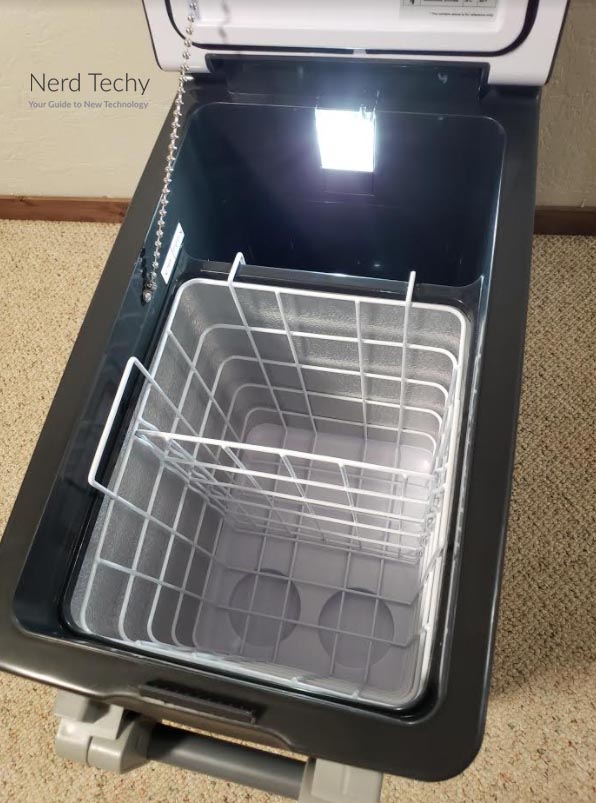 The storage basket is sized for the larger compartment, and is designed to be easily removed. It's about half the height of the overall unit, and sits in the top of the compartment. The idea is that if you have to reach something at the bottom, you don't have to remove everything individually. Instead, you can lift out the basket and everything in it at one go. This makes it fast and easy to get at the bottom when you need to.
Inside the fridge compartment, you'll also find an LED light. This makes it easy to see inside, even if your surroundings are dark. This is a standard feature on full-sized fridges, but it's uncommon on mini fridges and virtually unheard-of on travel fridges.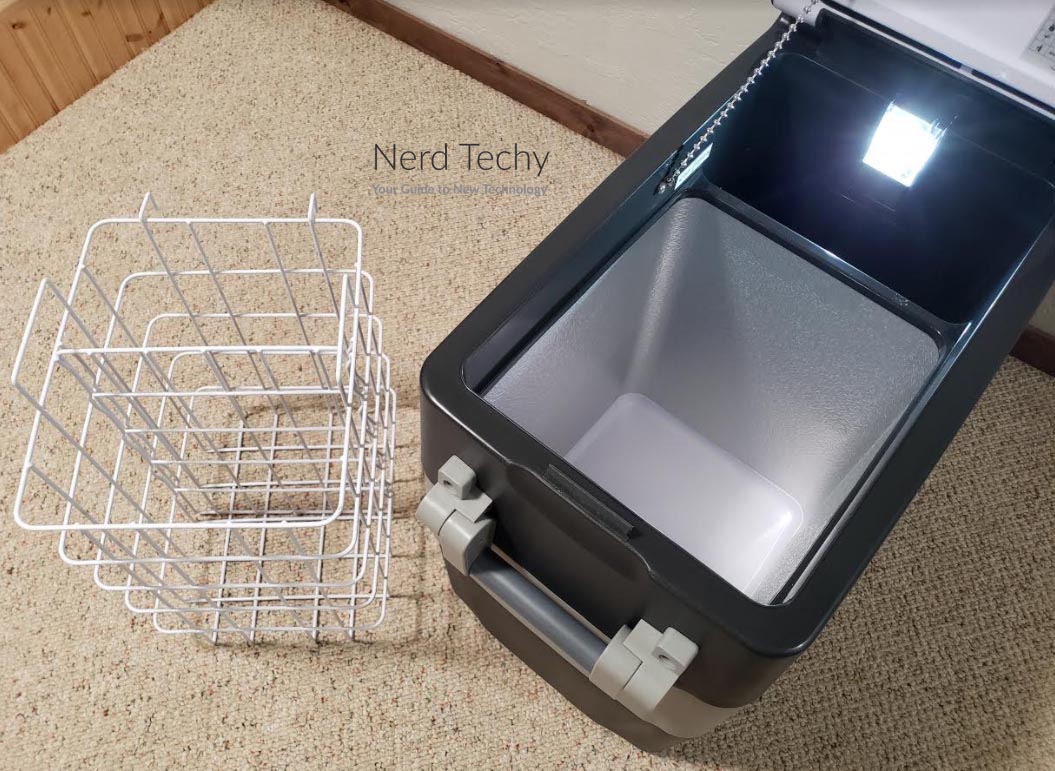 Cooling Performance
So, with all of this storage and the rugged design, how well does the BougeRV do at actually cooling your food? To begin with, the temperature range is adjustable from -4 to 50 degrees Fahrenheit. At the low end, you can use both compartments as a freezer. At the high end, you'll be warmer than normal refrigerator range, and too warm for food. However, 50 degrees is great for defrosting. Since the fridge will still be relatively cool, it will cool off faster when you're done with the defrost cycle.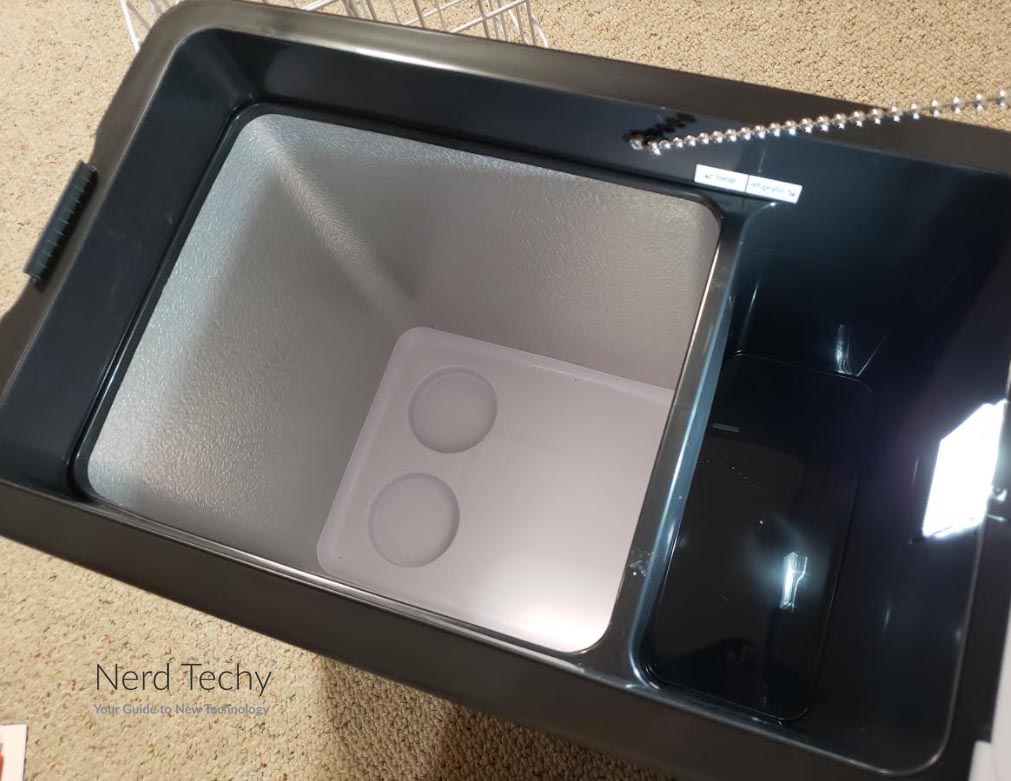 The insulation in the sides of the unit is 35mm in thickness. This is fairly heavy, just over an inch, and it's sufficient to keep your food very cold with minimal effort. In MAX mode, the fridge will cool off exceptionally quickly. In fact, it will drop from 77 to 32 degrees in just over 15 minutes. You'll be able to keep frozen foods at a safe temperature even if you turn on the fridge at the last minute. Not only that, but the BougeRV will drop all the way to -4 degrees in less than an hour. This is ideal for foods like meat and ice cream, which are best kept below zero.
Use code "AFFfridge100" for $100 off through BougeRV's website
The other setting is called ECO mode, and is designed for saving energy. In ECO mode, the BougeRV will draw only 45 watts. This is the more efficient way to run your refrigerator. However, it takes a long time to cool off in ECO mode. Ideally, you want to start the refrigerator in MAX mode, let it cool down, then switch to ECO mode. That way, you'll get the best of both worlds; fast cooling, and energy-efficient long-term use.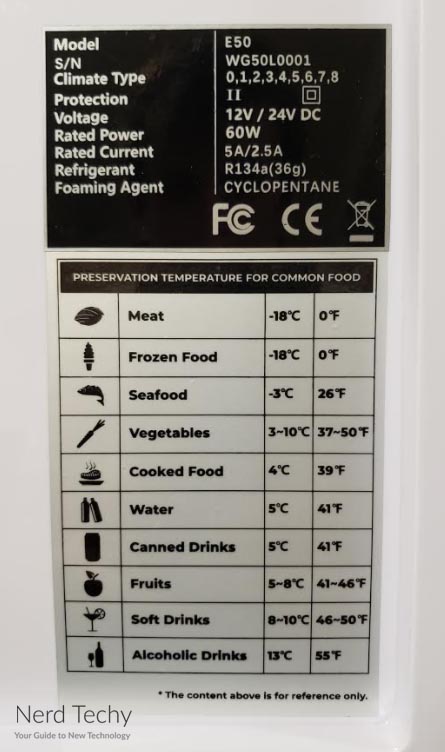 The BougeRV refrigerator is also smart when it comes to your car's battery. It has a three-level monitor that prevents it from running you completely dry. As the power drops below 12 volts, the fridge will start drawing less power. In an emergency, it will stop running altogether in order to protect your battery. Keep in mind that the fridge will eventually warm up in these circumstances. So while it can keep your food cold overnight, you'll need to run your engine regularly during the day. Or you could just use a solar panel or power bank and avoid the issue entirely.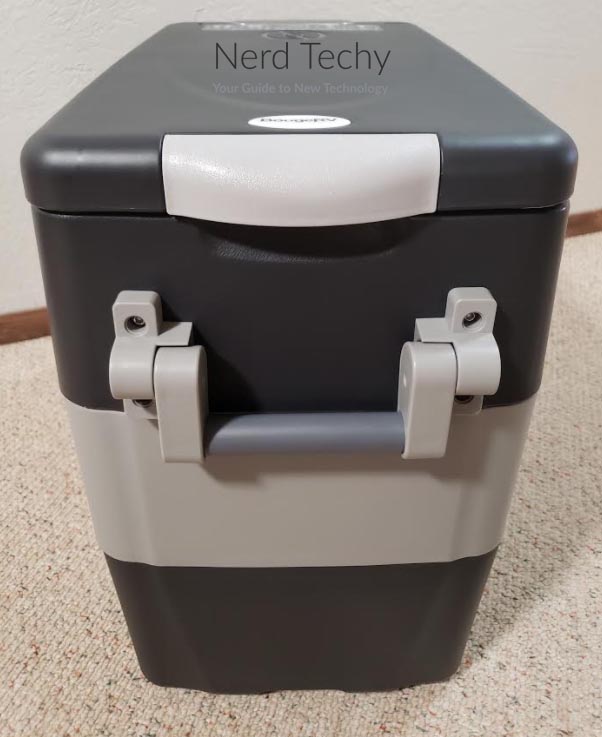 Final Verdict
The BougeRV 53 Quart Portable Car Freezer/Refrigerator is the complete package. To begin with, it's very spacious, with enough capacity to cool a week's worth of food. It cools off quickly, it stays cold for a long time, and the temperature is adjustable. It's even designed to save you energy. Our complaints were minor and mostly cosmetic. If you want a reliable portable refrigerator, whether for trucking, camping, or occasional use, this is an excellent choice.
Was this helpful? Please consider sharing:
Sours: https://nerdtechy.com/bougerv-portable-freezer-review
53 Quart Portable Freezer Honest Review - is it worth it? - BougeRV
.
You will also like:
.
950
951
952
953
954