Knights Ferry Kayak Rental- Class I-II Trips
Enjoy the river by yourself or with friends. Your kayaking trip includes our inflatable sit on top double kayaks, lifejackets, paddles and return shuttle. A fun way to explore the river and give yourself a little extra challenge for the day. Kayaking on the Stanislaus RiverThis closest summertime river kayaking trip to the San Francisco Bay Area and Central Valley! You'll be surprised that such an entertaining river is located so close to home. This scenic float is just off the beaten path but it feels like you're in a different world. The "Stan" is the most affordable kayaking trip on the West Coast- and no experience is required! Great for families, business escapes, church groups, and any person looking for an escape from the stress of the real world. Our inflatable kayaks makes this a great adventure for all. These self guided class I and II trips are a fun way to experience this easy and scenic section of river.--> ...
Sours: https://www.riverjourney.com/prod/Stanislaus-River-Trips/Knights-Ferry-Kayak-Rental--Class-I-II.html
North Fork Stanislaus River
Bird's Eye View
The North Fork of the Stanislaus River, or the "North Stan," is an under-appreciated gem for rafting and kayaking. It is only runnable in the springtime when the snow melts and the river rises, since the upstream dam rarely releases water during daylight hours. When it does run, in May and early June, it is well worth making the drive up Highway 4 into Calaveras Big Trees State Park to raft or kayak and experience the excitement and beauty the North Fork of the Stanislaus River has to offer.

North Stan Whitewater Photo Gallery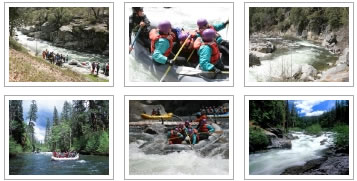 The North Stan in a Nutshell


Difficulty: Class IV+
Gradient: 77 ft/mi
Length: 7 miles
Season: May – June
Put-in: Sourgrass Campground
Take-out: Calaveras Big Trees State Park
Who should go: Intermediate and advanced boaters who can withstand a little cold for one of the most beautiful runs in California
Sours: https://www.californiawhitewater.com/rivers/north-fork-stanislaus/
| | |
| --- | --- |
| Stretch: | Knight's Ferry to Orange Blossom Bridge |
| Difficulty: | class I with a class II rapid to start, plus brush hazards |
| Distance: | 7.3 or 9 miles, 1 day |
| Flows: | canoes and kayaks 300 - 2100 cfs |
| Gauge: | measured at Orange Blossom Bridge (OBB) |
| Gradient: | 9 fpm average |
| Put-in: | bridge from highway 108 to Knight's Ferry, 280' |
| Take-out: | Orange Blossom Bridge, 220' |
| Shuttle: | 6 miles (10 minutes) one-way, fine for bicycles |
| Maps: | AAA Yosemite Region, Topo |
| Season: | year round, from dam release |
| Agency: | BLM, private |
| Notes: | © 1998, 2008 Bill Tuthill, CreeksYahoo, thanks to Greg Schmidt |
---
This is a surprisingly scenic run that did not appear in early guidebooks. It has become popular in recent years, for both canoeing and rafting. At least two outfitters rent boats for self-guided rafting trips. This stretch is very close to population centers, and has reliable summer and autumn flows from dam release. Often in the fall, dam operators release higher flows for recreation. However even at moderate flows, boaters get moving current most of the way.
The run starts with a bang: a long class II rapid begins shortly below put-in. If you don't want to run the class II rapid, or if you elect to carry back and run it multiple times, there is a good portage trail on the left bank. After this class II rapid, the river flows thru some scenic lava outcroppings then along a basalt escarpment named Lover's Leap. Shortly after, there is a beautiful boat-in campground on the right. Finally, the river winds thru a secluded riparian zone with willows lining the channel, sometimes past houses, but seldom near a road. Because of brush hazards, it is advisable to avoid this section at flood stage.
If you seek adventure, more difficult whitewater lies upstream. Below Goodwin dam is a class V run with rapids named after rides at Disneyland, such as Mr. Toad's Wild Ride, Matterhorn, and Haunted House. The Disneyland run has access halfway down, at Two Mile Bar, allowing boaters to avoid all but Haunted House, which can be portaged.
mile
0

Put in on the right bank upstream of the new concrete bridge connecting highway 108/120 to the town of Knight's Ferry. There are restrooms and a large parking lot. No fee (2008). Self-guided rafting trips start here, so you might see piles of yellow boats. A covered bridge is just upstream, but out of sight.

.3

Private Knight's Ferry Resort (restaurant, campground, weddings) situated on the right bank.

.5

Russian Rapid, class II
Above the rapid, a signed portage trail begins on the left. Its sign might be somewhat obscured by vegetation. At higher flows, water actually flows down the portage trail. Most of the water goes down the far right channel.
You can avoid the biggest whitewater holes by entering this channel on the left, working right, then left again at the bottom. Conversely, you can hit the biggest whitewater by entering right, working left, then right again at the bottom!

.9

Scenic lava outcroppings, followed by a wide spot with current on the left and shallow water on the right.

1.2

Burned area.


1.5

View of Lover's Leap on the left bank straight ahead. It is a butte with cliff facing the river and a flag flying on top.

2.0

Boat-in campground on the right bank. It has many fine tent sites, two bathroom facilities, and garbage pickup by gated road access. Reasonable fee, first-come-first-served for boaters (2008).

2.5

Bayou or lake where the river backs up on the right side. A sign says to take the left channel, because it is not obvious. However the sign could be mostly covered by vegetation.

2.8

Another bayou, but the best channel is more obvious.

3.1

End of bayou section.

3.9

River access from Orange Blossom Road. Just around the corner, you might see vehicles parked.

4.5

Stretch of fast water begins, where the river splits, with most current going left.

6

Large pool on the right, after the river has slowed down.

7.3

Orange Blossom road bridge, your take-out.

9?

Another boat-in campground, according to reports. Although vehicle access is possible, only boaters are allowed to camp.
Past the usual take-out at Orange Blossom bridge, the river continues to flow nicely with moderate gradient. Soon more houses become visible as you approach Oakdale. If you run this section, you can take out at the highway 108/120 bridge. Below Oakdale down to Riverbank, the river flattens out.
Shuttle Directions
To reach take-out, drive east on highway 108/120 from Oakdale several miles to the Orange Blossom Road turnoff. Follow this road east and north to the river. After the bridge, turn immediately left, and again left into the BLM access.
To reach put-in from there, continue east and north on Orange Blossom Road to its intersection with Sonora Road, where you turn right and proceed southeast to the town of Knight's Ferry. Just past town, near the concrete bridge leading to highway 108/120, continue into the BLM access upstream on the right bank.
To find nearby food and lodging, type Oakdale into the box and click Search.
Custom Search
Creeks Navigation
Home
Recommended Runs
Map of Rivers
Alphabetic Index
Alphabetic Table
Text Search

Sponsored Links
Sours: https://cacreeks.com/stan-oak.htm
Kayaking Stanislaus River, Knights Ferry to Valley Oak
Overview
The Goodwin Canyon run on the Stanislaus River is a fantastic fall run. It is close to the Bay Area and is one of the few runs that has a release at the end of September and early October. The release is for the Salmon, which are fun to see spawning in the gravel beds between the rapids. There are also releases other times of the year but this is typically reserved for the fall to have something new to run. Goodwin Canyon has some violent drops. If you are running a paddle boat know how to not get thrown forward.
A good option is to run it on the way up to paddle Cherry Creek for the weekend.
Stanislaus River Rafting Itinerary:
Mile 0: Goodwin Canyon Put-in
Put-in after walking a 100+ yards to the river from Tulloch Dam Road at the Goodwin Dam Recreation Area. From put-in there is fun eddy hopping down to the pool above Mr. Toad's.
Mile 0.25: Mr. Toad's Rapid (V)
At low water after a technical entrance, boaters work left to avoid a nasty undercut cave on the right. Below here is a fun little rapid Surf City. Keep an eye out for Matterhorn.
Mile 1: Matterhorn (V-VI)
At low water Matterhorn has a vertical drop onto some rocks. Kayaks scout and portage on the left with a fun seal launch. Rafts can line/portage on the left. At around 1000 cfs Matterhorn starts to open up a little more. After Matterhorn are some for fun rapids.
Mile 2: Haunted House (IV-V)
Haunted House is tricky for rafts particularly around 1000 cfs. Below the first drop which flips lots of boats is the Room of Doom on the river left side. It is a nasty little recirculating hole.
Mile 2.5: Air Mattress (IV)
Fun drop that flushes well. After this the rivers becomes mellow.
Mile 4.0: Take out – Stanislaus Rivers Park – Covered Bridge
The take-out is in the park on river right just before the Knight's Ferry bridge.
Recommended Books
Sours: https://brexpeditions.com/california/stanislaus-river-goodwin-canyon/
River kayaking stanislaus
.
FLOW 3: River Rafting I Stanislaus River I River Journey
.
You will also like:
.
973
974
975
976
977